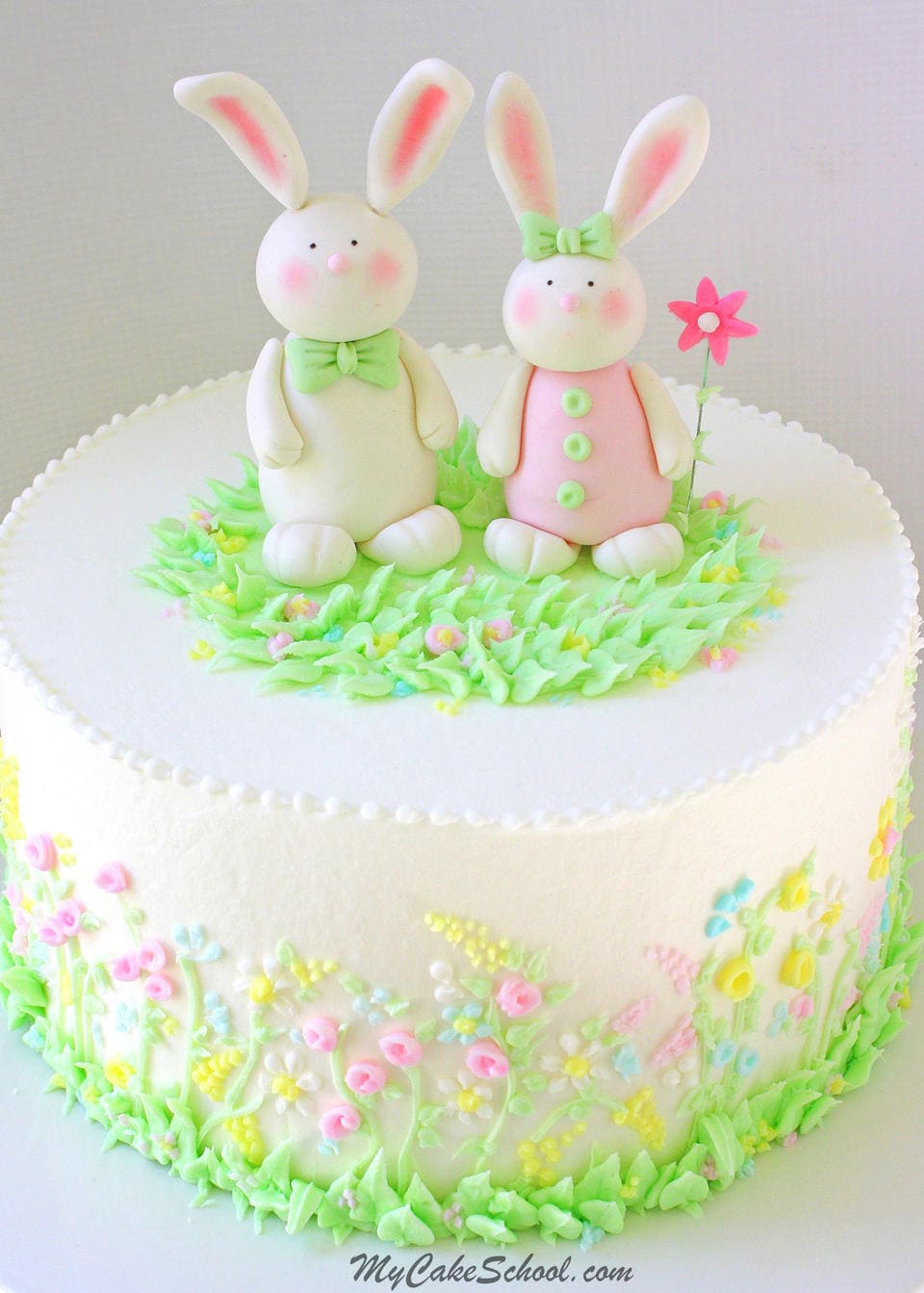 In this cake decorating video tutorial, you will learn how to make adorable Bunny Cake Toppers! These sweet gum paste figures are not only perfect for springtime and Easter cakes, but also for young birthdays and baby showers.
If you are new to figure modeling with gum paste, this tutorial is a great place to start. These sweet bunny toppers are very simple to shape and assemble.
Also, the buttercream flowers around the sides of the cake are SO cute and easy. Perfect for so many occasions. Sometimes simple is better!
We hope that you enjoy the tutorial!
Materials:
In this tutorial, we are decorating an 8 inch tier that is has been frosted with Fluffy Vanilla Buttercream.
Gum Paste (You can also use fondant with tylose kneaded into it as an alternative)
Pink Petal Dust
Coloring Gels: Americolor Avocado Green, Mint Green, Deep Pink, Lemon Yellow, Sky Blue, White
Americolor Black Pen
Piping Tips: Wilton 352 (leaf tip) and Wilton tip 3 (round tip)
Piping Gel (or your edible adhesive of choice)
Pink Petal Dust for ears & cheeks
Floral Wire (We used a 26 gauge floral wire but any gauge that can support the ears will work)
Toothpicks
Small flower cutter
Bubble Tea Straws or Drinking Straws - Optional, but if you feel that the toppers may sink, place a straw beneath each one cut to the height of the cake.
Miscellaneous: Small paint brushes, confectioner's sugar (optional but good for lightening the pink petal dust if necessary), pedestal or cake base of choice, cardboard cake circle cut to the size of the cake, turntable (optional), disposable piping bags
(This cake has been frosted and smoothed in advance (on it's own cardboard cake circle cut to size) using the Viva Paper Towel Method of Smoothing. If you are new to this method, you can find our tutorial here: Viva Paper Towel Method of Smoothing
*This is a new & improved version of a Bunny Cake Toppers tutorial that we had years ago. It was time for a refresh! Hope you enjoyed it!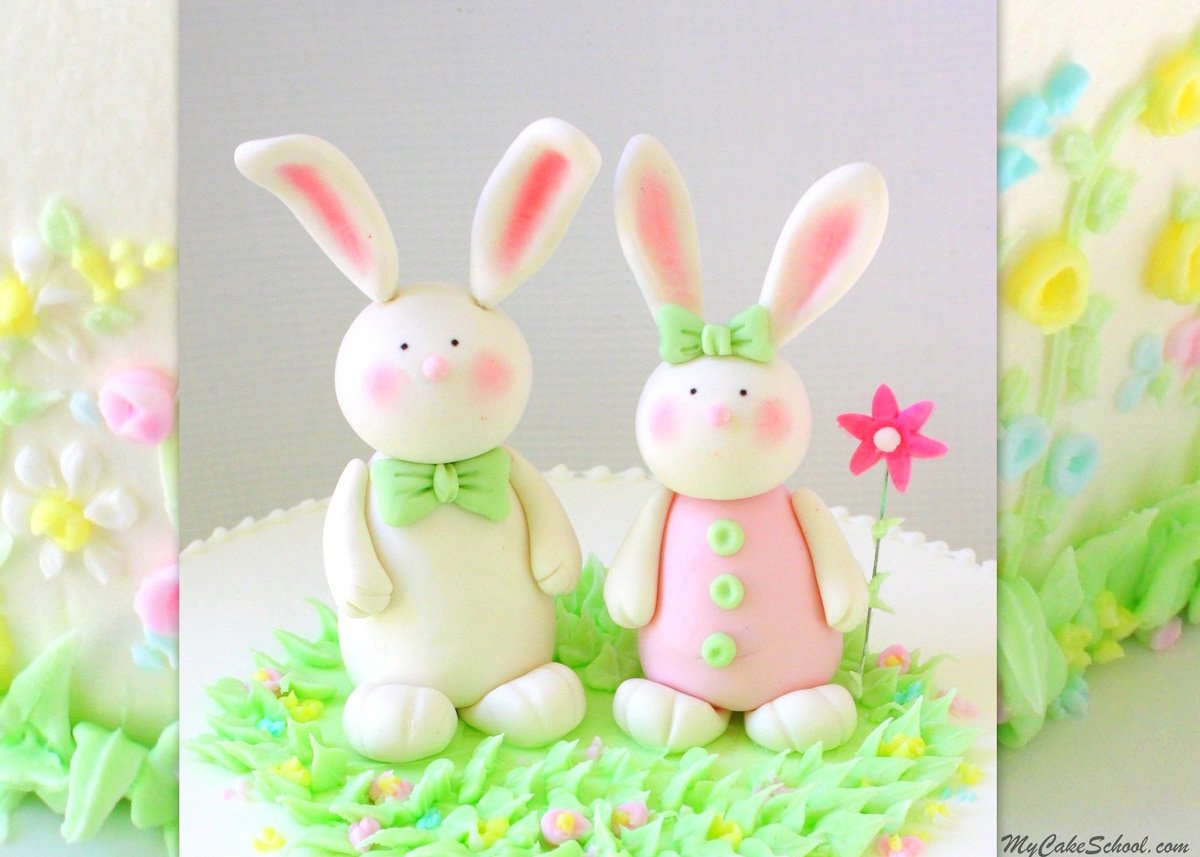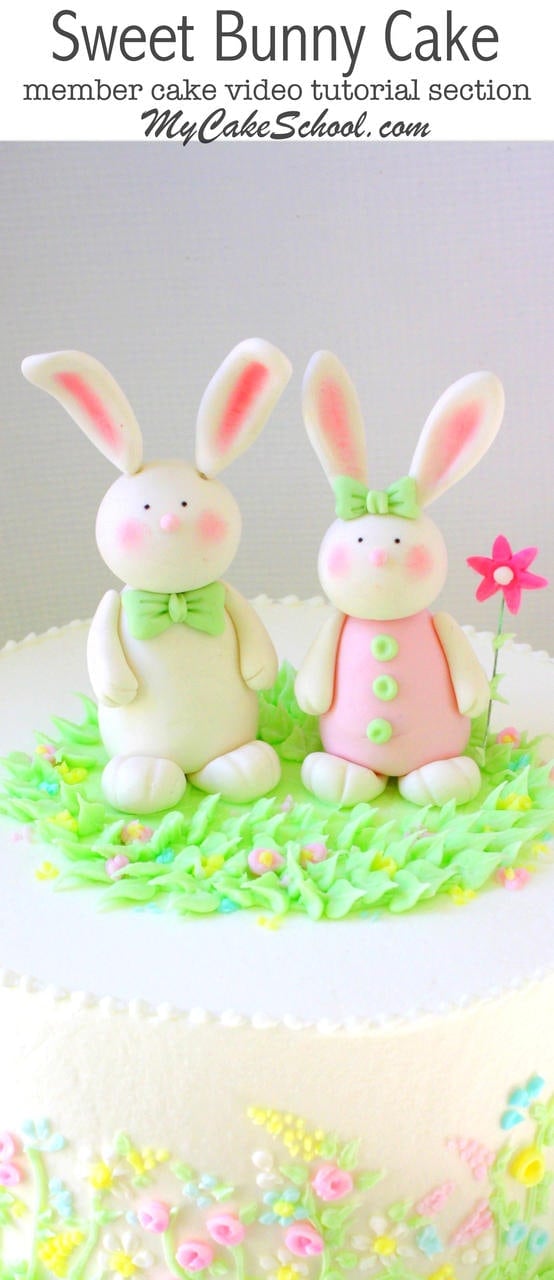 Looking for more Bunny cuteness? Check out our Roundup Post of Easter and Springtime Cake Tutorials, Recipes, and Ideas!