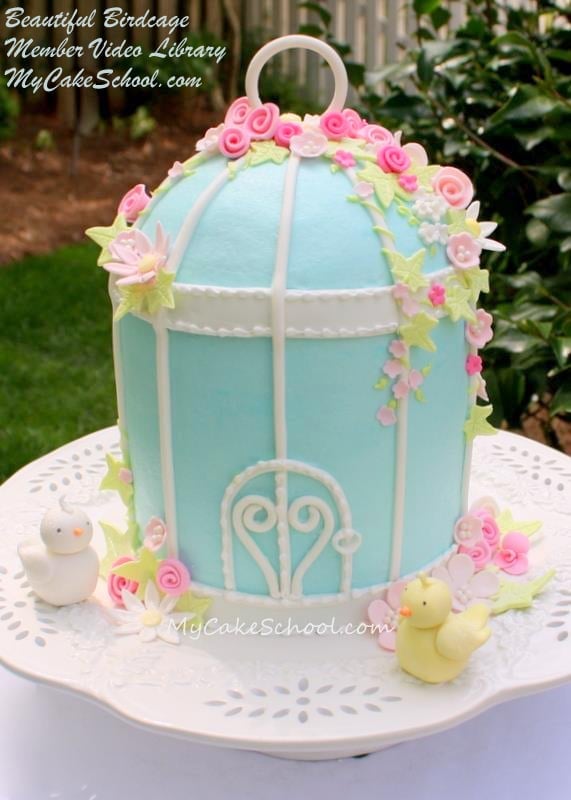 We're so excited to have a video on how to make a birdcage cake! These cakes are cheerful, delicate and perfect for a variety of occasions from bridal showers, to teas & garden parties, to birthdays. This is one of those constructions that I love, because the cake itself looks so impressive, but is actually quite simple to make.
I will list the materials used and some quick notes beneath the video.
Part One
Part Two:
Materials
3 six inch layers
1 half ball cake (I used half of the Wilton Sports Ball Pan (aff.) set. It measures 6" in diameter.)
Buttercream- We used our "fluffy vanilla buttercream" recipe but any crusting recipe will do
Cardboard cake circle (cut to just under 6", it is placed within the cake)
Bubble Tea Straws or your dowels of choice. I used 3.
Cake base or pedestal. If you are stacking cardboard cake circles, I would stack 2 or 3.
Bench Scraper, Spatula of your choice.
Food coloring pen (I used an Americolor black pen for the birds' eyes)
Gum Paste (or fondant with tylose kneaded in) --For creating your birds & flowers
Fondant for the bars of the birdcage
Buttercream for frosting the cake - (Most of it was tinted blue, with a little reserved to be tinted green for our ivy vines)
Coloring Gel in desired colors--I used Americolor Electric Blue for the buttercream, Americolor Deep Pink for the pink shades of flowers, Americolor Electric Green for the ivy leaves & buttercream vines)
Cutters used: PME ivy leaf cutter, cherry blossom cutter, Wilton Daisy cutters, tiny flower cutters
FMM Multi Ribbon Cutter-- (aff.) I used this to cut my fondant bands/bars of the cage. The thicker bands are ¾" thick, and the thinner bands are ¼".
Extruder (very helpful)- We like Makin's Ultimate Clay Extruder (aff.)
Ball Tool & Foam Pad- optional (for thinning flowers)
Royal icing- I used for adding detail to the cage--you could also use a crusting buttercream. I also used it to glue our ring to the top of the cage
Sugar Pearls-optional. I used Wilton brand sugar pearls for some of our flower centers
Piping Tip 2- For piping royal icing bead board around the cage as well as our green buttercream ivy vines.
Misc: Sharp knife or x-acto for cutting, tylose/sugar glue (or your glue of choice),
If you love bird themed sweets, don't miss our free blog tutorial for Bird & Birdcage Cupcakes!! These are so cute and simple, and match our birdcage cake perfectly!