This ballet-themed baby shower sheet cake is such a sweet design for baby girls!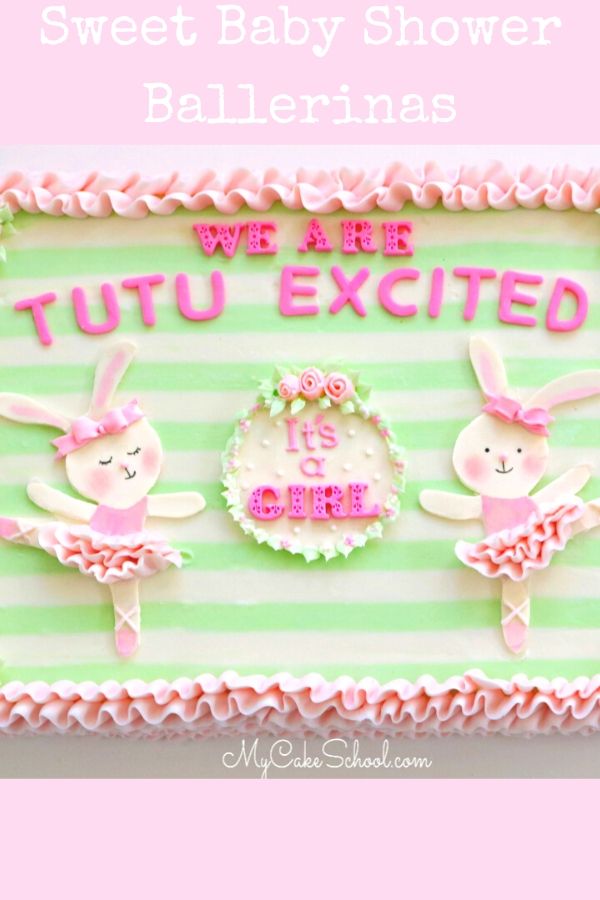 In this cake video tutorial, we'll demonstrate a striped buttercream sheet cake, using a template for our bunny ballerinas, and more.
We have made so many cute Baby Shower Cake Designs over the years, but not many of them have been sheet cakes.
We thought that this ballerina theme would be a great opportunity to create a sweet and simple baby shower cake. We also love the "Tutu Excited" phrase- We saw this on a baby invitation (several actually) and knew it would be the perfect way to tie it all together!
We hope that you enjoy our video tutorial! We'll also go over creating buttercream stripes on sheet cakes!
Materials:
We used a 9×13 sheet cake
Buttercream (Our Classic Vanilla or Fluffy Vanilla Buttercream are good choices for striped frosting because the butter firms up quickly in the freezer).
Coloring Gels: Avocado Green + a touch of Leaf Green, Wilton Rose
Food Writer Pens (Bunny faces)
Piping Tips: Tip 352 (leaf tip), 104 (petal tip for ruffles & roses), For small roses- 101 Tip or similar, Tip 3 or similar round tip for dots on sign and ribbons of frosting on ballet shoes
Fondant (We kneaded in a small amount of tylose powder to make it set up more quickly)
Piping Gel or Edible Glue of Choice
Letter Cutters/Molds of choice
Cake Comb (if creating stripes as we did)- Ours is from Evil Cake Genius
Miscellaneous: Disposable piping bags, small offset spatula(s), Rose Nail & Waxed Paper or Parchment squares, pink petal dust (rosy cheeks), vodka or lemon extract for mixing up "paint" for bunny leotards.