Stained Glass Cake in Buttercream Video
In this video tutorial, you will learn how to create a beautiful stained glass effect in buttercream!
We've seen many beautiful fondant stained glass cakes, but we wanted to try a buttercream version!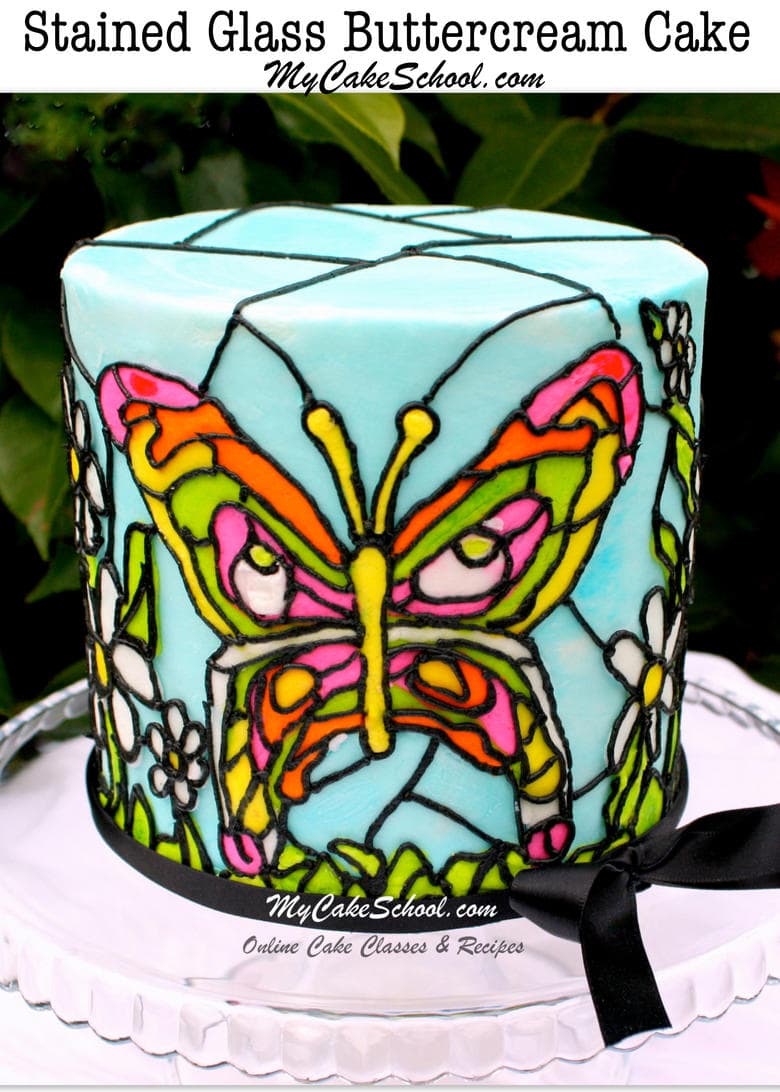 Stained Glass Cake in Buttercream
I found this method of piping stained glass to go much more quickly than the fondant versions that are hand painted.
We used a butterfly theme for our stained glass but you can use this method for any design. It's amazing how outlining a design in black can transform it so quickly & dramatically into "stained glass"!
I hope that you enjoy the video! Make sure to check beneath the video for additional information!
Materials
We started with a 6 inch round, white almond sour cream cake. It was 3 layers and 5 ½ inches tall. The cake is frosted with our Fluffy Vanilla Buttercream recipe (in the recipes section).
-Use any crusting buttercream frosting. (Non-crusting will be a little trickier because it will be harder to smooth.)
-Coloring Gels-- I used Americolor Sky Blue, Electric Green, Deep Pink, Super Black, Lemon Yellow, and Orange. (If you plan to
do any painting, you could also use Bright White)
Piping Tips: Any small round tips will do. I used a Wilton tip 2 or 3 to pipe the colors onto the butterfly.
Ribbon Border
Enjoy the Video!
We hope that you enjoy this buttercream stained glass cake tutorial! If you give it a try, we would love for you to leave a photo and comment below!