Gold Sequin Cake with Wafer Paper Flower
Today, I'm going to show you how to create a beautiful gold sequin cake.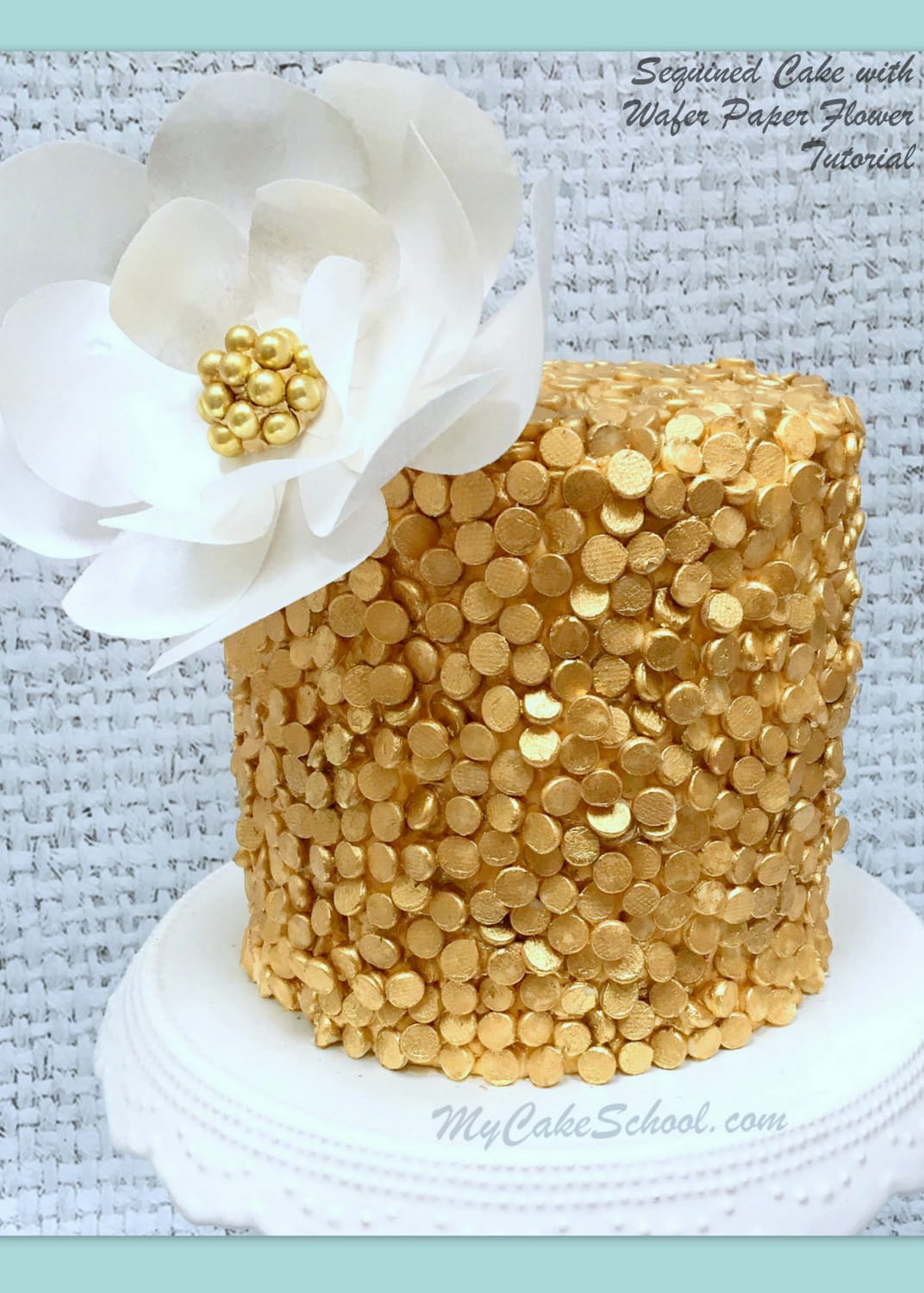 Why we Love It!
Sequined tiers continue to be an elegant trend in cake decorating.
There are a few different decorating techniques for this dressed-up look, and today I'm going to show you one of our favorites which involves chocolate chips! ;0)
We are also sharing an oversized wafer paper flower that is not only beautiful with it's layered petals, but also very simple to make! Enjoy the tutorial! -

Materials for Gold Sequin Cake:
While this cake decorating method would be beautiful in any size and shape of cake tier, we are using a 6" double barrel cake construction.
(If you have questions about double barrel cakes, you can find everything you need to know in our Double Barrel video tutorial. This construction involves two cake cardboards, and 4 supports within the bottom half of the tier.)
Buttercream (We used our fluffy vanilla buttercream recipe which is a medium consistency.)
White Chocolate Chips - We used Nestle (two 12 oz packages)
Gold Luster Dust (edible/non-toxic) -*see more details in notes below
Vodka or lemon extract (a high alcohol content allows the gold "paint" to dry quickly)
Soft paintbrush for applying gold paint
Coloring Gel- We tinted our buttercream with Americolor Gold for a golden/ivory shade.
For the Wafer Paper Flower
The wafer paper flower really takes our gold sequin cake to another level! You will love how simple it is to create.
Wafer paper - 3 sizes of petals...plan on approximately 6 petals each.
Lollipop stick for anchor
ball of gum paste or fondant
Dragees or your sugar pearls/sprinkles of choice for the flower center
Pearl Dust (optional)
Table knife for curling petals
toothpick (or sharp tool)
*You may also enjoy these other cake tutorials that feature wafer paper flowers!: Marble Fondant Cake with Wafer Paper Flower, Wafer Paper Flowers, Decorating with Gold Leaf
Notes for Gold Sequin Cake
*Make sure that your gold luster dust is edible/non-toxic. I used Rolkem Super Gold. If you have other favorite brands of edible gold luster, I would love to hear!
While I really love the gold sheen of this brand, I haven't been able to find a US vendor--only Australia--so it takes a bit longer to arrive! ;0)
The container itself does not say edible/non-toxic...but the site that I ordered from did and so that's what I'm going with! Use whatever luster you'd like...silver, gold, pearl, would all be very striking.
*The chocolate chips do make for a heavy cake (much like a thick ganache), so make sure to use sturdy supports if doing a tiered cake!
Gold Sequins/Sprinkles Option
*At the end of the tutorial, I demonstrated using confetti sprinkles (glued to fondant with piping gel) which were then painted.
On the plus side, sprinkles can be applied much more quickly to the cake by the handful (over a pan to catch the excess!)
However, I really liked the look of the chips because of the larger and therefore more reflective surface...plus, the white makes for easy paint coverage.
Both are great options though. Kara Andretta of Kara's Couture Cakes has a great YouTube video for very realistic gelatin sequins also if you are interested in researching other options!
Enjoy the Video!
Thanks so much for stopping by! We hope that you enjoy this gold sequin cake tutorial!
The giant wafer paper flower would also be perfect on so many cakes- it makes a great, lightweight (but dramatic) accent!