Marbled Fondant with Wafer Paper Flower
In today's video tutorial, I'm going to demonstrate how to create a beautiful marbled fondant cake, as well as an elegant wafer paper flower.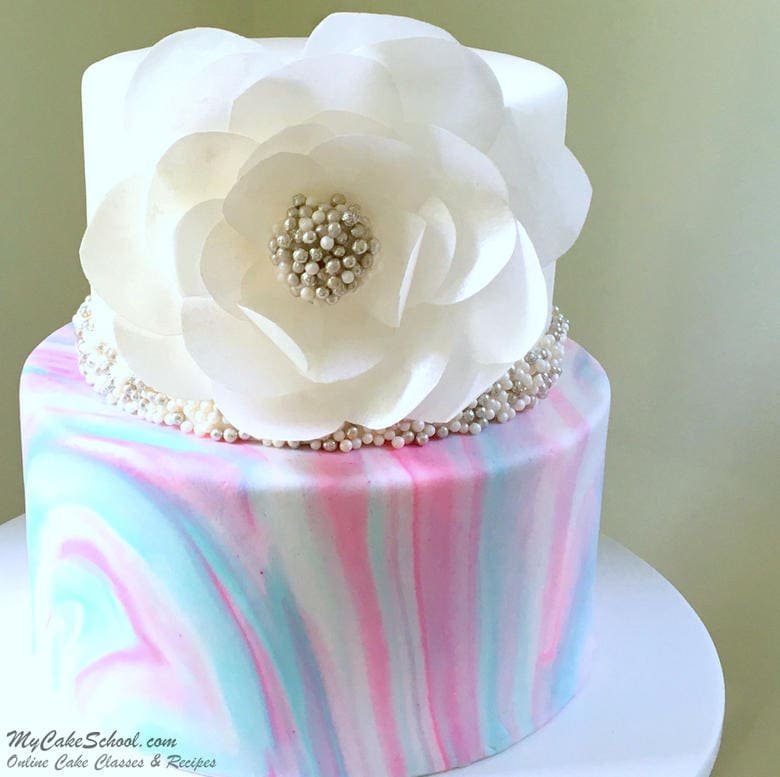 Marbled fondant cakes and accents have become very popular in cake decorating, and the unique look has endless possibilities!
Small amounts of color or subtle color changes may be used for a softer, elegant design. For a more dramatic look, deeper shades can be added for more contrast and color.
The marbling of shades of blue will add depth to beach or ocean themes, and brightly colored marbling will give a funky tie dye feel. I think that you will love this simple, yet very versatile method!
In today's tutorial, I will demonstrate a beautiful marbled effect using white fondant, accented with pink and teal.
Our top tier is decorated with a large wafer paper flower. Both methods are gorgeous, dramatic, and surprisingly simple! Enjoy our tutorial, and be sure to see the materials list and notes below!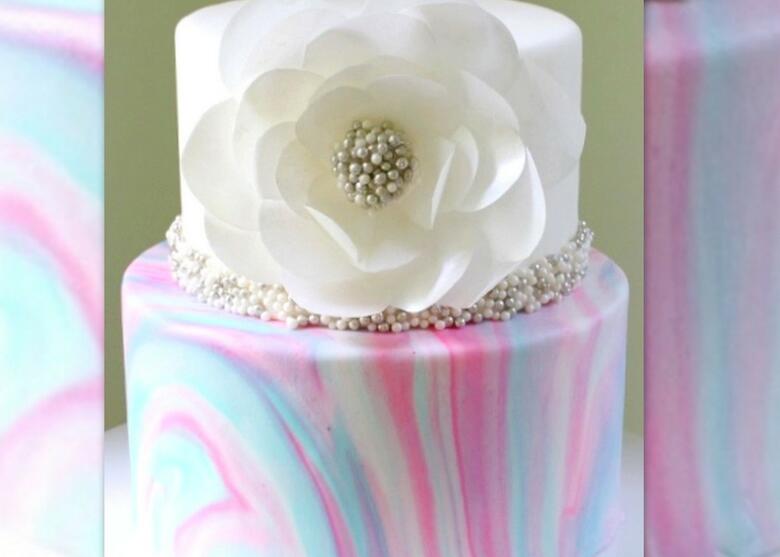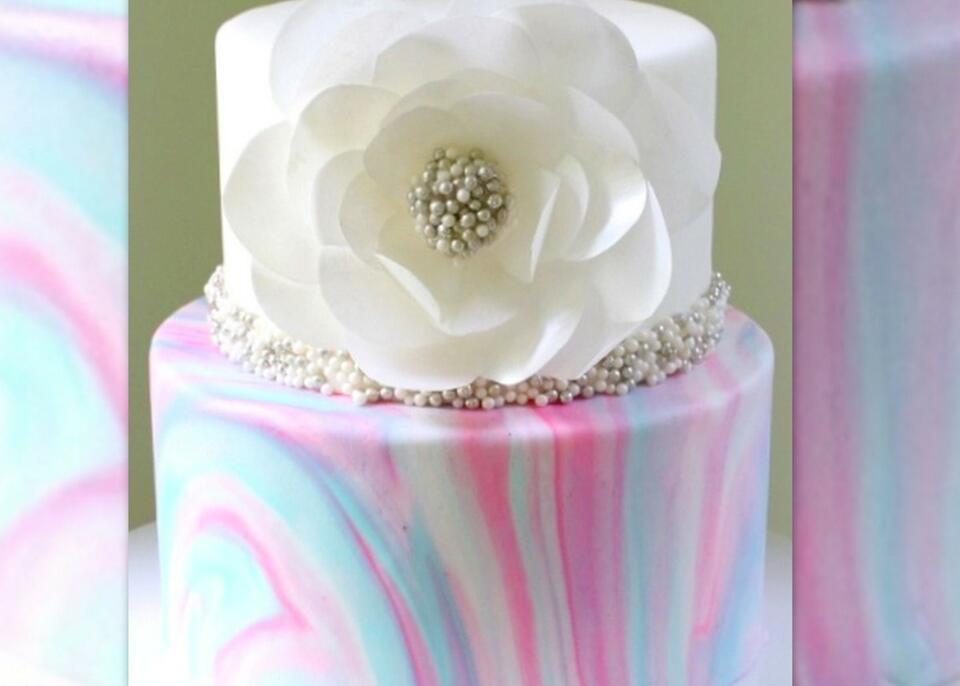 Materials for Marbled Fondant:
You will need approximately 18 oz fondant for the 6" tier, and 24 oz for the bottom tier. (This is based on tiers approx 4 inches in height.) We used Liz Marek's recipe for fondant.
For the marbled tier, I used approximately ¼ of the fondant (6 oz) to create the contrasting colors...about 3 oz of pink fondant, and 3 oz teal. You may wish to alter the proportions of color. I wanted a lighter color of cake.
Colors: Americolor Deep Pink, Americolor Teal
Wafer Paper (I used 3 size of petals... 10 larger petals (3 inches long), 5 medium petals (2.5 inches), and 9 small (1.5 inches). Also, circle of wafer paper about 2.5 inches wide.
Silver Dragees and Sugar Pearls (Optional)
Piping Gel for "glue"
Lollipop stick
Small amount of gum paste (or fondant with tylose powder added) for center of flower
Petal Dust (We used Super Pearl) or Pearl Spray - optional
FMM Muli-Ribbon cutter (aff.)(optional) - Used for cutting my fondant band/border
Misc: Shortening for applying to countertop, table knife for curving petals, cookie sheet, parchment or waxed paper, Rolling pin, small brushes for piping gel.
Tips on Marbled Fondant
*Keep in mind what the colors that you are marbling will look like when blended. We have shades of purple in our cake because the pink and blue mixed here and there.
Do not over-marble. It's possible to lose the effect if you continue to marble and roll your fondant repeatedly. Know when to step away! ;0)