St. Patrick's Day~ Buttercream Rainbow Tutorial!~
Today I'm sharing a fun St. Patrick's Day Buttercream Rainbow Cake Tutorial! Of course, this sweet design would work any time of year. Who doesn't love a rainbow?
If you are familiar with using simple star piping tips, one of the most basic techniques (after the star border) is the shell border. Today's design incorporates the shell border times 100!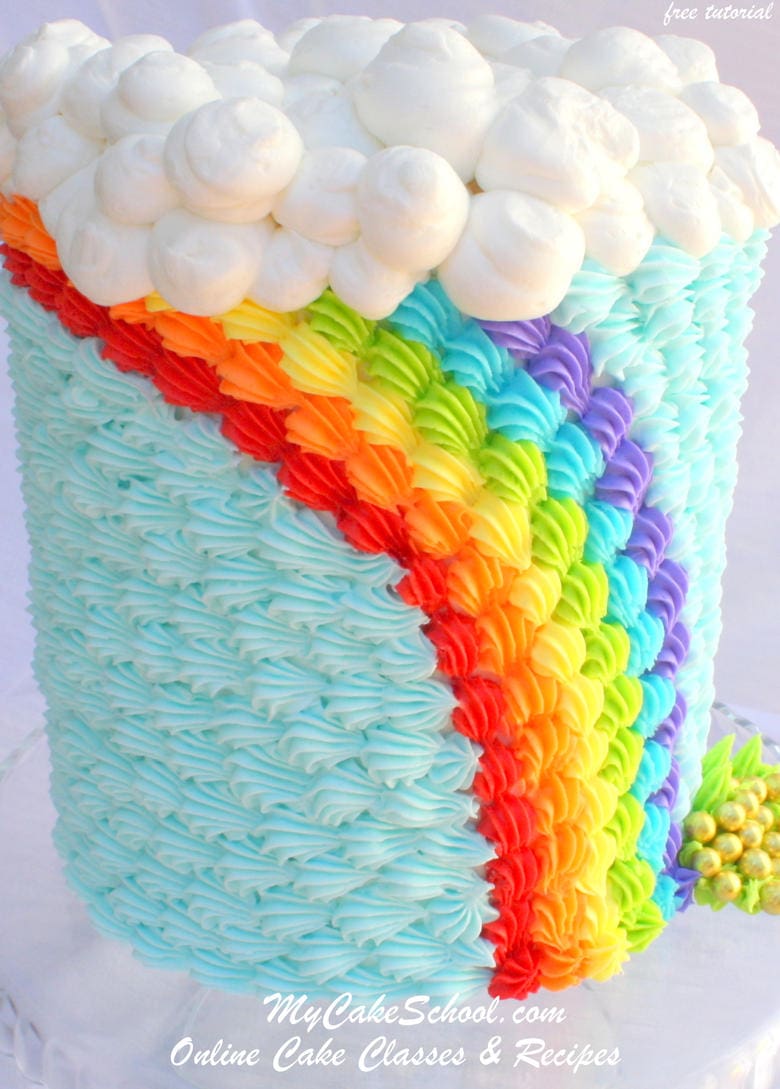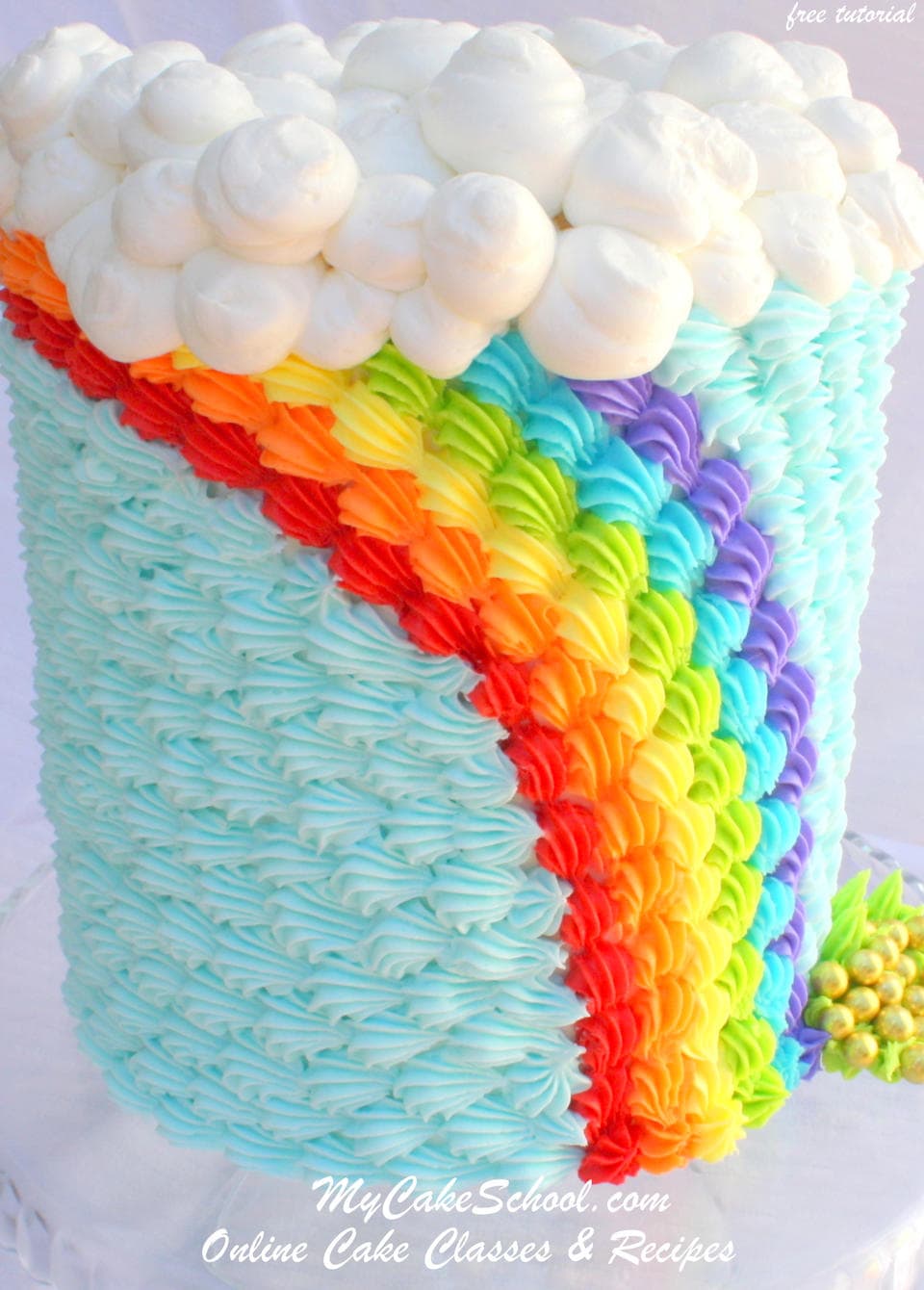 Mainly what I wanted to show you is that you can take a relatively simple technique that you can do well (whether it's piping dots, stars with the star tip, ruffles, petals, etc.) and cover an entire cake with it. Why reserve the shell border just for the border? It's time to make a rainbow!
How to Make a Buttercream Rainbow Cake
First, my elaborate sketch. I included this just for fun ;0) - I always smile when I see the gorgeous sketches that people post online of their cake plan. I smile because I know that my sketches, when I make one at all, normally look like this--- (this is what I drew for Mom when she was asking what I had in mind) ! We decided to go with half a rainbow. As you'll see in a second, maybe I should have gone all out and used some colored pencils -haha ;0) hmmmm....see Red Alert! below...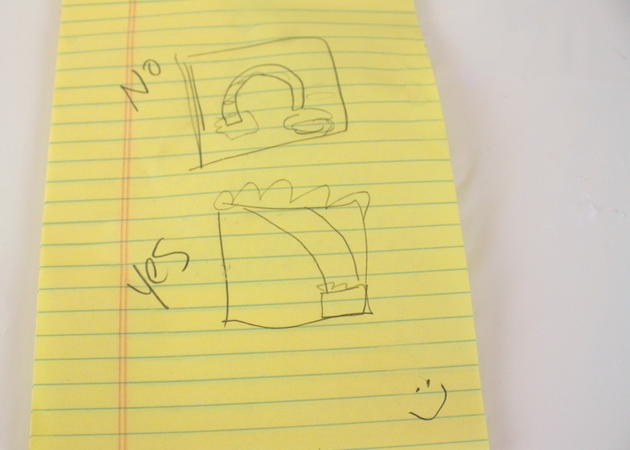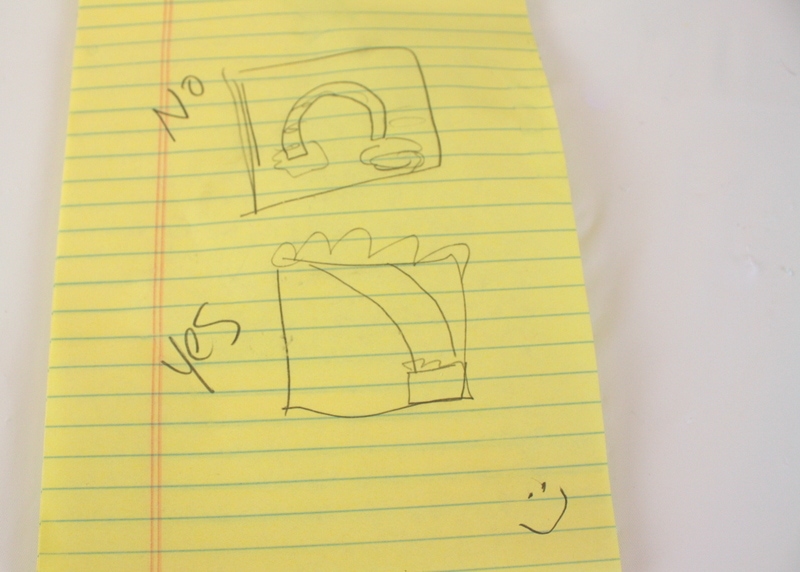 Double Barrel Cake
The cake that I'm using today is a tall 6" tier. I've been doing a lot of these lately. Mine is two cake layers, then a small cake board in the center (doweled beneath) with another two layers stacked on top and frosted as one. I frosted my cake with a thin layer of frosting...we will pipe over this in a few minutes.
Mapping Out the Rainbow Design in Buttercream
You can see that I used a paintbrush handle to map out where my rainbow would fall.
The most time consuming part of this or any rainbow cake is tinting the frosting! I used Americolor coloring gels to tint my frosting but go with whatever your favorite may be.

Red Alert, Warning!! I piped my colors backwards.. ;0)
Okay, so here's the part where I dive into the piping. I'm using a Wilton 21 star tip (use whatever medium sized star tip you'd like).
As I'm thinking to myself, Red- Orange-Yellow-Green-Blue-Violet...., I SHOULD have been thinking...Violet-Blue-Green-Yellow-Orange-Red. I made this cake yesterday, and it wasn't until TODAY that I realized I'm completely backwards!!
I think the half-rainbow threw me off...and the fact that I was working from left to right, and I may as well assume that what I really needed was another cup of coffee ;0)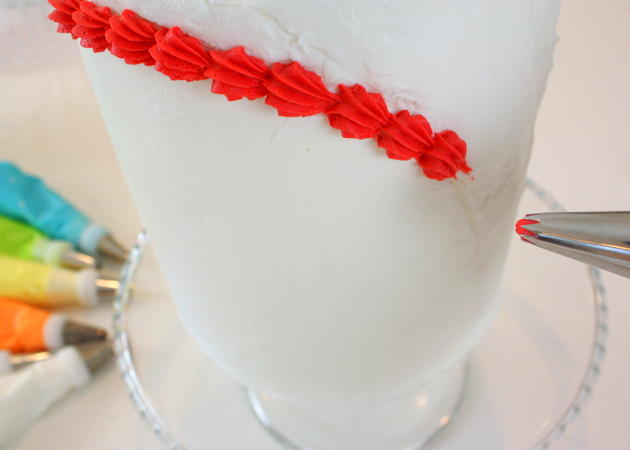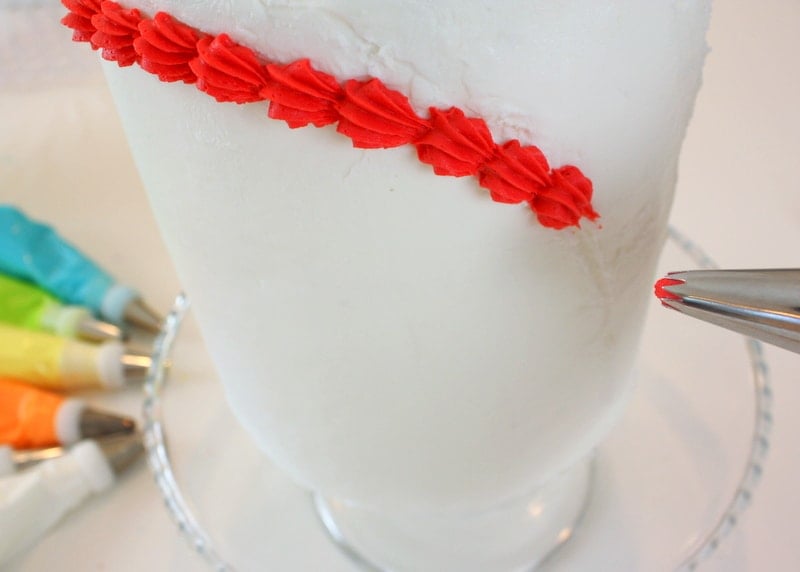 Here we are, three rows in! Yes, a little backwards, but still pretty!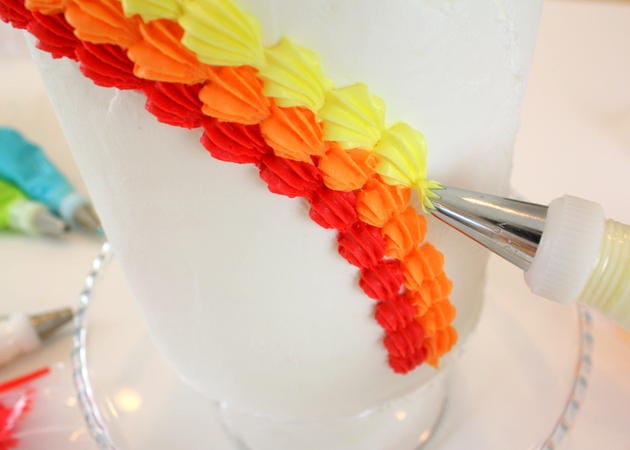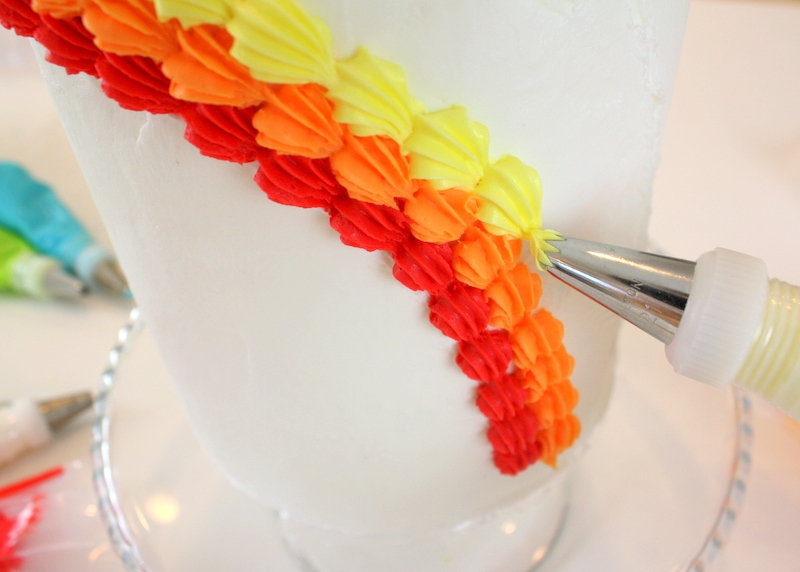 Our half rainbow is now complete! The colors may be a little out of order, but aren't they pretty?!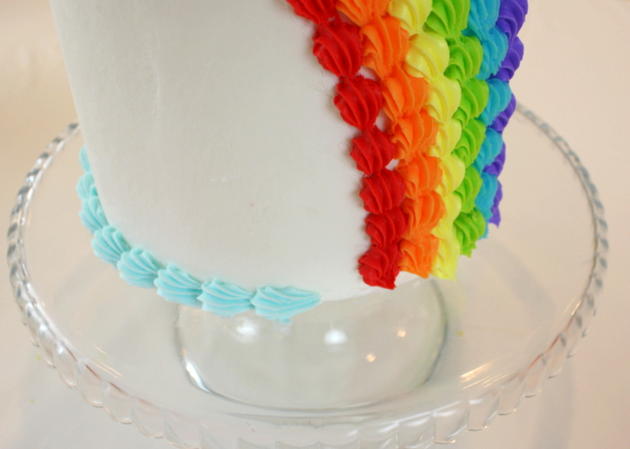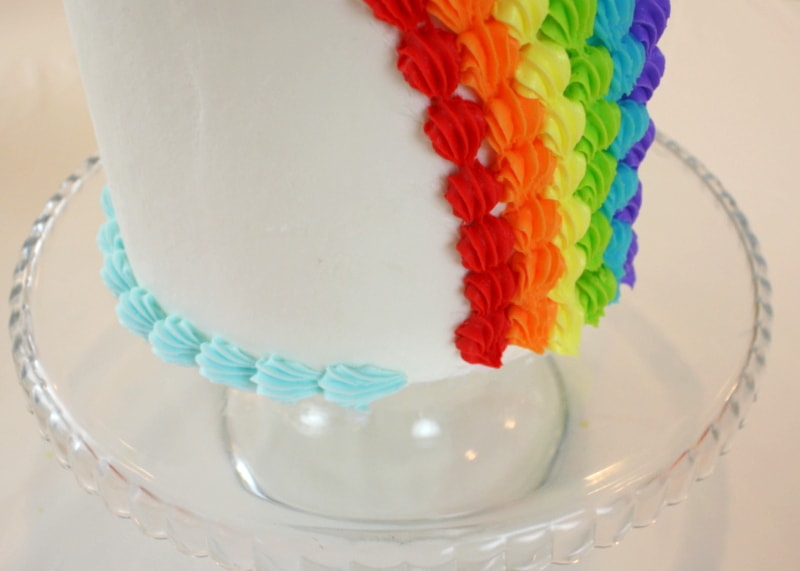 Filling in with Piped Blue Shells for the Sky
Next, I'm piping my buttercream shells (still with the Tip 21) to fill in our sky. My blue is Americolor Sky Blue.
You can see in the picture that I'm slightly staggering my shells, so that each row can be nestled into the row below it. It's optional--if you pipe each row exactly as the row before it, you'll have more openings to your crumb coat beneath.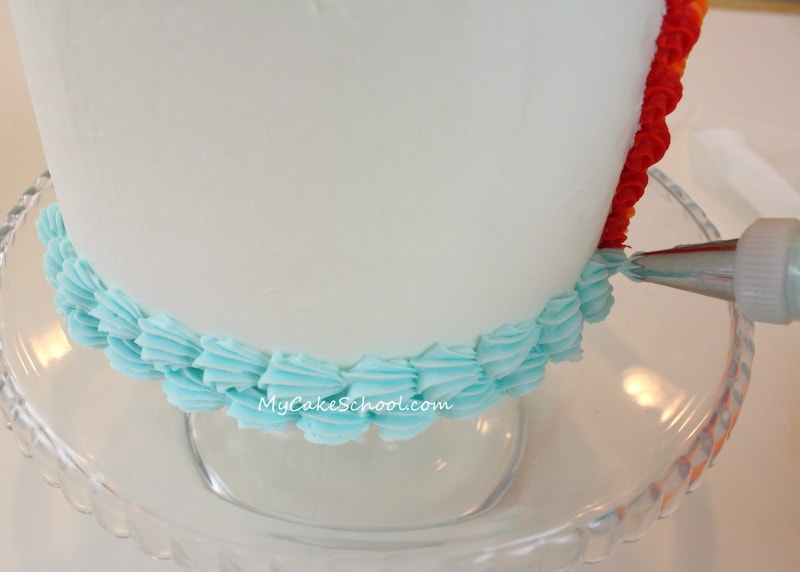 More shells....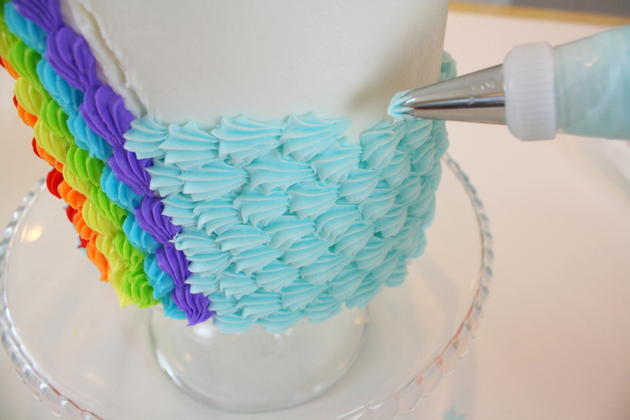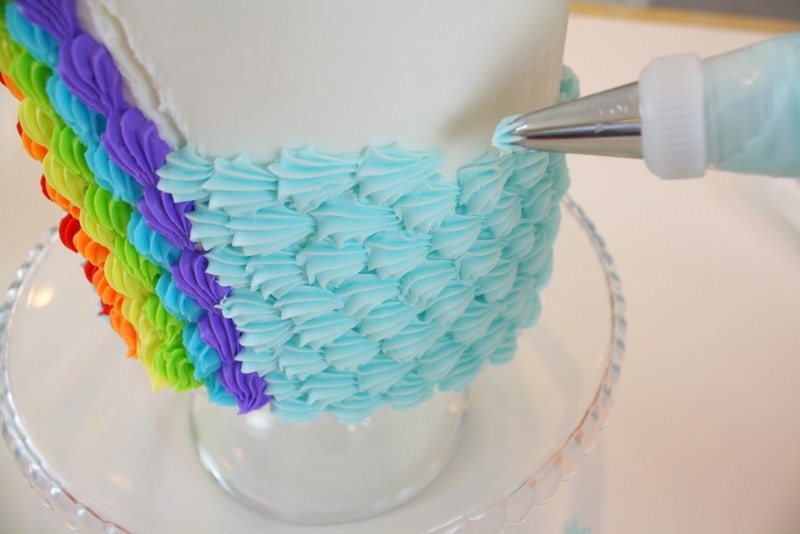 More and more and more shells ;0)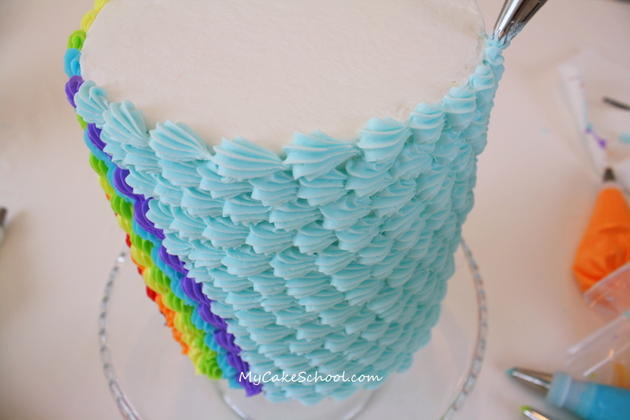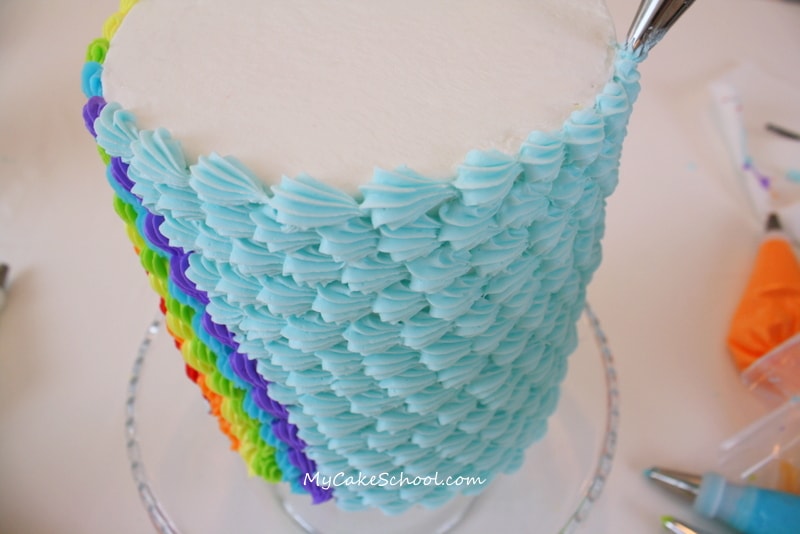 Have I mentioned that I love piping shells?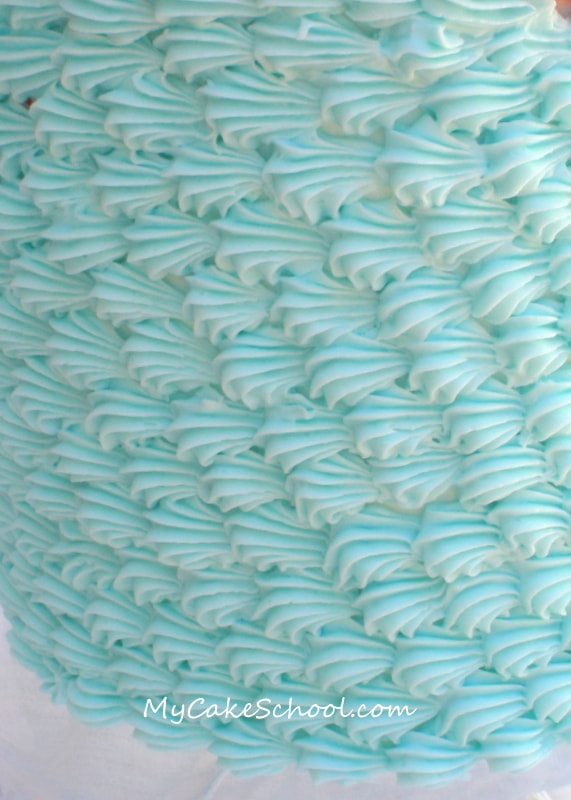 Adding the buttercream clouds on top!
Now...let's have some clouds! Things are about to get very PUFFY! If you aren't into puffy, then a nice smooth top, or a "shell top" would be great too.
I'm armed with my Ateco 806 tip, which is a jumbo round tip. I also used my Wilton 12 tip, which is a medium round (and with enough pressure, is almost identical to the 806).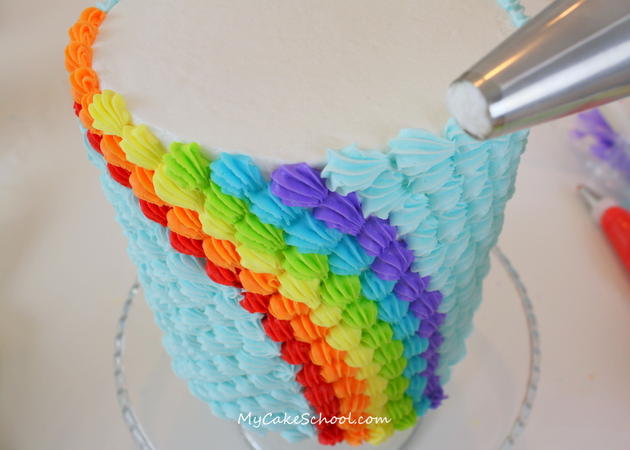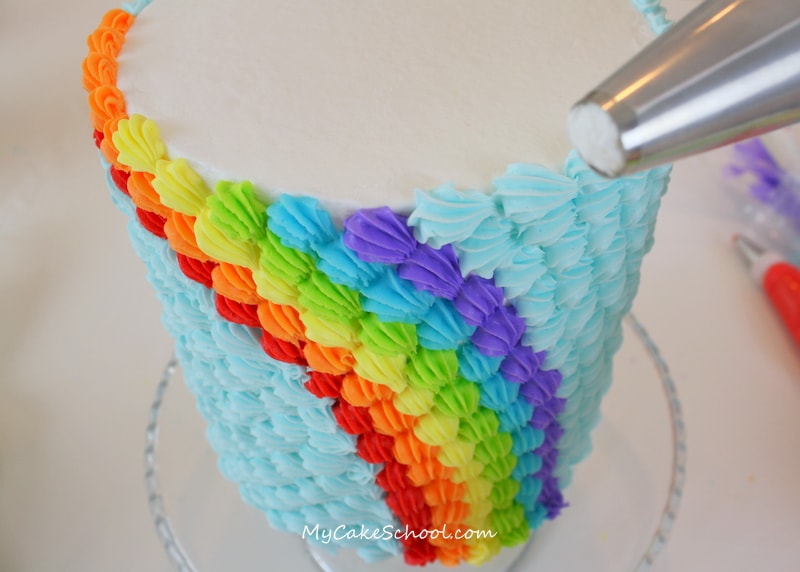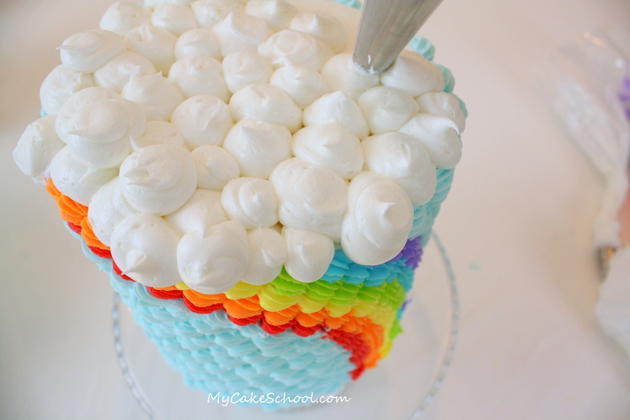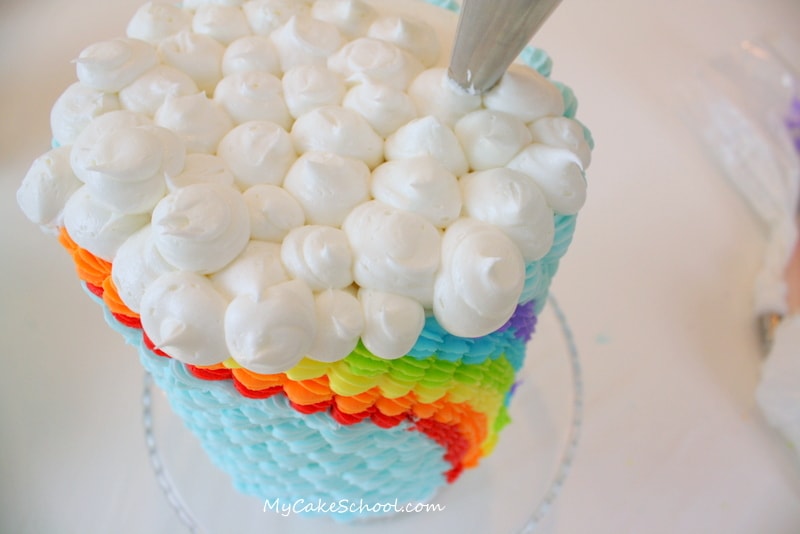 Wahoo! Hooray for clouds ;0) -- I tapped down all of those points once my icing had crusted a little.
A little gold for the end of our buttercream rainbow
Now for some gold. Use whatever you'd like for this...I used jumbo gold dragees that I break out for special occasions like these. They aren't meant to be eaten, but they are pretty! Gold chocolate coins, or fondant painted with gold luster are other ideas ;0)
Also, I opted to throw out the pot of gold (which was in my sketch, did you notice?) -- I didn't want to bring in the color black. Plus, I figured that most people would be just as happy to find a pile of gold at the end of the rainbow. I know I would!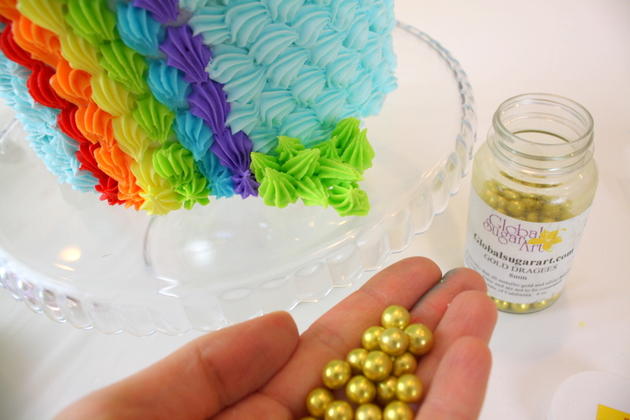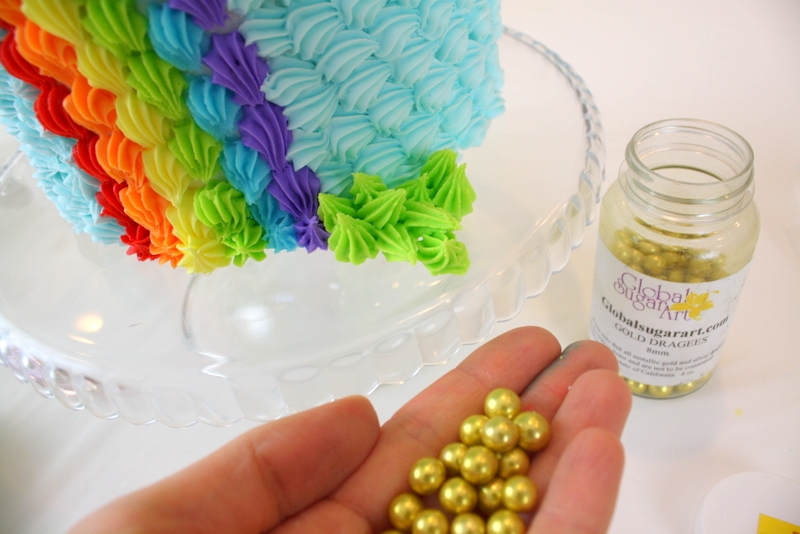 And we are finished--hooray! I hope that you enjoyed this tutorial-- Even if for no other reason than to consider the "shells all over" look. If you try out this rainbow cake, I'd love to see! Maybe your colors will be in the right order, but if not, it will still be lovable ;0)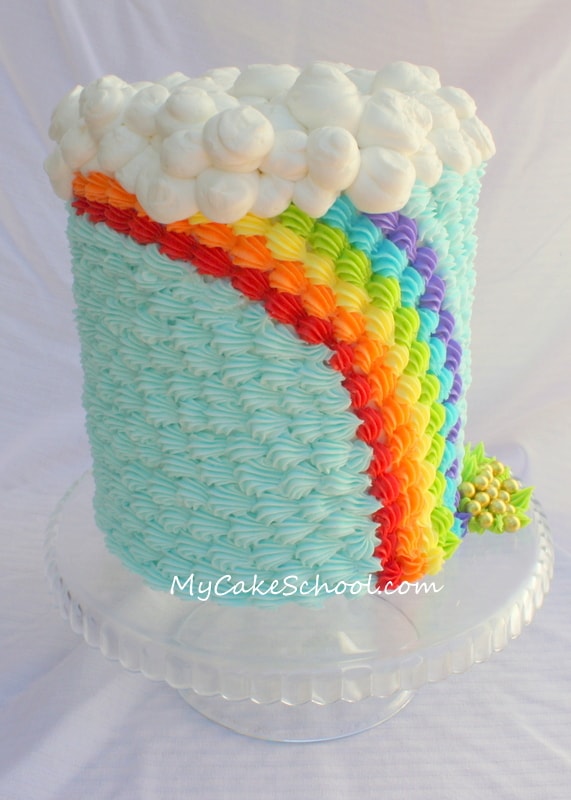 Close up! I could have piped buttercream puffy clouds all day! ;0)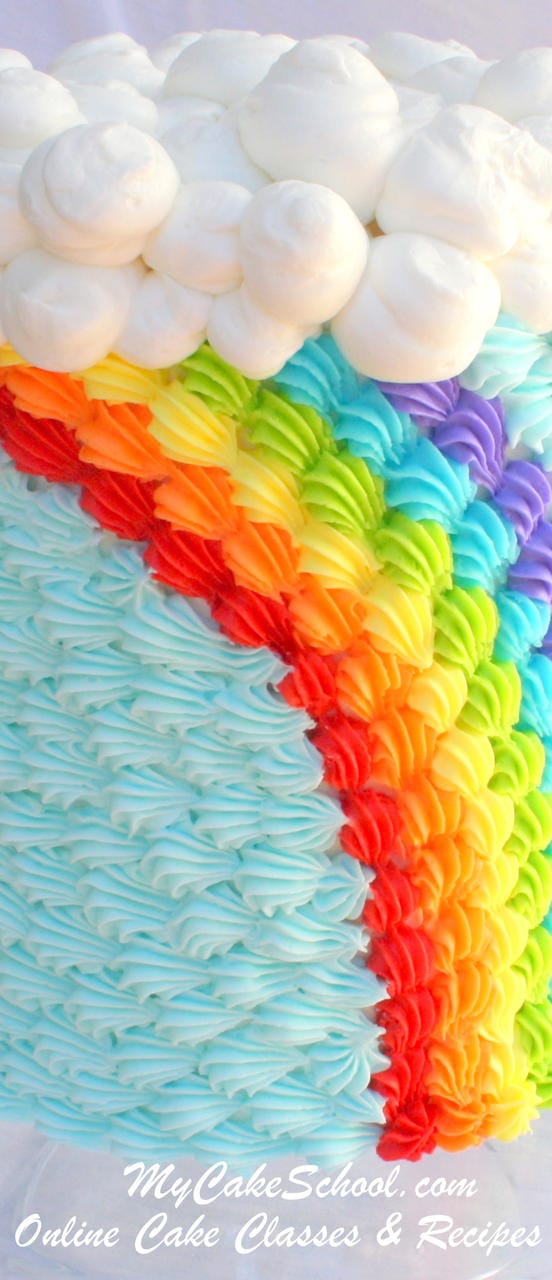 Need a great classic vanilla buttercream recipe? We have just the one!: Classic Vanilla Buttercream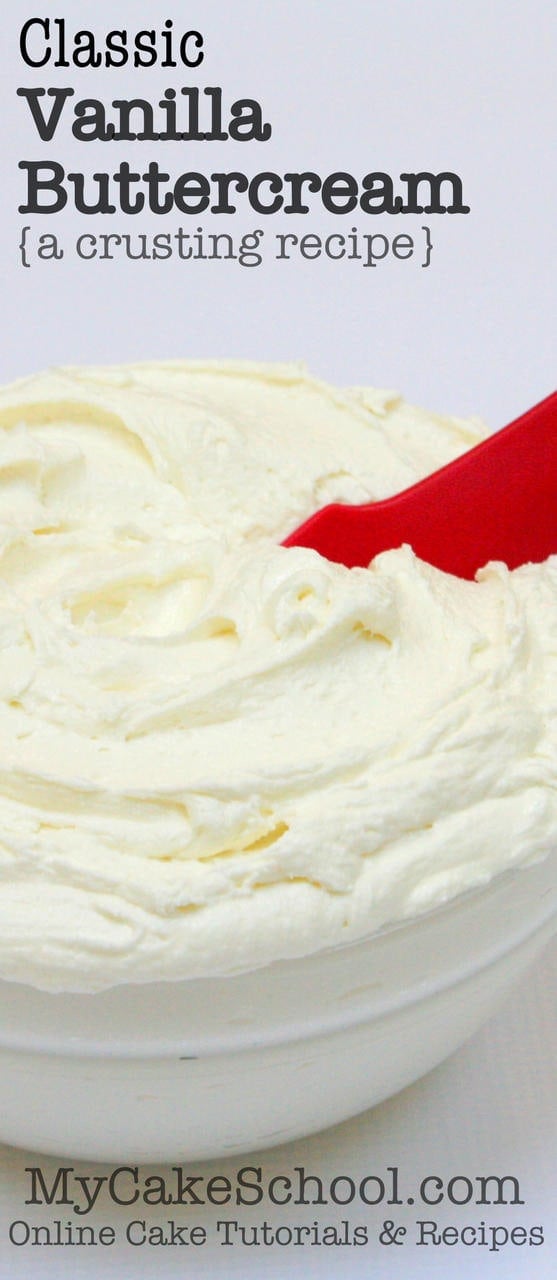 More Beautiful Rainbow Cakes to Share!
If you're interested in even more cheerful rainbow cake fun, we have a roundup of the BEST rainbow cake recipes, tutorials, and inspiration! Follow the link to check it out!: Roundup of Rainbow Cakes!
You'll find everything from Rainbow Pound Cake (on the inside!) to rainbow cake filling, rainbow stripes of buttercream, and so many more!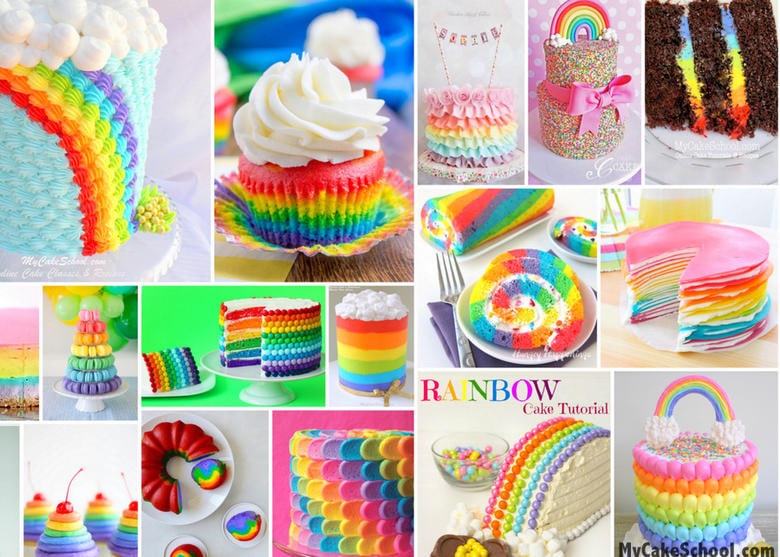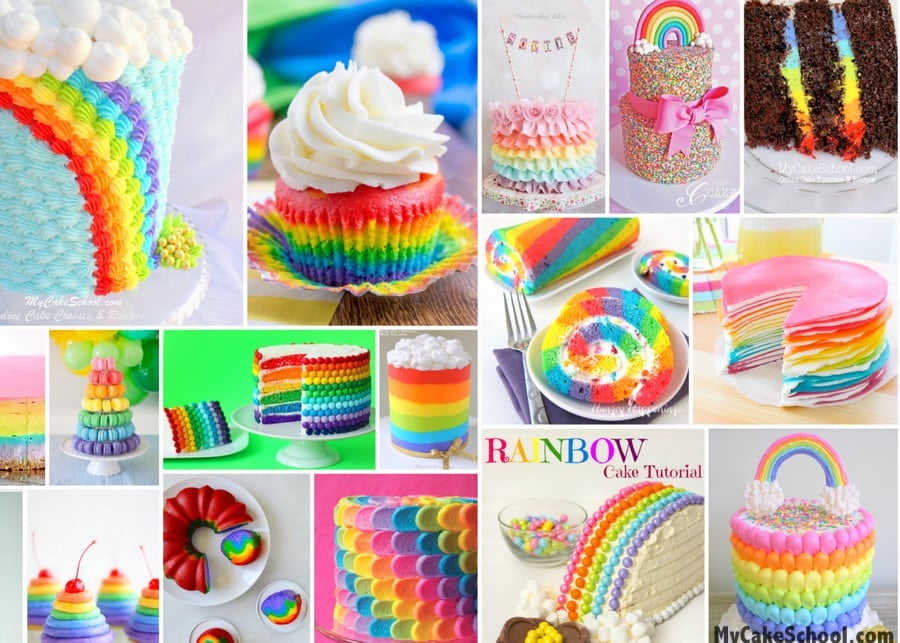 Thanks for stopping by! We hope that you enjoyed this rainbow cake cuteness! If you give it a try, make sure to leave a photo in the comments below. We would love to see your work!