This recipe for Vanilla Bean Buttercream is delicious, pipeable, and develops a light crust. You'll love the vanilla flavor and it's a great go-to for pretty much any cake you can think of!
If you've craving allll of the vanilla bean goodness, make sure to pair this frosting with our Vanilla Bean Cake recipe ! So good!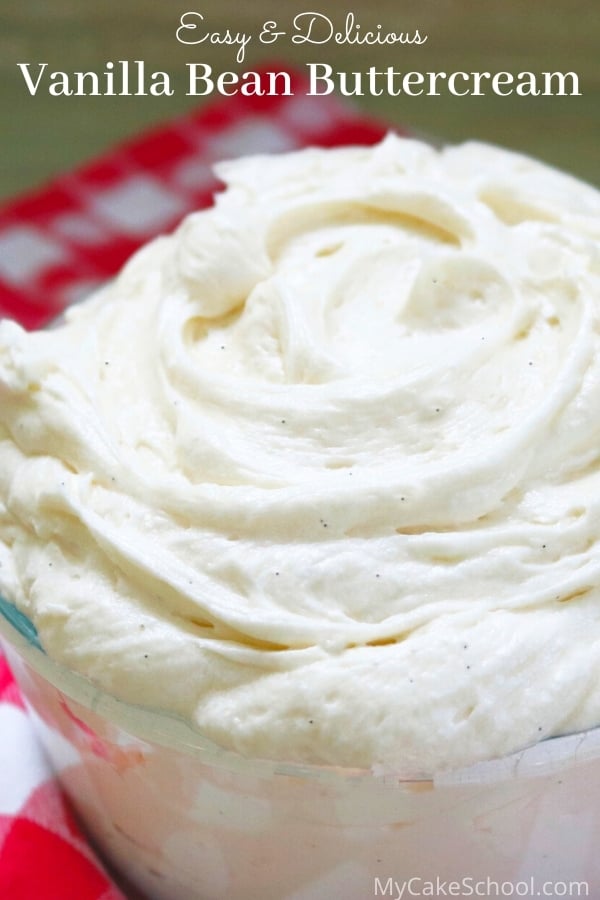 This Vanilla Bean frosting gets it's heavenly vanilla flavor from vanilla bean paste, unlike most of our frosting recipes which call for vanilla extract.
WHAT IS VANILLA BEAN PASTE?
Depending on the brand, vanilla bean paste is sold in bottles or tubes, and is actually not a paste at all. This flavorful vanilla "paste" is closer to the consistency of syrup.
Vanilla bean paste is a happy medium between using vanilla extract and vanilla bean pods. It gives you all of the convenience of a vanilla extract, but it also contains the vanilla bean seeds from the pod without any of the work!
Those little vanilla bean flecks lend a richness of flavor and I love the look of the vanilla speckles in the frosting.
CAN YOU SUBSTITUTE VANILLA EXTRACT FOR VANILLA BEAN PASTE?
You can! These ingredients can be used interchangeably. So, for this frosting recipe, you can use the same amount of vanilla extract instead. Also, for your other recipes that contain vanilla extract, you can swap in vanilla bean paste for an enhanced vanilla flavor.
What if I want to use Vanilla Bean Pods instead of Vanilla Bean Paste?
The most common formula that I have seen for using scraped-out Vanilla Bean Pods instead of Vanilla Bean Paste or Vanilla Extract is that 1 teaspoon of vanilla extract is equal to one 2-inch piece of vanilla bean.
The typical vanilla bean pod would give you the equivalent of 3-4 teaspoons of vanilla extract (or adjust to your liking).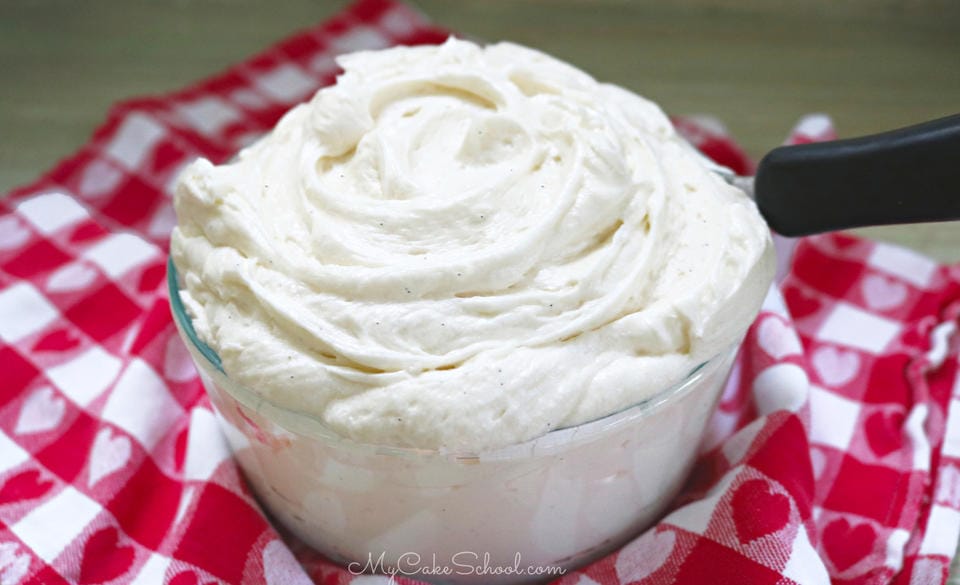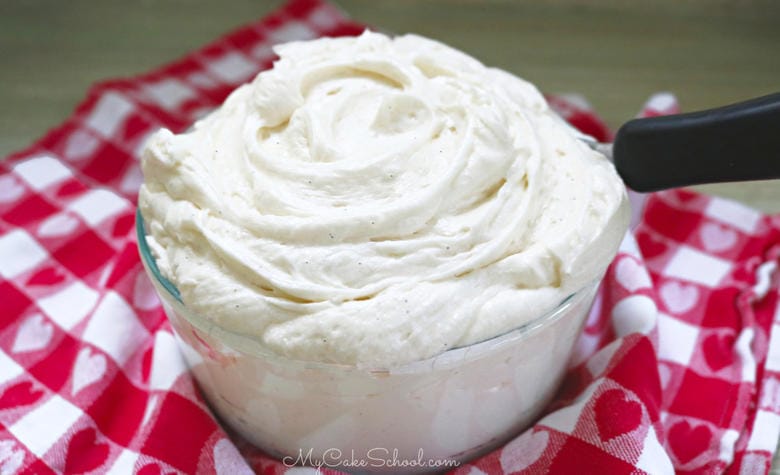 How to Make Vanilla Bean Buttercream Frosting
This easy and delicious vanilla frosting is considered an "American Buttercream", as the ingredients are simply butter, sugar, milk, flavoring, and a pinch of salt.
American buttercreams are great for piping, can be used as a filling, and often develop a slight crust.
We have many variations of frostings in our Frosting Recipes Section, including our Classic Vanilla Buttercream recipe which this Vanilla Bean version is based on. Once your butter is softened, you can throw this recipe together in minutes!
First, cream the butter until smooth and add in the vanilla bean paste.
Add half of the powdered sugar and most of the milk. Mix on medium speed until the powdered sugar is mixed in.
Add remaining powdered sugar and milk and mix at medium speed another 3 to 4 minutes scraping the sides of the bowl occasionally. Then, mix the frosting on low speed for another minute or two to make it extra smooth (and eliminate air pockets). The extra mixing makes a big difference!
Troubleshooting Grainy Buttercream
Buttercream frosting should not be grainy. Why does this happen to some bakers and decorators? The culprit is most likely the brand or type of powdered sugar.
We've had great results with Domino's confectioner's sugar. Some brands of confectioner's sugar don't work as well with buttercream frosting recipes.
If a package doesn't say pure cane sugar, it contains beet sugar which is more likely to give you a grainy outcome.
However, we've noticed that even some trusted brands that say "Pure Cane Sugar" will give a gritty consistency when it comes to frosting. One example is Dixie Crystals (although it used to work great in our frosting years ago.)
I've read that sometimes the grittiness can be caused by the type of anti-caking agent used in the sugar. Your best bet is to do a little experimenting to find the brand that gives you the best results.
Vanilla Bean Buttercream Frosting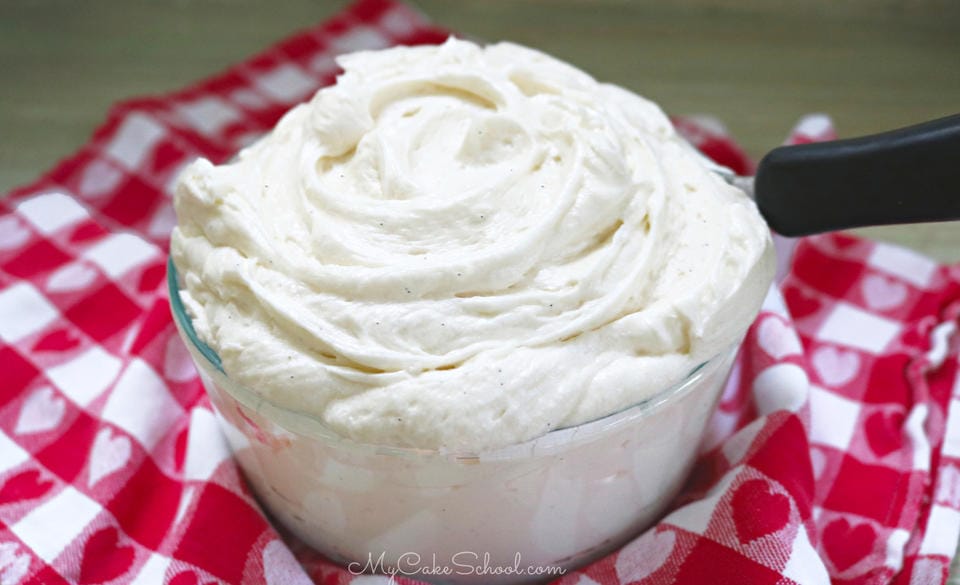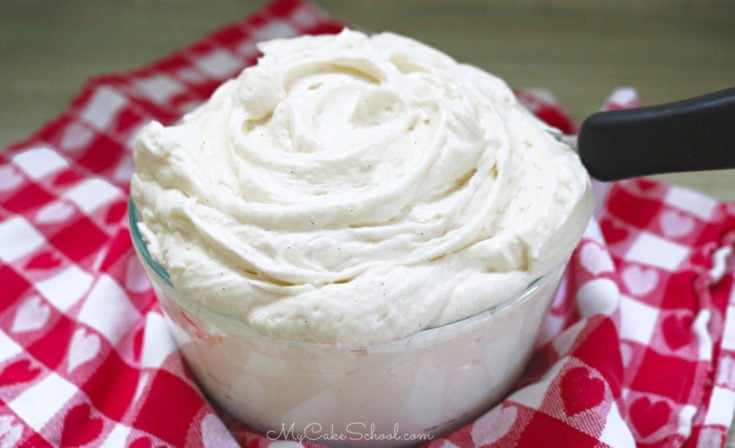 This is such an easy and delicious Vanilla Bean Buttercream Frosting recipe!
Ingredients
3 sticks (354g) unsalted butter
9 cups (1035g) powdered sugar
3 teaspoons (12 g) vanilla bean paste (adjust amount to your liking)
1/2 to 1 teaspoon salt (optional to cut sweetness)
1/4 cup (60g) milk (adjust based on desired consistency)
Instructions
Cream the softened butter until smooth. Blend in the vanilla.
Add half of the powdered sugar and most of the milk. Beat at medium speed until the powdered sugar is incorporated.
Add remaining powdered sugar and milk and mix at medium speed another 3 to 4 minutes scraping the sides of the bowl occasionally. I slow down the mixer to very slow. (#2 on the Kitchenaid) for 1 to 2 minutes. This will help eliminate air pockets in the buttercream. The texture will become very smooth.
Makes approximately 6 cups of frosting.