Fondant Silhouette Design & Textured Buttercream~Video!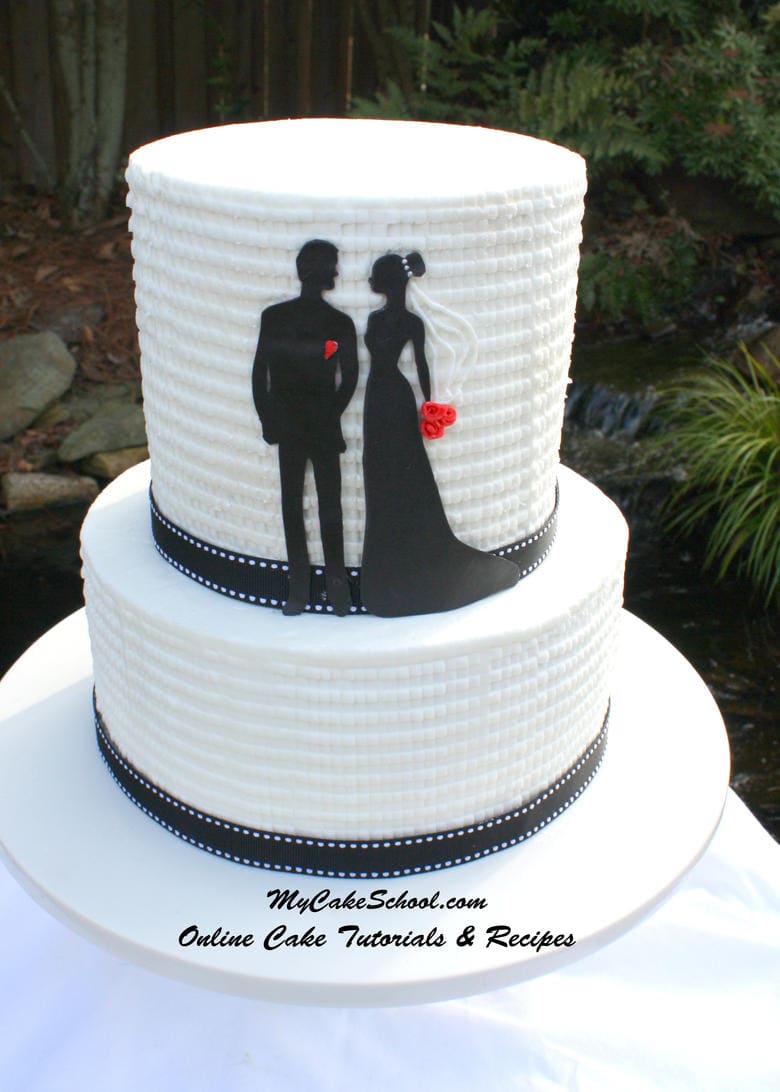 I love the elegant look of silhouettes on cakes. The wonderful thing about silhouettes is that the design options are endless. The effect is dramatic, yet so simple to achieve. In today's tutorial, I really wanted to create a bride and groom. Actually, the design that I demonstrate would work for a number of occasions~ bridal showers, engagement parties, rehearsal dinners, and even weddings.
Another technique that you will learn in this video is a unique style for textured buttercream! I used a very inexpensive tool to create a pattern in my crusting buttercream that resembles a woven pattern with a modern feel. Again, impressive but totally doable for any skill level!
I hope that you enjoy watching this video as much as I enjoyed making it! If you give this design a try, make sure to leave a photo in the comments!
Materials
In this tutorial, I'm using 8" and 6" tiers (3 layers each--with the 6 inch layers being fatter)
These are frosted with our High Ratio frosting but any crusting frosting will do!
Black Satin Ice Fondant (pre-colored)
Ateco Cake Comb
Xacto Knife
Black Ribbon (ours was ⅜ inch)
waxed paper-for transferring your fondant design to the cake
Vegetable Shortening-- for lightly greasing the waxed paper and greasing the silhouette
Buttercream or piping gel for additional "glue" for the silhouette
tylose powder (optional--I kneaded a little into my fondant so that I could roll it thinner)
Red Satin Ice Fondant (or red coloring for white fondant)-- This was for our roses
**TEMPLATE for Silhouette Couple
Miscellaneous
Cutting board or cake cardboard to protect your countertops as you cut out your templates!
2 cardboard cake circles & 4-5 bubble tea straws or supports of choice if doing 8"/6" tiers (I used 4)
Notes~
Use the templates that I used as they are, or do some experimenting. You can print off the images and draw on the bride and groom to make changes to hair styles, facial features, bridal gown, arm positions, body size, etc. Then cut out the bride and groom following the lines of any changes made.
I printed my images off on photo paper so that they would be nice and sturdy, but cardstock works well too. Cutting out the templates from photo paper with an xacto knife for me was much more time consuming than actually using the templates to cut out the fondant silhouettes.
You may find invitations or clip art silhouettes online that would work well with your designs. Some of these are free, and others you can make changes to in order to make them uniquely yours.
Have fun with these techniques! I can't wait to see what you all come up with ;0)