How to Ganache a Square Cake with Sharp Corners~ Video
In this cake video tutorial, I'm going to demonstrate how to frost a square cake with ganache...and how to sharpen up those edges & corners! ;0)
I just LOVE ganache. It tastes fabulous, it can be smoothed to a flawless finish, and when making a fondant covered cake, it provides the perfect foundation.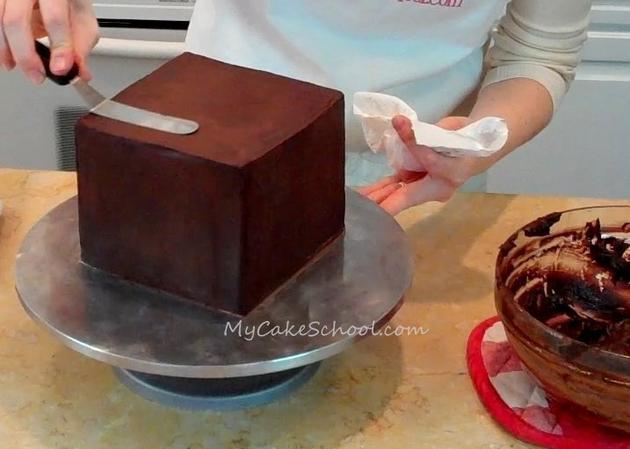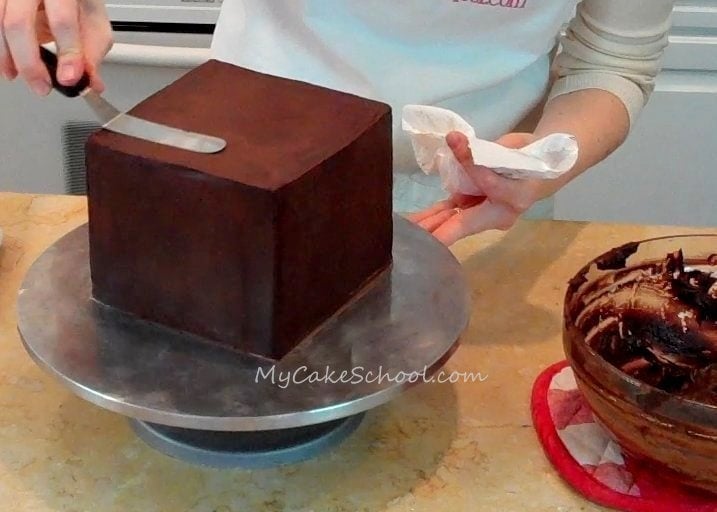 Square cakes do not have to have the super sharp edges that you see in our tutorial--I think that cakes with softer corners are beautiful also.
However, since the sharp corners are a little more tedious, and a little more sought after these days, we wanted to demonstrate the technique for you.
The cake that you'll see in this tutorial will eventually be covered with fondant in another tutorial of ours. You can find it here: How to Cover a Square Cake with Fondant
Also, make sure to check out our Materials list below. We hope that you enjoy the video!
Materials
Three 6 inch square cake layers (White Almond Sour Cream Recipe)
Foam Core Cake Board, approximately ¼ inch larger than the size of the cake on each side. (Ours was a 6 ¼ inch board, but our cake layers shrunk to a little under 6" during baking). Use a board that is approximately ¼-1/2 inch thick.
Bench Scraper-One that has a handle that is not wider than your edge. (Mine has a curled handle which is nice)
Turntable- Optional but always helpful!
Simple, Spreadable Ganache- We used a 2:1 ratio of dark chocolate (60% cocoa) to heavy cream.
Spatula for spreading the ganache
Right Angle Straight Edge- Optional
Pot of hot water to heat your bench scraper
Bubble Level- Optional
Notes
Remember to check out our Simple Spreadable Ganache post in the Recipes section for preparation details & additional notes! When using white or milk chocolate, you'll need to use at least a 3:1 ratio of chocolate to cream.
This technique for applying ganache to a square cake does take some practice and patience, but it is not difficult once you get the hang of it! It may take a few tries before it comes naturally, but don't give up ;0)!
** There are a couple of popular blog tutorials that are so creative and well done when it comes to techniques on getting smooth cakes with sharp corners.
One is a tutorial by Jeff Arnett which you can find HERE on Cake Central.
The other is a very cool technique as featured on Not Quite Nigella's blog as taught to her by decorator Faye Cahill. You can see it HERE! With this method, you would have a board both on top and bottom to guide you. I hope you'll experiment and find what works best for you!