How to Apply Fondant to a Square Cake
In this tutorial, I will show you how to cover a square cake with fondant.
Not only will you learn the basics of smoothing fondant over the corners of your cake, but you will also learn a method of smoothing that will sharpen and define your edges for a sleek look.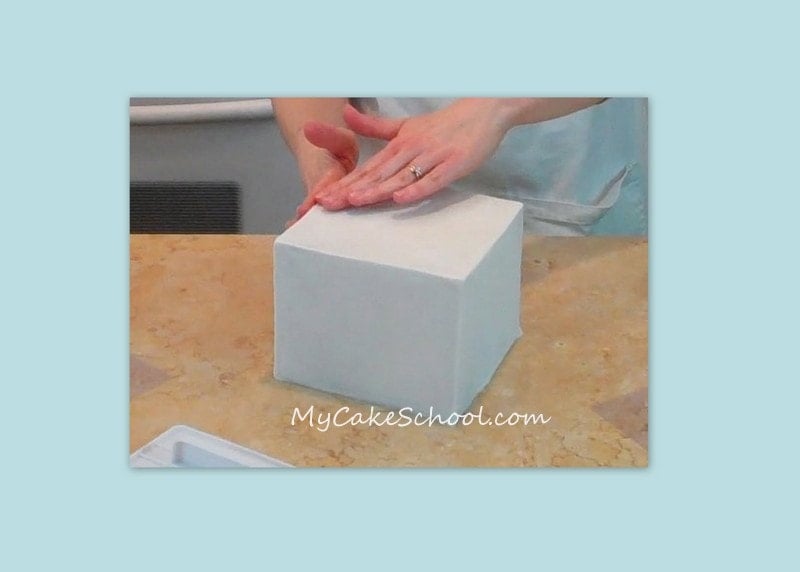 The cake that I am covering in this demonstration is the cake that we made in our "How to Cover a Square Cake with Ganache" Tutorial. (We have a Square Buttercream Cake Tutorial as well!)
I hope that you enjoy the video~ Don't forget to see below for Materials and additional notes!
Materials
Square Cake Covered in Ganache
Vegetable Shortening- (or your glue of choice for helping fondant to adhere to cake, and preparing countertop)
Fondant Smoothers
Template Plastic or thick acetate (Two 4x6 pieces cut from a sheet that we purchased at a craft store)-Optional but we like using it.
Fondant (I used Satin Ice- Approx 2 lbs)
Crusting Buttercream or Royal Icing-- Optional, but helpful if you need to repair any imperfections.
Notes
Ganache is my preferred foundation for fondant covered cakes. Buttercream works also, but just doesn't have that firmness that ganache has, which is wonderful for preventing bulging and keeping it's shape.
Square cakes are going to be more work than round, especially if you are focusing on the corners as we did. Charge accordingly if this is a cake order!
Do not be discouraged if you don't master this on the first try! It will likely take at least a few attempts before you get the hang of it.
Finally, softer edges can be beautiful too! Don't put too much pressure on yourself to have razor sharp corners--develop the style that works best for you!
**The thick plastic used in this tutorial is not sold under any sort of "food safe" label. Personally, I have no problem with washing the plastic in warm soapy water and drying.
However, if you have concerns, you can still get beautiful definition with your fondant smoothers. The metal ones that I am using in the tutorial are PME, and the white ones are Wilton. I like them both.
As I mentioned in the video, I did not invent the idea of using flexible pieces of plastic/thick acetate for smoothing fondant--it has been around for a good while and I'm not sure who to credit as being "first" as with so many popular techniques.
However, I did find an awesome tutorial by TortaCouture on CakesDecor.com about getting a sharp edge. If you have a chance, you may like to read through her tips & beautiful cakes as well!