How to Frost a Square Cake with Buttercream~Video
Today, I'm going to show you how to cover a square cake with buttercream! I hope that you'll find a tip or two in the tutorial that will make the process much less intimidating.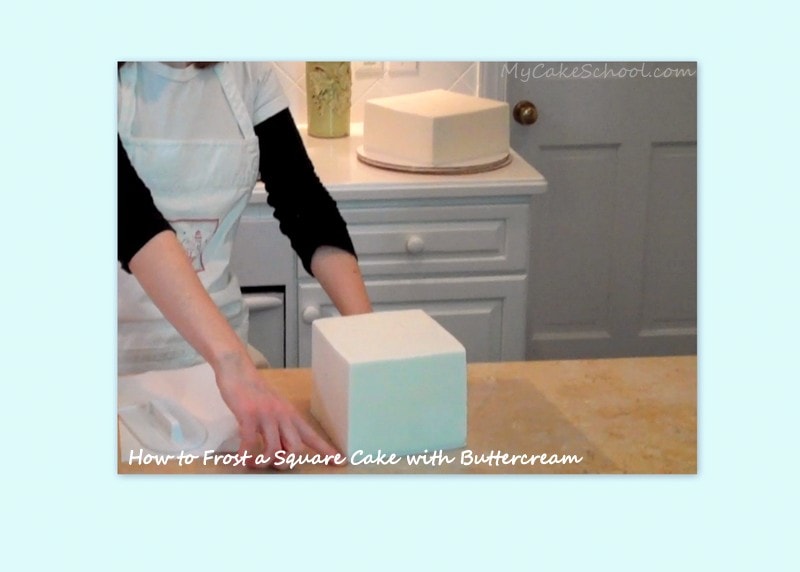 The truth is, frosting a square cake with buttercream is not difficult if you have a good method-- but it is definitely more time consuming than frosting a round cake. There's just no way around it (and so charge accordingly if you have a cake business!)
The more that you practice frosting square cakes, the more quickly things will come together--and if you follow the steps in this tutorial, you will be impressed with your square-caking skills in no time!
Make sure to check out additional information beneath the video--enjoy!
Details about our Square Cake
In this tutorial, I'm frosting a three layer White Almond Sour Cream (doctored mix) recipe-- These are six inch cake layers. They have already been filled and settled prior to the start of the video.
Buttercream- I used our High Ratio recipe. I like crusting buttercreams and so any of ours would work well (High Ratio, Fluffy Vanilla, Classic Vanilla...). If you do not work with crusting buttercreams, you will still be able to use the most important tips in this tutorial--but you will not be able to use the Viva Paper Towel method for smoothing, as I do in the end.
Foam Core Board slightly larger than your cake-- My board was about ¼ inch larger than my cake on all sides. A thickness of ½ inch is a good choice. The thicker boards are less likely to bend under the weight of your cake when you move them, and it's also a good thickness for guiding your bench scraper.
Bench Scraper- I like a bench scraper with a curled handle like THIS ONE. It doesn't have to look exactly like this, but it's best if the handle doesn't extend past the edge.
Pot of Hot Water -- * With Swiss Meringue buttercreams, very hot spatulas can cause color streaking--so, do a test patch on a plate to be sure. If your color streaks, skip the hot knife step (but you can still chill your cake in between frosting applications)
Viva Paper Towel- Optional, but I like the "Viva Method" as a finishing touch
Fondant Smoothers- Again, optional--but if you are using the Viva Method of smoothing for final touches, they are helpful
Miscellaneous~ I used a piece of food safe vinyl to cover my countertop (optional) to keep things clean. I used a larger cake board to transfer the cake to and from the freezer.
Notes for Frosting Square Cakes
As I mentioned in the video, the most important part of the method is that you are using your cake board as your guide, as well as a bench scraper.
If your usual smoothing methods don't match mine, that is fine. You can experiment with other ways of frosting your cakes--but I think that you'll find that using a slightly larger board than your cake will help you to achieve those sharp corners even if the cake itself doesn't have corners as sharp.
You will want to make more frosting than you will actually need. You can freeze the leftover frosting in an airtight container.
The reason for the excess is that you will want to really build out your frosting, just past the cake board, so that when you go back with your bench scraper, the scraper will be in contact with frosting from bottom to top. Once that excess is scraped away, you'll be left with a very smooth and even layer of frosting.
* There are other great methods out there for achieving sharp corners, and I encourage you to experiment with as many as you can.
Cake decorating is all about finding what works best for you. This is what works best for me! I did not invent the method of using the board as a guide, and many of you will be familiar with it already--but for those who aren't, I hope that you'll give it a try! Let us know how it goes ;0)
**(You can now purchase re-useable acrylic squares or circles for this method!)