Henna Cake Tutorial in Buttercream
In today's video tutorial, I'm going to show you how to create a beautiful henna cake with colorful buttercream piping.
If you enjoy buttercream piping, I think that you will love the intricate details of henna-inspired cake designs.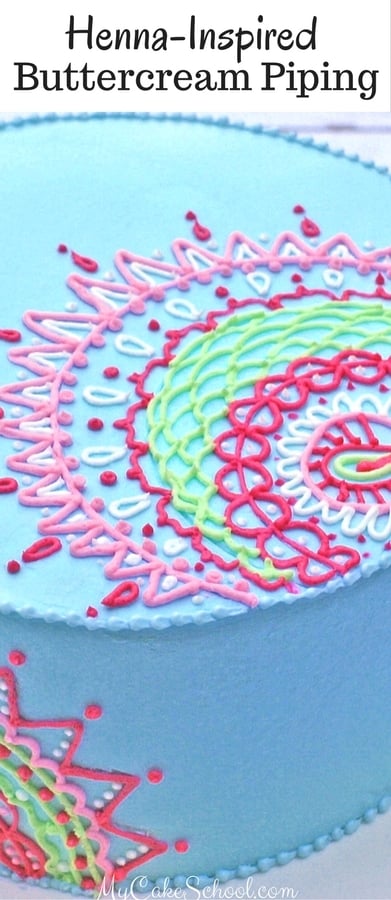 These lovely henna patterns would be perfect for all sorts of occasions. I chose to create a very colorful design that would be fun and festive for birthdays.
You could dramatically change the look of this cake design by simply using one contrasting color for your piping, or even white henna piping against white buttercream or fondant for an elegant feel.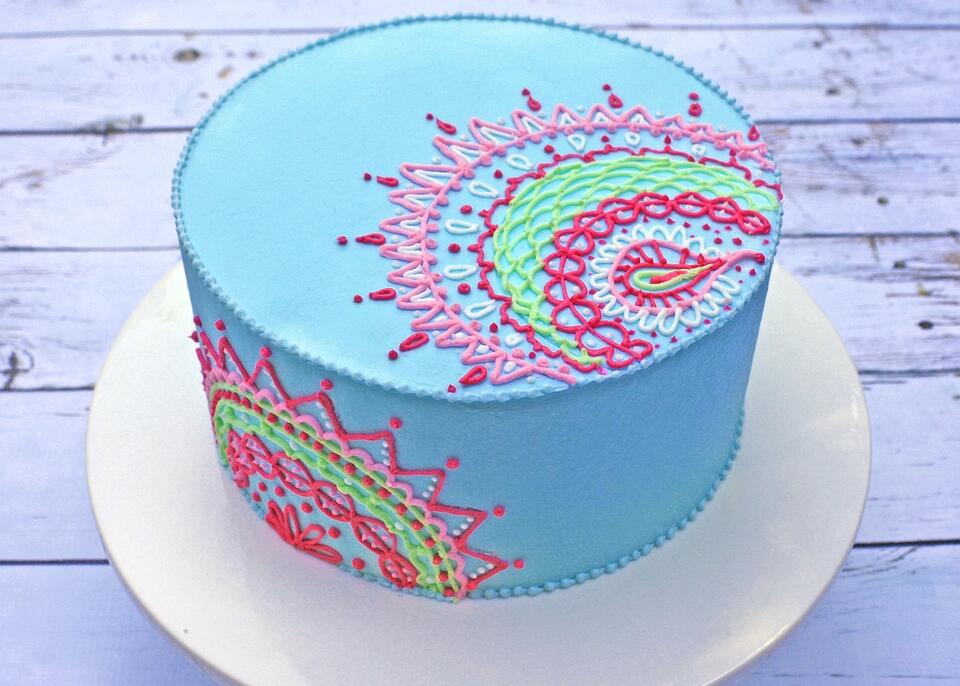 I found it very helpful to do a trial run on waxed paper before beginning. You'll see in the video that I demonstrate two different ways to go about the henna pattern.
For my first henna design, I only used one template (a 3 inch half-circle). For my second henna pattern, I used three templates (for each of the three arches that I piped over.).
It's entirely up to you, but this is one of those rare cases where I actually preferred mapping everything out in advance.
I usually am a big fan of eyeballing it, but I found with my first henna pattern, that freehanding a half-circle isn't so easy!
I'm still really happy with the overall look, but the top henna pattern was much easier since I had impressions to follow.
Materials:
We started with an 8 inch tier, frosted with Fluffy Vanilla Buttercream frosting (tinted Americolor Teal). Cake is on it's own cardboard cake circle cut down to size. Base coat of buttercream was smoothed with a Viva Paper Towel after the frosting had crusted.
Piping tips: Tip 2
Coloring Gels: Americolor Teal, Deep Pink, Electric Green (I used Deep Pink for my darker and lighter shades of pink)
Misc: Waxed paper or parchment for practice, bench scraper or spatula for applying frosting, turntable (optional), disposable piping bags
Circle Cutters - 3 sizes (optional). You can use our templates if you'd like. (Fold the circles down to the size you need, and mark onto the frosted cake with a toothpick after chilling.)
Enjoy the Tutorial!
Thanks so much for stopping by! We hope that you enjoy this colorful henna cake! It really was so much fun to create.
As I mentioned in the video, there are endless options when it comes to henna cakes. Feel free to copy these henna-inspired buttercream designs exactly, or have fun experimenting with your own styles!
The patterns look a lot more difficult than they actually are to create (love it when that happens!). It's just a lot of repetition of simple shapes.
However, if you aren't a fan of lots of piping.. you can find henna stencils at online cake supply shops also!
After the tutorial, I decided to add a little bead border using a round piping tip 2!