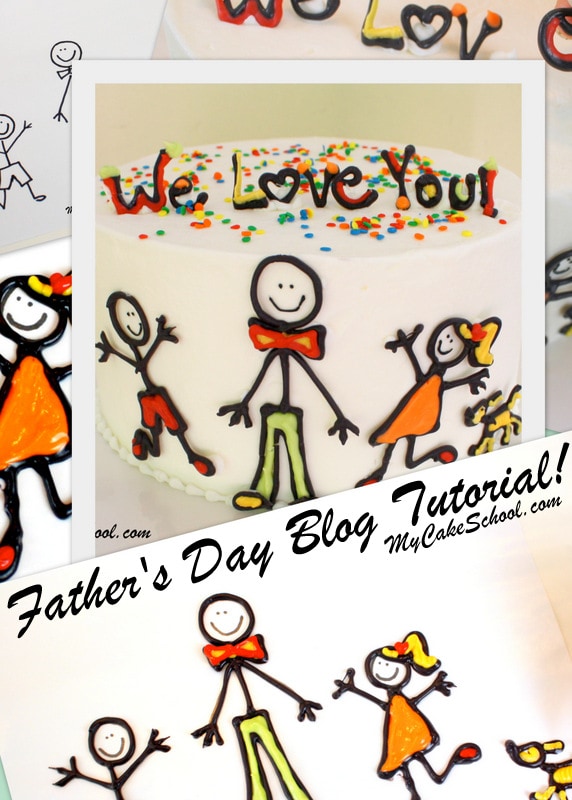 It's almost Fathers Day! Our plan of action for this cake design is simple and fun ;0)
Stick figures are not only cute...but everyone can draw them! So, what we're starting with is a simple picture-- draw whatever makes sense for your family....or maybe you have some little ones that would like to draw the template for you. Here's the picture that I used, but with the dad a little shorter so that he will fit onto a 4" tall cake! -- Click HERE to see. I'm going to include my original template too, for those with taller cakes---CLICK HERE if you'd like to see!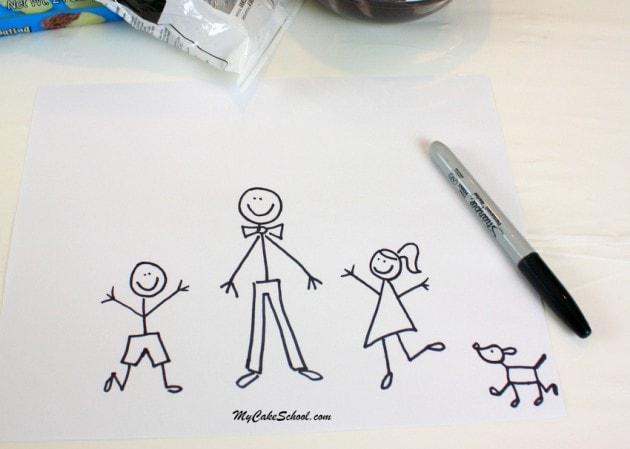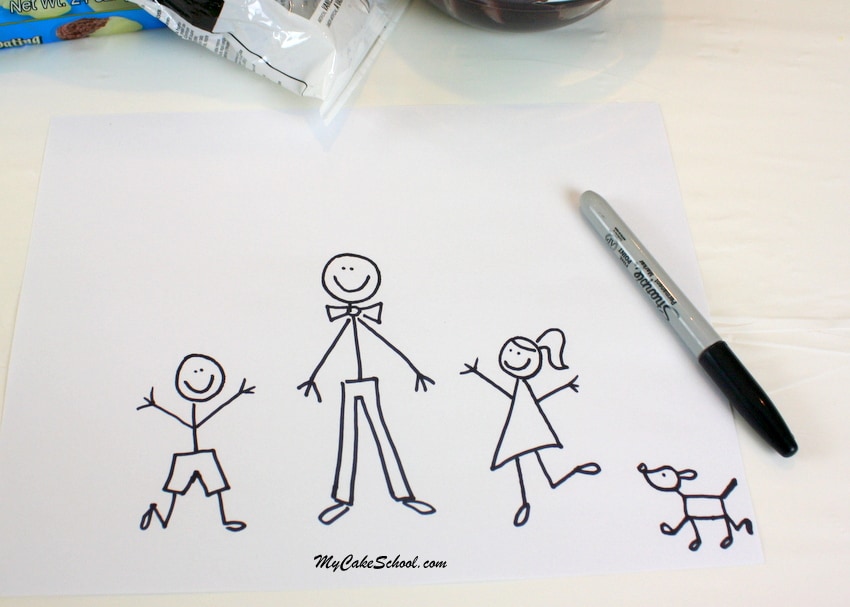 After drawing the template, I placed it on a cake board and then taped a piece of waxed paper on top of it. I melted some black Wilton Candy Melts, and piped over my template using a Wilton piping tip 2. (Some people prefer to skip the tip altogether and just snip the end off of their disposable piping bag.) The smiley faces are added later. No need to trace them now. ;0)
*It is always a good idea to make extras! You'll likely have some chocolate to spare so it's good to have the extra insurance of more piped pieces than you need.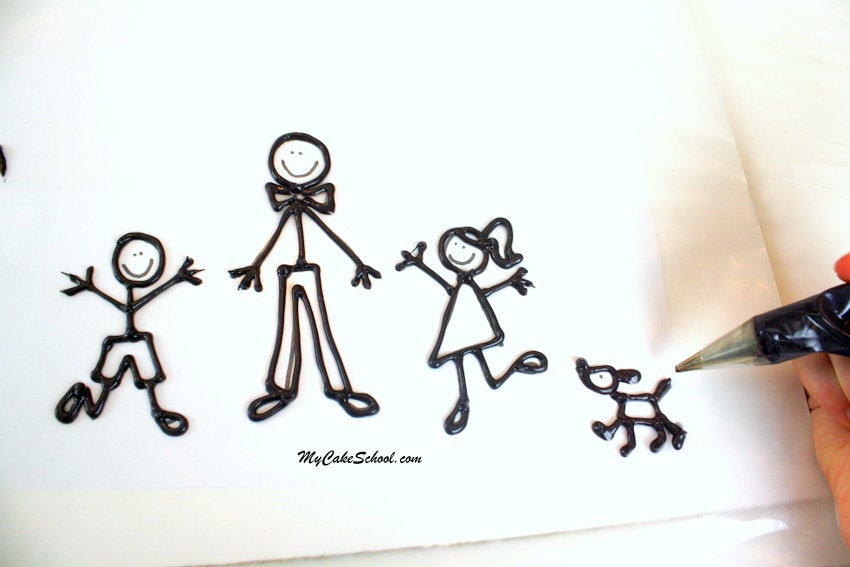 After allowing the black to set, (and you can chill everything to speed this along), I added color with more pre colored candy melts.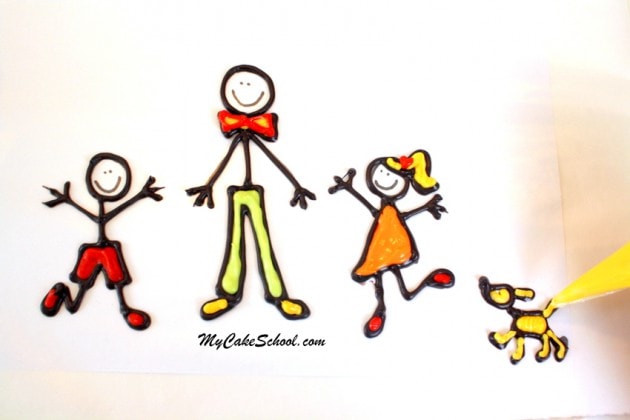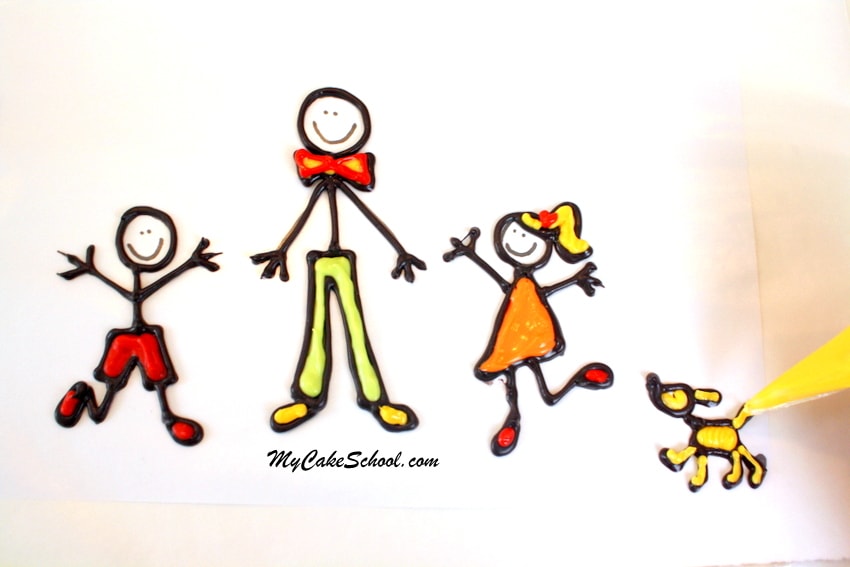 I added a chocolate "We Love You" too. Then, I chilled everything in the freezer for just a few minutes.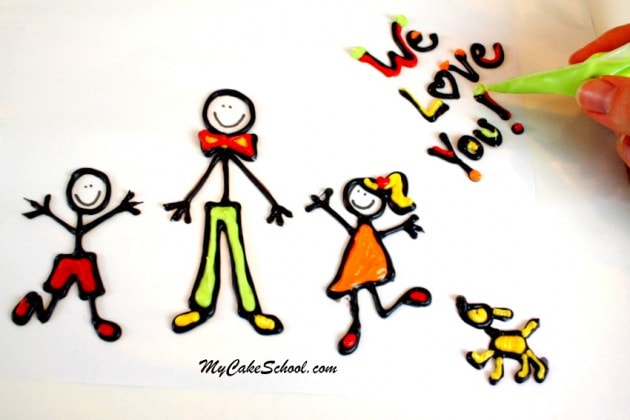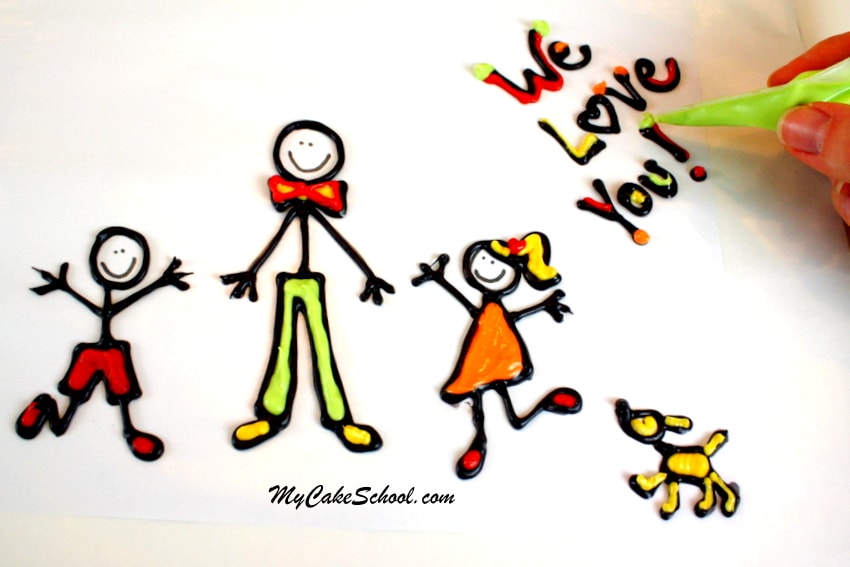 Once the chocolate pieces were firm, I ran my hand beneath the waxed paper to gently release them. It was really hot in the kitchen, so after releasing the pieces, I put the board back in the fridge and only pulled out the pieces as I needed them.
One by one, I piped little dots of buttercream here and there on the back of the figures and applied them to the cake. ....And here's the point where I realized the importance of measuring the height of the cake before making the template. My "dad" was taller than the cake! This would have been fine if I had planned to leave their faces empty...but I wanted to add smiley faces. So....some changes had to happen.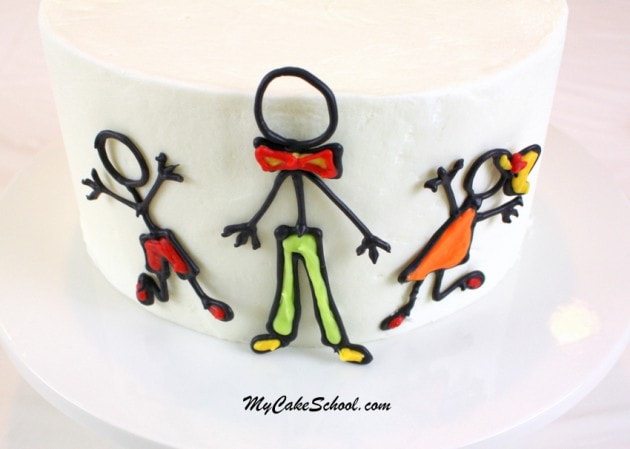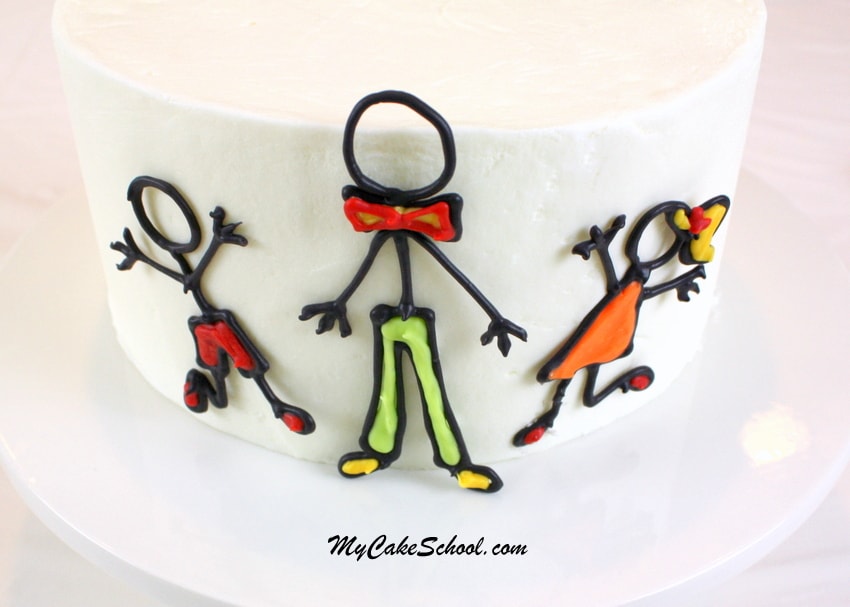 I carefully pulled the man stick figure off of the cake...chilled briefly so that I wouldn't break him...and then I snapped off a little bit of the length of his legs. Then, stuck those feet back on again. -- Still cute! This also goes to show that with chocolate pieces like this one, a break is often barely noticeable once the parts are glued back into place with a dot of buttercream ;0)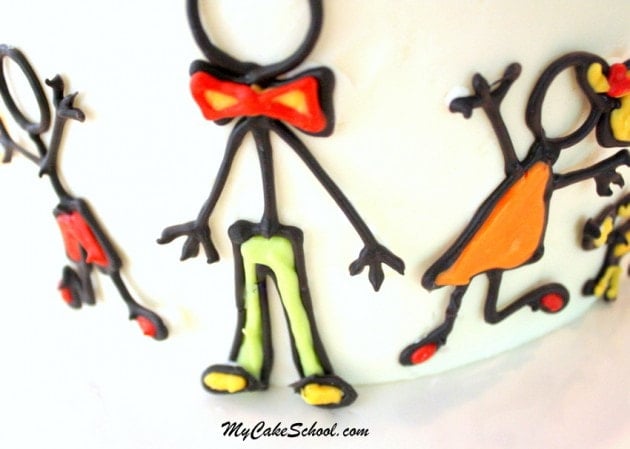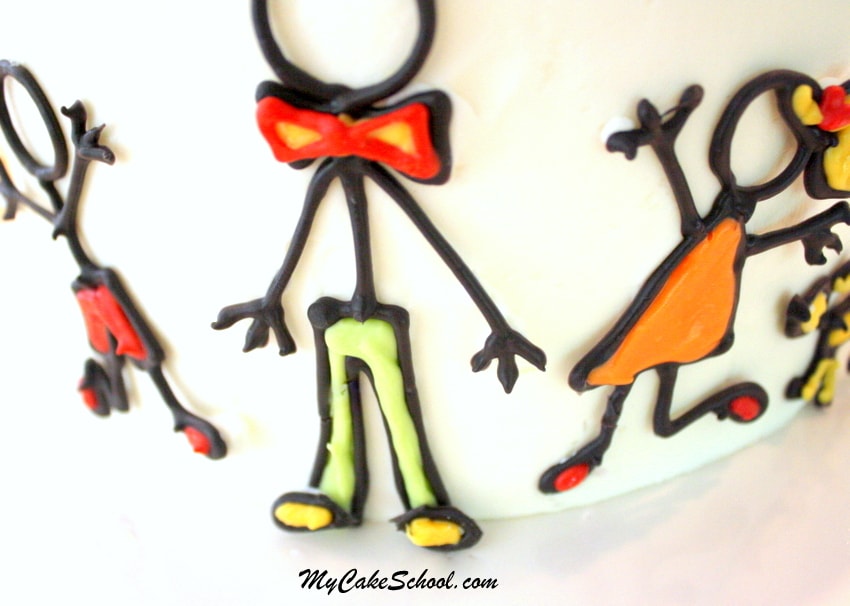 I piped on smiley faces with a little black buttercream, using a Wilton tip 1.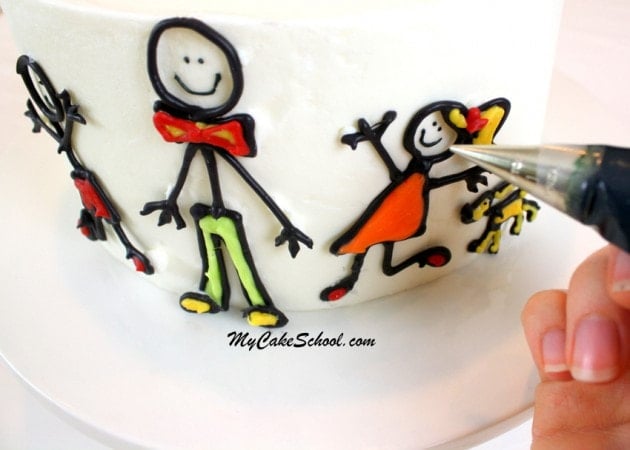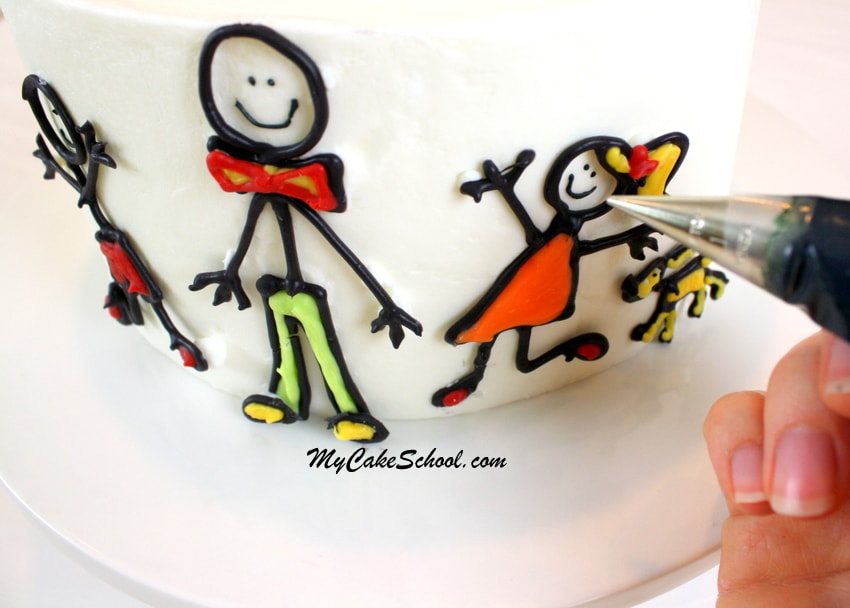 The final step~ adding our letters! I piped dots of buttercream on top of the cake, and pressed the letters into them. I like the stand-up look, but you may prefer them flat. Either way works well! From this angle, you can also see the dots of buttercream behind our people--a great way to add a little extra support.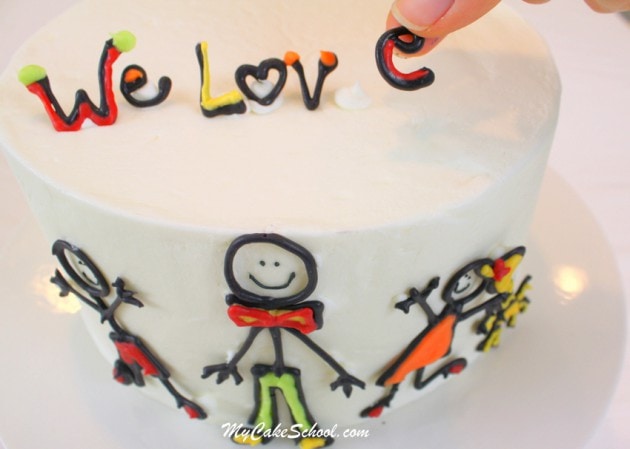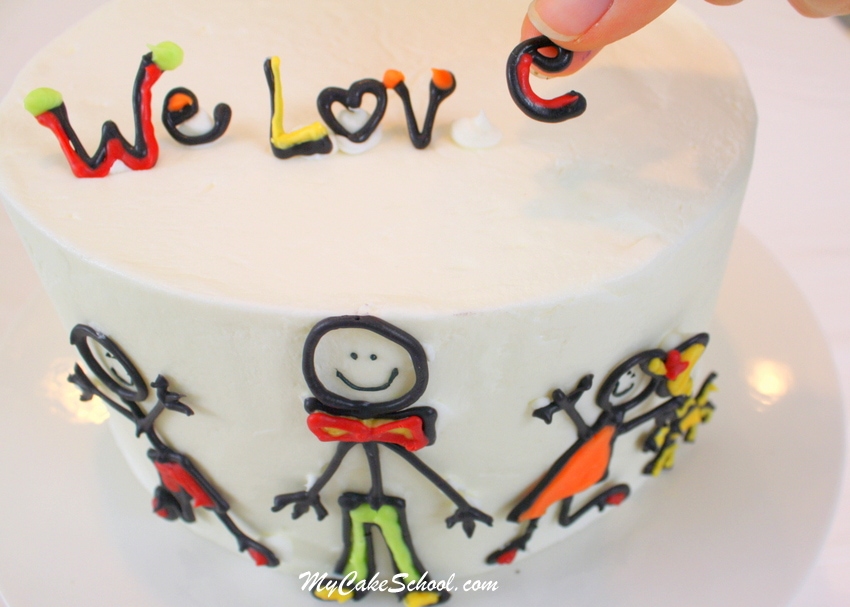 Wahoo! We're finished!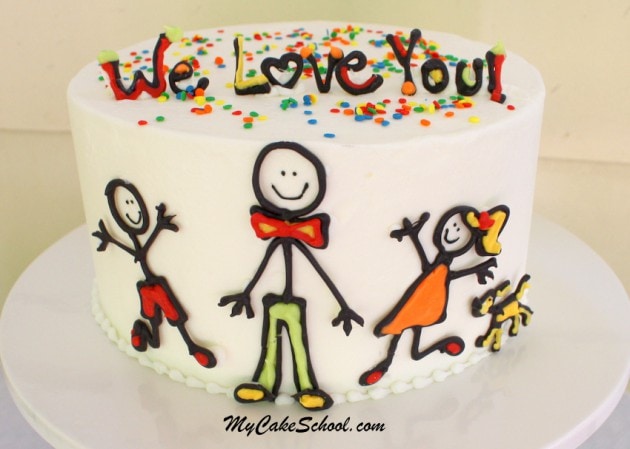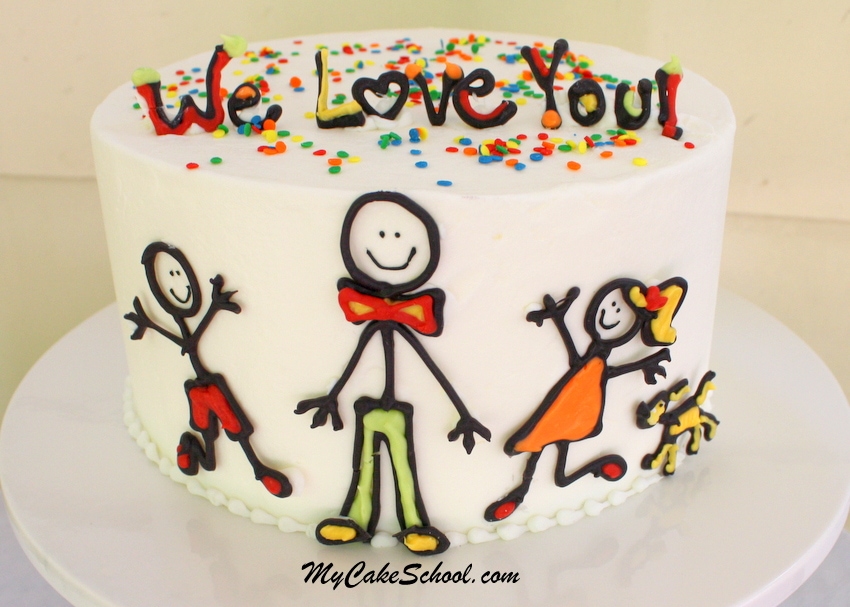 That's it! If you are comfortable with free handing, you could get a really similar look by piping your figures in buttercream...or if you are working with a fondant covered cake, you could draw the figures with food coloring pens!
Whatever way you choose, I hope that you have fun with the design. Thanks for stopping by!