How to Pipe Large Frosting Flowers!~Video Tutorial
Hi everyone! Today, we are going to show you how to pipe frosting flowers that are large, whimsical, & fun!
We've had many requests for these types of flowers & after experimenting with several different piping tips & frosting recipes, we've found our favorite methods & are excited to share.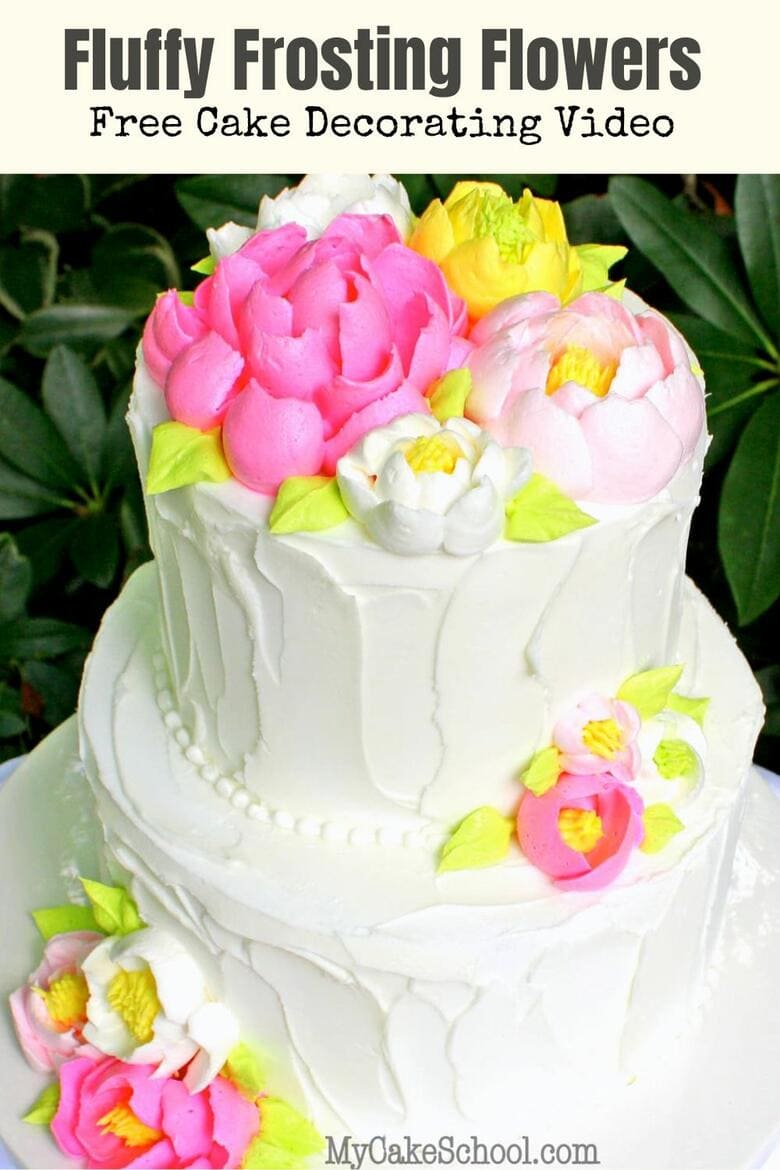 We are going to make a few different types of flowers in the tutorial, but I hope that in addition, you all will be inspired to experiment & develop even more flowers.
We've only scratched the surface with this tutorial ;0) -- The piping tips that we use in the video have been around for some time now, and so there are lots of examples out there of large frosting flowers, but some of my favorites are by the White Flower Cake Shoppe! LOVE their great variety of flowers & designs!
Time to get started! Let us know if you have any questions, and don't forget to find our Materials (and frosting recipe) beneath the video!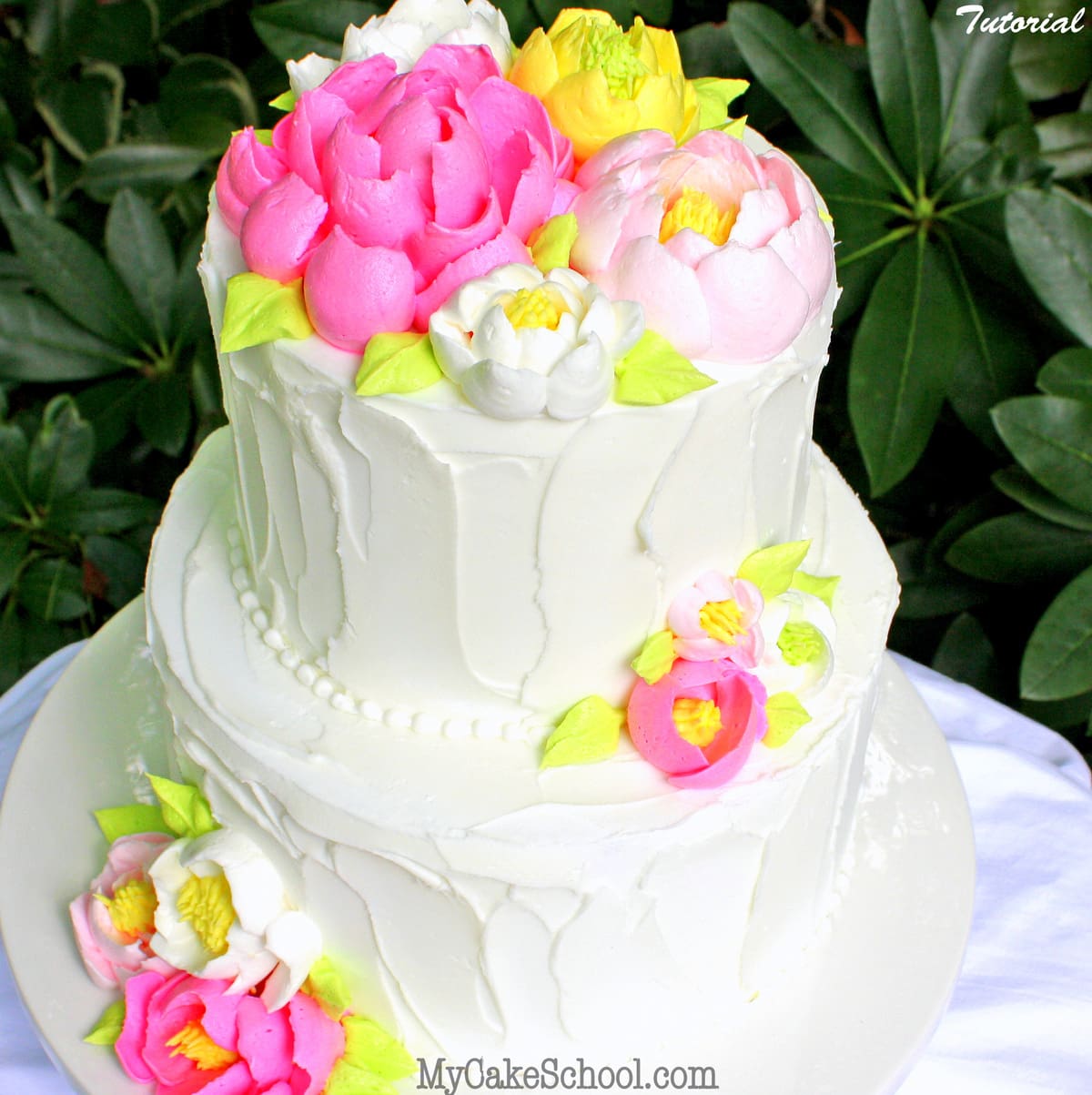 Materials:
The cake featured in our tutorial is 8" and 6" tiers, frosted with our "fluffy vanilla buttercream" and topped off with big frosting flowers of "Whipped Meringue Frosting". (see recipe at the bottom of the page).
Piping Tips: Ateco 403, 402, & 401,(which we pried open a bit) & Wilton 233 grass tip. 403 is the tip I used most often & is my favorite for these large flowers!
Notes:
As we explain in the video, we felt that our flowers were much easier to pipe after slightly prying open the "mouth" of the piping tips. This allows for more icing flow from the tip, and therefore our petals had a more substantial base & could be piped taller without falling.
Although you can get a similar look with an American Buttercream recipe (like our "Classic" or "Fluffy" recipes), we had more trouble with irregular edges when piping our petals with these frostings. Plus, we liked the idea of such large flowers being a lighter whipped texture. If you experiment and have success with other recipes, we would love to hear! If you do not like to use shortening, a swiss meringue frosting would be another good option.
*Our kitchen was very hot as we filmed this tutorial, and we found that the frosting consistency did change a bit after several hours of sitting in the piping bag & bowl. If you notice a similar change, just give it a good stir...and if your frosting becomes overly soft, you can chill it for a few minutes in the refrigerator.
*Special thanks to Teri (MsGF) for recommending a whipped meringue recipe found on Cake Central. We adapted our recipe from this one, increasing the amount of sugar, flavorings, and mixing time...but she put us on the right track for finding a light recipe that we liked for these flowers! xo
Here are a few links to the piping tips that I used in the tutorial!
Tip 401
http://www.amazon.com/gp/product/B0000VLE3Q/ref=pe_385040_127745480_pd_te_o_s_ti/183-7270713-7612614
Tip 402
http://www.amazon.com/gp/product/B00085F88G/ref=oh_aui_detailpage_o00_s00?ie=UTF8&psc=1
Tip 403
http://www.amazon.com/gp/product/B008GUYI72/ref=oh_aui_detailpage_o09_s00?ie=UTF8&psc=1

WHIPPED MERINGUE FROSTING RECIPE
This is the recipe that we prefer for the large fluffy frosting flowers that we feature in our "How to Pipe Large Frosting Flowers" video tutorial. This non-dairy (shortening based) frosting has a fluffy, whipped-cream like texture, yet is shelf stable & even develops a slight crust. This recipe is stable for up to 3 months at room temperature.
INGREDIENTS
¾ cup (146g) granulated sugar
½ teaspoon (3g) salt
2 Tablespoons ( 18g) meringue powder
½ cup BOILING WATER, ( minus 2 Tablespoons of the water if you are using Crisco )
2 and ½ cups (430g) Hi Ratio Shortening or Crisco
5 cups (570g) confectioners' sugar – measure then sift
2 Tablespoons vanilla extract
½ teaspoon almond extract
flavor to taste
THIS FROSTING IS MADE IN TWO PARTS AND SHOULD NOT BE COMBINED UNTIL EACH PART IS COMPLETED.
Use the whisk attachment for this part, to the mixing bowl add the granulated sugar, salt, meringue powder and ½ cup BOILING WATER. The water must be boiling to melt the granulated sugar. Mix on high speed and beat until stiff peaks form, approximately 6 to 8 minutes. Transfer the meringue to another bowl and set aside for later.
Change to the paddle attachment and to the mixing bowl add the shortening. Gradually add the confectioners' sugar. Beat mixture until it is very creamy, approximately 5 minutes, scrape down the sides of the bowl a couple of times.
Now you are ready to add the bowl of meringue to the mixing bowl, along with the flavorings. Beat another 8 minutes. The frosting will become very light and fluffy. Keep in a covered container. Do not refrigerate. It can be kept at room temperature in airtight container for 3 months, just stir with a spoon when you are ready to use.
This is a lightly crusting frosting.
Yield: 7 cups