Our Favorite Scratch Carrot Cake Recipe!
If you are looking for the BEST Carrot Cake Recipe, this is the one! Truly, this legendary scratch carrot cake is my favorite dessert of all time, and it's the only carrot cake recipe you will ever need.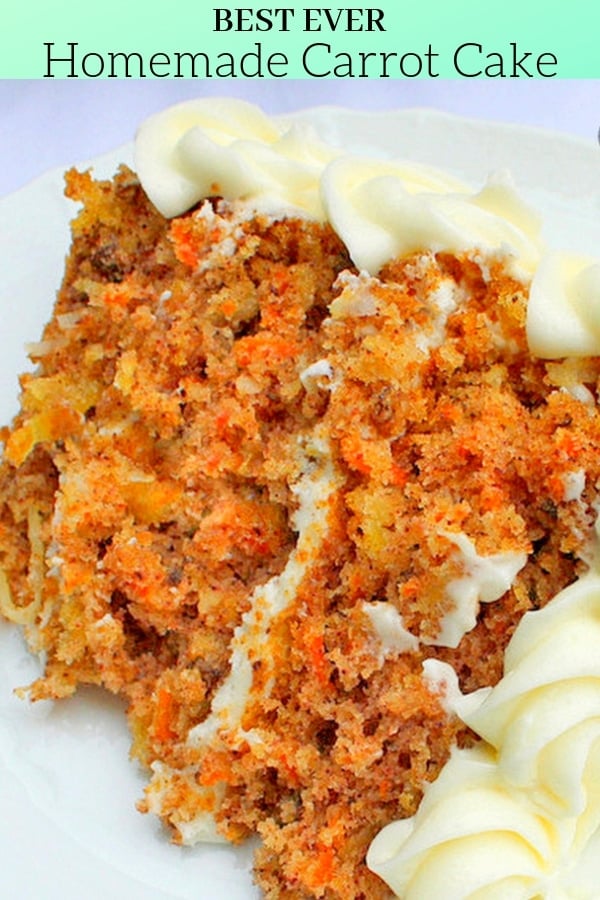 Classic Cakes loaded with Goodness
Over the years, we've received a flood of rave reviews on this cake, making it one of the most popular on our site!
I love cakes with lots of "stuff"... cakes with a wonderful mix of textures and flavors, whether bits of fruit or coconut or pecans, etc.
For instance, good old fashioned Hummingbird Cake, Italian Cream Cake , German Chocolate Cake and Apple Spice Cake are close to the top of my list, but Carrot Cake is king! (I feel like I should put that on a t-shirt).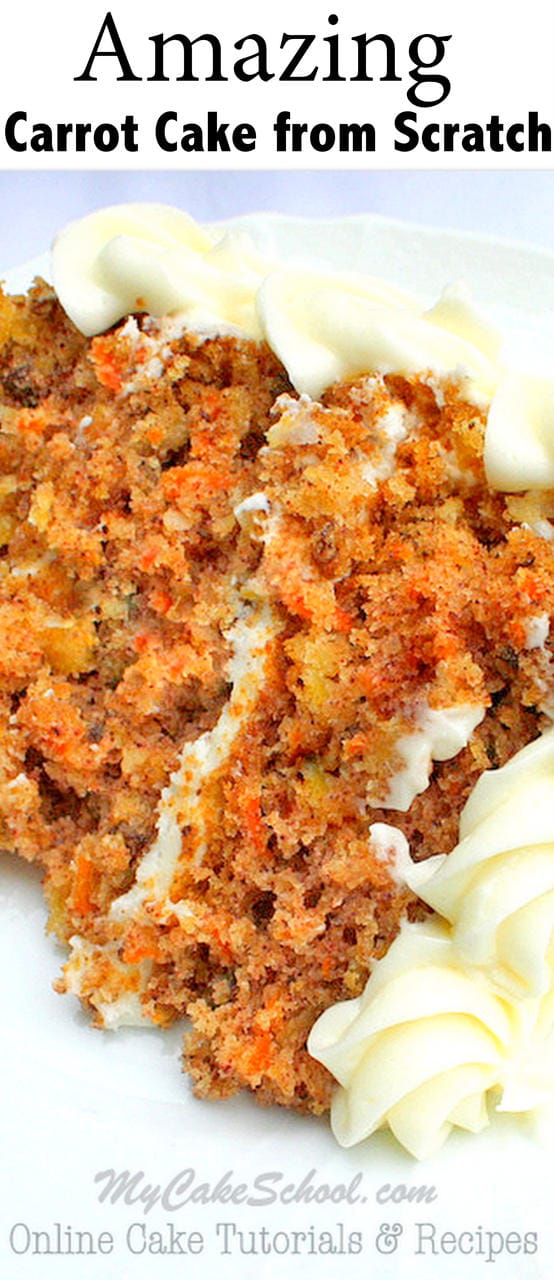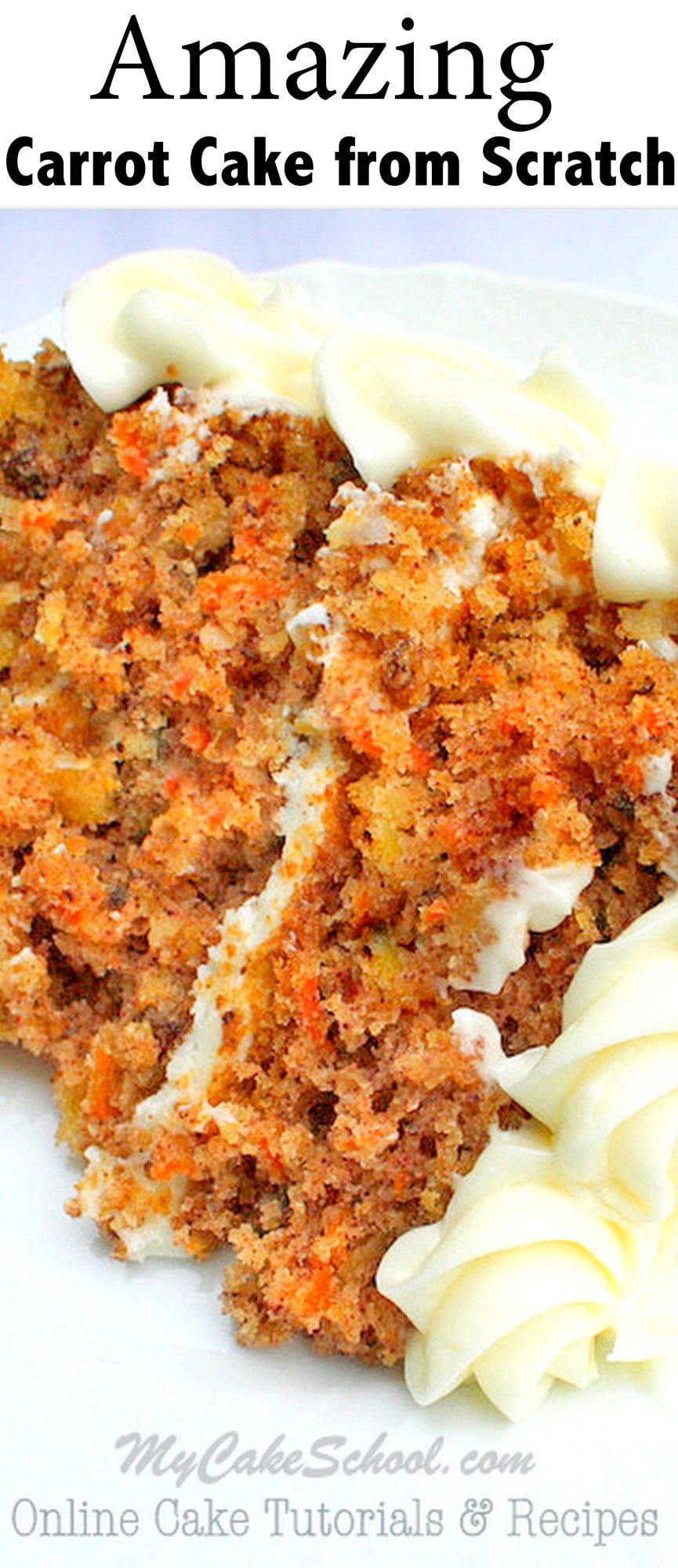 What makes THIS scratch Carrot Cake Recipe the BEST EVER?
Let's talk about the parade of ingredients that make this scratch Carrot Cake recipe SO amazing. Of course, carrots and spices are a given, but this favorite carrot cake recipe of ours also includes crushed pineapple, pecans, and coconut.
Not all carrot cakes call for coconut and pineapple, or even nuts, but after trying this recipe, we could never go back! These ingredients make all the difference, and are the reason that everyone who tries a slice immediately falls in love (with the cake...and probably the baker too).
The added flavor and sweetness are the perfect complement to the carrots, spices, and pecans.
Just look at this slice- so much texture and lumpity bumpity goodness! Without question, this is the BEST Carrot Cake recipe on the planet (if we do say so ourselves). I know I'm gushing, but it's just so darn delicious.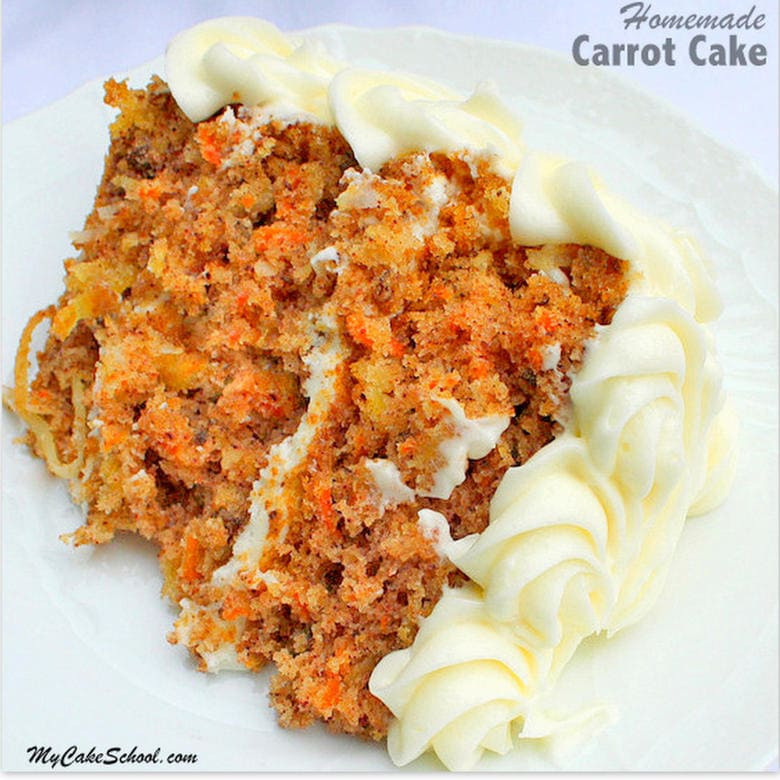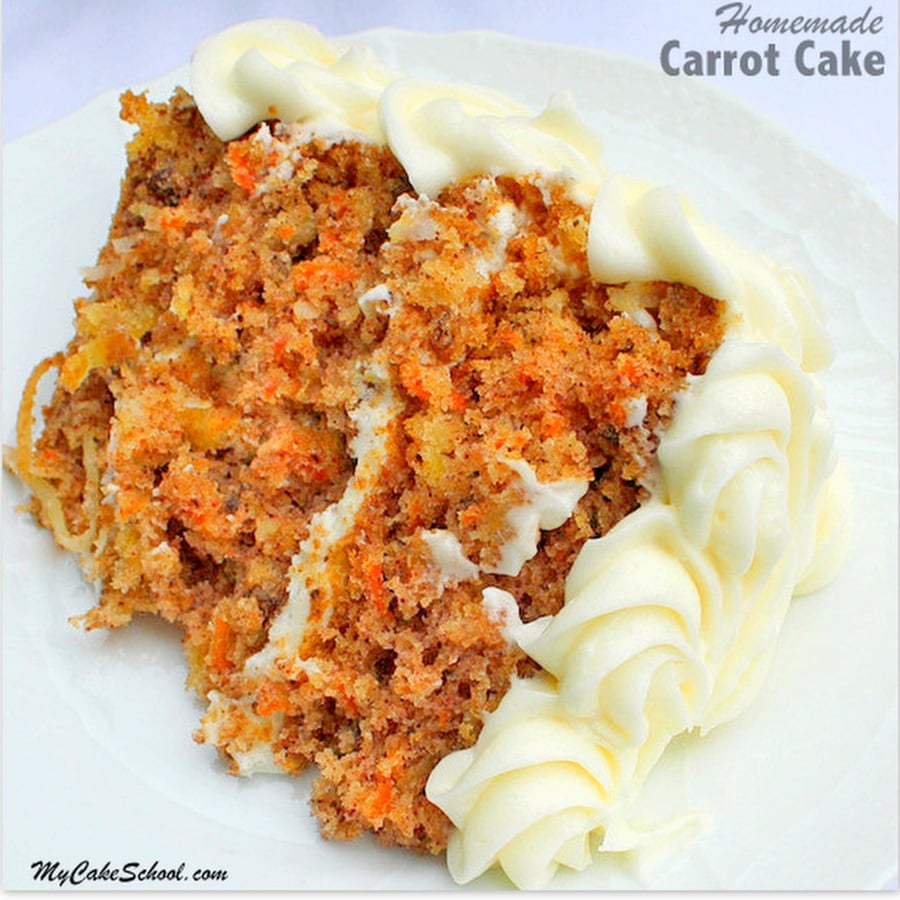 As a child I avoided carrot cake in favor of pretty much any other dessert option at family celebrations. I mean, carrots? In a cake? The name alone just sounded a bit too healthy for me.
Oh how wrong I was! It pains me to think of all of the amazing slices of carrot cake that I missed out on in my early years. So now, I must make up for lost time. ;0)
The history of carrot cakes
Though we don't see carrots in many desserts, it actually makes perfect sense in terms of the sweetness factor. Here's a little carrot cake history for you- Even in medieval times, carrot puddings were hugely popular due to their natural sweetness.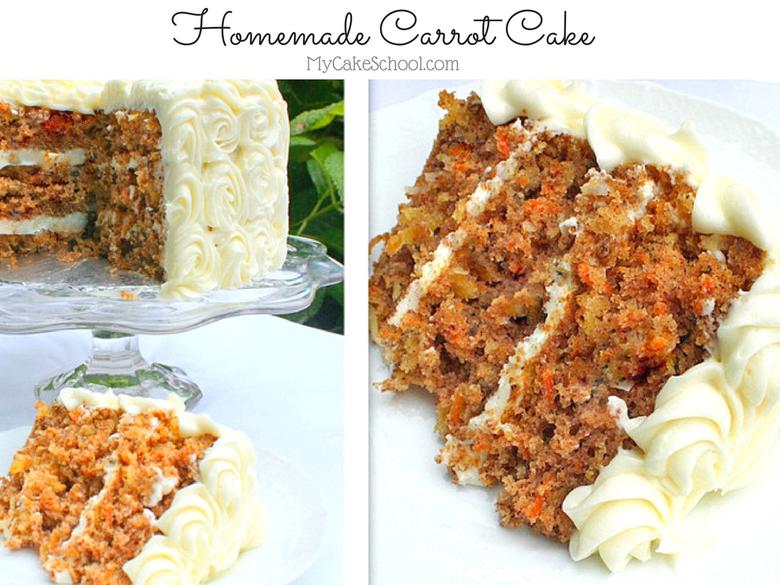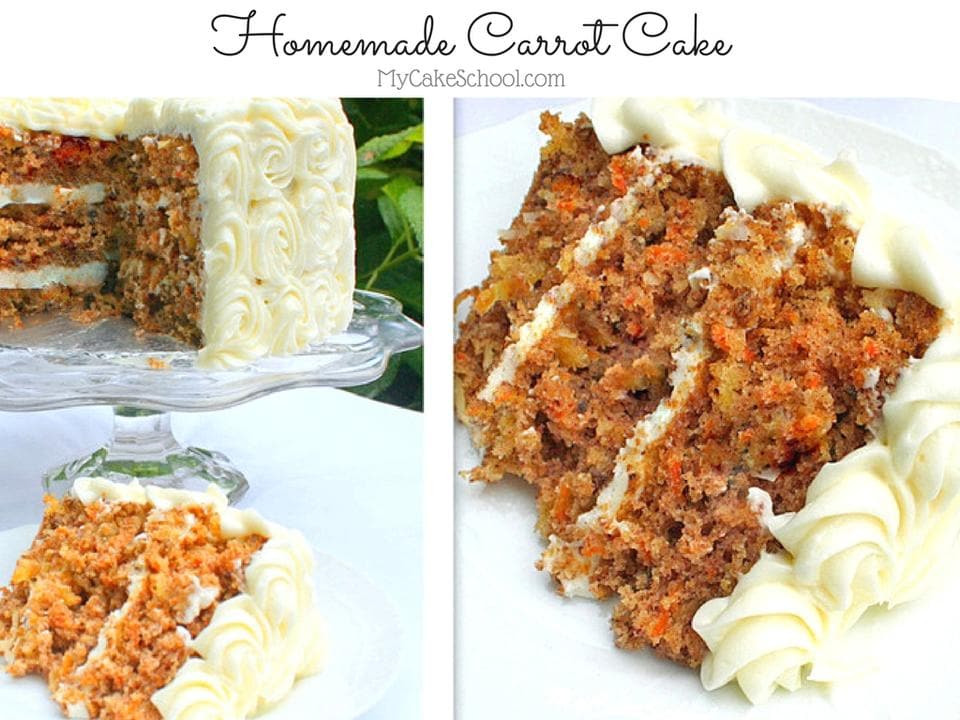 The carrot cakes that we know and love today are believed to have evolved from these flavorful carrot puddings.
That natural sweetness also explains the resurgence of carrot based desserts during World War II when sugar was rationed.
Fast forward to the 1960s and 1970s and carrot cakes began to enjoy widespread popularity in the US not only for their amazing flavor, but also (hee hee) because it's healthy.
Okay, so carrot cake as a health food may be a bit of a stretch, but the idea really makes it easier for me to cut myself a giant slab of cake! Mmmmmm. Because, you never know.
Every Good Carrot Cake Needs Cream Cheese Frosting!
Finally, let's get down to the business of cream cheese frosting. After all, carrot cake just wouldn't be carrot cake without a luscious cream cheese frosting. The cream cheese frosting included in our recipe is our Cream Cheese Buttercream Frosting recipe from our recipes section. We also love our heavenly Pipeable Cream Cheese Frosting if you prefer a thicker consistency.
Sandwich the cream cheese frosting between your carrot cake layers, and then finish it off with a generous slathering.
I just cannot tell you how amazing this carrot cake is--you just have to try it for yourself. The carrots, pineapple, coconut, nuts, and spices all balance each other perfectly. This cake is ultra moist, and guaranteed to please any crowd!
We've made countless variations of carrot cake over the years, but THIS is our favorite! Nothing else compares!
*Although this scratch Carrot Cake recipe is our absolute favorite, we also have a fantastic doctored cake mix Carrot Cake recipe for those of you who prefer recipes based on cake mix. You can find it at the bottom of this post!
Enjoy!!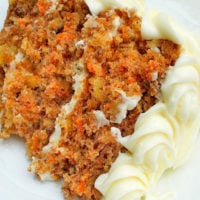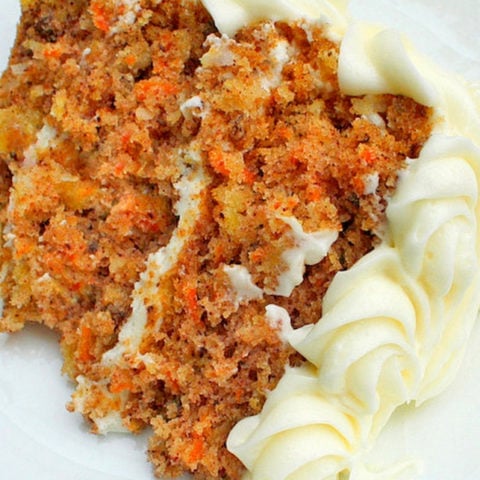 Carrot Cake from Scratch
This popular carrot cake recipe is the best! It has amazing flavor from grated carrots, coconut, pecans, crushed pineapple, and cinnamon.
Print Recipe
Pin Recipe
Ingredients
For the Carrot Cake
2 ½

cups

(325g) all purpose flour

1 ½

teaspoons

baking soda

1 ¼

teaspoons

baking powder

2

teaspoons

ground cinnamon

½

teaspoon

salt

2

cups

(400g) sugar

4

large eggs

1

cup

vegetable oil

218g

1

teaspoon

vanilla extract

2

cups

(180g) grated (small pieces) carrots

(do not use packaged pre-shredded carrots, they are too dry)

¾

cup

(92g) chopped pecans

¾

cup

(50g) sweetened coconut

(we used Baker's Angel Flake sweetened coconut)

1

8oz. can crushed pineapple

put in a strainer and let the liquid drain off….I press with a fork to remove not all, but a bit more liquid.
For the Cream Cheese Frosting (this recipe can be easily doubled if you plan to do a lot of piping)
2

sticks

(226g) unsalted butter, slightly softened

16

oz

cream cheese (We used two 8 oz packages)

(Not reduced fat)

2

teaspoons

(8g) vanilla extract

½

teaspoon

(2g) salt

6 to 6 ½

cups

(690g to 747g) confectioners' sugar
Instructions
For the Carrot Cake
Line the bottoms of 3 (8 inch) or 2 (9 inch) round pans with wax or parchment paper, grease with shortening and flour the paper and pans for easy release when turning out……carrot cake has a tendency to stick so be sure to use the paper.

Whisk together for 30 seconds the flour, baking soda, baking powder, cinnamon, and salt. Set Aside.

In the bowl of your mixer, add 2 cups sugar , 4 eggs, 1 cup oil and 1 tsp. vanilla. Mix 2 to 3 minutes at medium speed until well blended and light colored.

With a spoon stir in the flour mixture until moistened, then add the carrots, pecans crushed pineapple and coconut.

Bake 35 minutes at 350 degrees or until a toothpick inserted in the center comes out clean. Refrain from opening the oven door or touching the center of the cake to test for doneness until very near the end of baking time or it could cause the cake to sink slightly in the center.

Makes 6 ½ cups batter

Cool cake layers in pan for 10 minutes on a wire rack then turn out. Cool completely before frosting.
For the Cream Cheese Frosting
Cut the butter into slices and add to the bowl of your mixer. Beat on low to medium speed until the butter is softened and smooth.

Cut the cold cream cheese into pieces and add to the butter, beating at low to medium speed until incorporated. If you are using a hand mixer you may need to soften the cream cheese a bit more.

Add the vanilla. Gradually add the powdered sugar beating on low speed until blended.

Increase mixing speed and mix until fluffy. Don't over beat or it will become too soft. If it becomes too soft, just refrigerate a short while to firm it up a bit.

This frosting will pipe best if used while still chilled. You can make it in advance, refrigerate and when ready to use let it soften slightly (do not microwave) and remix.

Will frost a 3 layer 8 inch cake
Prefer a Mix? Here's Doctored Cake Mix Version for Carrot Cake
As I mentioned above, we have a great "almost homemade" doctored cake mix version of Carrot Cake that's a keeper! Convenient, consistent, and with many of the same ingredients as our scratch version. You can find it here!: Carrot Cake: A Doctored Cake Mix Recipe.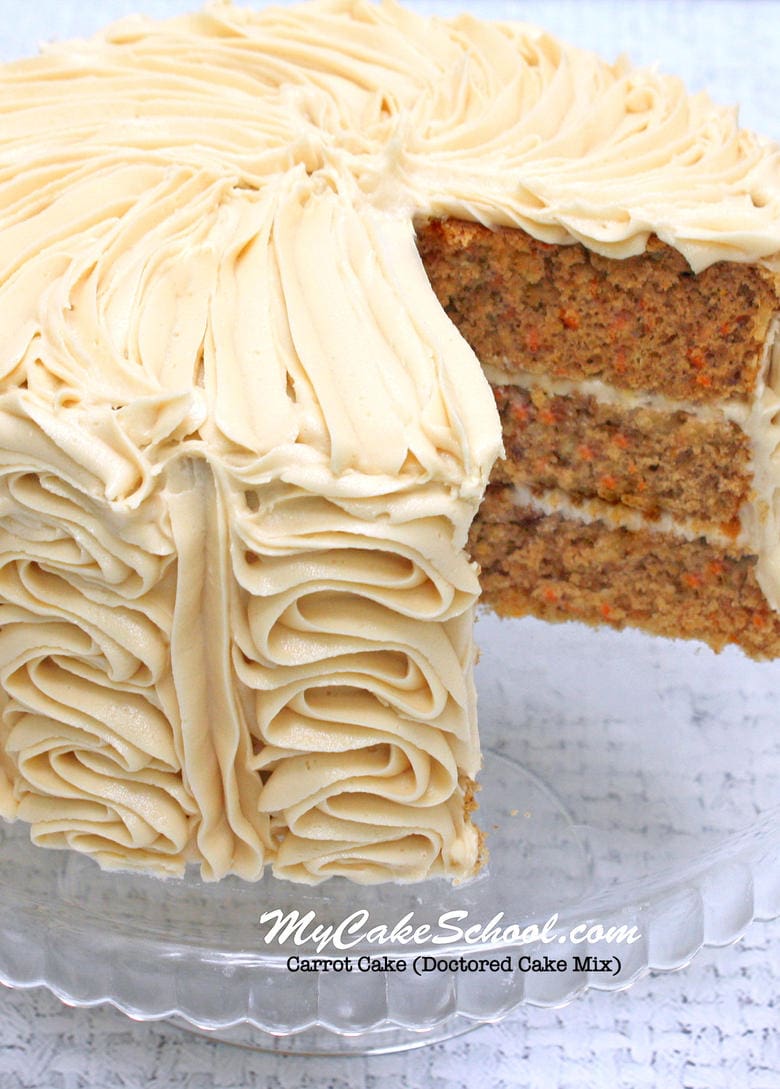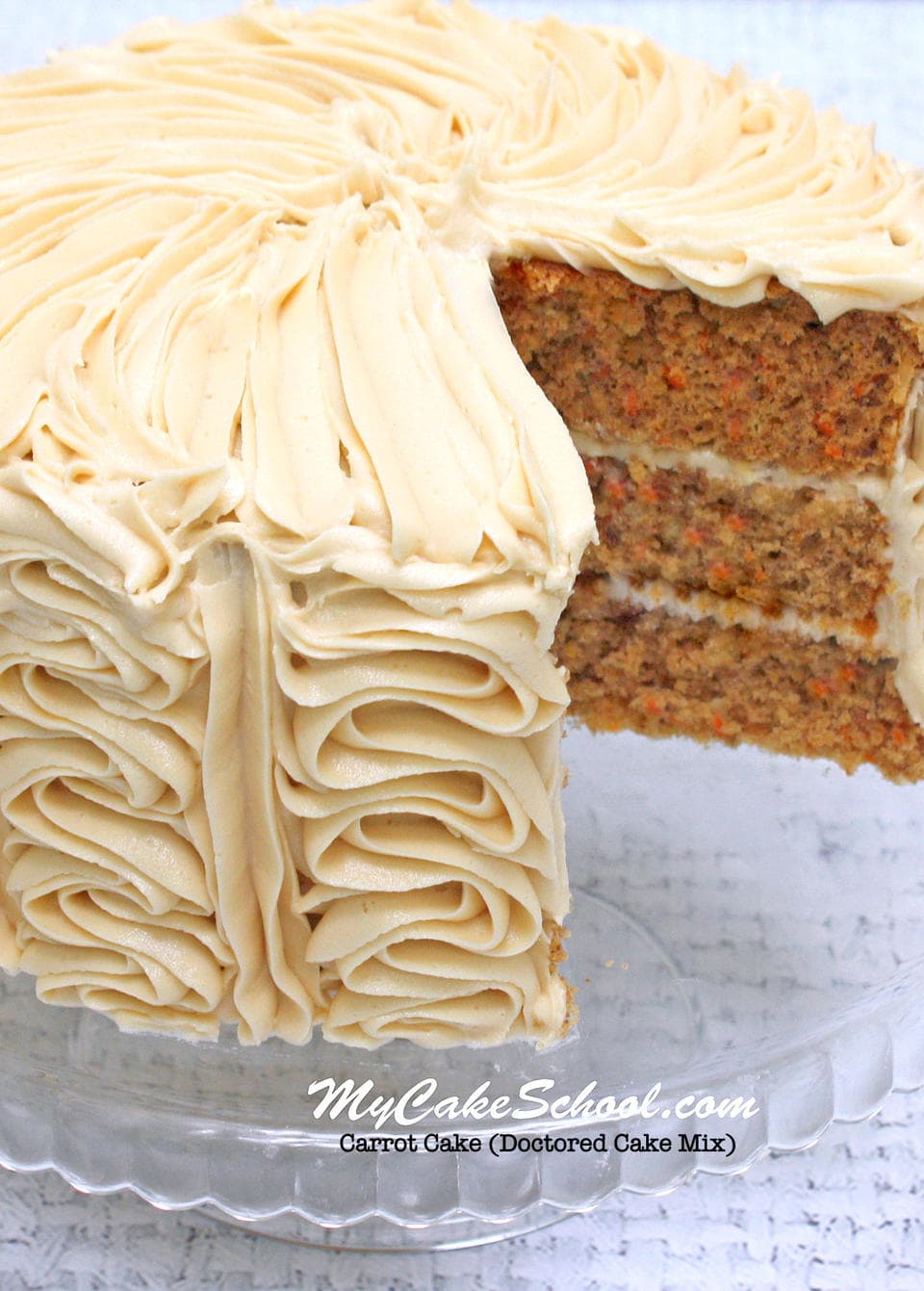 Thanks for stopping by! I guarantee that if you try this carrot cake recipe, you'll come back to it again and again. It's just that good!
Sharing our BEST Cake Recipes and Cake Tutorials
Don't miss our full collection of tried and true favorite cake and frosting recipes in our Recipes Section! We also have a section of Free Cake Tutorials which include step by step photo tutorials and free cake video tutorials!
If you're interested in learning even more about cake decorating, you should consider becoming a member of My Cake School! We have hundreds of cake tutorials that we've made over the years for our member. You can find all of the details here!: Learn How to Decorate Cakes with MyCakeSchool.com- Joining Information