Coconut "Drink" Cakes~A Blog Tutorial
Today I'm going to show you how to make the CUTEST "Coconut Drink" Cakes! With LUAU parties in full swing all summer long, I thought that it would be fun to add another idea to your list! Both kids & adults are sure to love these festive little cakes.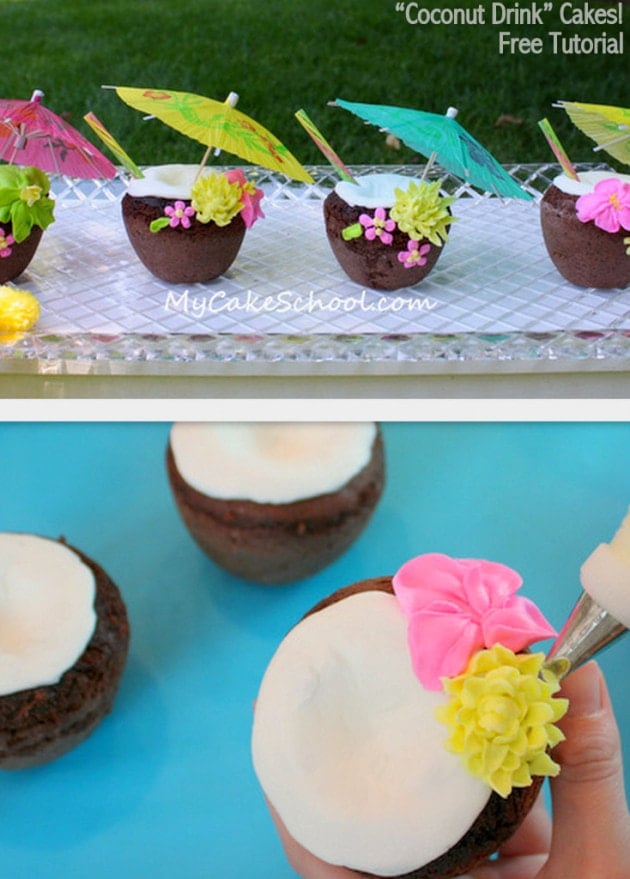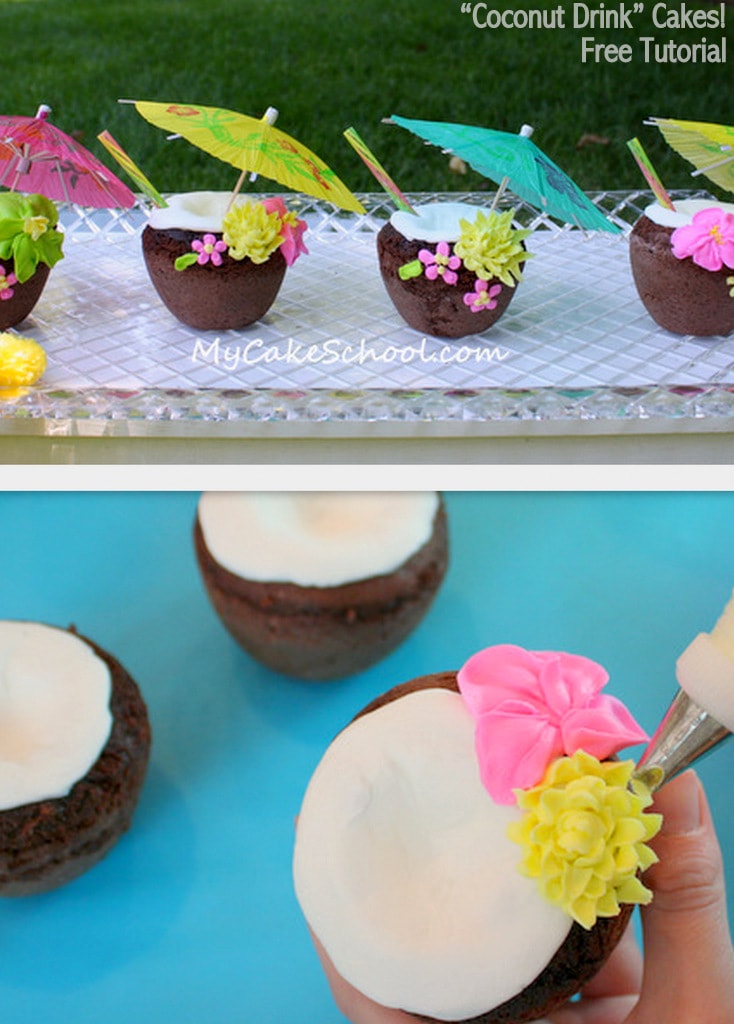 I know that I say this a lot, but these mini cakes are SO easy to make!! Trust me, they really are. I tried making them for the first time today and was so happy that the final cakes matched the picture that I had in my mind--whew! I love it when that happens!
To make the coconut drink cakes, I used my Wilton Mini Wonder Mold pan--(each pan makes 4 little cakes at a time)-- but I bet chocolate cupcakes would give you a really cute result too. So, here we go!
For each individual cake, you'll trim off the small point so that you can then flip it and it will stand on it's own. Then hollow out a depression.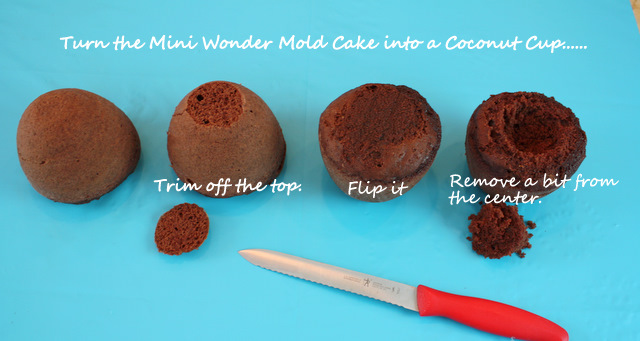 Next, I frosted the small chocolate cakes with a crusting vanilla buttercream to create the look of coconut! (Add a little coconut flavoring or use your coconut frosting of choice if you'd rather!)
You can see in the photo that I first outlined the cake (using a wilton 12 medium round tip) and filled it in with buttercream.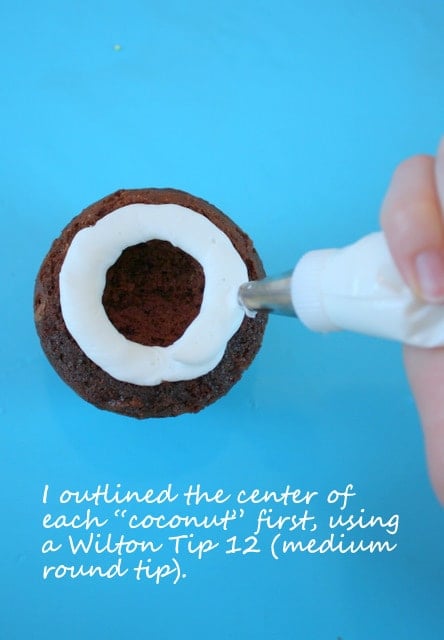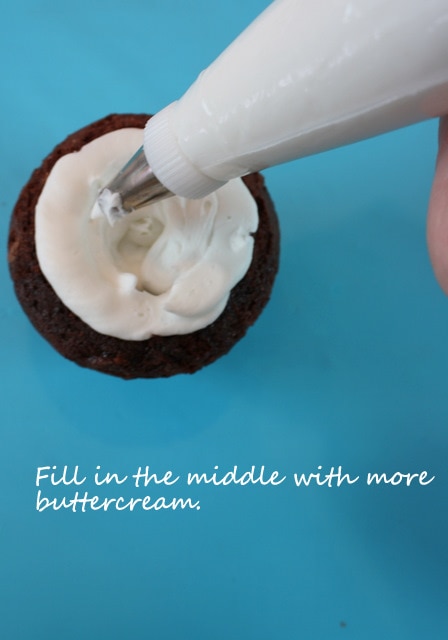 Since we were using a crusting frosting, I smoothed it with a Viva Paper towel after it had crusted. (It takes about 5-10 minutes for a crusting buttercream to crust over enough for smoothing.)
Of course, if you aren't working with a crusting frosting, just remove the excess frosting with your spatula and smooth as best you can. This is a forgiving design!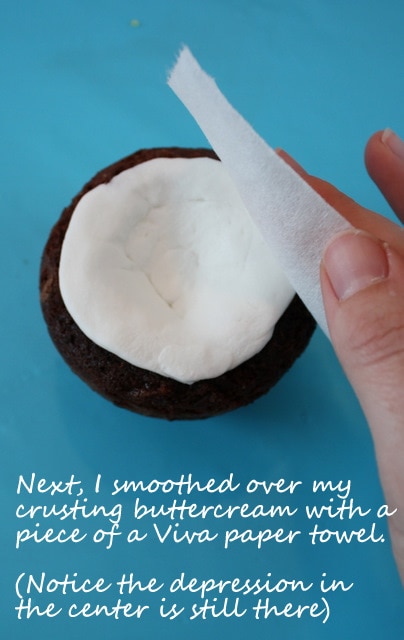 Now it's time to add a little color! This is my favorite part. I added simple flowers using a tip 104 for the pink flower in the photo and a tip 81 for the yellow! Have fun experimenting with different colors and flower designs. You really can't go wrong.
For these cute coconut drinks, every brightly colored flower makes them look a bit more tropical and festive!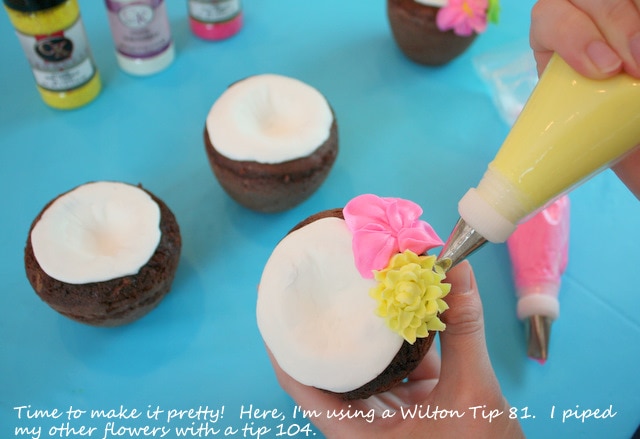 Now, for the final details! I picked up some little umbrellas and straws at our local party supply store (Party City) to really bring these cuties to life. I LOVE how these turned out, and even better, the design is so simple!
Now, go find a palm tree to sit under and have yourself a nice coconut drink or two :0) Cheers!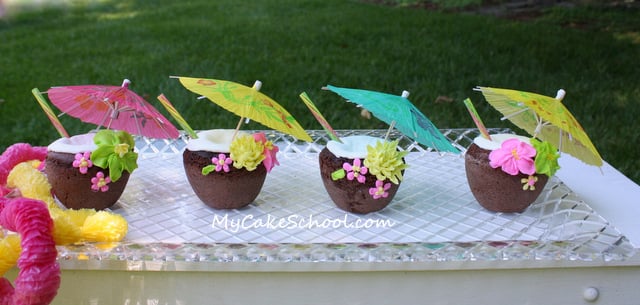 Thanks for stopping by! We hope that you'll check out our full collection of Free Cake Tutorials as well as our Recipes Section filled with our FAVORITE tried and true cake, frosting, and filling recipes!