Love is in the air and today I'm going to show you how to make the CUTEST Valentine's Day Cake with an "I Love Ewe theme"! If you need a fun cake idea for Valentine's Day or anniversaries, or if you're wondering how to make cute little sheep cake toppers, you have come to the right place!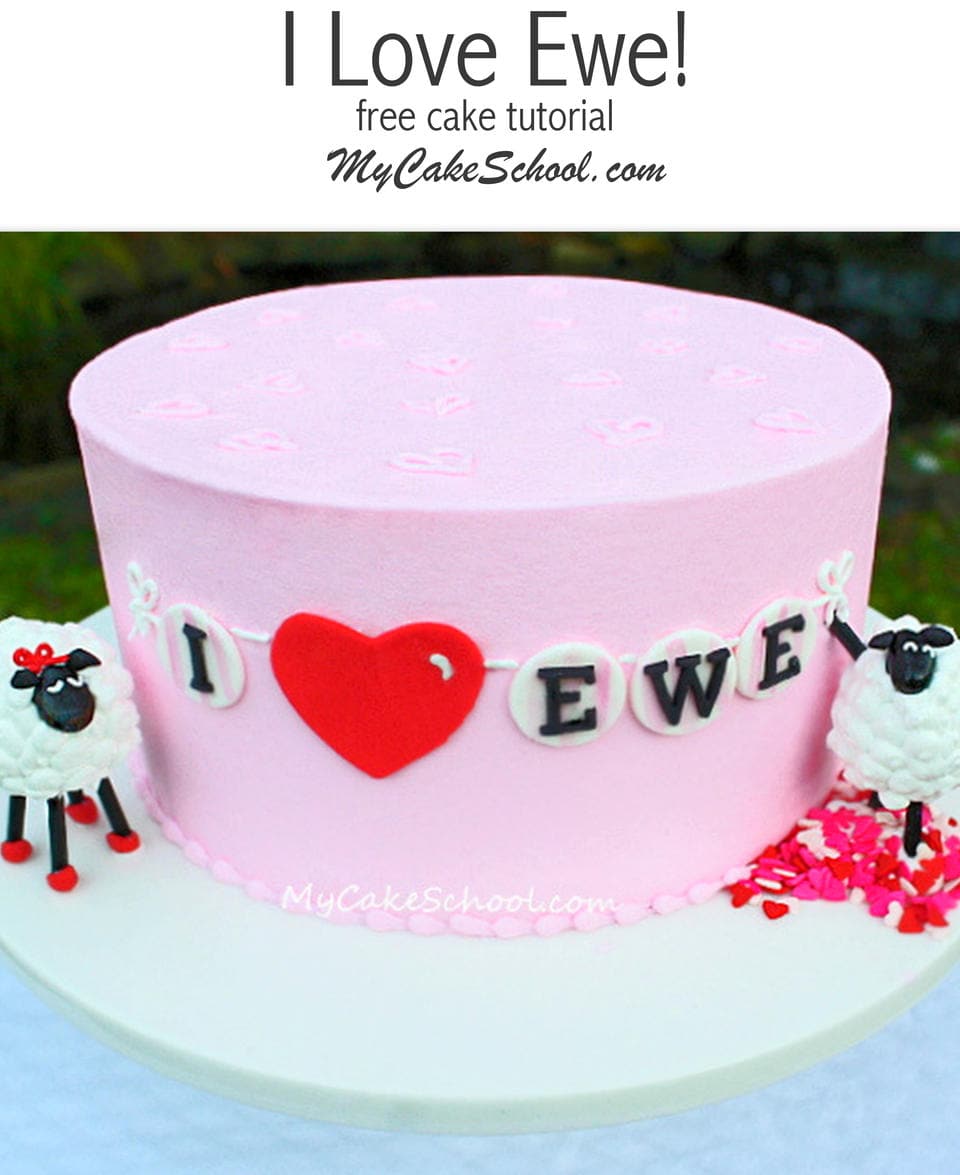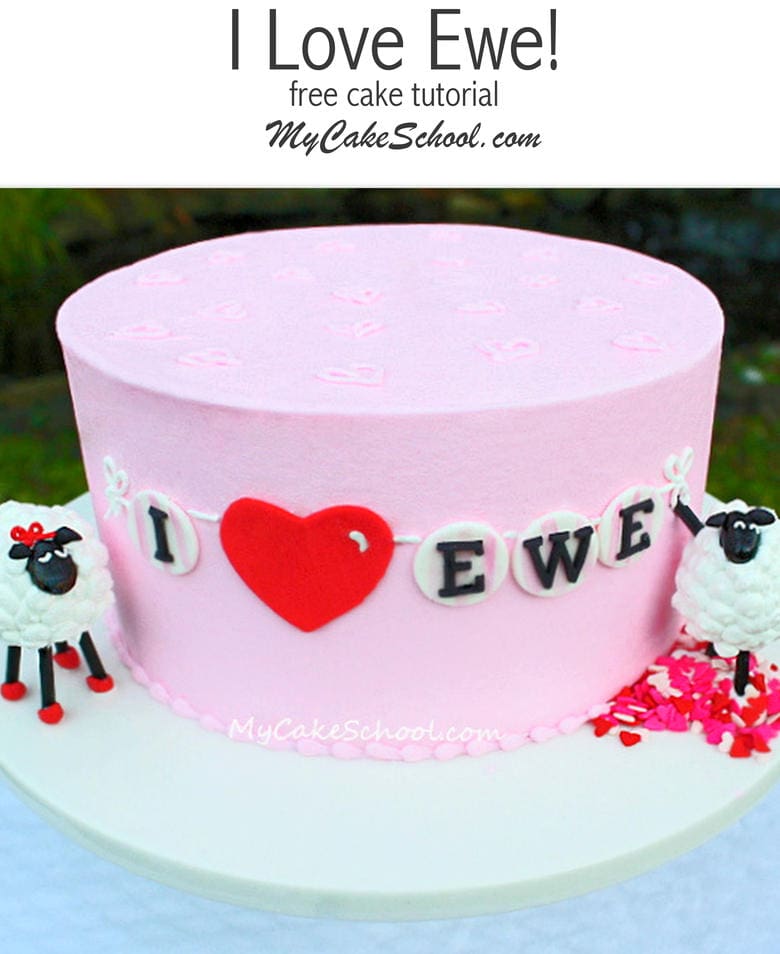 My Valentine's Day Cake inspiration often comes from funny Valentine's Day card sayings–especially children's Valentines–they are just too cute to pass up!
Today is no exception, with our "I Love Ewe" cake theme. This actually gave me the perfect excuse to make some sweet sheep cake toppers! They are so easy–let me show you how….
A quick run through of Materials~Lots of these are optional!
*I'm decorating an 8″ cake with crusting vanilla buttercream
Rice Cereal Treats
Lollipop sticks
Black Coloring Gel
Deep Pink (Americolor) to tint my buttercream & for stripes on the fondant circles
Candy Coating/Candy Melts–My glue of choice for attaching legs into the cereal treat and the head to the body.
Vodka or Lemon Extract (to combine with our gel for quick drying "paint")
Royal icing- Any basic recipe thickened to medium consistency for piping. (Crusting buttercream would work too but royal sets nice and firm, making the sheep easier to move.)
Raisinettes for the heads–or any chocolate candy, black fondant, or black candy that looks like a good shape
Piping Tips- I used Wilton 4 for the sheep wool & bead border, & Wilton 1 to pipe the bows, "string" and eyes, Wilton 125 to cut out circles but any large Wilton tip is good
Fondant- Black, White, & Red (optional). I used white fondant for circles & black for letters. Black fondant for ears also (but black buttercream, royal, or candy snippets would work too.) Red for the heart.
*Tylose powder- Optional, but I kneaded it into my black fondant so that I could roll it thinner for the letters.
Wilton heart sprinkles- optional, but cute!
Tappit Cutters– (Block alphabet cutters) – Optional
Heart Cookie Cutter for cutting out your fondant heart
How to Make our I "I Love EWE" Valentine's Day Cake
First, I snapped four lollipop sticks in half, making 8 legs. (I actually shortened them even more later after I realized they were crazy long legged sheep!) :0)
I painted them using Americolor Super Black coloring gel mixed with a little vodka. The vodka helps the "paint" to dry more quickly–alcohol evaporates leaving the dried color behind. (Works with lemon extract too.)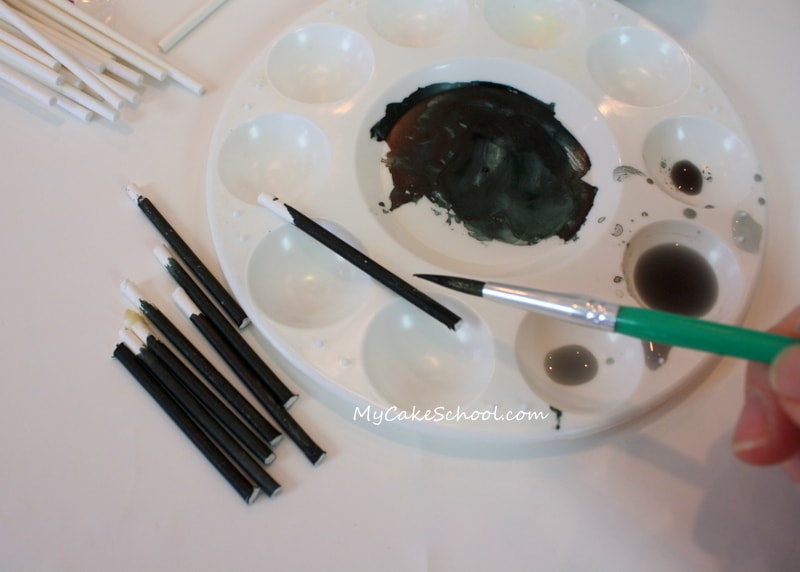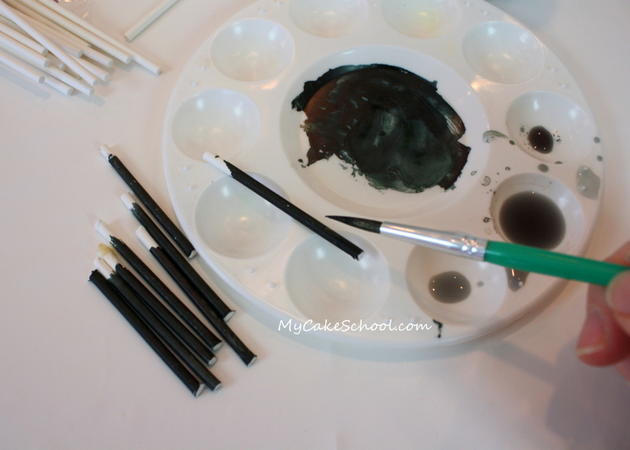 Next, I split one 22g. rice cereal treat in half and compressed them into two ovals. These will become our sheep bodies.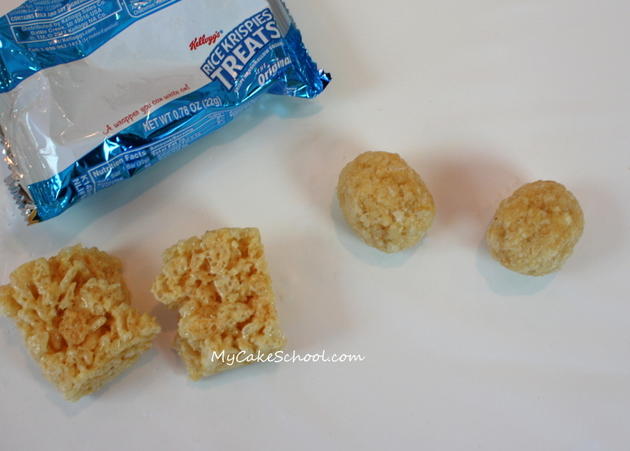 Melt some candy melts (we are using this for glue but you won't need much)– and dip the tip of the legs into it before pushing into the cereal treat body.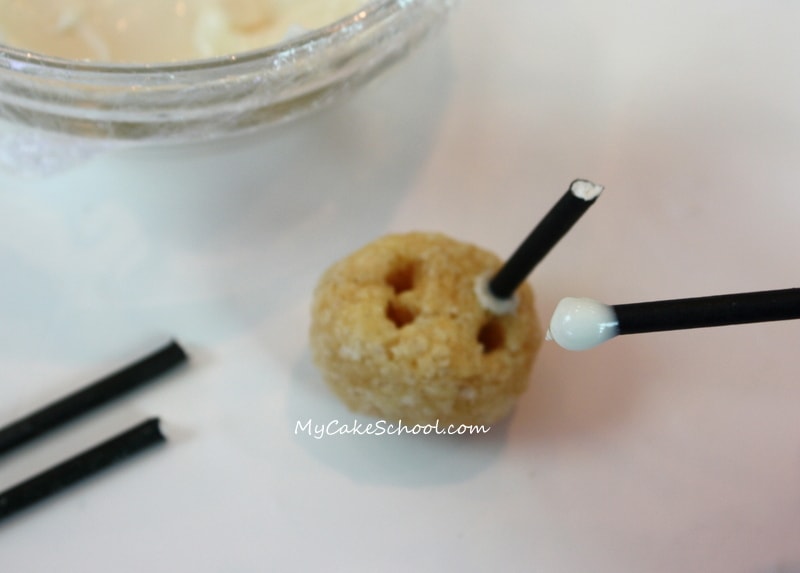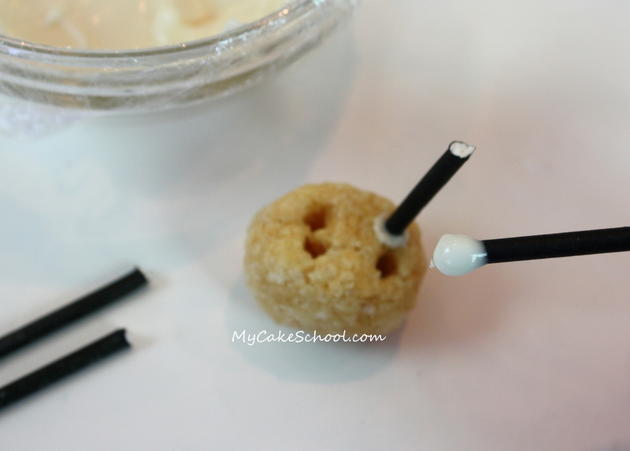 Stand it back up again and position the legs so that the sheep is balanced. The chocolate that secures the legs will begin setting up while you attach the head (Raisinette) with more chocolate. You'll need to hold it in place for a minute before it is secure.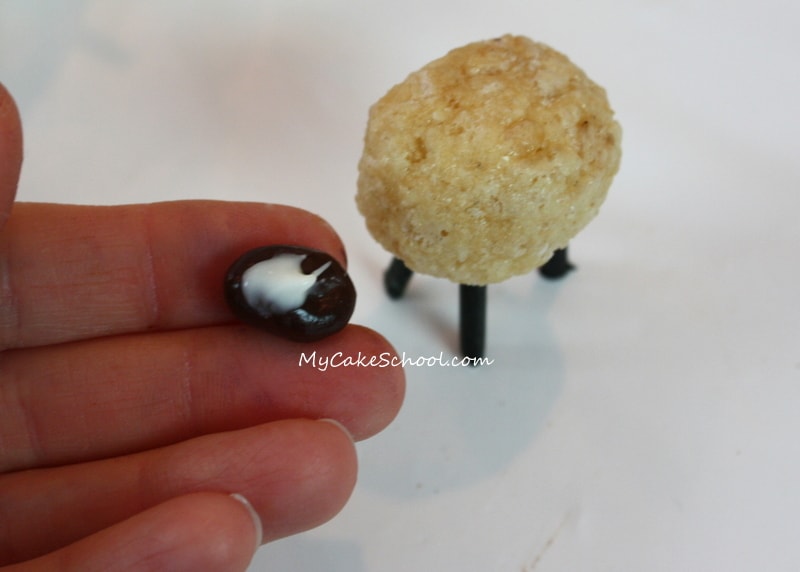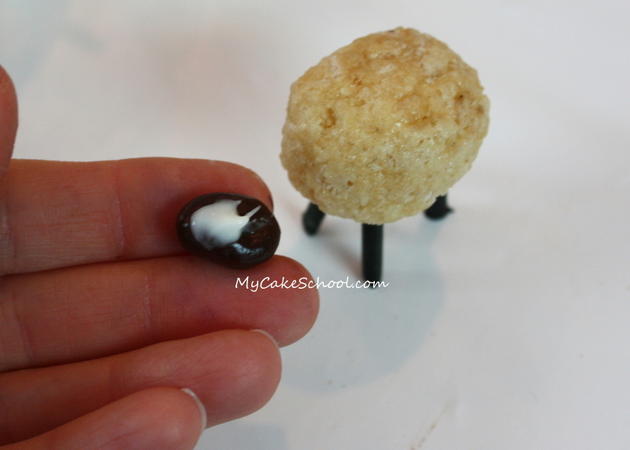 Cuteness! We are getting there…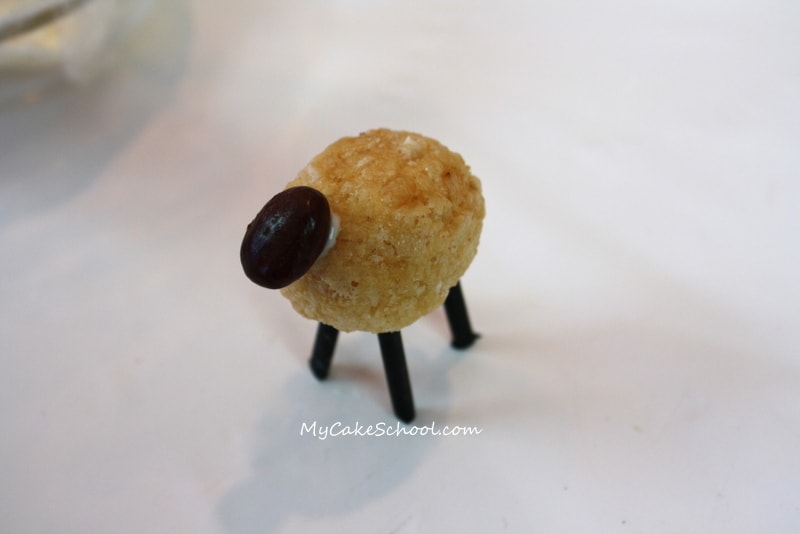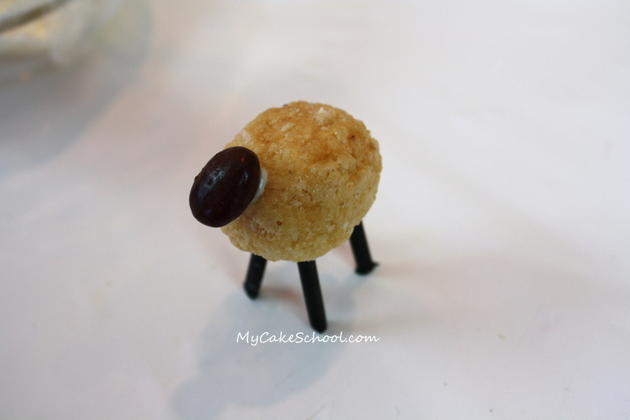 I dressed my ewe in a puffy coat of piped royal icing. I piped individual balls of royal icing all over. Piping around the legs gives them even more support as the royal icing sets.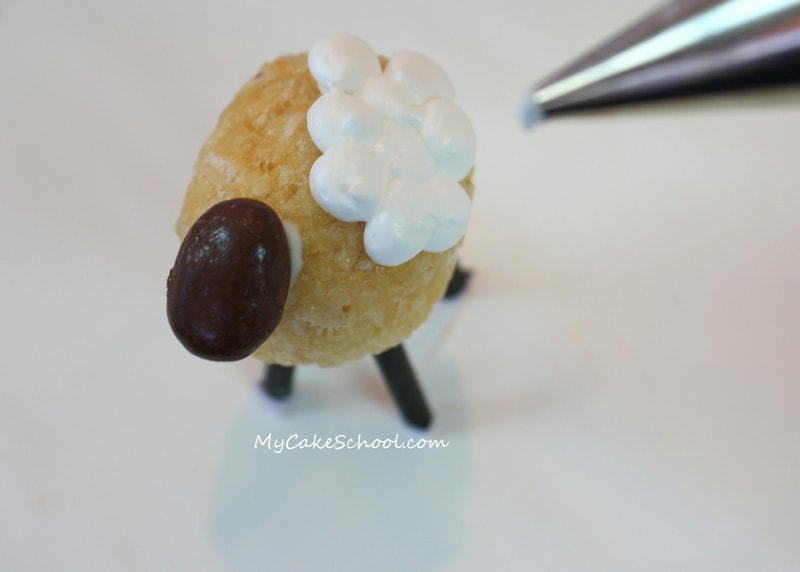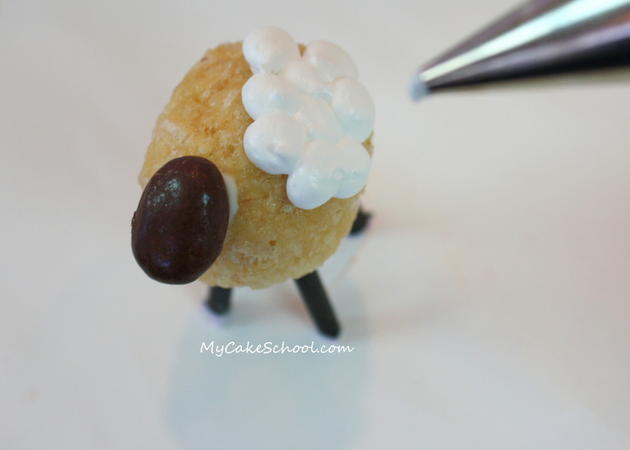 In a completely unnecessary and unplanned step–I painted her Raisinette head with the black "paint" mentioned above. She would have looked just as cute to be left alone but I couldn't help myself.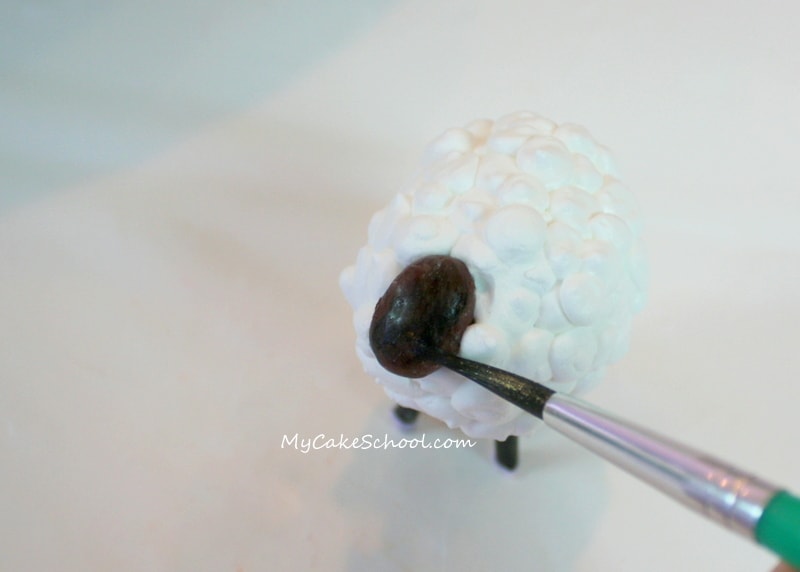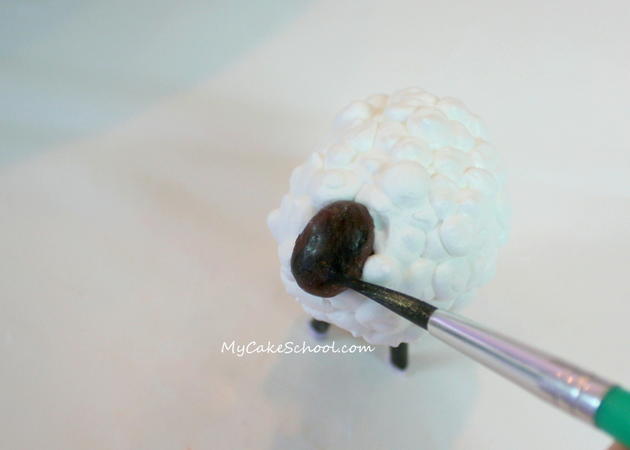 I gave her some black fondant ears since I had the black fondant out anyway for my letters. Ears could be made from anything–black buttercream, black royal icing, snippets of black candy (or brown for that matter–whatever matches the head.) ;0)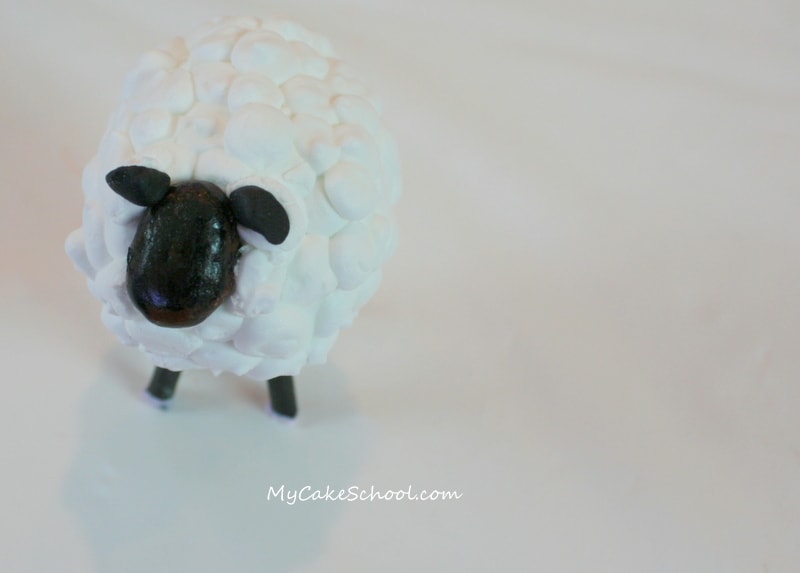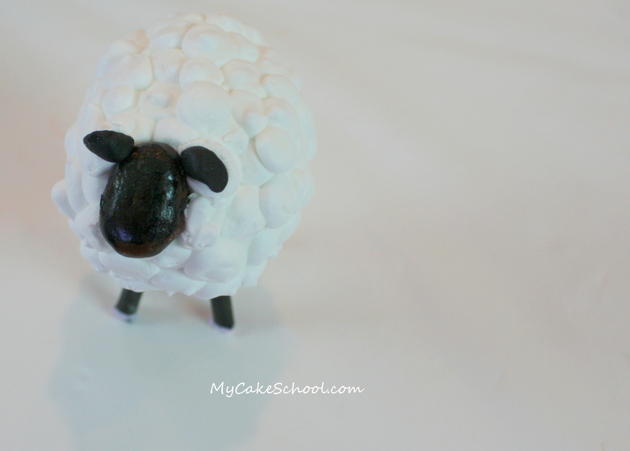 Here's my boy sheep. I made him just as with my girl, but let him stand upright. He has work to do…a sweet banner to hang on the cake, so he needs to have arms outstretched. ;0) — I always have styrofoam around the house so I let him stand in that while I did my piping. I've found that a roll of paper towels can work the same way when in a pinch–just push the lollipop stick legs into the top of a roll of paper towels to keep it upright while you work.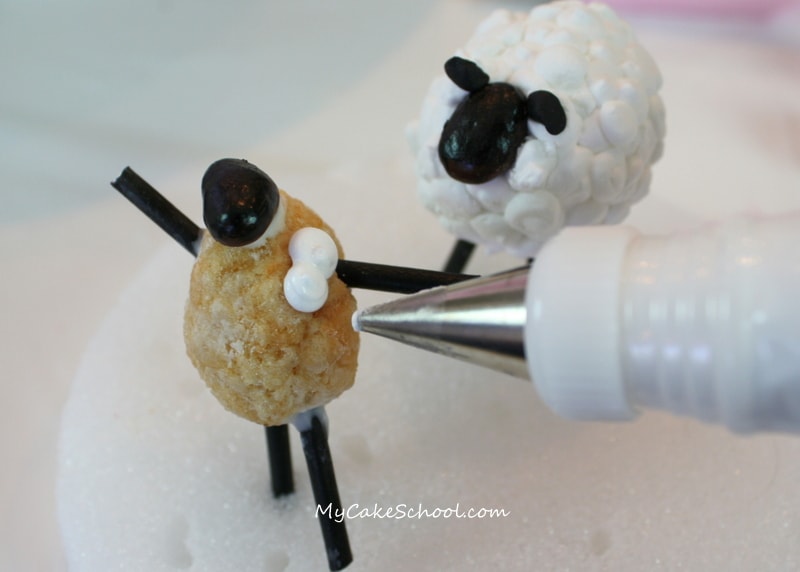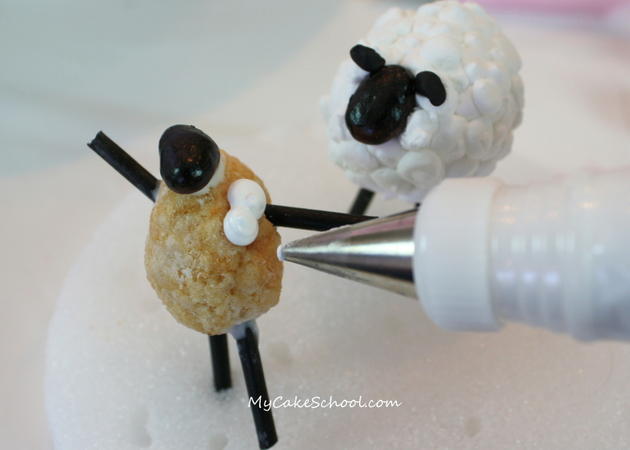 Here's my sheep all dressed up and with royal icing eyes that are piped with a Wilton tip 1. I wanted to show you that I anchored his feet in a soft piece of fondant. I'll pipe some royal on it later and throw sprinkles onto it to hide it! I pushed him right up against the cake. His arm helps to anchor him too–and I piped my bow right in that area so it looks like he is hanging his sweet banner. Isn't he cute?!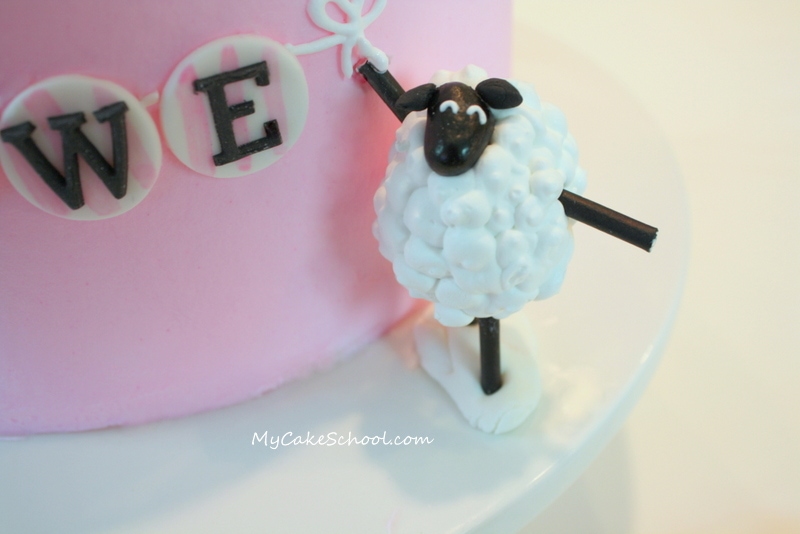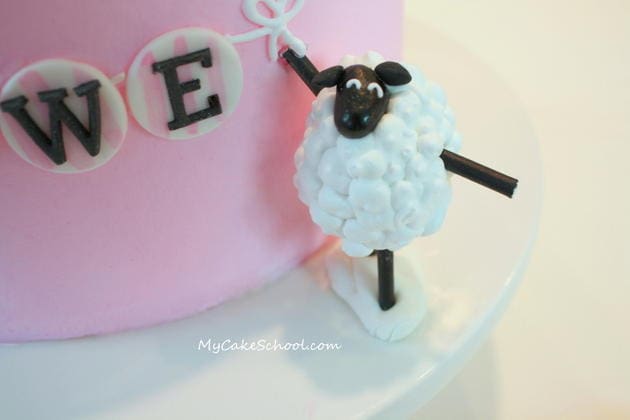 My banner is made up of circles which I cut from fondant using a big piping tip (I grabbed a Wilton 125 but any fat tip will do.)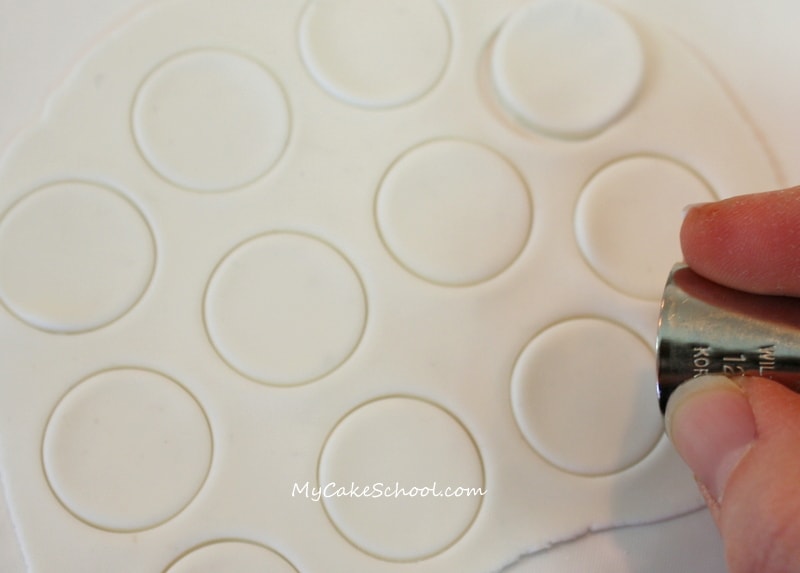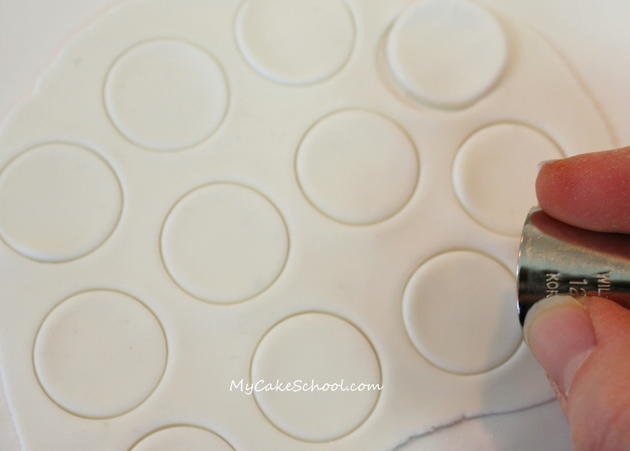 Then I painted them with stripes using Americolor Deep Pink combined with a little vodka. After they dried I started writing my letters and then was reminded how bad my handwriting can be. So, I grabbed my tappit cutters instead and glued them on with a little sugar glue.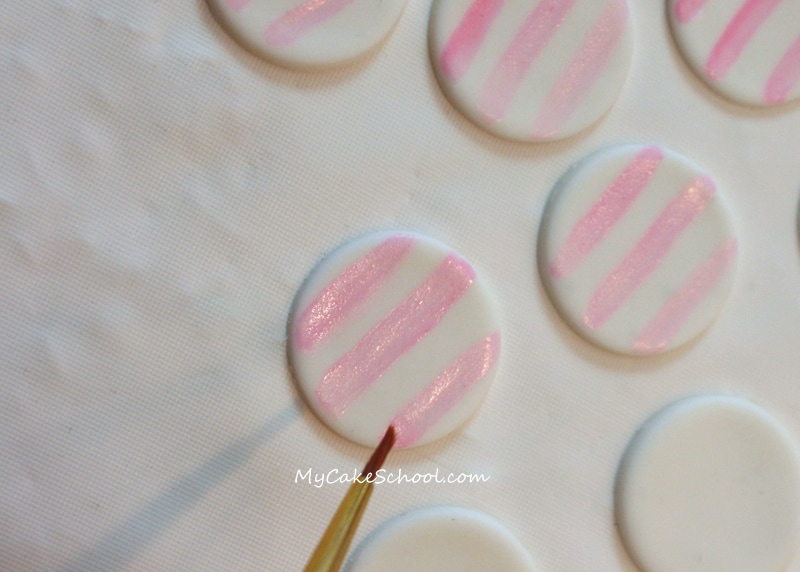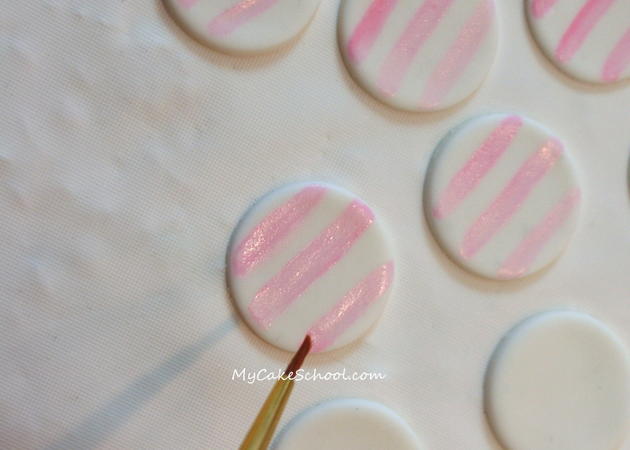 I added a few final touches– for instance, our sweet ewe needed a little red fondant bow and some matching red shoes. ;0) — I also cut out a red fondant heart. I debated on making a cake topper but was afraid to detract from our sweet scene–so instead I piped hearts all over the top of the cake with a Wilton tip 4.
Our fondant accents are attached with dots of buttercream, and the string from our banner is buttercream piped with a Wilton tip 1.
And we're finished!! Ewe absolutely MUST make this sweet cake for Valentine's Day!! ;0)
Thanks for stopping by! I hope you found a technique or two that you'd like to try~ see you next time! xo