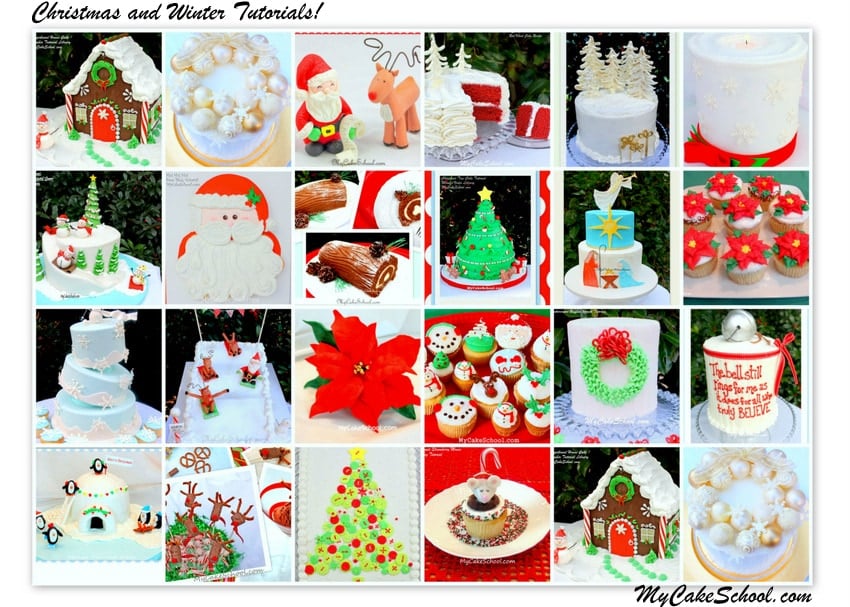 Hi everyone!  I hope that you are having a great week!  I've been scrolling through our Christmas and winter themed tutorials and realized that many of you may not know just how many cake and cupcake tutorials that we have to share!  We have quite a few free blog tutorials as well as video tutorials.  I had even forgotten about one or two of these myself!
Anyway, I have lots of cuteness to share with you… just click the photo to visit the tutorial!
I'll start with our free blog tutorials!
Here we have a festive Christmas tree of buttons~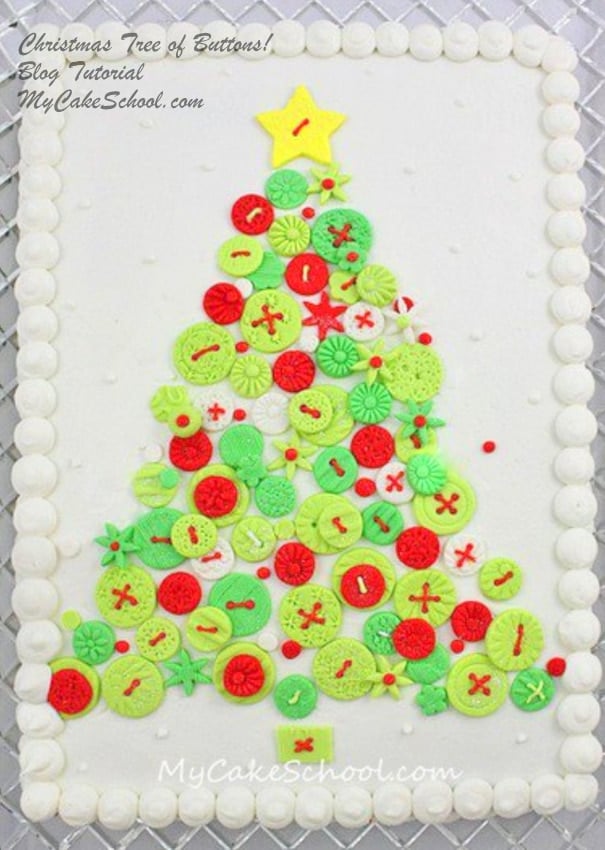 Elegant Chocolate Trees!  Chocolate candy/bark coating makes for a quick & easy design.  This time of year, when in doubt, I add a chocolate tree or two!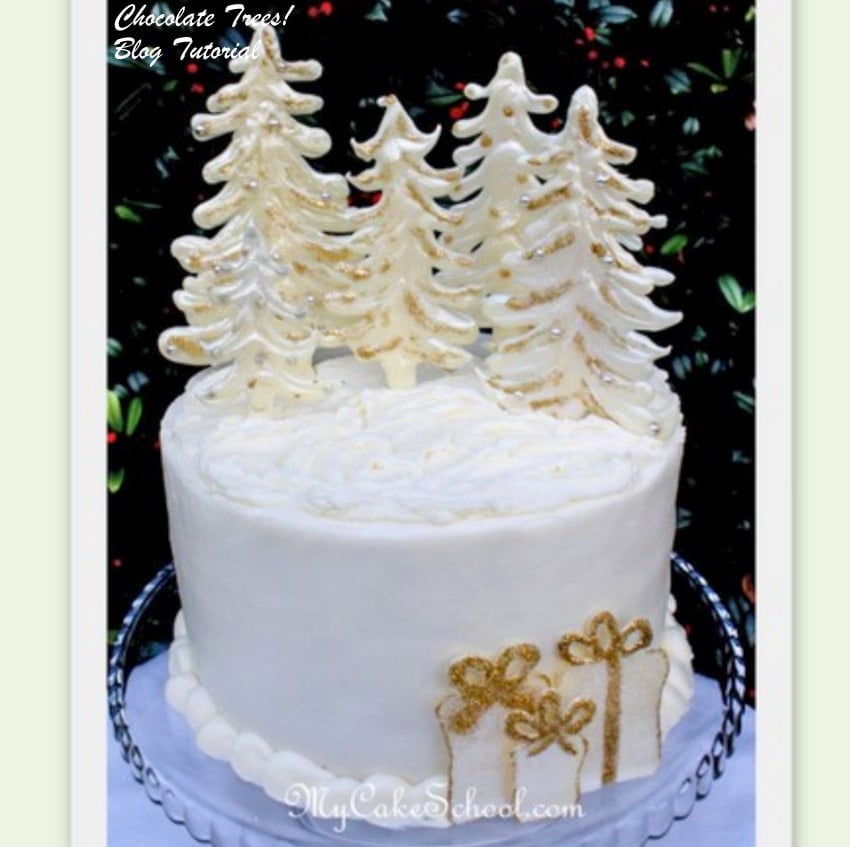 We made this little guy (and friends) in our first year of My Cake School!  Just a simple little strawberry & chocolate mouse, but isn't he cute?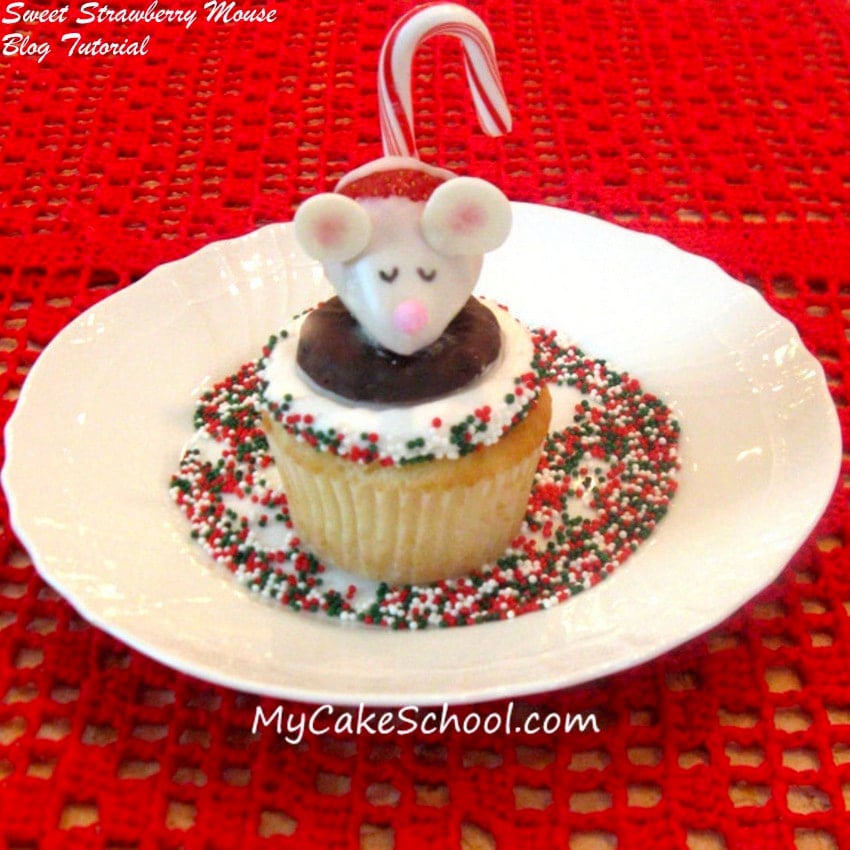 Santa!! This is one of my favorite tutorials for Christmas.  He is a buttercream frosted cake with a cupcake pull-apart beard! ;0) So much fun.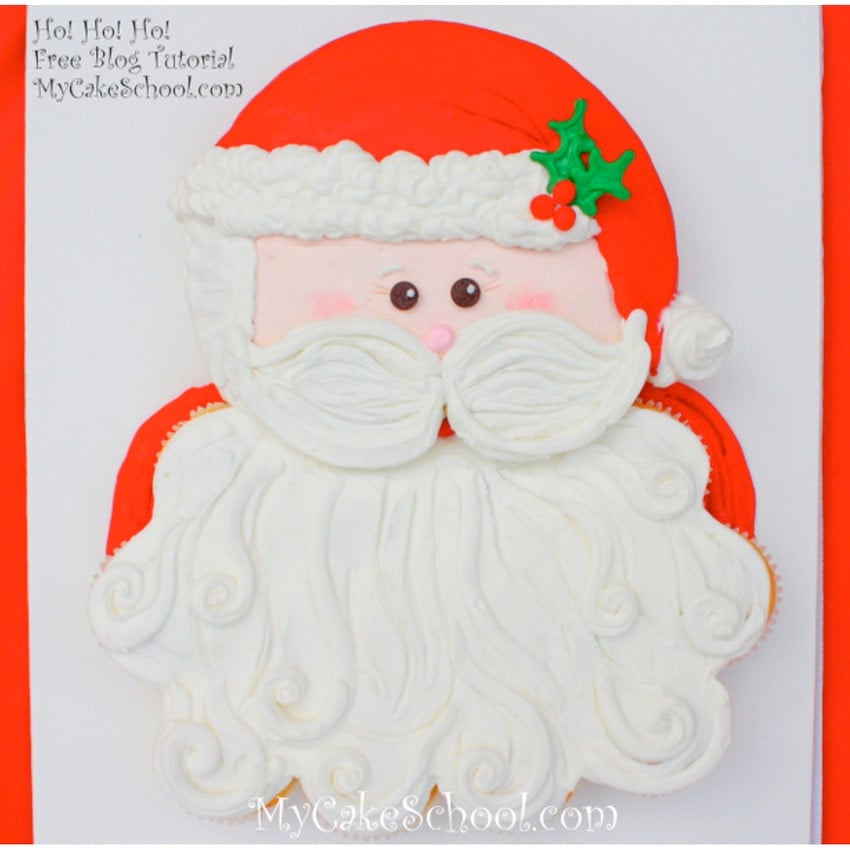 Our ornament (truffle) wreath tutorial is a new favorite of mine!  So elegant (and nobody would guess how simple!)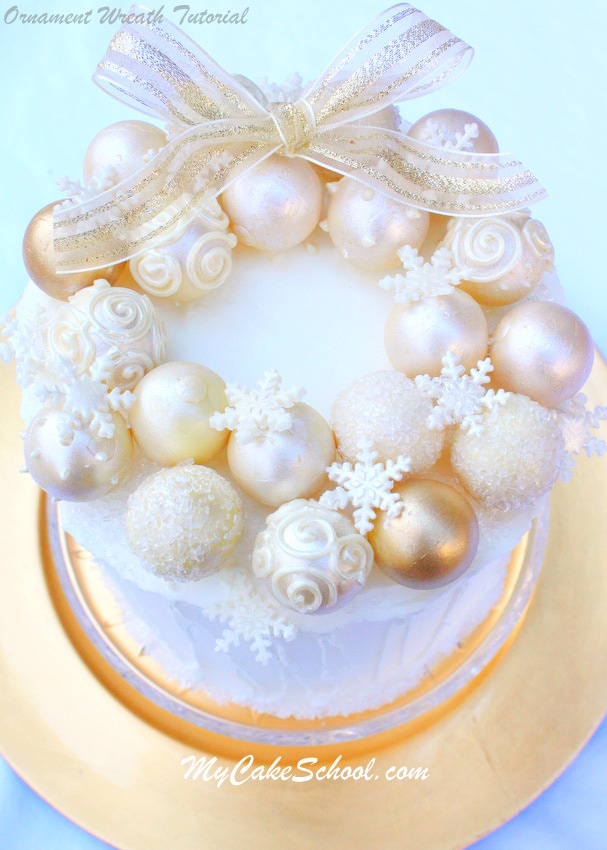 I just love buttercream, but if it can be ruffled buttercream , I love it even more!  This ruffled buttercream wreath is another simple and unique design. I made matching cupcakes too!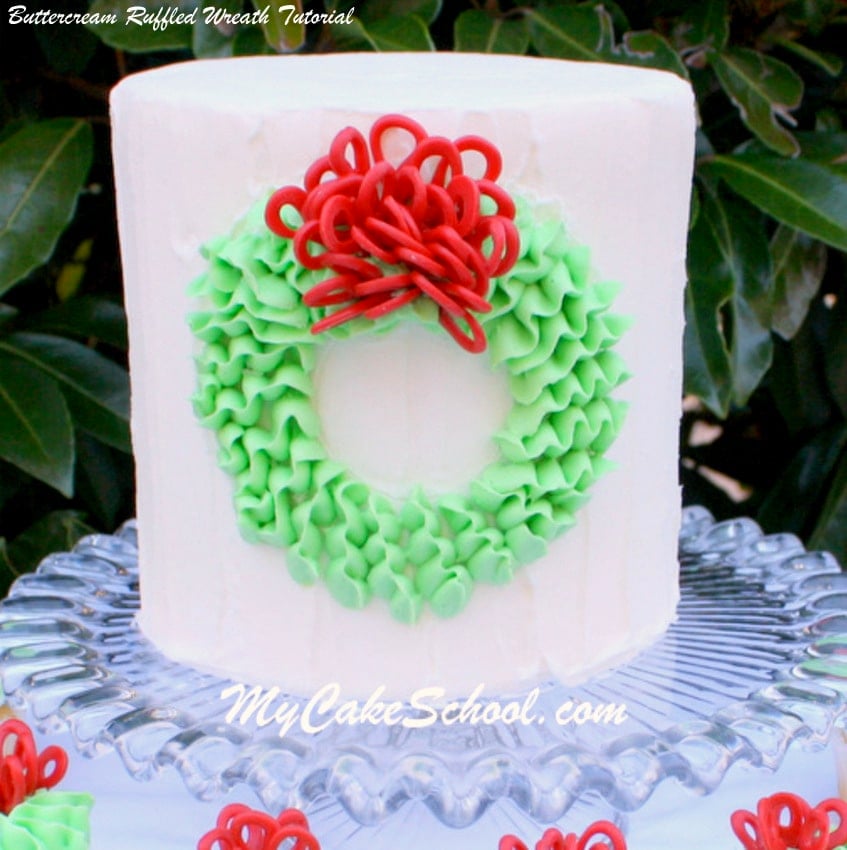 This beautiful platter of Christmas cupcakes is from both a blog and video tutorial!  I think the snowmen & mittens are my favorite! ;0)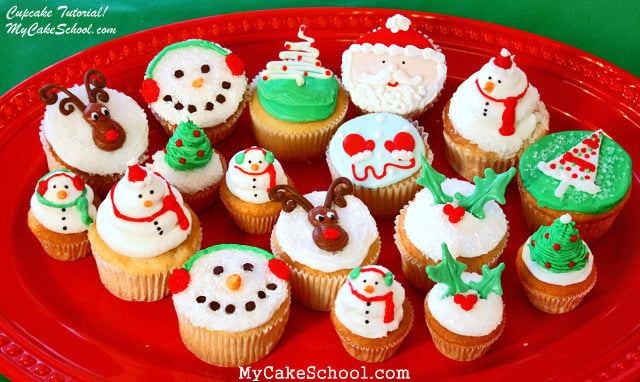 Another oldie, The Polar Express!  In this blog tutorial, you will learn to make a lovely sleigh bell topper.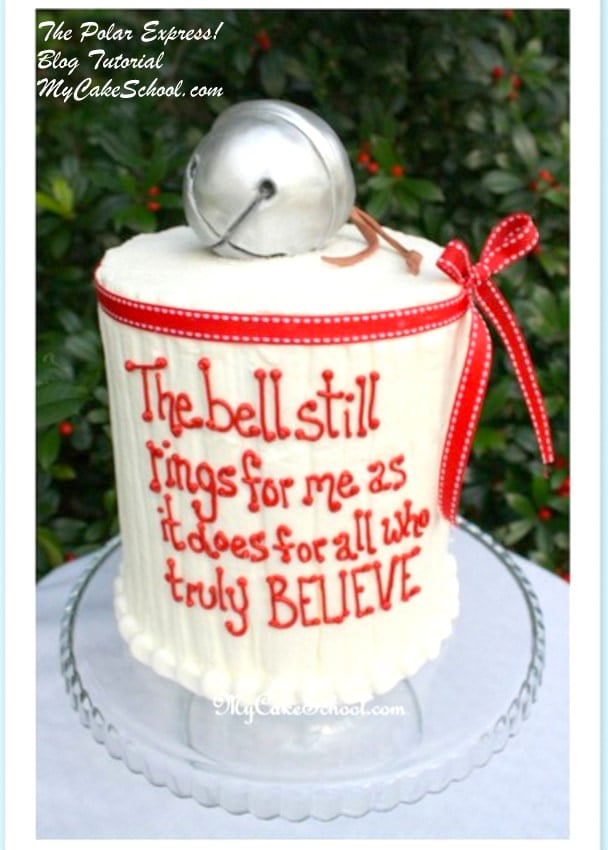 Next, we have little mini candy bar reindeer!! Whether on a stick or on top of chocolate ice cream, these make adorable party treats!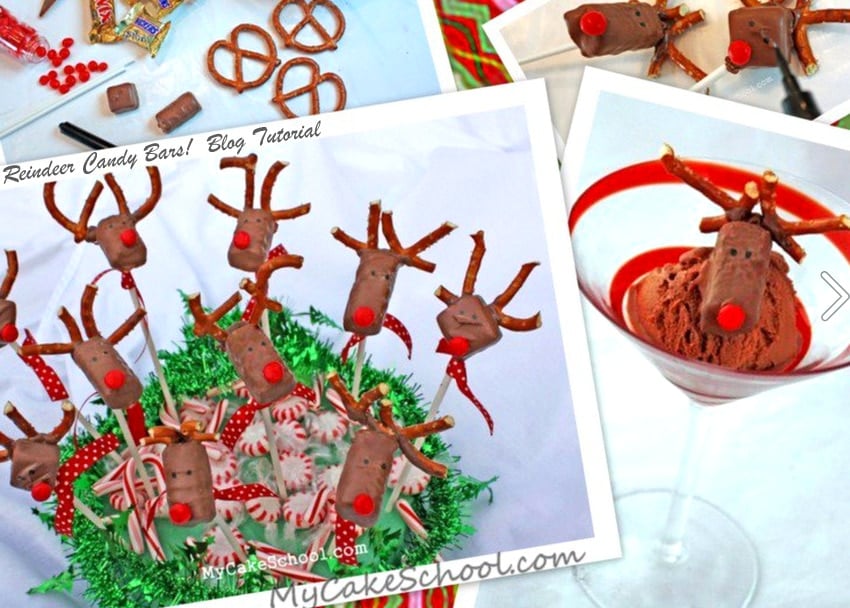 And finally….from our list of free tutorials is our Red Velvet Cake!  Not so much a tutorial, but this recipe is a new family favorite of ours! PERFECT (if I do say so myself).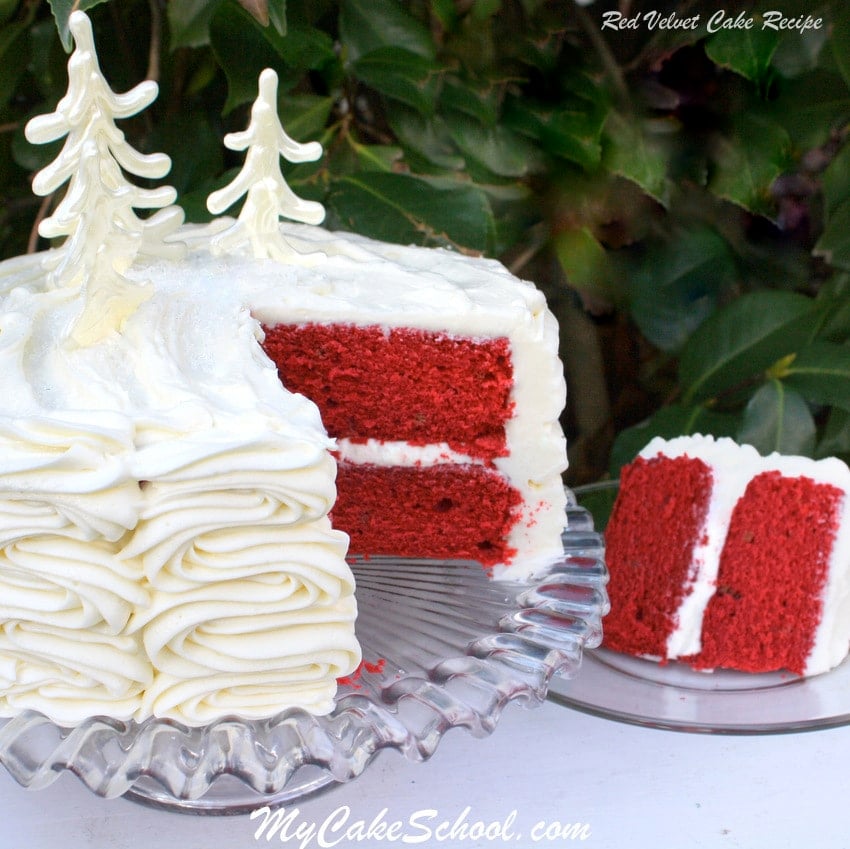 Now for our Video Tutorials for Members!  Some tutorials have a way of getting lost in our member video library, and I wanted to make sure that you knew about them!
First, our recent gingerbread house cake video tutorial!   We had the best time decorating this one!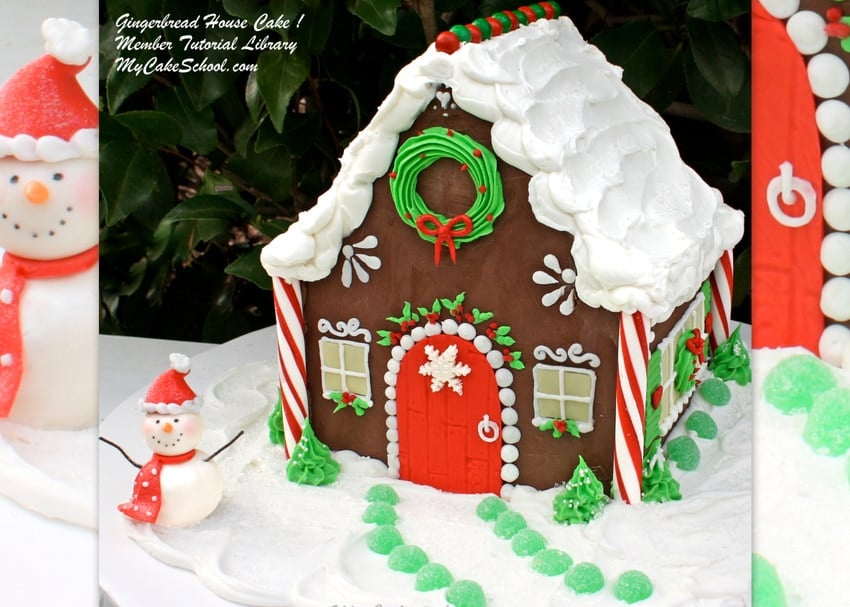 Our sledding snowmen!  Learn to carve a sledding hill into your cake along with some cheerful snowmen! ;0) One of my favorites!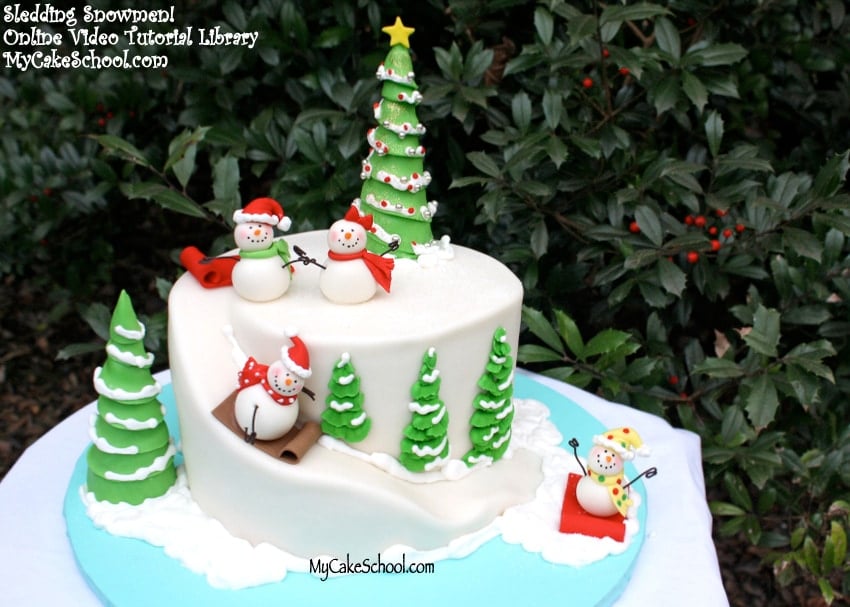 More cuteness!  We made this igloo cake with penguins a while back, and it still makes me smile ;0)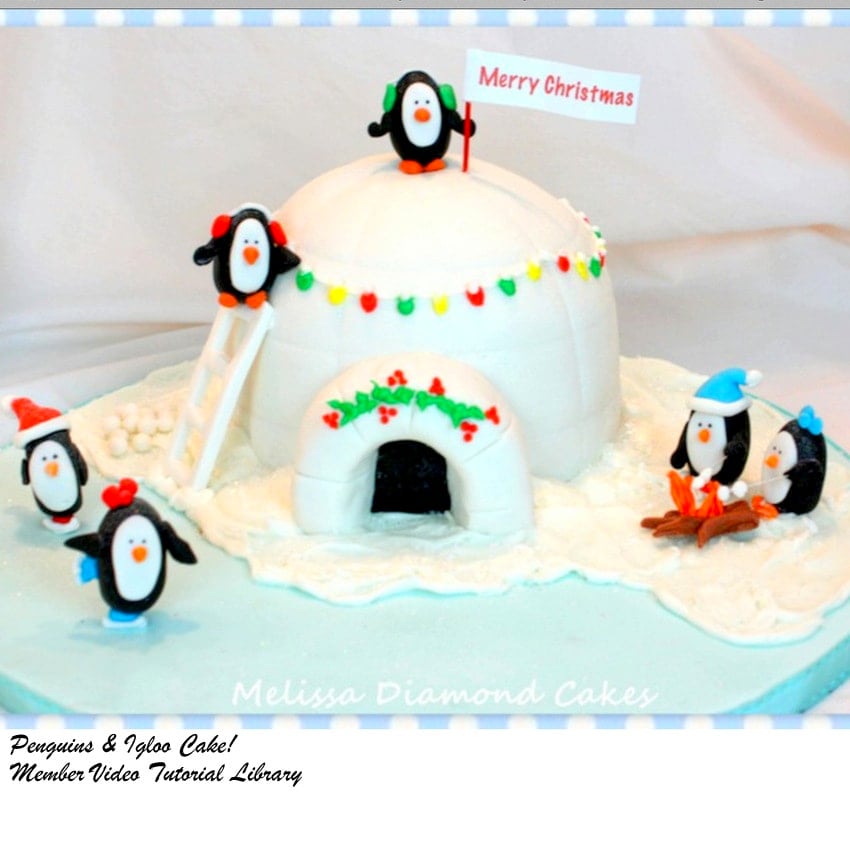 Here's our candle cake!  This video will teach you how to make a beautiful candle for your dessert table.  We lit ours for the photo! ;0)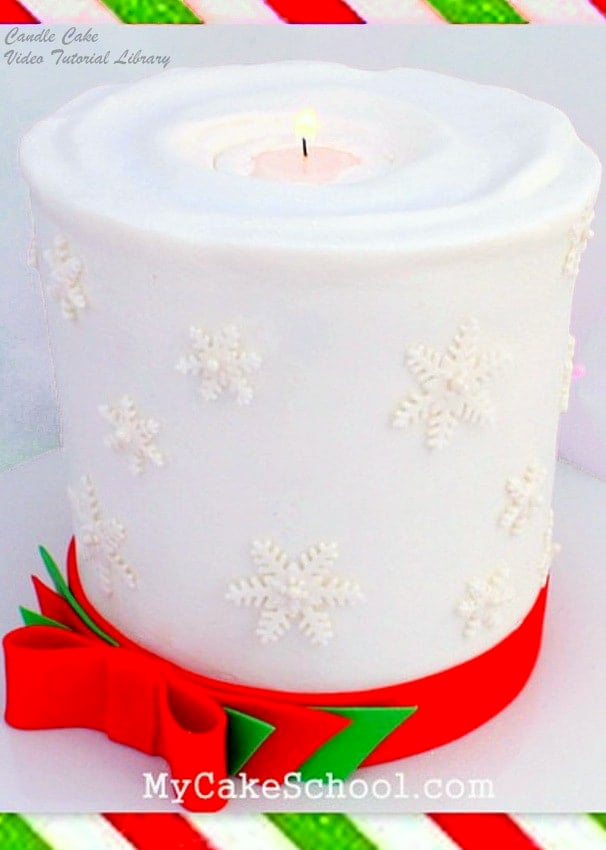 Yule Log!  In this video, you'll learn to make a cake roll & decorate as a yule log!  This cake is frosted with chocolate buttercream, even the pinecones & pine needles are edible.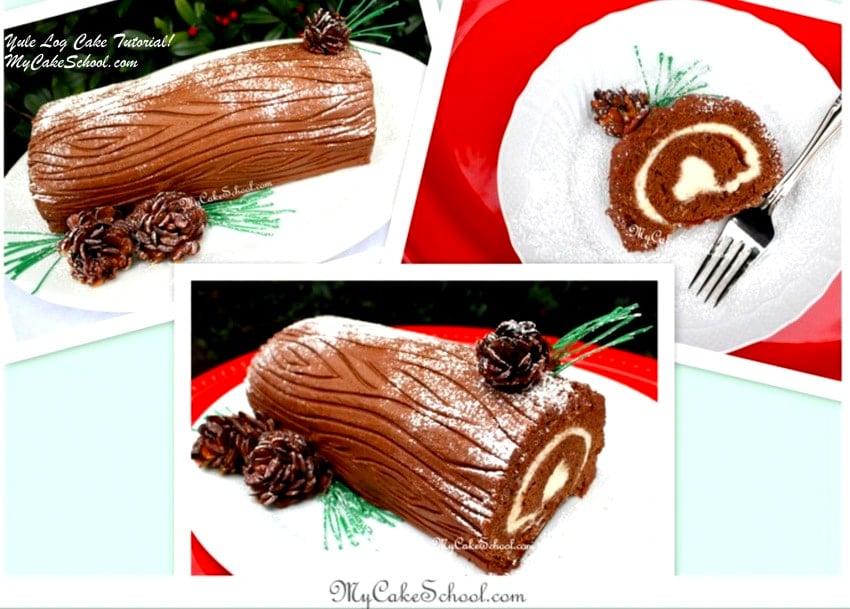 Crown your cake with a Gum Paste Poinsettia!
This cheerful frosted Christmas Tree video tutorial with complete with dancing gingerbread men has been a Christmas favorite of mine for years!  I hope that you love it too ;0)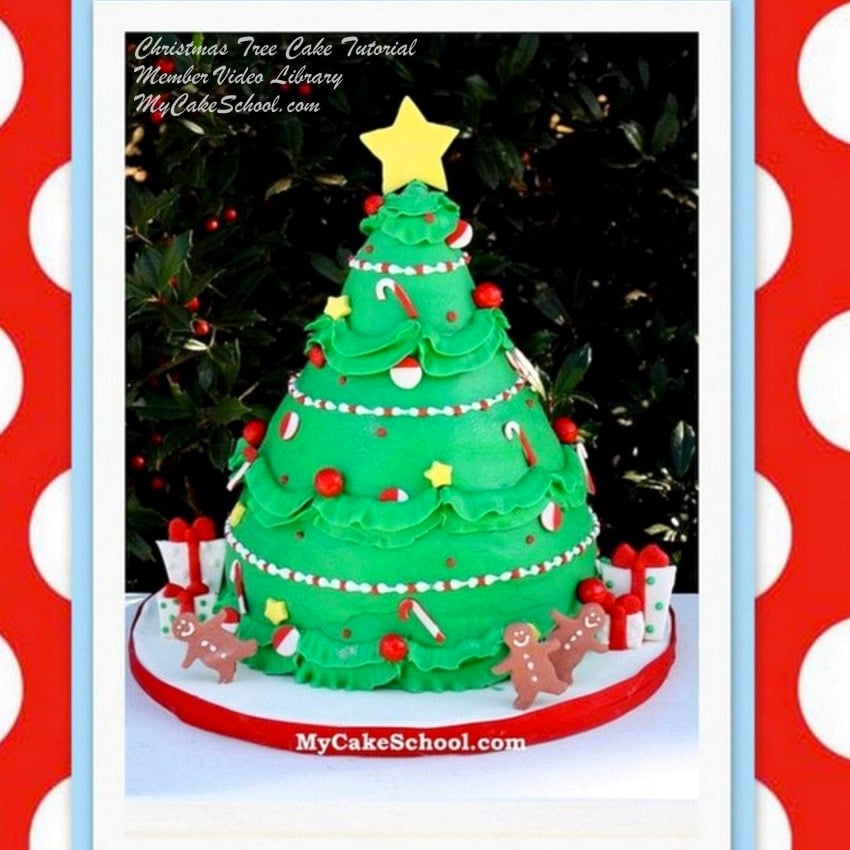 Another happy cake video for you!  Have you ever made a tilted cake?  This video will show you how (plus one cute skiing snowman and lots of royal icing snowflakes!) ;0)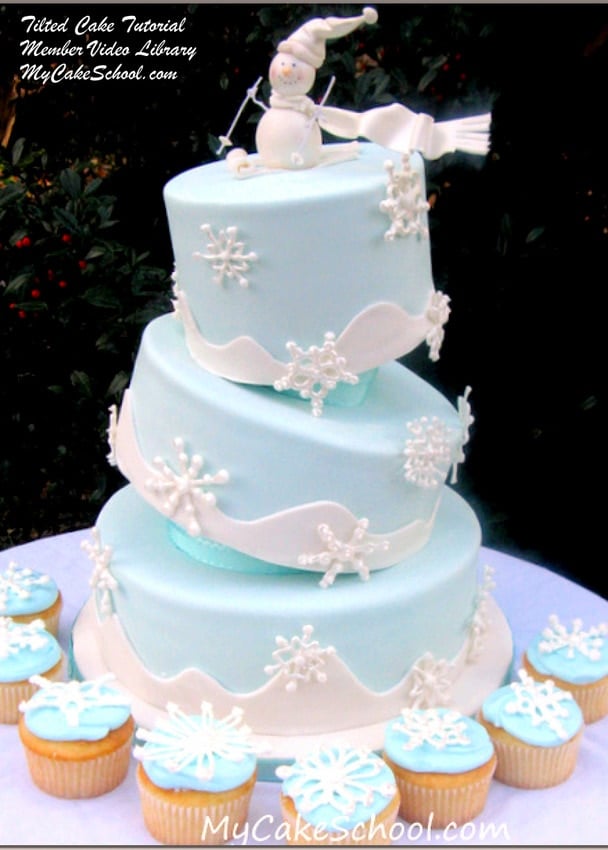 Need to make a sweet Santa & Rudolph?  This video will show you how! ;0)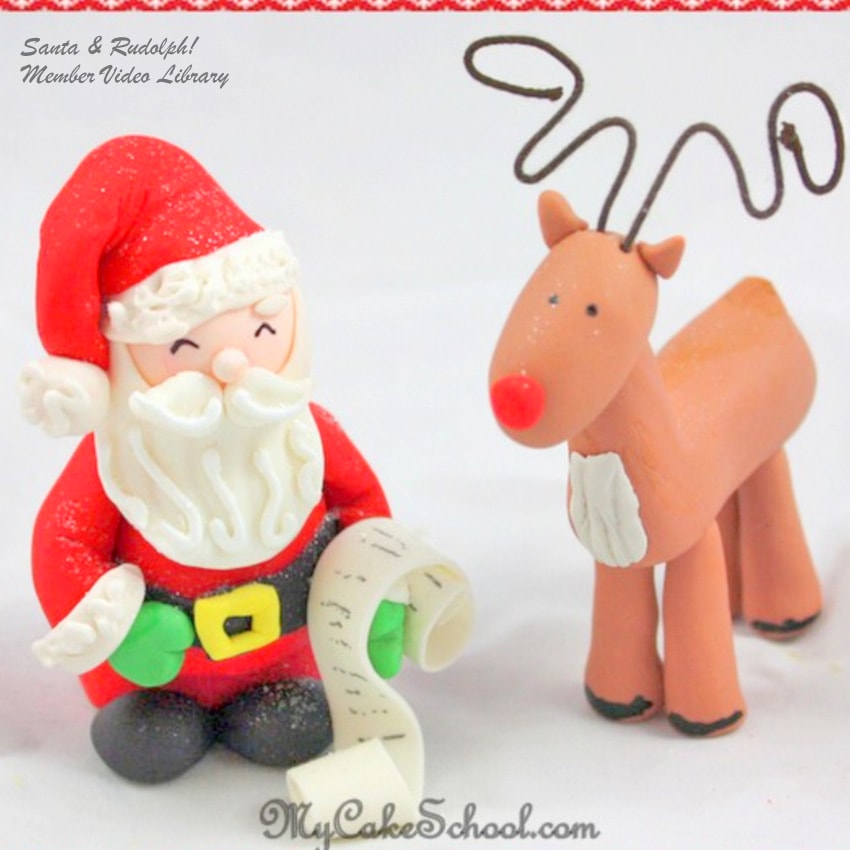 Buttercream Poinsettias are so quick & easy, but so beautiful on a platter!  Learn to make them in this video!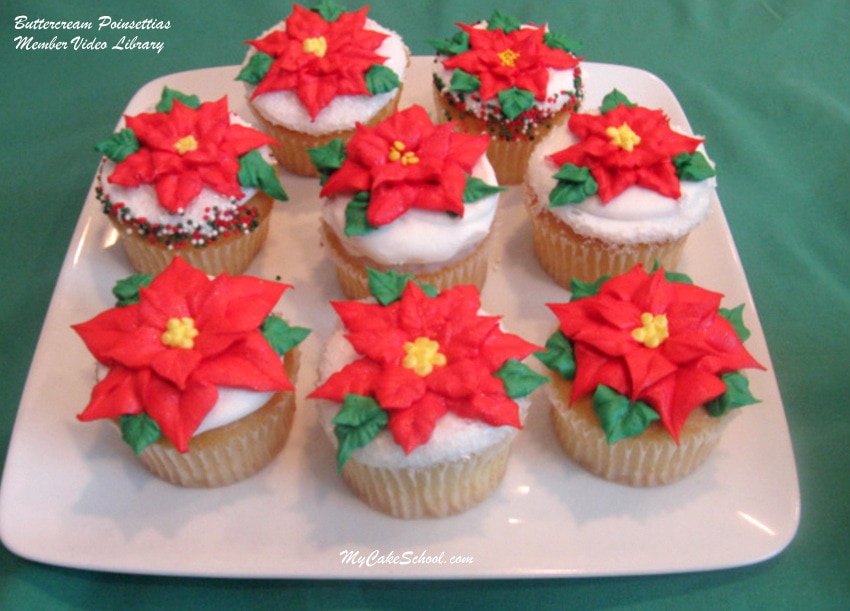 And finally, our beautiful Nativity Cake video tutorial. Sometimes the simplest decorations can be the most elegant, and I love the story that these simple gum-paste cut outs tell.  Enjoy the video!
Thanks for stopping by, I hope that you've found something to spark your interest or creativity! I have truly loved creating these Christmas tutorials over the years.  xo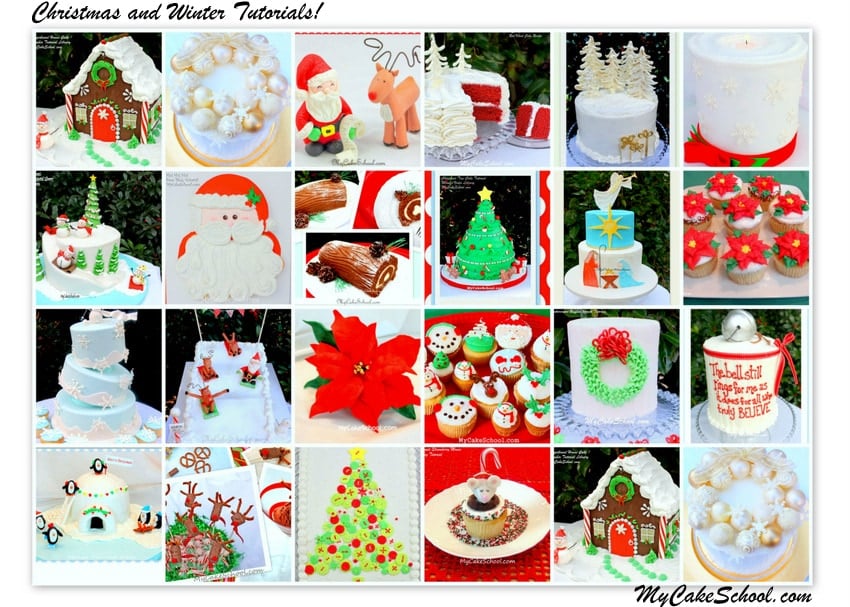 Leave a Comment