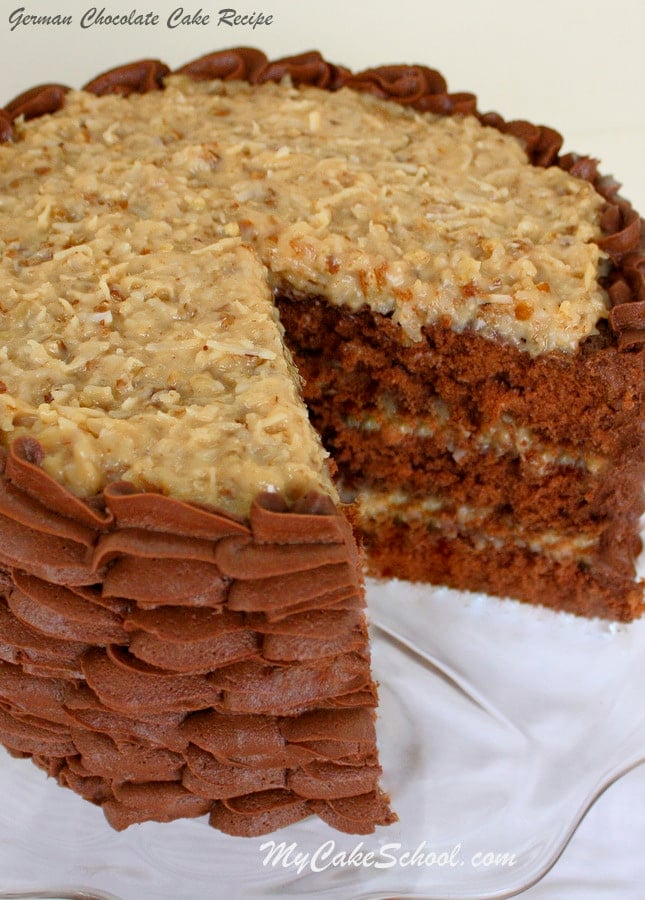 You will LOVE this recipe! The cake is super moist and decadent, it is a tried & true favorite! Traditionally, German Chocolate Cakes are often filled with their signature (wonderful) filling, but not frosted around the sides. However, we decided to frost the sides in chocolate buttercream, and I love the look!
German Chocolate Cake
Preheat the oven to 350 degrees and grease and flour 3 (8 or 9 inch) pan
1 pkg. (4 oz) (113 g) Bakers German Sweet Chocolate Bar
1/2 cup (118 g) boiling water
4 eggs separated
1cup (226 g) butter softened
2 cups (400 g) granulated sugar
2 1/2 cups (285 g) cake flour
1 teaspoon (5 g) baking soda
1/4 teaspoon (1.5 g) salt
2 teaspoons (8 g) vanilla
1 cup (242 g) buttermilk
Melt the chocolate in 1/2 cup boiling water. Let sit for 1 minute then stir until completely melted. Set Aside. Separate the 4 eggs and beat the whites in a small bowl on high speed until stiff peaks form. Set Aside. Whisk together the flour, baking soda and salt. In the bowl of your electric mixer or hand mixer beat the butter until smooth then add the sugar and beat until fluffy and light ( 2 to 4 minutes) Add egg yolks one at a time, beating well after each. Add the melted chocolate and vanilla and blend. Add the flour mixture alternately with the buttermilk beginning and ending with the flour mixture ( 3 additions), beating at medium speed until well blended after each addition. Gently fold and stir in the egg whites and pour into the prepared pans.
Bake 30 minutes or until a toothpick in the center comes out clean. Cool for 10 minutes then turn out. Cool layers completely and they are ready to fill and frost. To freeze for later use, cover individually with plastic wrap while still warm to the touch and wrap in aluminum foil. Can be frozen for 2 months.
Coconut Pecan Filling/Frosting
1 1/2 (171 g) pecans, chopped
2 2/3 cup (7 oz) (198 g) flaked coconut
4 egg yolks
1 teaspoon (4g) vanilla
1 can (12 oz) (354 ml) evaporated milk, (you could also use light or heavy cream)
1 cup (200 g) granulated sugar
1 stick (8 T.) (113 g) butter
Whisk egg yolks, milk and vanilla in a saucepan until blended. Cook over medium heat for 10 to 12 minutes or until thickened, stir constantly. Remove from heat and stir in the coconut and nuts. Allow to cool before spreading on the cake.
This is enough to fill and frost 3 (8 or 9 inch) layers. It is very rich so it can be used as a fill and on the top layer, leaving the sides unfrosted. For our pictured cake we use as a filling and frosted with chocolate buttercream Here is a link to the Classic Chocolate Buttercream recipe!
Leave a Comment