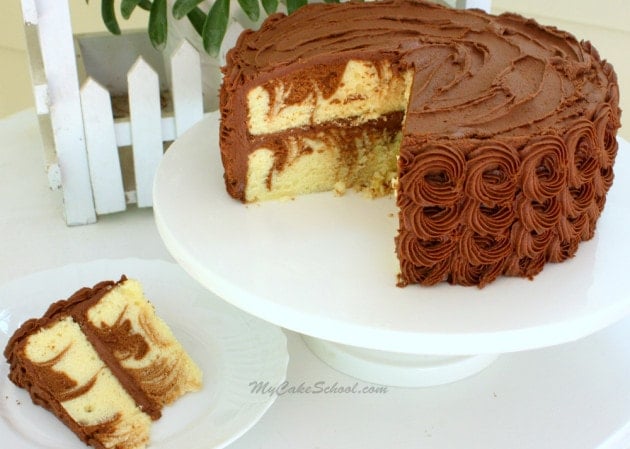 Hi everyone!  Marble cakes are always a crowd pleaser because they give you the best of both worlds~ chocolate & vanilla! ;0)
There is no need to make two different cake recipes to marble together.  Instead, take your favorite white, yellow, or vanilla cake recipe and simply reserve a bit of the batter to incorporate cocoa powder.  In this case, we used our scratch yellow cake recipe which you can find below.  If using a different recipe, you can skip to the marbling instructions at the end of this recipe which are bold & italicized.  For members who would like to see our piping method for decorating the cake in the photo, click here!
Instructions:
Preheat oven to 350 degrees
Grease and flour two 8 x 2 inch pans
*I use the reverse creaming method for this recipe.
In a separate bowl combine:
4 large eggs
1 cup (242 g) milk
2 teaspoons (8g) vanilla extract  (If making a coconut cake, add an additional 1 teaspoon coconut extract)
2 Tablespoons (18 g) vegetable oil
Whisk to blend
In the Bowl of your mixer combine:
2 1/2 cups (285 g) cake flour
1 1/2 cups (300 g) granulated sugar
1 teaspoon (6 g) salt
2 1/2 teaspoons (12 g) baking powder
Added During the Mixing Process
1 1/2 sticks (12 T) (169 g) unsalted butter, softened (do not soften in the microwave) I cut into 1/4 inch slices onto waxed paper to soften more quickly
For Marbling:  3 Tablespoons unsweetened cocoa powder + 2 T very hot water.
———————————–
Whisk the dry ingredients for 30 seconds to combine. With your mixer on low to medium speed,  slowly add the pieces of softened butter, a few pieces at a time.   Beat approximately 1 minute or until the dry ingredients are crumbly and moistened by the butter. Scrape the sides and bottom of the bowl to make sure there is no dry flour. Gradually add approximately 1/2 of the egg mixture to the dry ingredients and beat at medium speed for 1 1/2 minutes, the batter will be thick and fluffy. Scrape the bowl and add the remaining egg mixture in 2 pourings, scraping the bowl and beating for 20 seconds after each addition.
Marbling Instructions:
* Mix 3 Tablespoons unsweetened cocoa powder with 2 Tablespoons very hot water.  Stir until smooth & sit aside.
Put 1 1/2 cups cake batter into a medium sized bowl and stir in the chocolate mixture to create chocolate batter.  Now it's time to marble our batter in two 8 inch pans.
Using a large spoon, place 3 large spoonfuls of vanilla cake batter into each pan, then 3 spoonfuls chocolate batter.  Repeat adding more vanilla batter.  You will see areas of both vanilla and chocolate batter.  Using an offset spatula or knife (we prefer something appox. 1/2 inch wide), swirl the two colors together to get a marbled effect.  Do not overmix.
Here's a pic of a pan before swirling….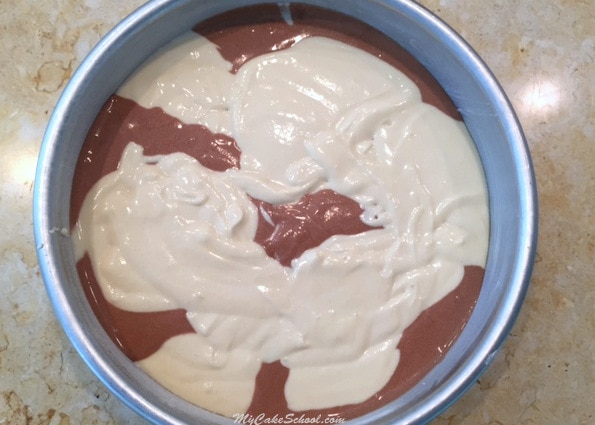 and after swirling…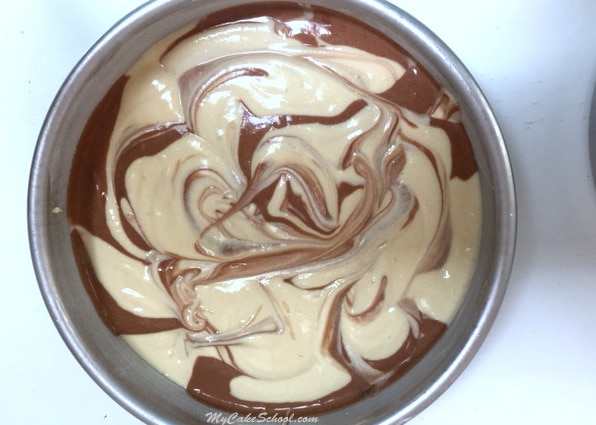 Bake at 350 degrees for 30 – 35 minutes or until a toothpick inserted in the center comes out clean. Let the cake cool in the pans 10 minutes then turn out.
Makes 6 1/2 cups batter
Leave a Comment