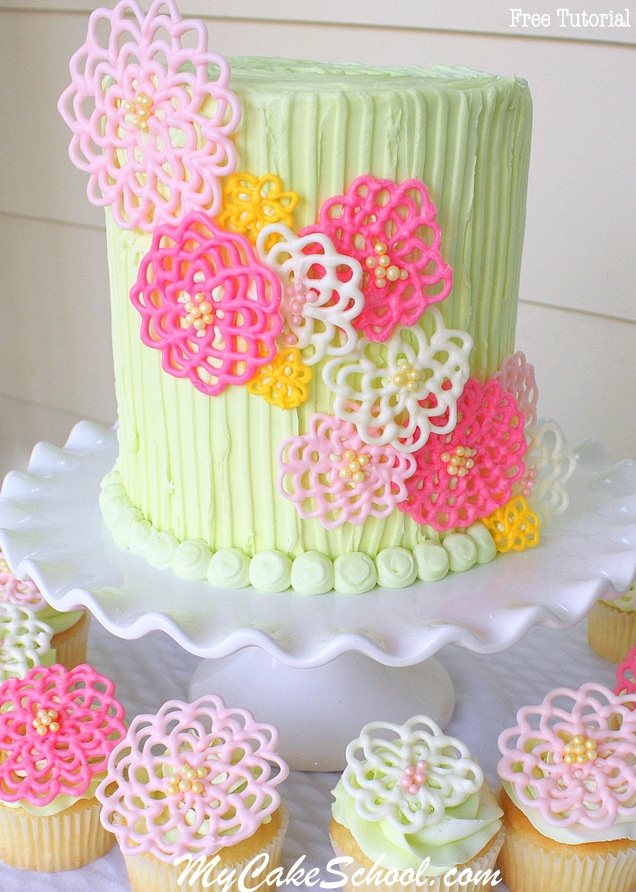 Hi everyone! We just posted a really cheerful, springy tutorial in the blog where I demonstrated piping flowers with chocolate (candy coating).
We decided as we were working on the blog that we should film the process also. So, in this tutorial, you will see what is explained & photographed in our blog post, but with the bonus of being able to see the video demonstration too!
I love working with candy coating/candy melts, because the process is so quick. You can pipe, create, chill & attach your accents in a matter of minutes. T
he whimsical nature of our flowers' design makes it a perfect choice for any level of decorating–and for all sorts of occasions! Don't worry if your flowers don't look just like mine–you may discover a different style that you like even more.
I hope you'll share your creations if you try out this tutorial–make sure to check below the video for a few extra notes. Have fun! —
Materials
*I used a four layers of white almond sour cream cake (with cake board midway up and supported beneath with bubble tea straws.) The cake is frosted with our Fluffy Vanilla Buttercream Recipe.
Colors: (Regular coloring gels will seize your chocolate. You'll want to use oil based candy coloring or coloring powders. Pre-colored candy coating is also an option.) We used Wilton Pink Candy Color for both our dark and light pinks. We also used Americolor coloring powder for our yellow, and Americolor Electric Green to tint our frosting.
Candy Coating– Whatever your preferred candy coating/confectioner's coating/chocolate bark/candy melts. Our local grocery store carries a Ambrosia brand of white chocolate bark/coating – that's what we used today.
Ateco Cake Comb- Optional — We used it to comb our buttercream
Piping Tips- Wilton 12 for ball border on cake, and Wilton 2D for the swirls on our cupcakes. I also used a Wilton 3 for piping the chocolate. ** Some people prefer to just snip the ends off of their piping bags rather than use a piping tip with their chocolate.
Waxed Paper- We piped our designs onto waxed paper lined cookie sheets & then chilled them.
Sugar Pearls–Optional. We used Wilton Yellow Sugar Pearls for our flower centers.
Misc: I used two cardboard cake circles, slightly smaller than my 6 inch cake. I used one beneath the tier, and one halfway up the tier (with bubble tea straw supports beneath). This design would be so cute also as a shorter cake also!
A Few Notes for you to Keep in Mind:
You can buy pre-colored candy coating (Candy Melts, etc.). However, if you are tinting your own as I did, you'll want to tint your chocolate with candy coloring (which is oil based) or coloring powder. The usual coloring gels for frosting & fondant will cause your chocolate to seize. Water causes the melted candy coating to seize also.
Another option in a pinch is that you can paint your white chocolate pieces using petal dust mixed with a little vodka or lemon extract. (Coloring gel mixed with vodka/extract doesn't cover well.)
*I like to keep my pieces in the fridge and pull them out a few at a time as needed. It makes them less fragile when handling. However, once on the cake or cupcakes, they should hold up just fine at room temperature.
* My cake is a 6 inch round and is approximately 7 inches tall. There is a cake board about halfway up with bubble tea straw supports beneath. This keeps such a tall cake nice and sturdy, and keeps the serving sizes manageable. The look would be beautiful on shorter cakes as well.