Every fall I crave apple spice cakes– and this year is no different!  I think that you will love this moist and delicious Caramel Apple Spice Cake recipe too- a winning combination of  apples, cinnamon, caramel & all-around coziness!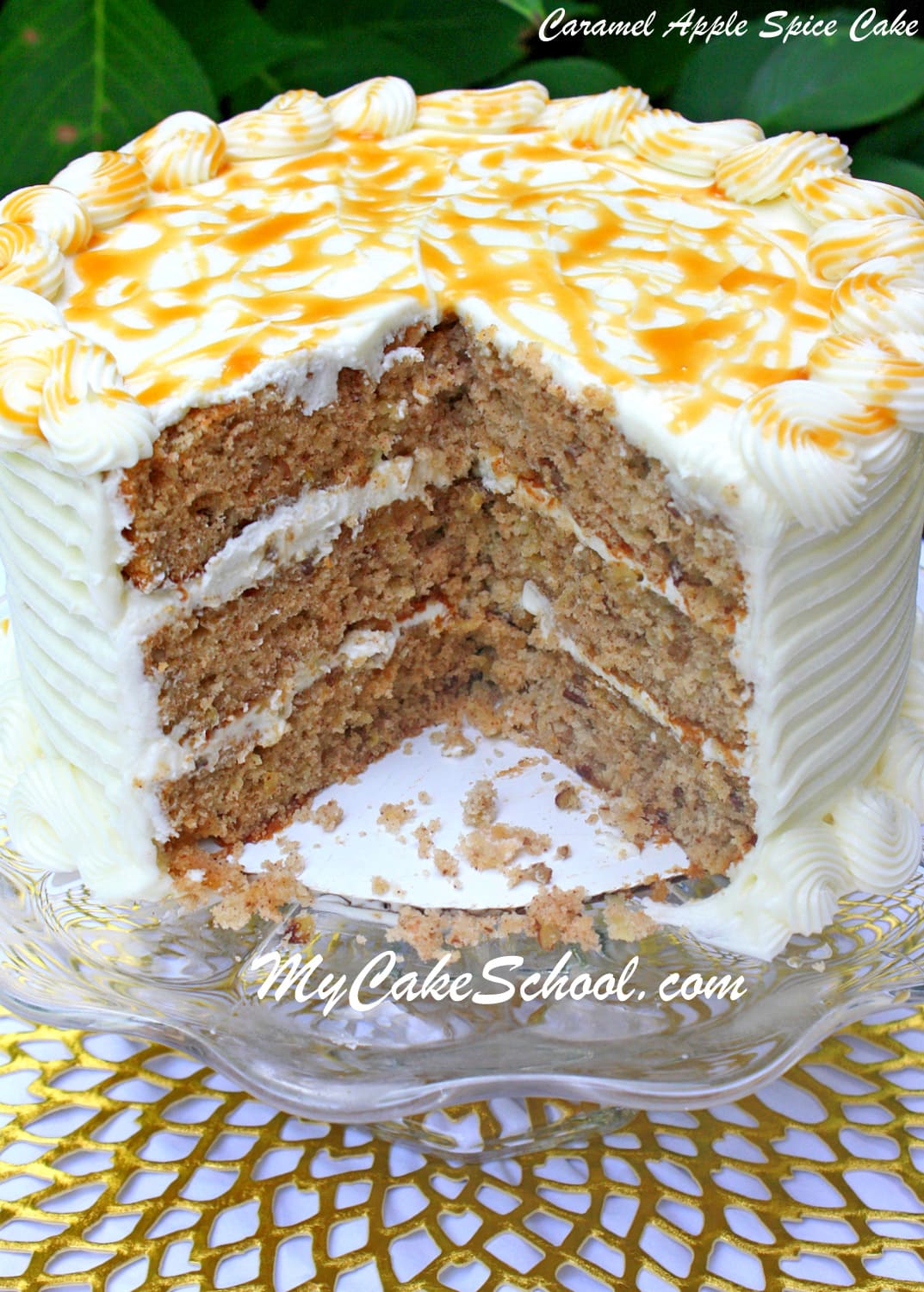 Ingredients
1/2 cup

(1stick) (113 g) unsalted butter, at room temperature

1/2 cup

(107 g) vegetable oil

2 cups

(400 g) granulated sugar

3 large

eggs

2 teaspoons

(6 g) vanilla extract

1 cup

(252 g) applesauce (unsweetened)

3 cups

(342 g) all purpose flour

1/2 teaspoon

(3 g) salt

1 teaspoon

(5 g) baking soda

1 Tablespoon

( 9 g) cinnamon

2 cups

(250 g) grated apples, peeled before grating. I used Granny Smith (3 large apples or 4 medium) ( I used the large holes on a box grater

1 cup

(100 g) chopped pecans or walnuts

Zest of

1 small lemon (optional)

1 Jar

of Caramel Sauce/topping for spreading on layers and drizzling

Cream Cheese Frosting

(or your filling/frosting of choice. see our Recipes section!)

*Makes approximately 6 1/2 cups of batter
Directions
Preheat the oven to 350 degrees
Grease and flour three 8 inch pans A WAXED PAPER circle should be put in the bottom of each pan (grease and flour also) there tends to be more of a sticking problem when recipes have fruit.
Cream the butter, add oil, sugar, eggs, vanilla and applesauce. Mix well.
Put the dry ingredients in a separate bowl and whisk to mix.
Add the dry ingredients to the wet ingredients and mix to blend.
Fold in the grated apples, lemon zest and nuts.
Bake at 350 degrees for 30 minutes. Let cool in pans 10 minutes then turn out.
As I assembled my cake layers, I added another layer of flavor with a very thinly spread coating of caramel.  I used store bought.  I spread the top of each layer with a very thin layer before spreading my cream cheese filling.  After assembling, I frosted the cake with cream cheese frosting and drizzled with additional caramel sauce. *I have also made this cake as a bundt cake, and as cupcakes with great results!
*You can find the Cream Cheese Frosting recipe used for this cake HERE!