Learn to Make Succulents! ~ A Video Tutorial
Hi everyone! I've received several requests lately for a video demonstration of how to make gum paste succulent plants.
Succulents are beautifully unique plants known for their unusual appearance and thick stems & leaves. I can remember growing "hens & chicks" when I little, but had no idea until recently that these (among many other varieties) are known as succulents!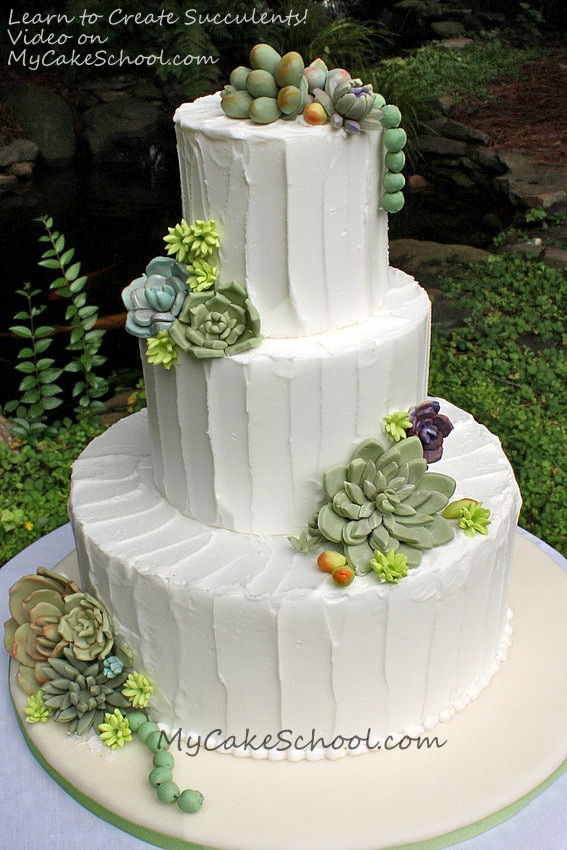 More and more, I've noticed succulent plants tucked among the flowers in bridal bouquets and on wedding cakes as well! - The look has a fresh, modern feel--and I was so happy to find that these plants are EXTREMELY simple to recreate in fondant and gum paste.
Whether using them as a the focal point on a wedding cake, or as an interesting filler among a bouquet of sugar flowers, these plants always bring an element of elegance . I hope that you enjoy making them!
Materials and Notes
**In this video, my cake is frosted with high ratio buttercream that has been textured with vertical strokes. I don't demonstrate this in the video, as we already have a tutorial on this method. CLICK HERE if you'd like to see! ;0)
In this video, my succulents are added to a 3 tiered cake--10"/6"/4"", frosted in high ratio buttercream . Each tier is resting on it's own cardboard cake circle, with bubble tea straws beneath.
Gum Paste: I used Satin Ice brand gum paste. Since most succulents are fairly thick, fondant can be easily substituted. If your fondant is very soft, you may still want to knead in a little tylose to make it more manageable.
Coloring Gel: Succulents vary so much in color that we experimented with a number of shades of green, and also combined some of our colors. It's best to experiment with tinting small amounts of gum paste to see what color combinations you like best. I used: Americolor Forest Green, Electric Green, Avacado Green, Teal, and Wilton Juniper. I also used Americolor Regal Purple. If you don't have all of these colors, don't worry. You have a lot of options when it comes to color.
Cookie Cutters/Gum paste cutters- Again, work with what you have, or with cutters that you can use for other flowers as well. I used a Wilton Daisy Cutter Set in this tutorial, as well as a basic metal blossom set that I already had. As you see in the video, I also used a basic rose petal cutter and Ateco leaf plunger cutter for one of the succulents, just to demonstrate the flexibility that you have when choosing your succulent cutters.
Floral Wire- Optional, but necessary if you'd like to make the vine with green berries like I did.
Petal Dust- Your dusts of choice--I used mainly purple (Wedgewood), Red (Flame), and Sunflower, along with Super Pearl dust. You have a lot of flexibility here, this is just what I happened to have.
Sugar Glue- (Recipes section) - 2 tablespoons warm water combined with ¼ tsp. tylose powder.