How to Make Petit Fours~A Video Tutorial!
Hi everyone, today I'm going to show you how to make petit fours!
I really wasn't sure if this day would ever come, because until very recently, my petit fours always seemed to fall short. We're happy to share a much simpler way to make these tiny cakes!

The Challenge of Making Petit Fours
Before I had an easy method for making petit fours (which I share in the video), they were NOT fun for me to make. Who would guess that such tiny little cakes could be so difficult?
Either they were too bumpy, or they weren't uniform when they were sliced, or they fell apart when they were glazed, the kitchen was a disaster afterwards... the list goes on!
So, whether you've never attempted petit fours, or you've tried and sworn them off a long time ago, I hope that you will watch this video and give these little cakes a try! ;0)
The Perfect Petit Four Icing
There are two petit four icings that I like. One, which was already in the recipes section (and that I discuss in our video on glazing cupcakes) is called King Arthur Flour Poured Fondant.
I really love the flavor of this recipe, which includes a little white chocolate.
However, in today's video, I tried another commonly used petit four glaze recipe, and it has become our FAVORITE. This is the one that we'll refer to in the Recipes section as Classic Petit Four Glaze.
It is very similar to a Martha Stewart recipe that we found online, but also very similar to many other glaze recipes. (Not sure who to credit for this one).
Anyway, this traditional glaze is even whiter than the King Arthur Flour Poured Fondant recipe, and for us, it coated a little more smoothly and was a little whiter in color. It does dry firmer though.
So, it comes down to personal preference (as I say so often!) ;0) -- I did really like this "traditional" recipe a lot...the key is not to make your icing too thick. Otherwise, you will have a very firm "sugar shell" to bite thorough (which some may like...others may find too sweet.) We kept our icing thin.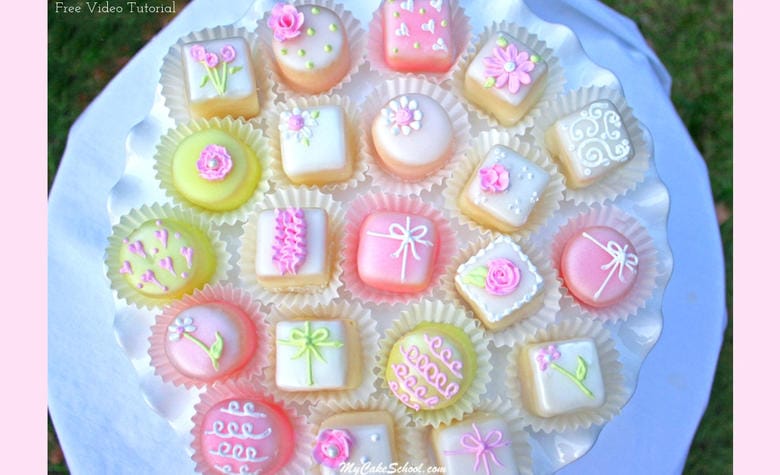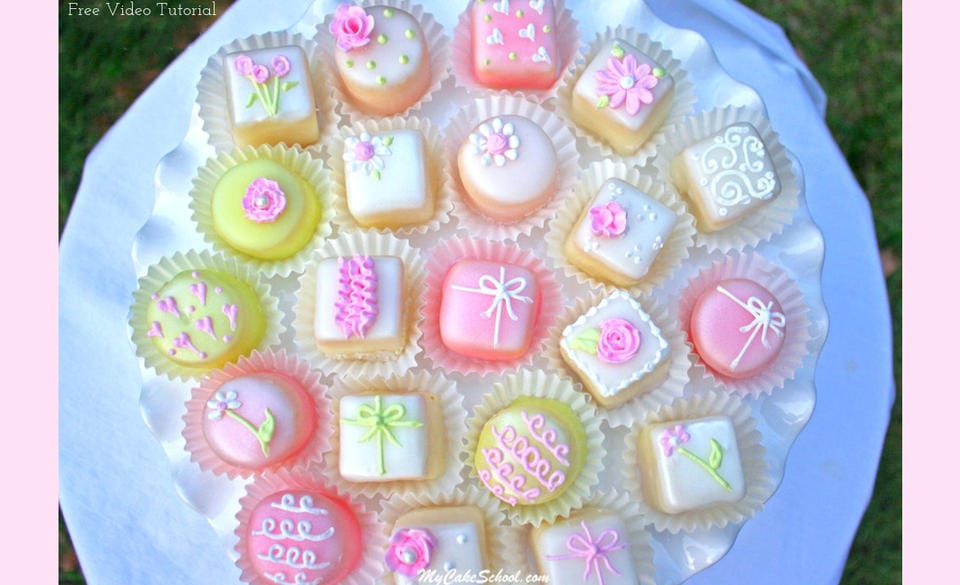 What Kind of Cake to Use for Petit Fours
The other important factor in successful petit fours is your cake! We used a pound cake recipe that we really like, and we will put in our recipes section.
You want to use a dense cake which can be easily cut without creating a ragged edge. You also want to work with frozen cake, so that you will eliminate almost all crumbs and the cakes will not be fragile.
These two tips alone are going to make petit fours so much easier!
How to Prepare the Petit Fours for Glazing
In the video, we demonstrate a few methods of coating the petit four squares which I like, and also how to fill your cakes with a filling if you would like that extra layer of flavor.
While some people make petit fours with a thinly rolled layer of marzipan just beneath the icing, we chose to use a thin layer of buttercream.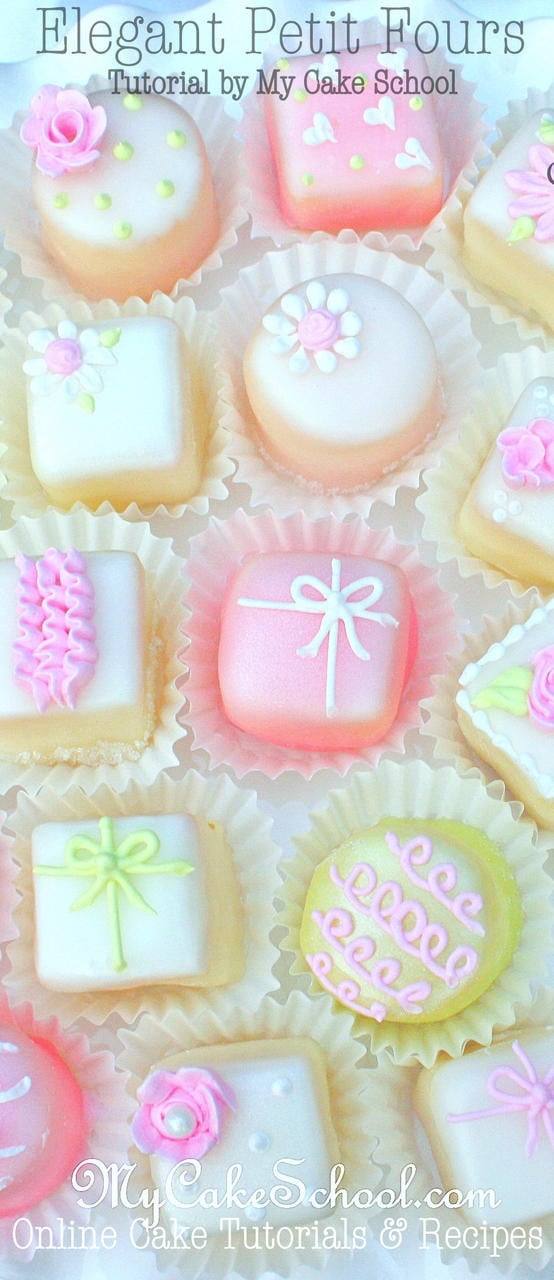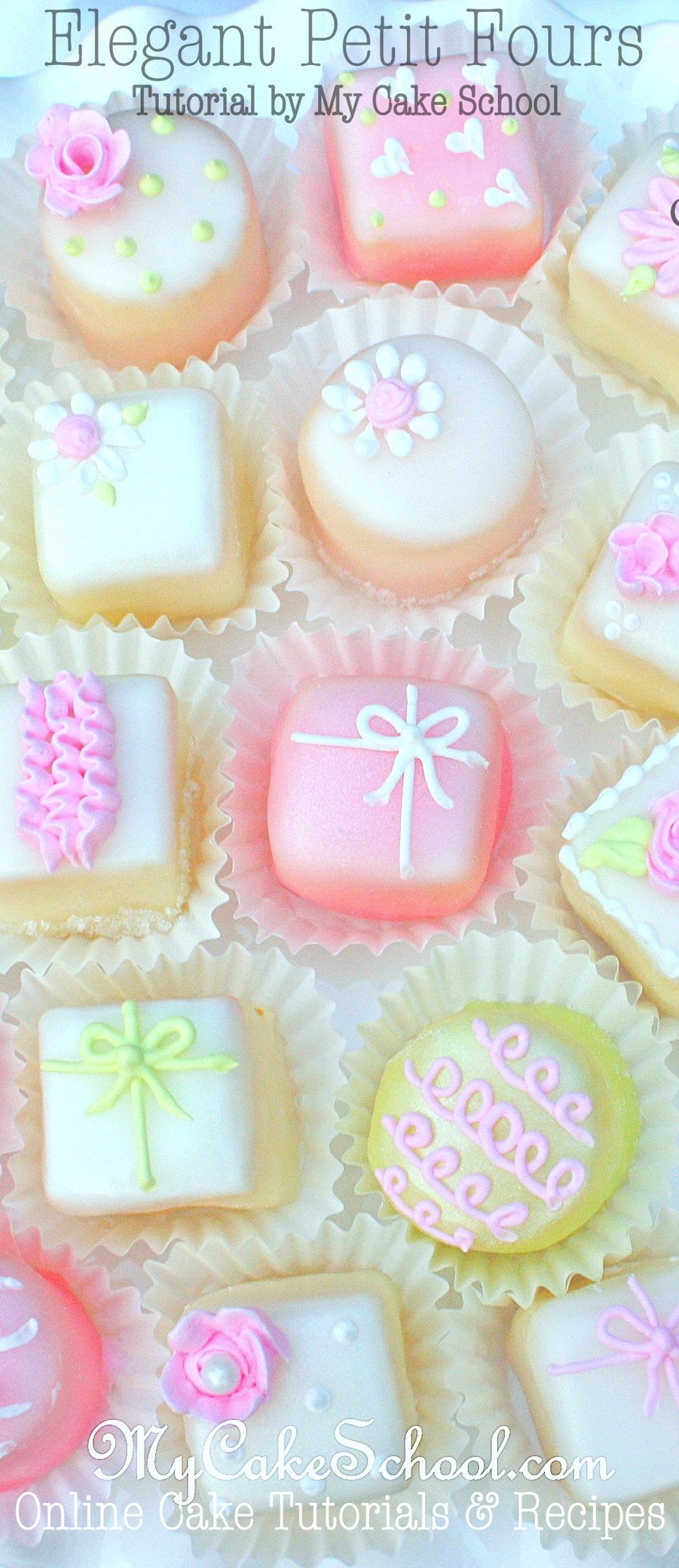 Our Easy setup for Glazing Petit Fours
With a little trial and error, we rigged up a funny setup for seamless petit four glazing, but it works SO well!
Basically, we needed to figure out an easy way to remove the petit fours from the skewer in a way that would allow the excess glaze to drip away from the cakes rather than pool around the bottom, and we also wanted an easy way to remove the cakes from the skewer without touching them!
As you'll see in the video, elevating our cooling racks was the key to making this all work! Hooray! I'll never make petit fours another way.
Materials:
11x15 inch pan (This is what we used for the height that we liked, however any pan or even a jelly roll pan would work well.)
Buttercream- We used a thin layer of our "fluffy vanilla" recipe. Any frosting will do! Rolled marzipan or fondant are alternatives to the frosting beneath the petit four glaze.
Royal Icing (for piped decorations)
Mini Liners (optional, but they do give a nice finishing touch)
Skewer (I used a wooden skewer which I snapped to make shorter)
Cooling rack
Colors: Your colors of choice. I chose Americolor Deep Pink & Americolor Electric Green
Super Pear Dust (or PME or Wilton pearl spray) --Optional for adding a little shimmer
Paint Brush (if dusting your petit fours with pearl dust)
Piping Tips: I used a Wilton Tip 2 for my lines, scrolls, dots, hearts & daisies, A Wilton 59 petal tip for ruffles or any small petal tip will do, Wilton 102 (or any small petal tip) for roses.
Sugar Pearls- Optional for decoration or centers
Clear Sanding sugar- Optional. I demonstrate using sanding sugar on edges of petit fours
Sugar/Tylose glue- Optional "glue" used when demonstrating how to decorate the bottom edge
Candy Thermometer- Optional. You could also just eyeball it. My icing was approximately 115 degrees F...but I show what the desired consistency looks like in the video.
Metal bowl that will fit over a pot of simmering water--This is ideal and makes life easier than having to keep rewarming the icing in the microwave when it becomes too thick & cool.
Tools: Sharp knife for scoring and cutting squares, Ruler for measuring, Round cutter (or desired shapes) if you'd like to have variety. My round cutter was 1 ¼ inches wide and 1 ½ inch tall.
Cake Board- optional but is helpful if splitting your layers.
Long knife for leveling or splitting layers. (You may opt not to split your layers. I demonstrate both ways.)
Preserves/Jam/Desired filling or frosting if you would like to fill your petit fours.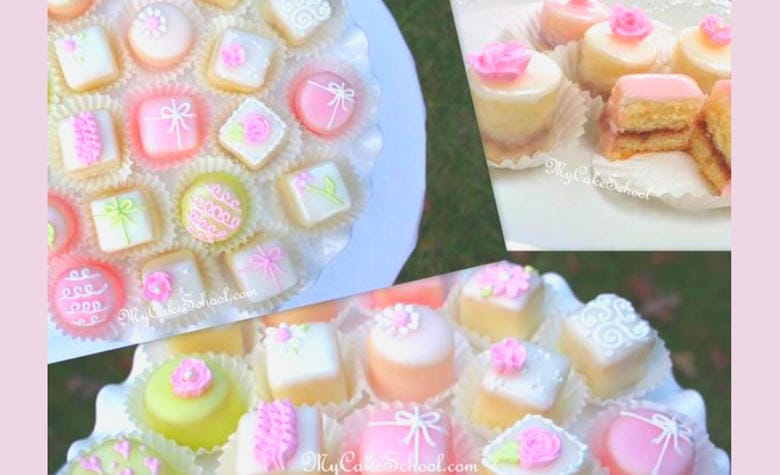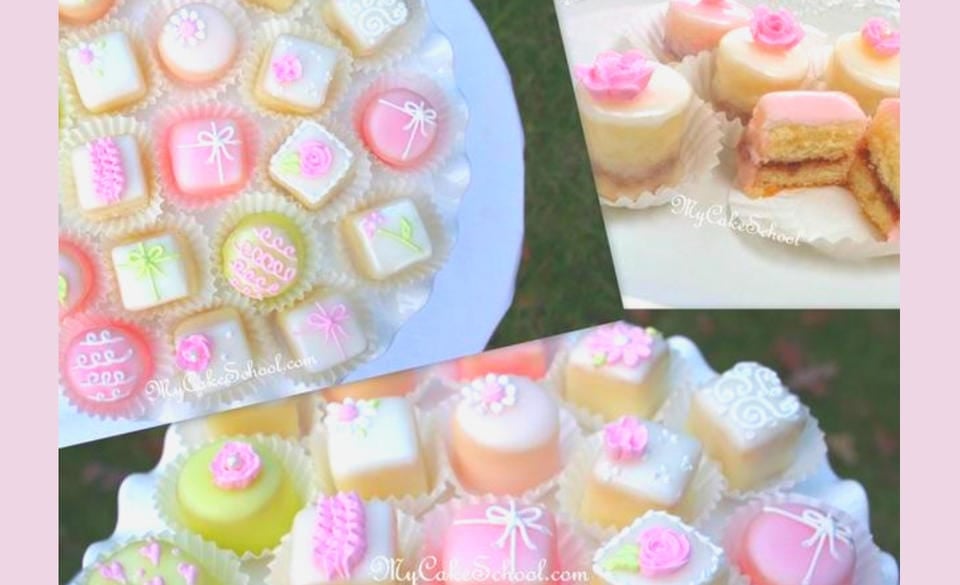 Additional Notes on our Petit Four Tutorial
After filming our video, we decided to go back and add one more demonstration of the process splitting of the cake layer to add preserves/jam.
Many petit fours are layered in this way, and it is nice to have an extra layer of flavor! This does add another degree of difficulty though.
I love the way the solid cake squares came out also, so don't feel pressure to do this step! If you do add a layer of raspberry as we did for some of our cakes, just be aware that you will be able to see the pink stripe through the glaze. This doesn't ruin the effect at all for me, in fact, it adds a little interest. But, I wanted you to be aware.
If you don't like the visible stripe of filling, you could individually cut into each petit four square and pipe a dot of raspberry in the center, so that it doesn't reach the edges.
This would take a lot longer though. The other option is a thicker glaze, which would add a lot of sweetness and a thick shell to your petit four (which is not my preference). Or finally, you could just go with a filling that is lighter in color! ;0)
Something else that I noticed is that the white frosting layer showed through ever so slightly with the petit fours that were coated with pink and green glaze.
The remedy for this if it bothers you is to frost your petit fours with tinted frosting before glazing. Again, this did not bother me but I wanted to point it out.
Frozen cake is really key in successfully cutting, dipping, or coating your cakes! Remember to chill/freeze your cakes after frosting them so that the frosting will not melt or slide when dipped!
Please let me know if you have any questions! Good luck with your petit fours! I'd love to hear how they come out!