Sweet Girl on a Swing- Free Cake Video
We are excited to share a sweet and simple free cake video tutorial- a Sweet Girl on a Swing cake!
This is such a fun and cheerful cake for summer birthdays and more!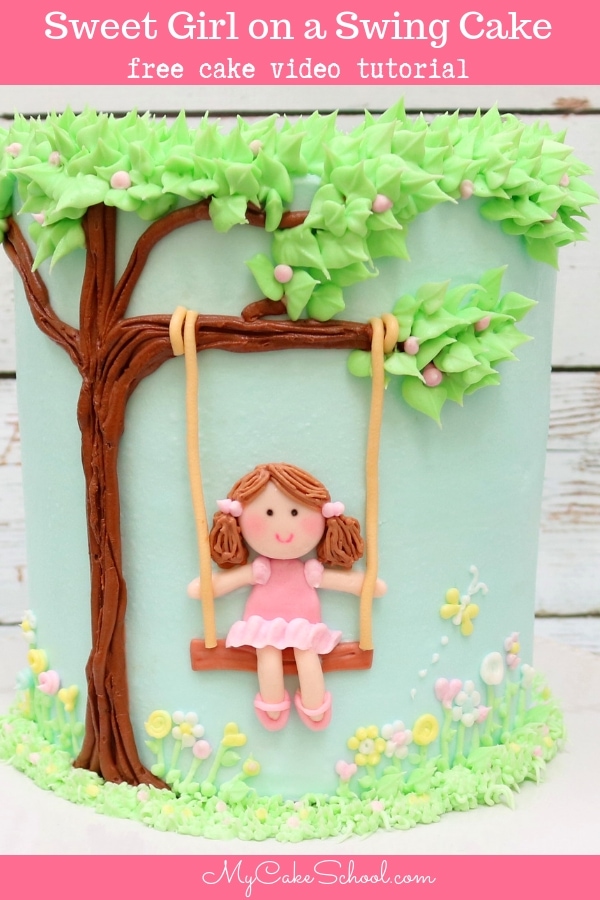 I just love the simplicity of this swing cake, as well as the dimension and texture. It would be perfect for young birthdays, and is easily achievable no matter what your skill level of cake decorating!
I think that it would make an adorable birthday cake, and the child in the swing could be patterned after the birthday girl or boy of honor. You could even change to a tire swing if you'd like!
If you need a baby shower cake idea, this cake would work well for that too! Just substitute the little girl for a sweet teddy bear or other animal. The options are endless! Oh, how I love a cute cake design.
How to Make a Swing Themed Cake
*You can find all of the details in the How- To card below as well as in our full free cake video!
Today's cake is a six inch, double barrel cake, but this design would be great on the top sheet cakes as well! For shorter cakes, I would move the branch that holds the swing to the top edge of the cake to create more space.
I started by piping my buttercream tree using a small round piping tip and added lots of green buttercream leaves using a tip 352.
Next, I created the girl's face with tinted fondant (mixed with a little tylose powder), and then built the other fondant pieces of her dress and body, and swing (to be added to the cake later).
Attach the girl to the cake beneath the branch as well as the seat of the swing, using dots of buttercream as glue. I think it's always helpful to chill the cake before attaching the fondant pieces as it makes readjusting the placement easier if needed.
Attach the ropes of the swing (extruded fondant) and add the other details like the girls buttercream hair, ruffle of the dress, sleeves, etc.
Finally, add a little grass border and some sweet flowers!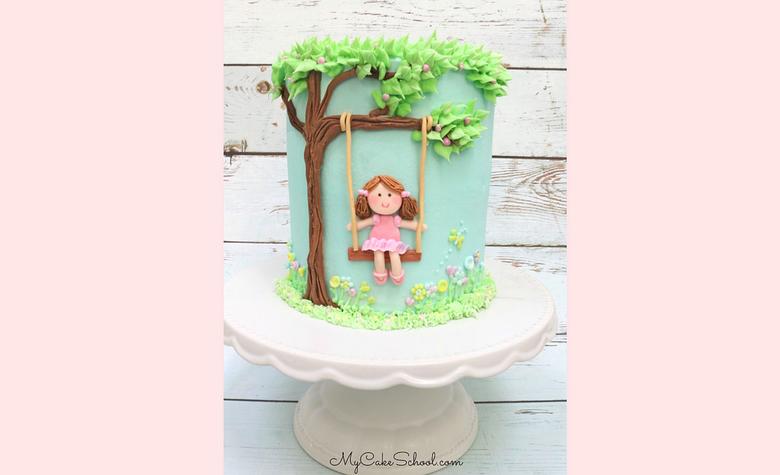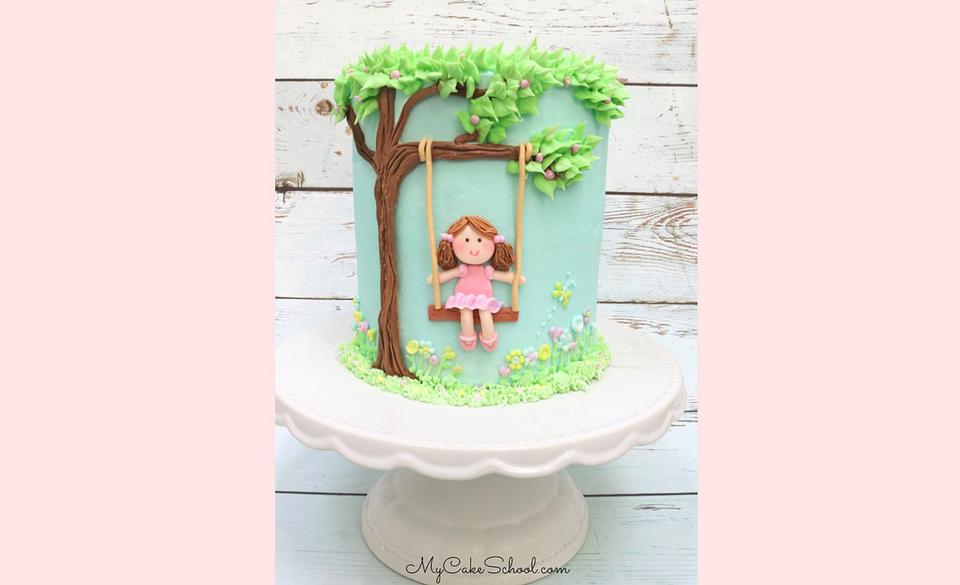 Sweet Girl on a Swing- Free Cake Video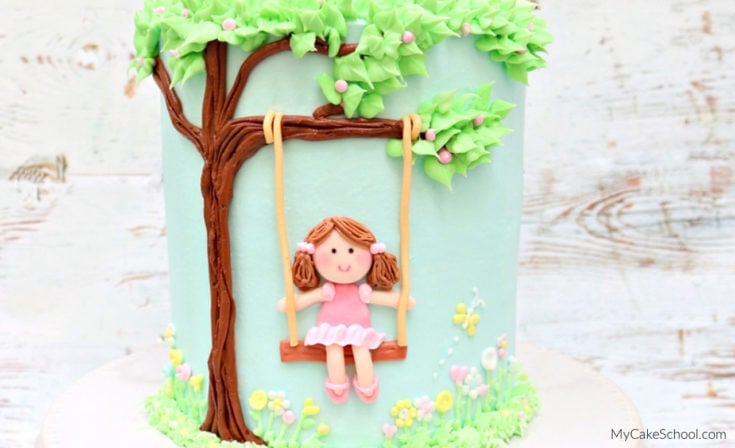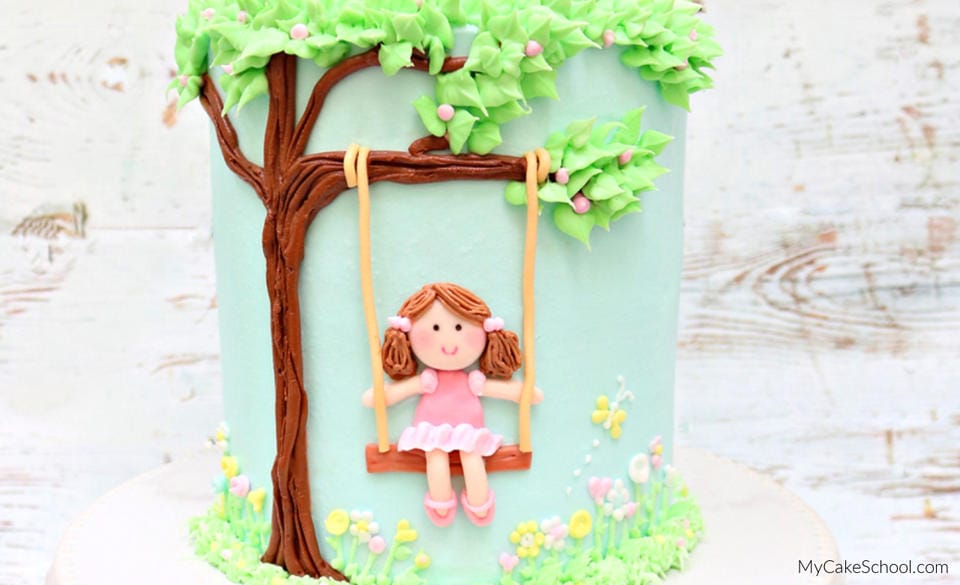 Learn how to make a sweet Girl on a Swing cake design, which would be perfect for young birthdays!
Materials
For this tutorial, we used a 6 inch double barrel cake (four stacked cake layers with a cardboard cake circle halfway up, with 4 bubble tea straws for support beneath). We frosted the cake with our Fluffy Vanilla Buttercream frosting recipe.
Coloring Gels: We used Americolor Deep Pink, Chocolate Brown, Wilton Leaf Green, Americolor Copper (skin), Americolor Ivory (rope), Americolor Sky Blue, Americolor Lemon Yellow
Fondant (we kneaded in a little tylose powder for faster drying)
Coloring Pens: We used a black foodwriter pen for the eyes, and pink for the mouth.
Piping Tips: We used a Tip 1 for the hair, Tip 6 for the tree, Tip 352 for leaves, Tip 233 for grass, 101 for the ruffle on the dress,
and tip 2 and 3 for miscellaneous flowers and stems, etc. (If you don't have these exact tips, just go with something of a similar size.)
Extruder- We used our extruder to create our fondant rope for the swing. If you do not have an extruder, you can just roll your fondant very thinly by hand.
Instructions
I'm starting this design with a cake that has been frosted with blue buttercream. Pipe a tree trunk using brown buttercream using a small round piping tip- we used a round tip 6. (For a ridged look, you can use a small star tip instead, piping long vertical strands of ridges).
Pipe on the leaves using a Wilton 352 leaf tip. If you don't have this, you can pipe teardrop-shaped leaves using a small round tip. I also added dots of pink with a small round tip for more color.
Create the little girl's face- I used a small ball of fondant with a little tylose powder kneaded into it (for faster drying), and tinted with a touch of Americolor Copper.
I added features of the girl's face using food coloring pens. I also applied rosy cheeks with pink petal dust & a small dry paintbrush.
Next, make a flat oval shape of pink fondant to represent her body/dress (the end of the oval is snipped away where it will meet the swing.)
Next, I created the seat of the swing using a narrow, flat rectangle of brown fondant (texture with a toothpick if you'd like a woodgrain look).
Shape the girl's legs with tinted fondant, and add the little shoes.
Create her little arms & you can make impressions where the swing rope will go.
Now it's time to start attaching the girl & swing beneath the tree branch using dots of buttercream as your glue. It's easiest when you apply to a chilled cake so that you can reposition the pieces if necessary without messing up the smoothed buttercream.
Using a small round tip (3 or 4) add little sleeves (optional), and add a small ruffle to the dress using a small petal tip (a 101 or similar). Add her hair using a small round piping tip (I used a 1).
Add the extruded fondant ropes for the swing. If you need "glue", piping gel may be easier than dots of buttercream since it is clear and the ropes are so narrow. If you are good with piping, you can also pipe on your strands, or if you don't have an extruder, you can roll out your fondant and cut narrow strips.
Pipe a green grass border and add miscellaneous little flowers, etc.