This sweet girl on a swing cake is one of our favorites! It is so cute for young birthdays, and the design is simple enough for any skill level of cake decorating.
We hope that you enjoy it!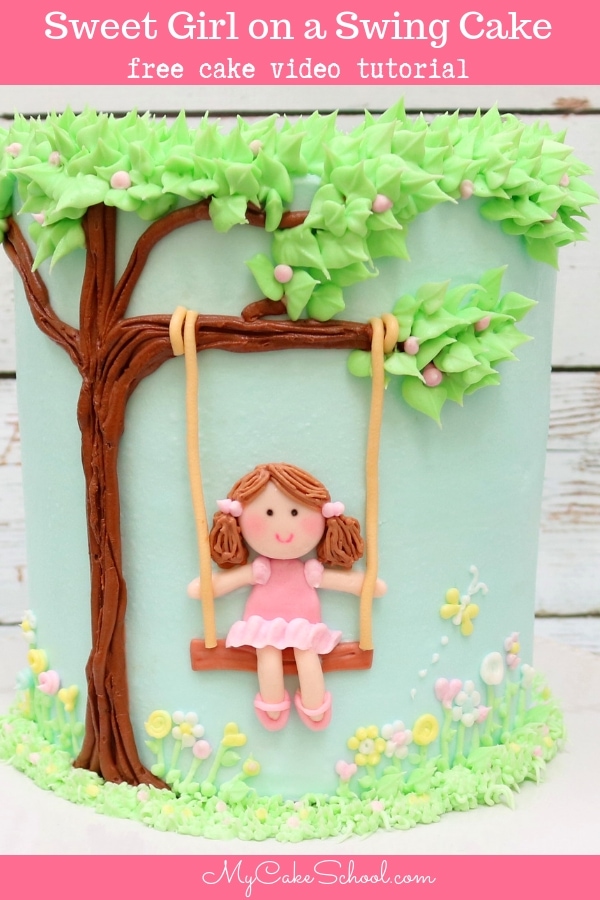 Materials:
For this tutorial, we used a 6 inch double barrel cake (four stacked cake layers with a cardboard cake circle halfway up, with 4 bubble tea straws for support beneath). We frosted the cake with our Fluffy Vanilla Buttercream frosting recipe.
Coloring Gels: We used Americolor Deep Pink, Chocolate Brown, Wilton Leaf Green, Americolor Copper (skin), Americolor Ivory (rope), Americolor Sky Blue, Americolor Lemon Yellow
fondant (we kneaded in a little tylose powder for faster drying)
Coloring Pens: We used a black foodwriter pen for the eyes, and pink for the mouth.
Piping Tips: We used a Tip 1 for the hair, Tip 6 for the tree, Tip 352 for leaves, Tip 233 for grass, and tip 2 and 3 for miscellaneous flowers and stems, etc. (If you don't have these exact tips, just go with something of a similar size.)
Extruder- We used our extruder to create our fondant rope for the swing. If you do not have an extruder, you can just roll your fondant very thinly by hand.
<iframe src="https://player.vimeo.com/video/271103851" width="640" height="360" frameborder="0" allow="autoplay; fullscreen" allowfullscreen></iframe>