Buttercream Trellis Basketweave & Flowers- Video Tutorial
In today's video tutorial, I'm going to show you how to create beautiful buttercream trellis basketweave piping as well as some lovely buttercream flowers!
I really wasn't sure what to call this piping technique--just basically a pattern of squares ;0) Although the design is simple, it really does have an elegant look, especially thanks to the buttercream shells that are incorporated into the design.
Traditional trellis piping involves lots of intricate string work. Today's technique is much different, and reminds me of a basketweave pattern. So, we decided to refer to it as a trellis basketweave.
No matter how you refer to this method, I think you'll enjoy this elegant, simple technique!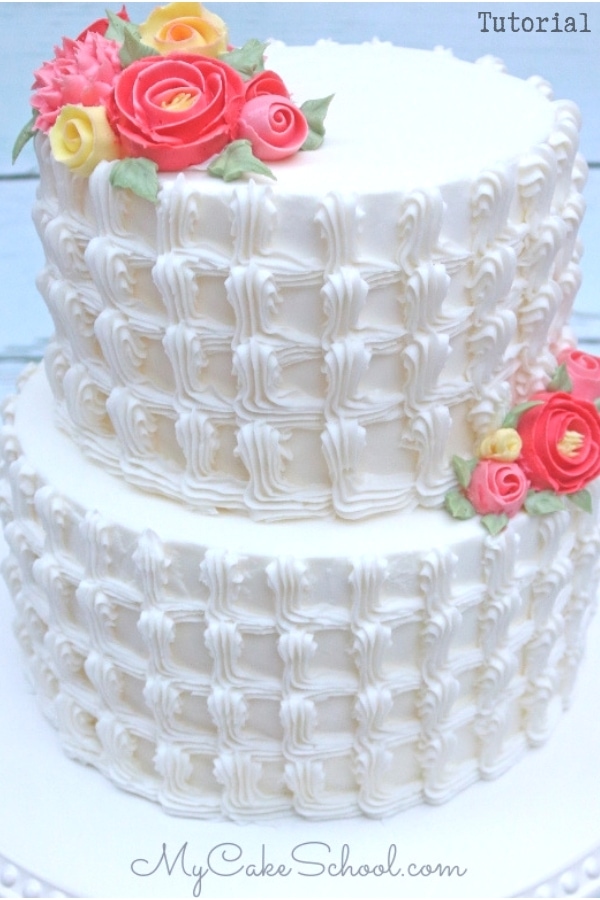 Materials:
In this video, we decorated 8 inch and 6 inch tiers, frosted in fluffy vanilla buttercream frosting. Each tier is on it's own cardboard cake circle cut down to the size of the cake. The top tier is supported by 4 bubble tea straws. Before stacking, we chilled the tiers until the buttercream had firmed up (about 15-20 minutes).
Coloring Gels: Americolor Red Red (used for both the shades of red/pink), Lemon yellow, Avocado Green
Piping Tips: Tip 21 for "trellis piping", petal tip 104, grass tip 233, Ateco Tip 79, Leaf tip 352
Miscellaneous: Cake turntable & bench scraper/spatula, waxed paper squares, cookie sheet, disposable piping bags