In this cute and easy birthday cake tutorial, I'm going to show you how to decorate the front of a double barrel cake (or sheet cake) with a tall tiered cake design and sweet giraffe! This fun cake design is perfect for young birthdays!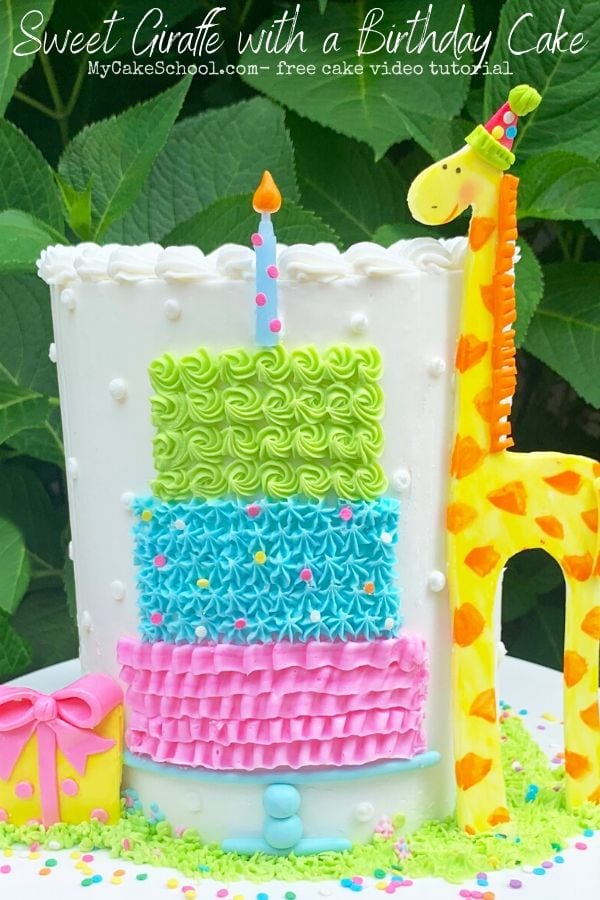 How to Make a Sweet Giraffe Cake Design
This is such a fun cake design, no matter what your skill level of cake decorating!
First, using the giraffe template, cut out your gum paste shape. Allow it to dry, then paint with coloring gel mixed with a little vodka (or lemon extract). You can make the gift in advance also using gum paste.
Decorate the cake. We used a double barrel (TALL) cake for this design but it would also be so cute for the top of a sheet cake. This double barrel cake consists of four 6 inch cake layers.
There is a cake board halfway up with four bubble tea straw supports beneath.
Frost the cake in vanilla buttercream. For a smooth finish, I like to place my frosted cake in the freezer to firm up the frosting, and then I glide over it with a hot spatula to smooth it. (Add a little fresh buttercream around any imperfections before going over with a hot spatula.)
We made a simple "pedestal" from fondant, and then piped our three tiers of "cake" with star & petal tips.
Add a little trimmed down candle to the top with a fondant flame ;0)
Attach the finished giraffe to the cake, attaching with a little buttercream.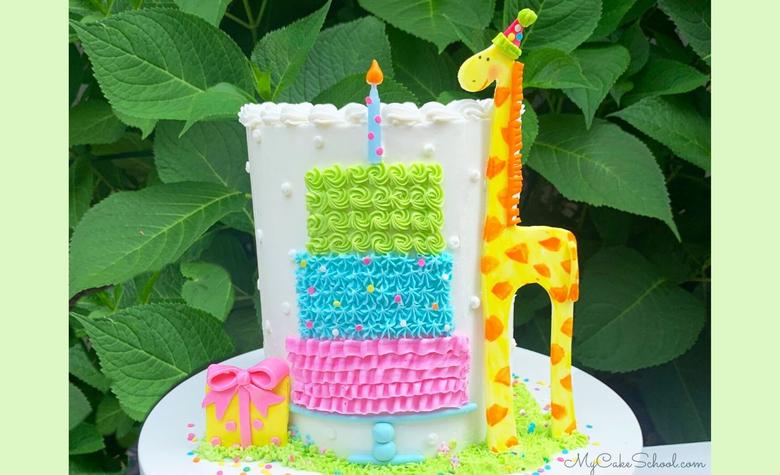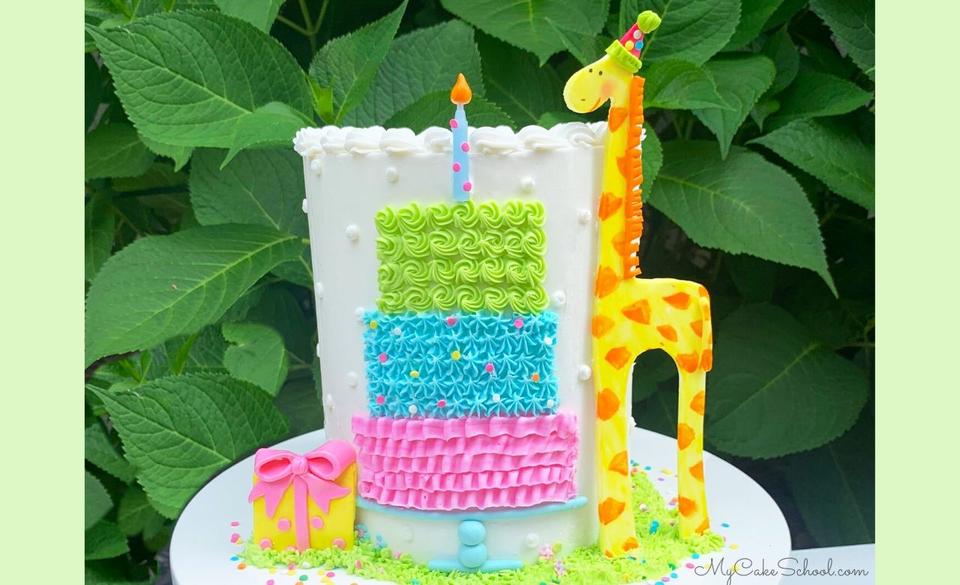 Looking for More Free Animal Themed Cake Tutorials?
**Don't miss our full collection of Free Cake Tutorials, including our Free Cake Videos section!
Template: Giraffe with a Birthday Cake- A Free Cake Tutorial!
Sweet Giraffe with a Birthday Cake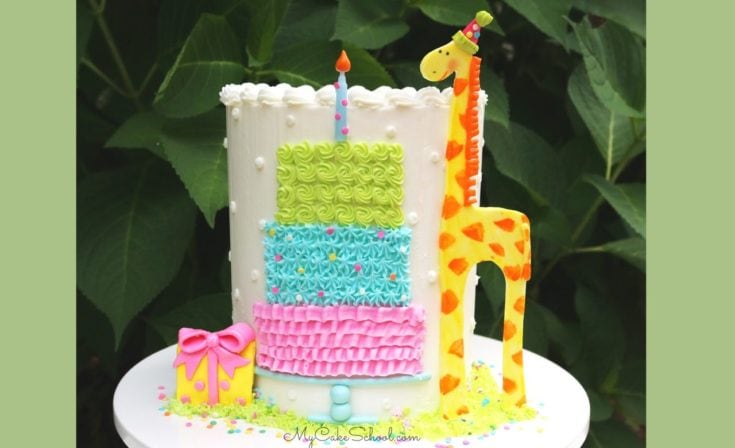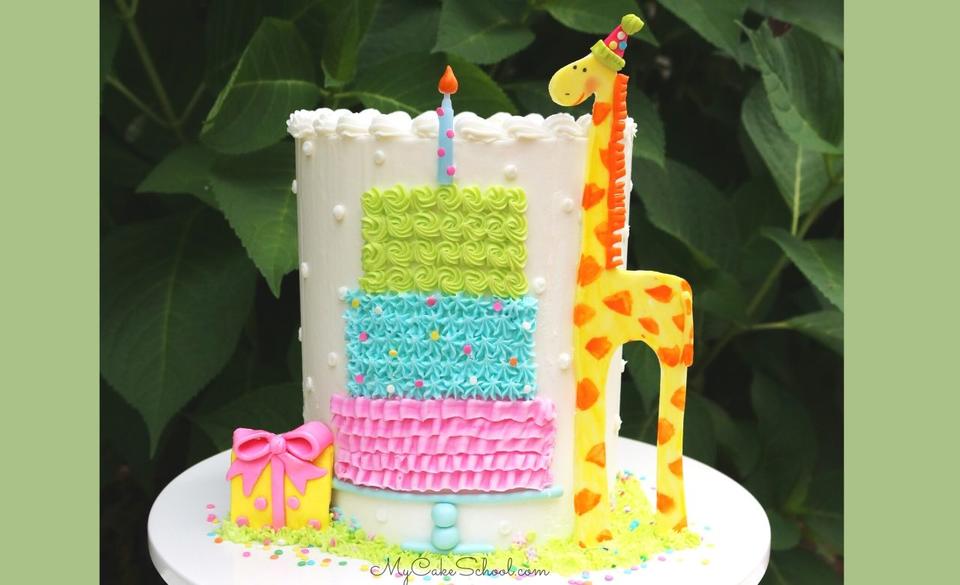 Learn how to make this cute Giraffe Birthday Cake in our free tutorial! This cake would be perfect for young birthdays!
Materials
For this cake, we used a double barrel cake design. It would be great for the top of a sheet cake also! (My double barrel (Tall!) cake is four 6 inch cake layers. There is a cardboard cake circle halfway up with four bubble tea straw supports beneath)
Giraffe Template
Buttercream- Our Fluffy Vanilla or Classic Vanilla Recipes are a good choice
Gum Paste (just enough for the giraffe & gift). You could also use fondant with tylose powder kneaded into it.)
Coloring Gels: Lemon Yellow, Wilton Rose, Americolor Electric Green, Orange, Sky Blue, Lemon Yellow
Candle for the top, trimmed down to the desired height.
Piping Tips: 101 (or similar) for pink tier, Star tip 15 or similar for the blue & green tiers, Tip 233 Grass Tip, tip 4 for white dots on cake, tip 21 for top border
Palette or plate for mixing "paint"
vodka or lemon extract for mixing with coloring gels
Confetti sprinkles -optional
Piping Gel
Small paintbrush
Pink Petal Dust (rosy cheeks)
Xacto knife or small sharp knife
Food writer pens for details of face
Pedestal or cake base of choice
Miscellaneous- Piping bags, I mentioned above that we used a cake cardboard halfway up as well as 4 bubble tea straw supports beneath for the double barrel cake, Spatula or bench scraper for frosting the cake, turntable is optional (but helpful) for frosting the cake.
Instructions
Make the giraffe in advance- preferably a day or two to be on the safe side. Make the gift in advance too if you would like for it to stand out from the cake as it does in my final photo.
Prepare your work surface with a very light coating of shortening. To make the giraffe, roll out your gum paste to about ⅛ inch thickness and cut out the shape with an xacto knife. Cut out your gift in advance as well. **You could start out with yellow gum paste for the giraffe instead of painting if you prefer.
Allow to dry on a parchment lined cookie sheet.
Paint with coloring gel mixed with a touch of vodka.
Decorate the cake.
When giraffe is nice and firm, attach to the cake with a bit of buttercream.
My Cake School Online Cake Tutorials, Recipes, and More!
Thanks so much for stopping by!
If you'd like to learn more about cake decorating, we have some great tutorials in our Free Tutorials Section, which also includes our Free Video Tutorials Section.
If you are interested in having access to our entire library of hundreds of cake decorating video tutorials, you should consider becoming a member of My Cake School! We would love to have you! You can find the details here: Joining Information for MyCakeSchool.com
We'd love for you to scroll through our full collection of favorite cakes and frostings in our Recipes Section. Whether you like to bake from scratch or from a doctored cake mix, we have so many delicious cake recipes to share!