This is our favorite classic Petit Four Glaze petit fours! When preparing for our "How to Make Petit Fours" video tutorial, we tried out SO many different recipes for glazes. Most were ruled out for problems with consistency, flavor, firmness of the glaze, etc.
Finally, we decided to try the simplest recipe of all…this recipe, and it was the BEST! I love it when that happens. You can see the pretty petit fours that we made below…aren't they cute?!
This is the first batch of petit fours that I ever made that actually turned out like they were supposed to. I was so happy to finally figure out the "right" way to make petit fours, and a big part of that was the glaze!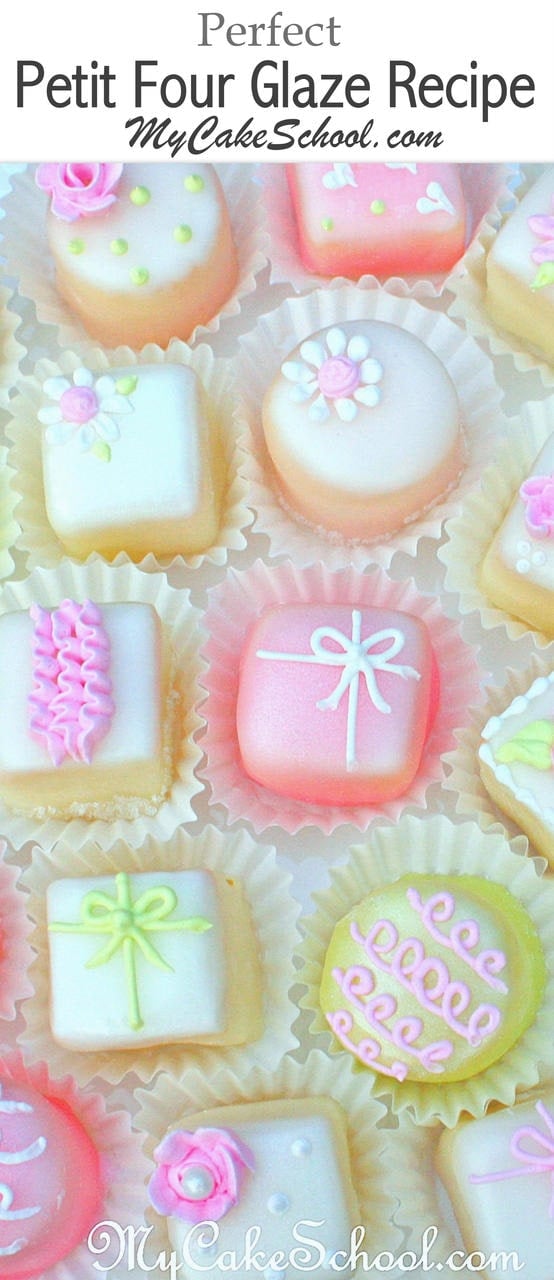 This post is just for the purpose of sharing our favorite petit four glaze recipe. However, if you are a member of our site, we do have a video tutorials on creating beautiful petit fours using a few favorite, tried and true methods!
For years, just the idea of making petit fours was enough to give me nightmares. I avoided them at all costs because no matter how many hours I put into making them, they never had a consistent look.
In our video, we share the techniques that have made the process SO much simpler for me, and I have a feeling that you are going to love making these sweet little cakes in no time.
Ingredients
9 cups

sifted confectioners' sugar (sift then measure) (945 g)

1/2 cup

(164 g) light corn syrup

1/2 cup

water (118g)

1 teaspoon

clear vanilla extract (4g)

1/2 teaspoon

almond extract (optional)
Directions
In a heatproof bowl set over (but not touching) simmering water, mix sugar, corn syrup, 1/2 cup water, and flavoring together until warm and smooth. I like a thin consistency and so approximately 115 degrees F was the temperature that worked well for us. Don't worry if you do not have a candy thermometer..I just wanted to give you an idea. I prefer a nice, thin consistency.
Stir in enough food coloring until desired color is reached. Do not overheat.
 *As you can see in the photo, the cakes were frosted on top before glazing so that the tops would not be transparent. These are from our cake video tutorial on Petit Fours!
This glaze behaves just as it should, and sets after several minutes so that it becomes dry to the touch. This thin coating will keep your little cakes nice and moist, and I love the elegant matte semi-transparent finish. (However, you can dust over them with pearl dust using a dry brush if you'd like, as you can see in my photo below!)
When we make petit fours, we use our FAVORITE Pound Cake recipe which you can find here!: Classic Pound Cake Recipe! Not only is this a fantastic pound cake recipe, but the density of pound cake makes for a clean and uniform cut when slicing your squares!
I can tell you from experience that trying to dip a square of cake with ragged edges makes for a very sad little petit four, haha. Still delicious…you'll just want your guests to avert their eyes. Stick to the dense cakes for these cuties!
We hope that you give this petit four glaze a try! This is a classic recipe that has been floating around for years, and for good reason. Super simple! Enjoy!