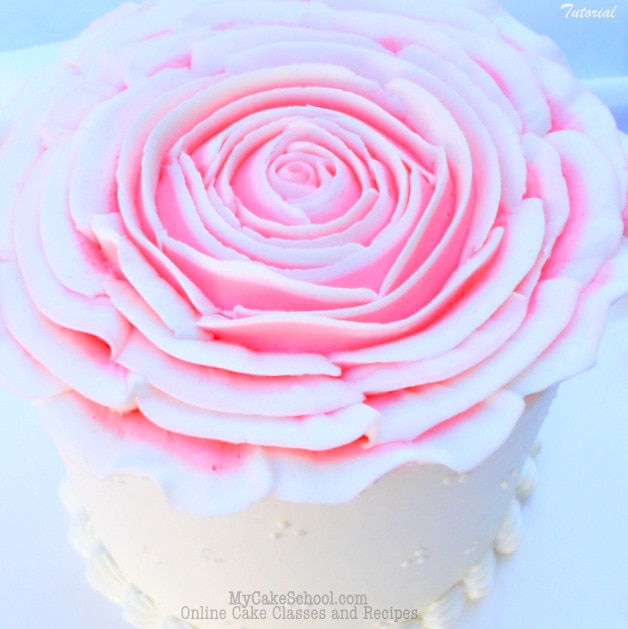 There seems to be a renewed interest in buttercream piping lately, and I love it! I wanted to share with you this very simple (really!) method of piping a buttercream rose that is so large, it covers the entire top of the cake! While buttercream roses are very traditional in cake decorating, the exaggerated size of this rose gives the cake a fresh, trendy feel. Large gum paste flowers continue to gain popularity and so it's only natural that buttercream flowers should follow suit! Have fun with this one ;0)~
Materials
*This cake is a three layer, 6 inch round cake (white almond sour cream--doctored mix) and it is frosted with our "Fluffy Vanilla Buttercream" from the recipes section. It is resting on it's own cardboard cake circle cut down to the size of the cake. I smoothed the buttercream using the "Viva Paper Towel Method".
Wilton 125- (Or your preferred very large petal piping tip). This is all that you need for the rose.
Wilton 2- for the small dots piped around the sides
Wilton 21- or your preferred star tip for the shell border
Coral Buttercream- I made using a combination of Americolor Deep Pink, Orange, and a very small amount of Red Red
Miscellaneous
Turntable-- Makes this cake so much easier to create since spinning and piping makes for a very quick rose
Small Paintbrushes--I use them all the time--in this case, I used to add create movement in the petals at the end of the tutorial. Optional.
*If you have trouble piping buttercream roses, I hope you'll try this cake anyway. The method of piping a large rose over the cake is similar to piping smaller individual roses, but I think that you'll find it much more forgiving-- this design is perfect for decorators of all skill levels. Can't wait to see your beautiful cakes!
{Alternative Video Format}