In this cake video tutorial, I'm going to show you how to make elegant and impressive marbled chocolate panels for your special occasion cakes!
Nobody would ever guess how simple this cake technique is, and the design options are endless!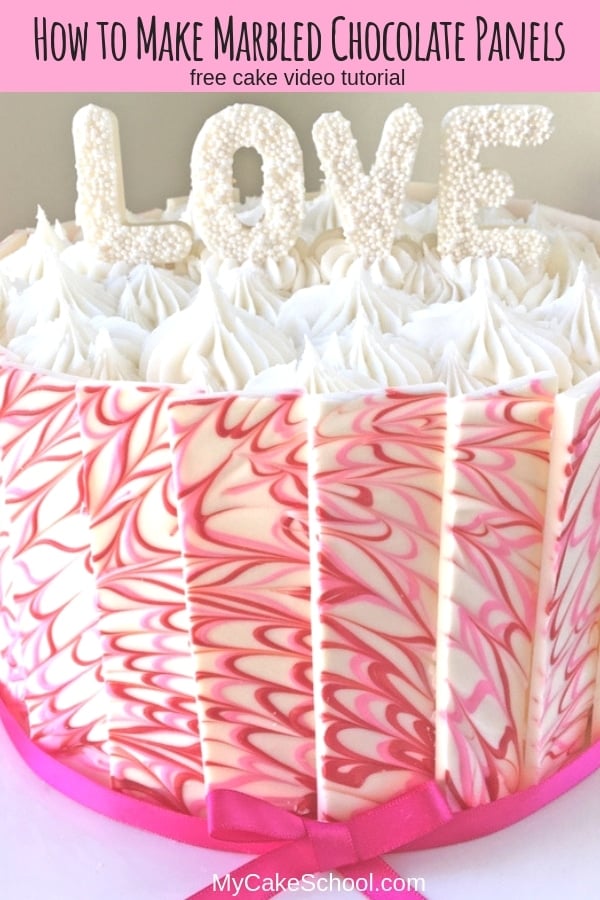 With Valentine's Day just around the corner, our white chocolate panels are swirled with pink and red for an effect that is beautifully unique.
Keep this chocolate panel cake method in mind to suit the color scheme for whatever your occasion may be. I also love the simple elegance of solid white or chocolate panels, especially for wedding cakes.
One reason that I LOVE to work with chocolate candy coating is because it is so quick and easy. Simply melt your coating in the microwave, create your designs, and they are ready to apply to cakes or cupcakes in minutes!
We have many cake tutorials that incorporate candy coating designs in one way or another, but panels are one of my favorites!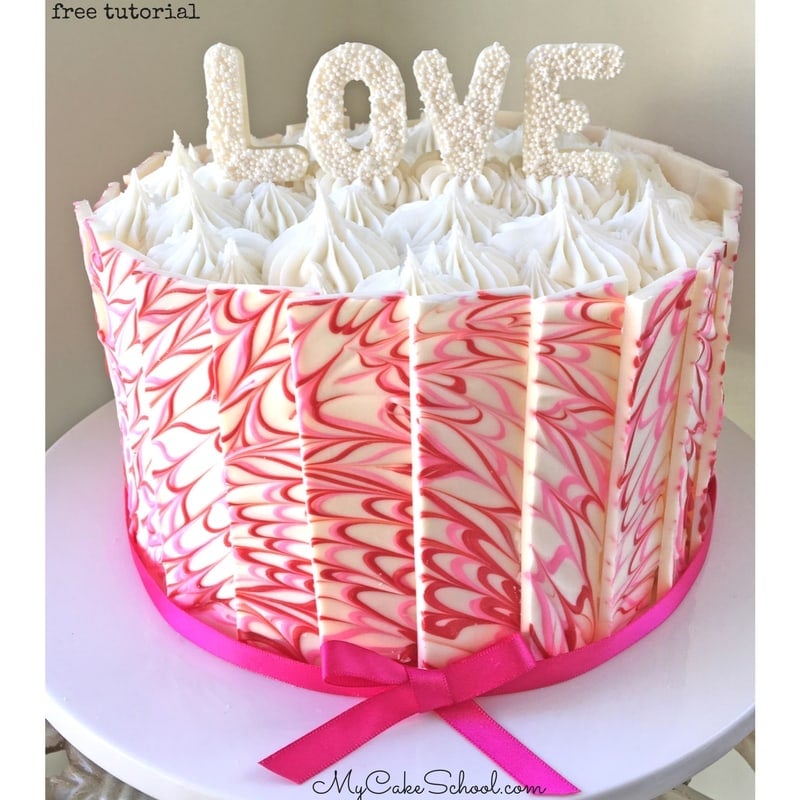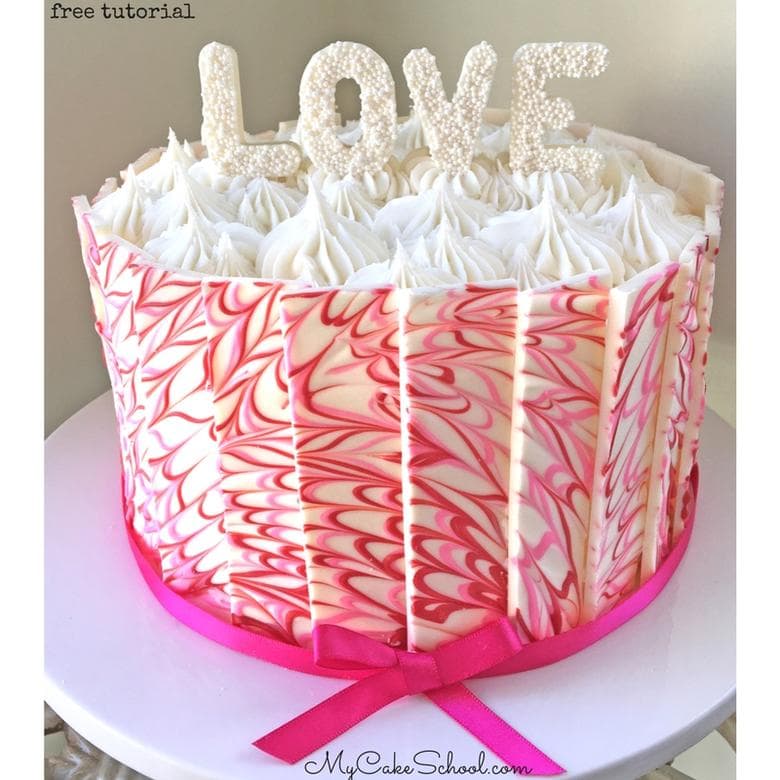 I hope that you enjoy this cake video! Don't forget to scroll beneath the video for a quick rundown of our most important notes on creating chocolate panels, as well as details on the products used.
The cake that we are decorating in this video is an 8 inch tier, frosted with our Fluffy Vanilla Buttercream Frosting Recipe. Any frosting would be fine with this design, and the panels could be applied to cakes of all sizes, as well as tiered cakes! Have fun!

[recipe]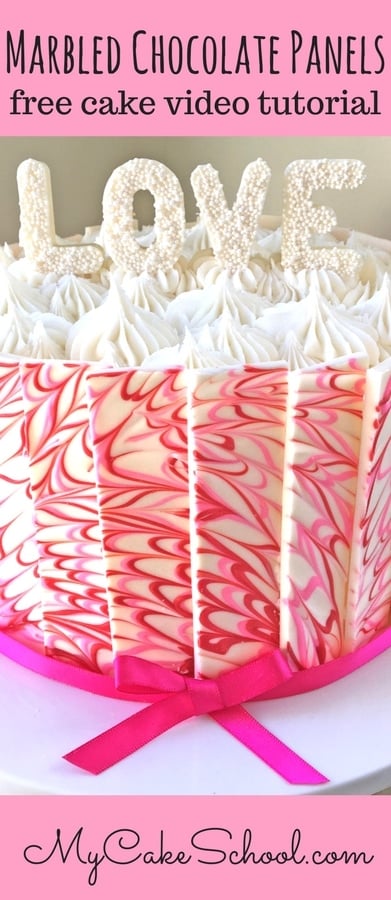 Notes:
This is the Chocolate Letter Mold That I used in the tutorial: Alphabet Candy Silicone Treat Mold
*I didn't show it in the video, but you can see that I used a pink ribbon at the base of this cake to create a border. You can secure the ends in back with a dot of piping gel, chocolate, or your edible glue of choice. We tied the front bow separately and attached with a dot of chocolate.
The set of times for the candy coating can vary based on the temperature of your kitchen and countertops. So, try to work as quickly as possible. If your countertop is cold to the touch, it's a good idea to place a dish towel or pot holder beneath it so that it will not cool off so quickly.
I spread the chocolate to a thickness of about 1/8 inch.  You'll want to reserve a bit of the chocolate for the "LOVE" topper.
The chocolate was spread into a rectangle about 15.5-16 inches long and 10 inches wide. (You can use a waxed paper lined cake board instead of a cookie sheet for your spreading if you'd rather, but the cookie sheet retains the cold from the freezer better.)
If you do not have a letter mold like we used, you could also pipe the word love on a waxed paper lined cookie sheet and sprinkle with white sprinkles or sugar pearls as we did.  Just keep in mind that the thinner the letters are, the more fragile they will be.
Another idea for chocolate panel cakes, especially when the panels extend beyond the top edge of the cake as ours do, is to fill the top with chocolate candy, strawberries, raspberries, chocolate curls, or other favorite toppings for a bit of drama and height!
Marbled chocolate shards can be made in the same way, but you would make your scoring more triangular, or you could break the chilled bark off piece by piece without scoring at all.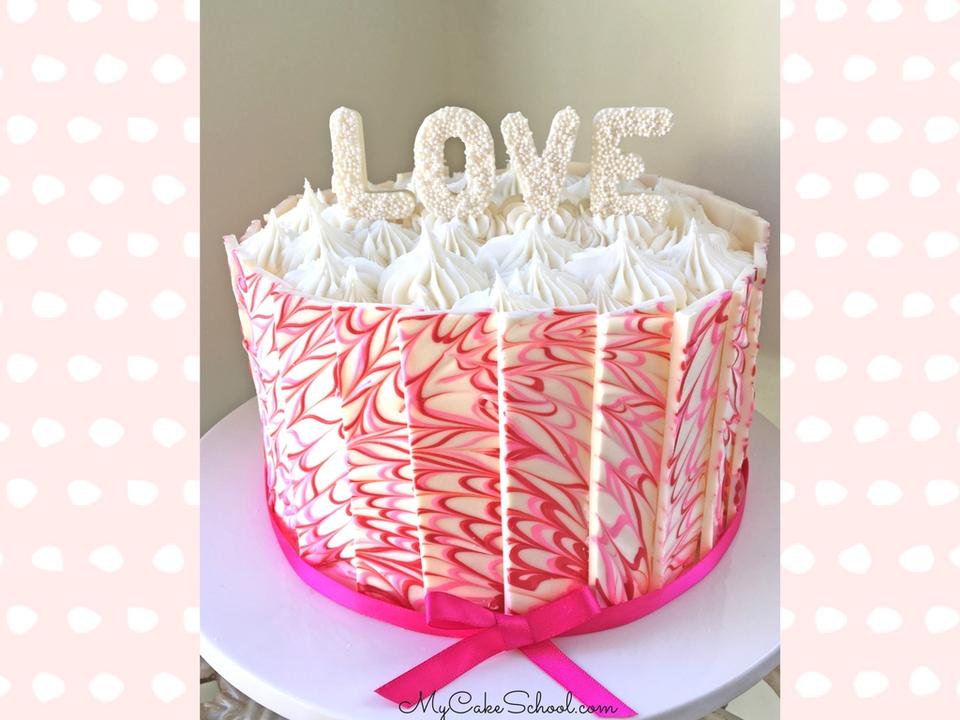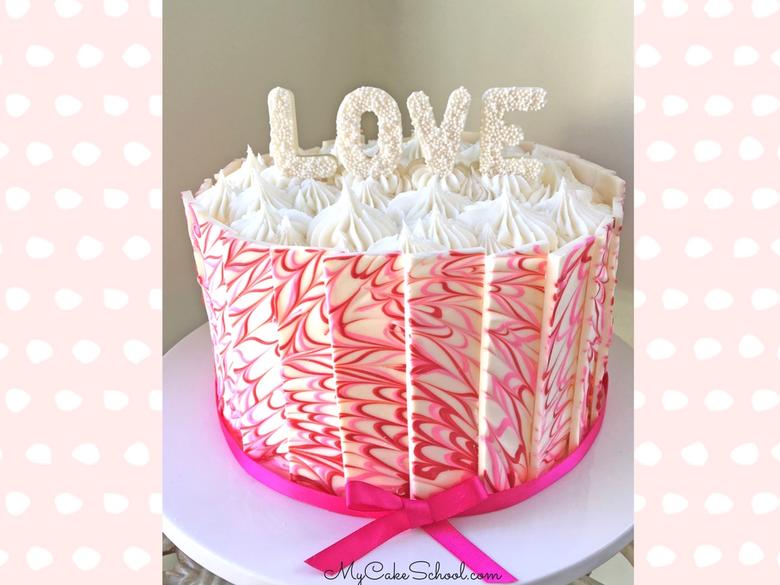 We hope that you enjoyed this cake decorating video tutorial! Don't miss our full collection of Free Tutorials and tried and true Cake and Frosting Recipes!
Also, if you are interested in learning more about cake decorating, you should consider becoming a member of My Cake School! Our membership are only $30/year and will give you full access to our collection of hundreds of cake video tutorials as well as forums, etc. for as long as you are a member! We would love to have you!
You can find all of the My Cake School Membership details here!: Joining Information for My Cake School!
Looking for more Valentine's Day Cake inspiration? Here is a roundup of a favorite Valentine's Day Cakes, Tutorials, and Ideas!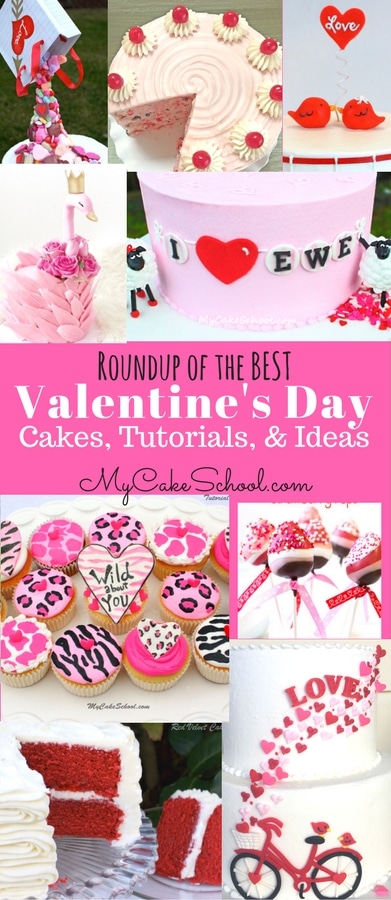 *Having trouble viewing the above cake video? Here's an alternate video format: 12:31