Hi everybody–Happy Friday! Today we made some cute little birdie cupcakes—they are so sweet & simple-and the presentation is my favorite part of all.  Anyone can make bird cupcakes—but birds perched on branches takes cuteness to a whole new level ;0) –
What I'm starting with here are several strands of 22 gauge, brown fabric covered wire. I recommend twisting 3-4 pieces of wire together to make one skinny "branch". In the photo below, I've made two "branches", and I'm twisting the first branch around the second to create one even longer branch. This is optional, but my cake board is large (24×24″) and so I wanted the extra length, plus I think that the branches are more realistic this way.  You'll see what I mean in a minute–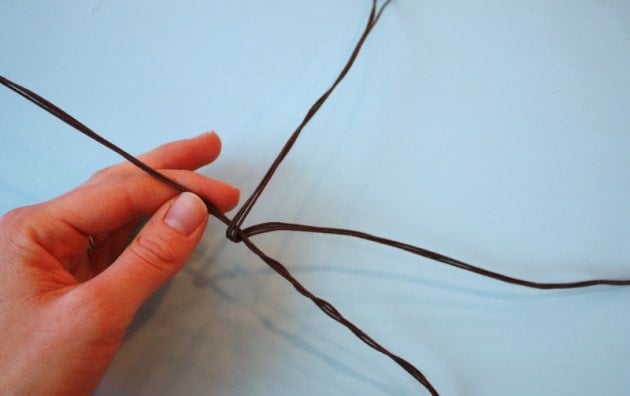 Okay, so here are my finished branches (minus leaves).  You  can see that none of them are lying flat. The 22 gauge wire is very easy to bend, and so I wanted parts of the wire to float above the board. I secured the wire here and there with duct tape :0)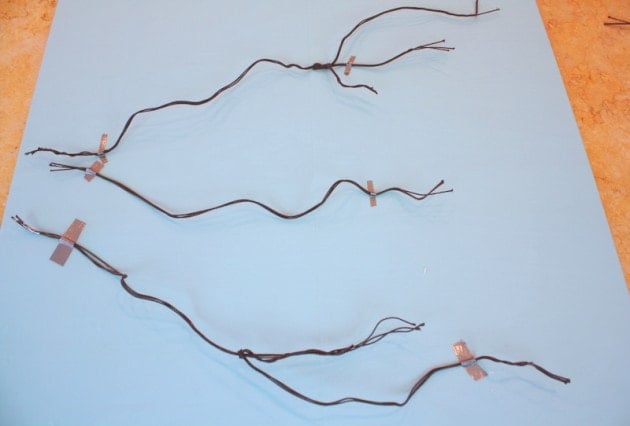 Now, we'll focus on our birds. Here is a cupcake that I've frosted with a crusting buttercream (Americolor Electric Green) using my tip 21 piping tip.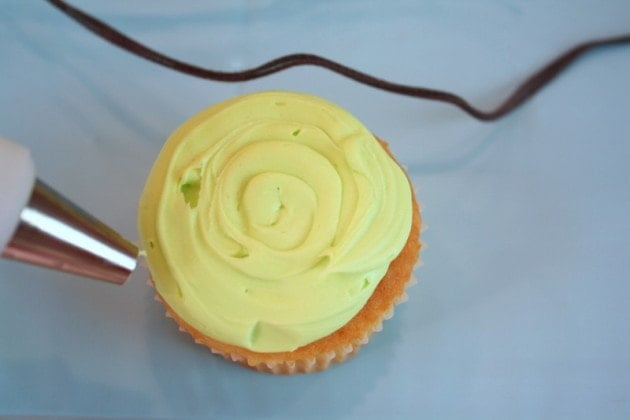 I decided to make the birds nice and smooth, so I tore off a piece of Viva brand paper towel (no impressions/quilting) and smoothed over the icing after it had crusted.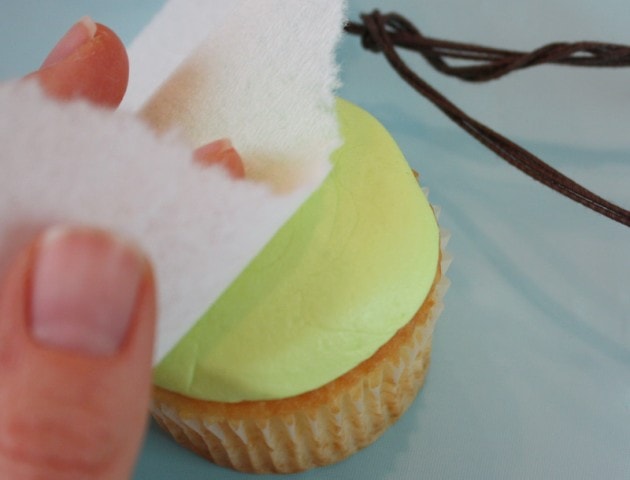 I added wings with my petal tip (I used Wilton 104), and little black eyes using a tip 2 & beak using a tip 3.  (Any small round tips would be fine for these little accents).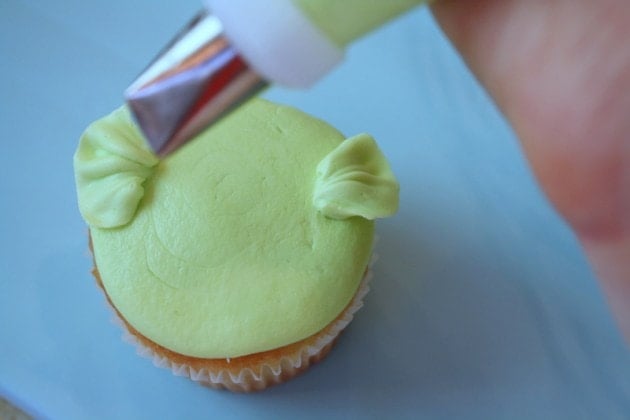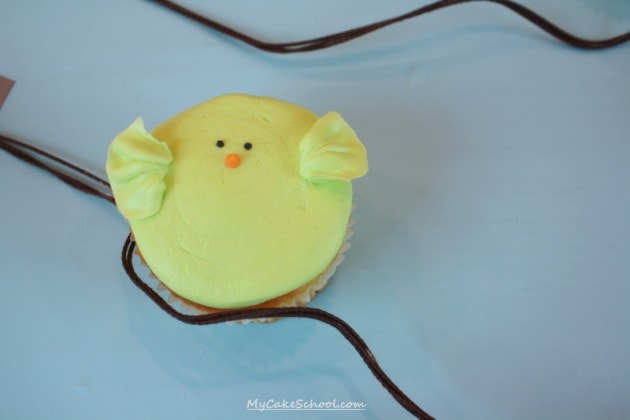 Take a few minutes to figure out exactly where your birds will go. This may require some extra wire bending as you decide how you'd like the branches to fall in relation to each bird or group of birds. Once you're ready, add a dab of icing to the bottom of your cupcakes and place them onto the cake board.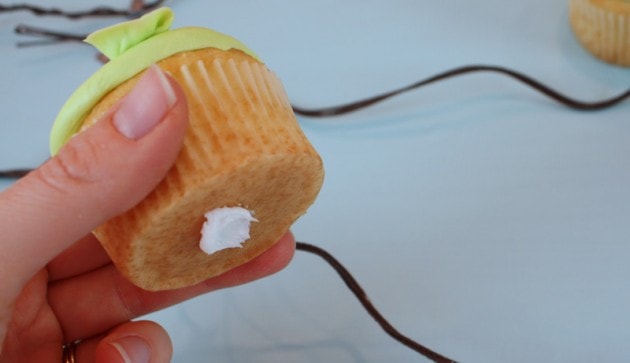 At this point I piped on little orange buttercream feet with my tip 3 and some tailfeathers (also tip 3) ;0) Any small round tips are fine for these accents! Look how cute!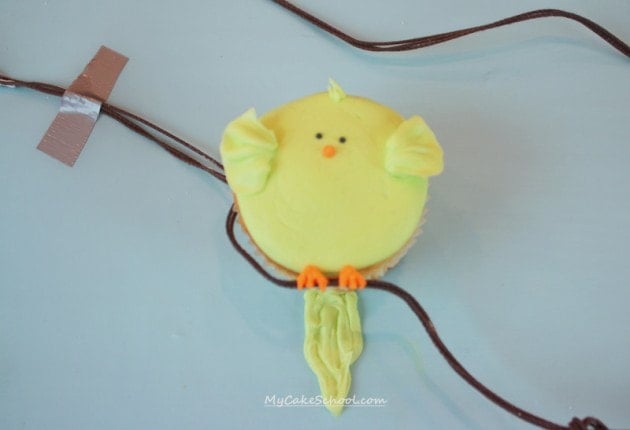 I decided to make party hats too– I cut out fondant triangles (with tylose kneaded in to speed up drying) and painted them with coloring gel mixed with vodka. Then I drank the rest of the vodka. (Just trying to keep it interesting)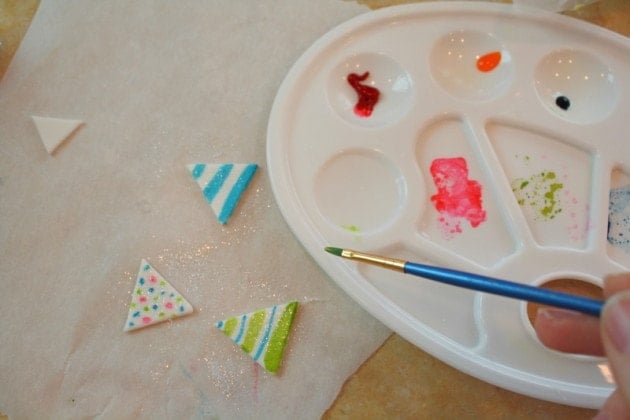 All that's left is piping on the leaves and sticking on the hats! The hats were attached with a dot of buttercream, and I used buttercream to add the trim at the bottom of the hats & a ball on top. I used both small star tip 16 & a small round tip 2 for these little hat accents. Use whatever you'd like!
For the leaves–I piped buttercream (tinted Americolor Leaf Green) with a tip 66. Make sure to pipe right over all of that duct tape! Small leaves clung pretty well to the fabric wire also–so I added some leaves here and there to make it more colorful.
Are you ready to see our birthday birdies?  Eeeek!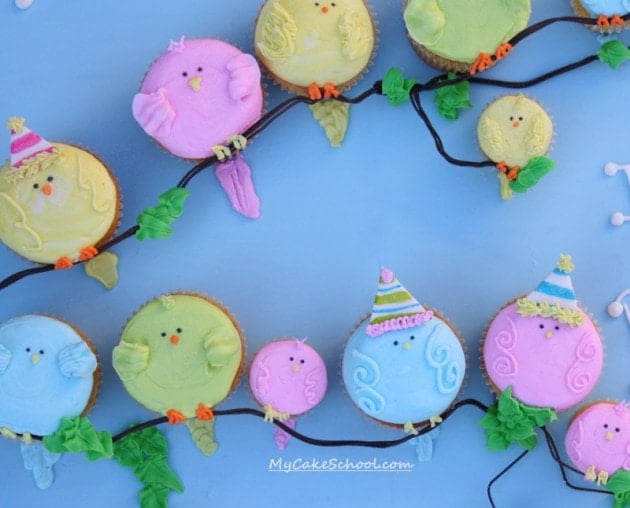 Group shot!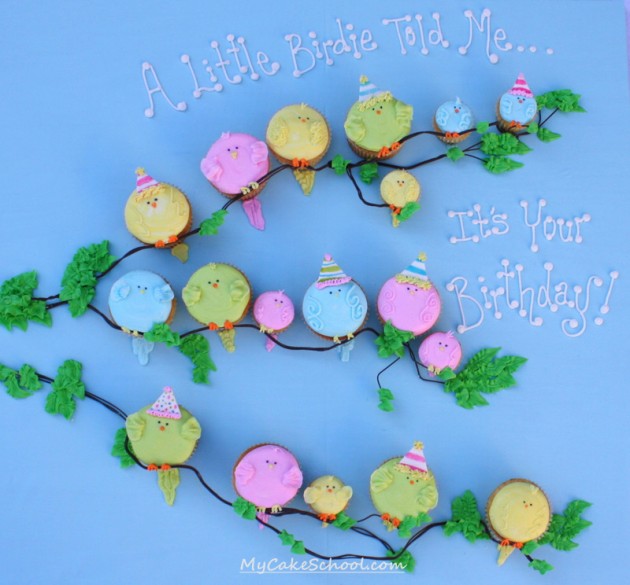 Thanks for stopping by! I hope that you enjoyed the birds ;0) I think that this would be such a cute design for baby showers too– if you try it, be sure to send me a picture!
See you next time–Have a good weekend!