In this free cake video, I'll show you how to create a sweet Valentine's Day Cake with layered buttercream and fondant hearts!
This layered buttercream (and in today's case, striped layered buttercream) cake design in not difficult to create and is such a fun, unique technique that can be incorporated into all sorts of cake designs! We hope that you enjoy the video.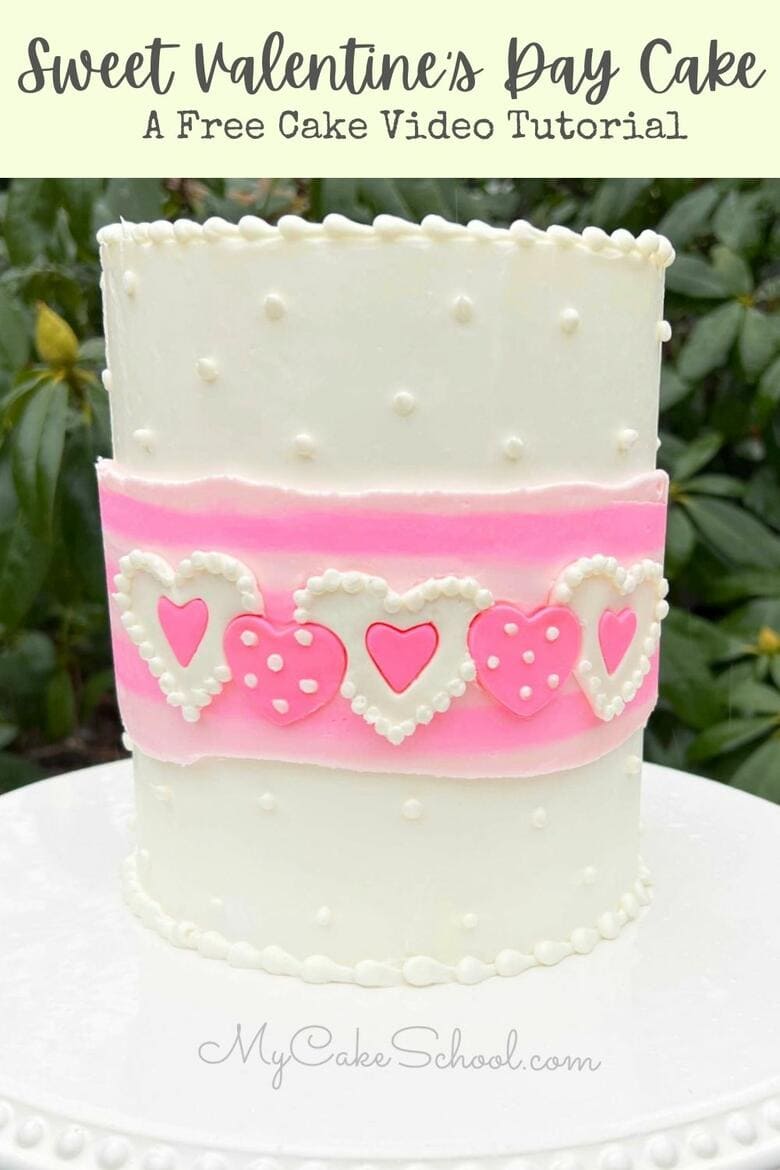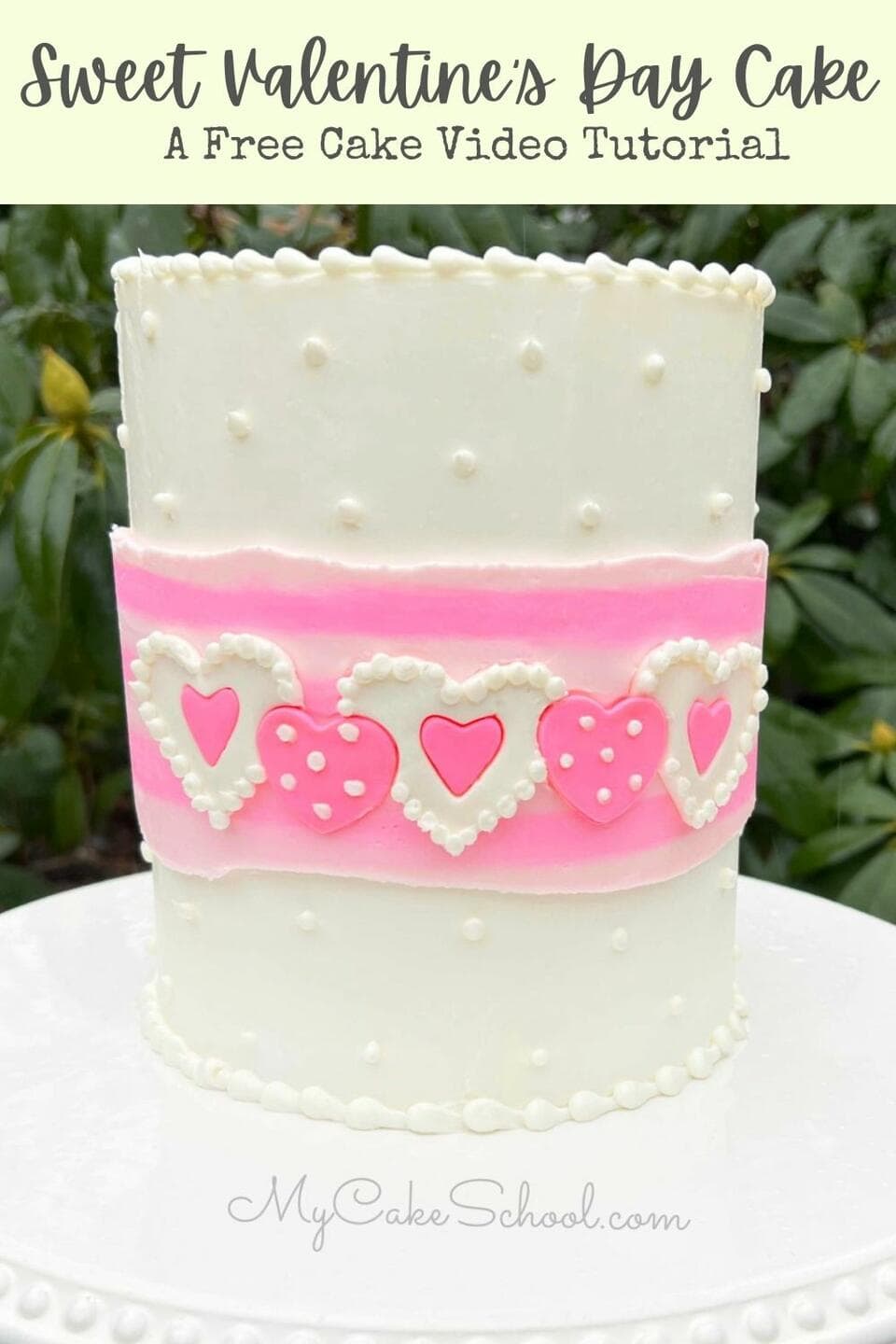 Keep this design in mind for Valentine's Day as well as anniversaries!
Looking for more Valentine's Day Cakes?
We've created so many Valentine's Day Cake Tutorials over the years. Some our free cake videos like this one, and others were created for our member section. Here are just a few of our favorite Valentine's Day cake designs and recipes, but don't miss our full roundup here: Favorite Valentine's Day Cake Tutorials and Recipes
Champagne and Strawberries Cake
Lots of Love Valentine's Day Cake- Free Tutorial
You Hold the Key to My Hearts- Free Cake Video Tutorial
I Love you a Latte- Free Cake Video Tutorial
We hope that you enjoy this quick Valentine's Day Cake video! If you give it a try, we would love for you to leave a comment and photo below. Thanks so much for stopping by!
Sweet Valentine's Day Cake- Free Cake Video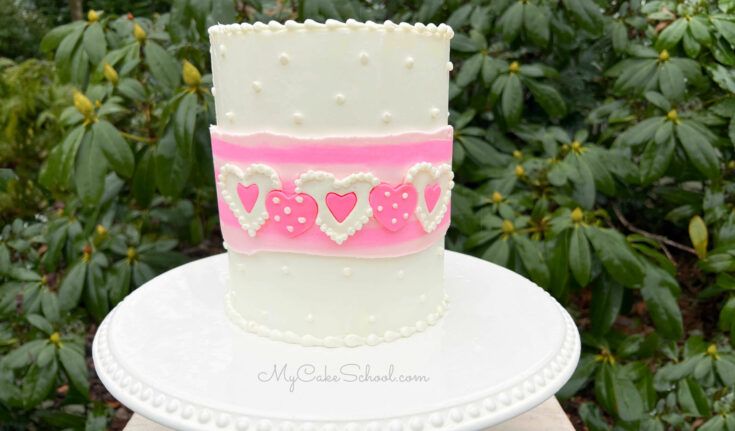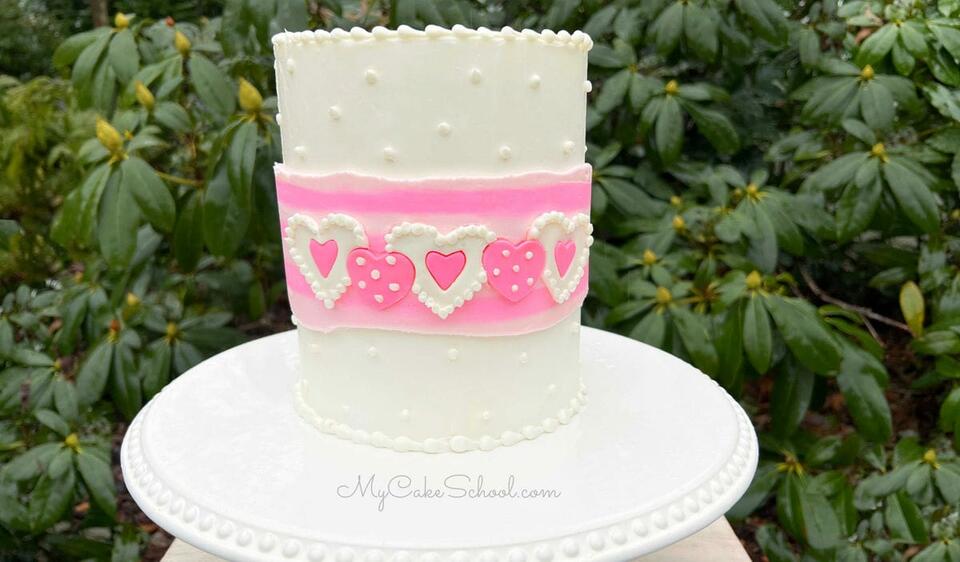 Learn how to create this sweet Valentine's Day Cake with layered buttercream and simple fondant hearts in our free cake decorating video! Perfect for anniversaries as well!
Materials
In this video, we used a 6 inch double barrel cake. This is a tall cake which is four layers tall, with a cake board halfway up and 5 bubble tea straw supports beneath. Of course, this design can be applied to any size of cake, including sheet cakes! Have fun with it!
Fondant (just a small amount of hearts cutouts)
Heart Cutters (in small, medium large sizes if you are recreating my design)
Coloring Gels: I used Wilton Rose
Piping Tips: Small Round tip 4 (or similar for borders and dots), medium round tip 12 (I applied my stripes with this)
Small offset spatula or bench scraper – I used a small offset spatula to frost the cake, and a tall metal bench scraper to smooth things out as I rotated it on a turntable. Turntable is optional but helpful for any sort of cake decorating!
Disposable piping bags
Instructions
Frost your cake as usual. After crumb coating (thin coat of frosting) my cake, I always like to chill it in the freezer for 15 minutes before applying the final base coat of frosting. You may find it helpful to chill once again and smooth over any remaining imperfections with a hot bench scraper.
Next, I chilled the cake in the freezer for 15 minutes to firm up the finished base coat of frosting. (If it won't fit in the freezer, just chill in the refrigerator for a bit longer). After chilling, I moved the cake which was resting on a cake cardboard to my pedestal. Just carefully slide a spatula beneath the cake board and move the cake to the pedestal or cake base, "gluing" it in place with a smear of buttercream.
I piped on my bands of light and dark pink buttercream using a tip 12 while rotating the cake on the turntable. If you don't want stripes, you can just apply a solid color all the way around, either with a small offset spatula, or piped on for a bit more control. Apply this buttercream fairly thick so that when you smooth it with a bench scraper or spatula, you aren't touching the white base coat of frosting.
Smooth over the stripes with a bench scraper (or offset spatula) while rotating the cake.
Chill the cake once again to firm things up (15 minutes in the freezer) before applying the hearts so that you can rearrange them if needed without damaging the smooth finish of the frosting.
Apply the fondant heart cutouts. Our middle band of buttercream would also be pretty with piped buttercream hearts, lightweight buttercream flowers, rosettes, sprinkles etc if you don't have fondant.