I LOVE the look of crochet. It is beautiful, delicate, & goes hand in hand with the vintage themes that are so popular in cake decorating right now.
I was excited to try a crochet design in buttercream, and I hope that you love the look as much as I do! Keep this in mind for wedding cakes, shower cakes, or any occasion that calls for an elegant centerpiece!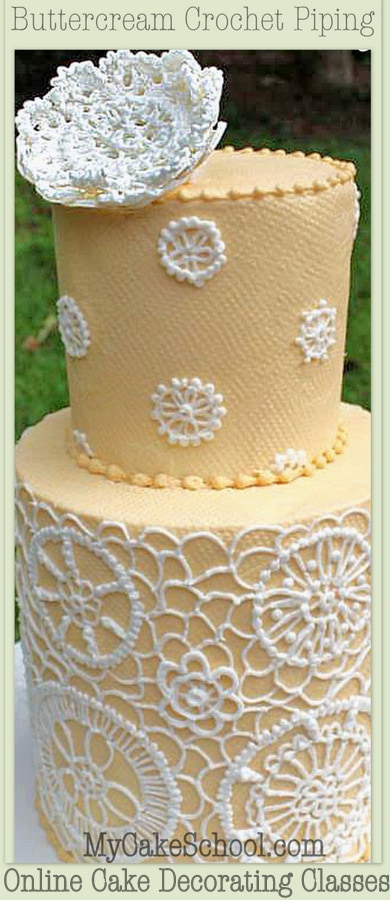 The design that I am creating is not difficult if you are comfortable with piping. However, I have to warn you that it is a bit time consuming! ;0) –If you'd like to speed up the process, you can space out your crochet designs a little further and still have a beautiful result.
I am piping on a frosted cake in buttercream in this video, but if you are piping onto a fondant covered cake, I would recommend using royal icing instead. I hope that you enjoy the video, and please find the materials used and a few notes below!
d be a really good option also. (I would not pipe onto the gum paste with a non-crusting or "wet" buttercream, as moisture could damage it.) I would make the flower at least 2 days in advance to be on the safe side. Mine only took one day to dry, but drying times vary greatly depending on your location, humidity levels, and the type of fondant/gum paste that you are using.
Thanks for watching! Let me know if you have questions, and if you try the design, we would LOVE to see!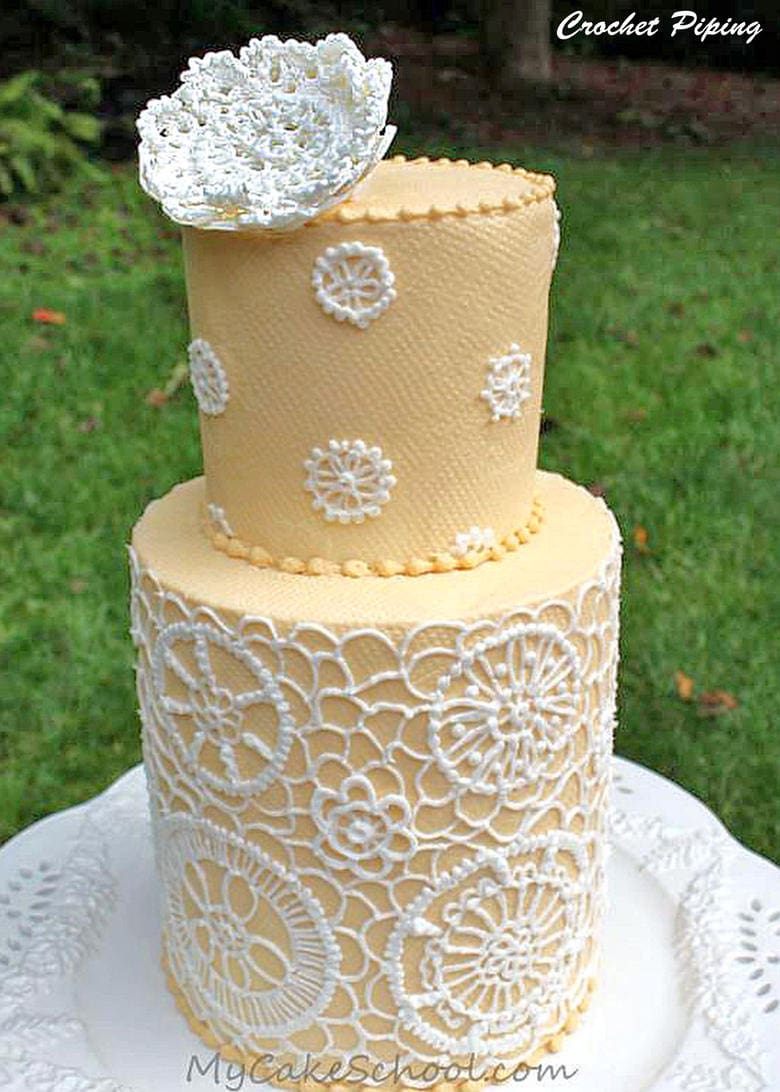 Materials:
This stacked cake was made up of a 6 inch (double barrel) and 4 inch tier. They were frosted with High Ratio buttercream although any crusting buttercream recipe would be fine. (Non-crusting frosting wouldn't work with the paper towel method smoothing, and may soften the gum paste flower over time.)
As usual, stacked tiers are each on their own cardboard cake circle cut down to size, and the 4 inch tier has three bubble tea straws beneath it. Double Barrel cakes like our bottom tier are tall, often 4 layer cakes which have a cardboard cake circle halfway up, with 4 bubble tea straws inserted in the bottom two layers to support the upper two.
Circle Cutters- We used 3 circles to make impressions for our crochet designs. The smallest circle was from a standard sized piping tip. The size difference from largest to smallest was pretty evenly spaced, but it doesn't have to be. Work with what you have.
Piping Tip: 2 or 3. A tip 2 looks more delicate but you may find that piping from a smaller tip is harder on your hands…and you'll be doing a lot of piping! ;0)
Gum Paste (or fondant with tylose powder kneaded into it until it has the consistency of gum paste)
Flower Cutter- I just used a generic flower cutter– about 3 inches wide.
Glass with foil over the opening to create a "flower former"
Small paintbrush or two
2D piping tip (or any closed star tip) for creating designs on crochet gum paste flower
Toothpick for creating holes in crochet flower
Sugar Glue or your edible glue of choice for the gum paste flower
**Make the flower at least a day or two in advance so that it has plenty of time to dry.