In this free cake video, you will learn to make a sweet teddy bear cake, which is perfect for baby showers and birthdays!
This 3D teddy bear cake design that could be adapted to make several other animals too! See below for the supplies that we used, we hope that you enjoy the video!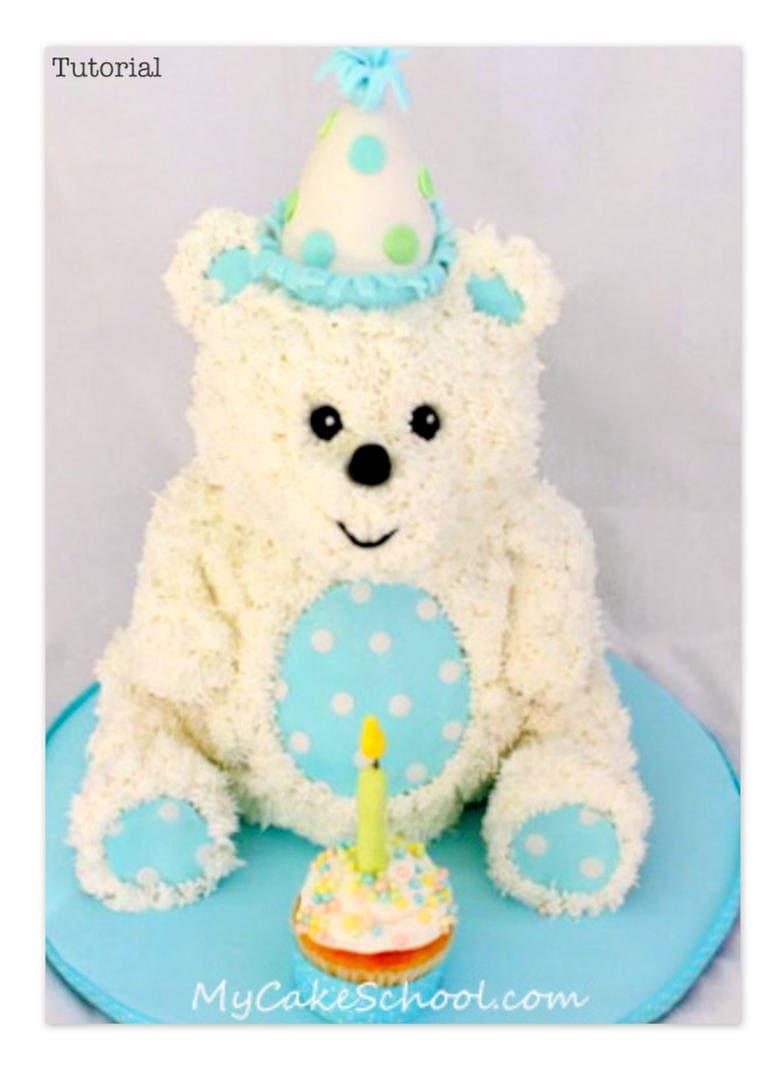 Materials for Teddy Bear Cake
-We used two batches of White Almond Sour Cream cake batter–
-Wilton Wonder Mold Pan (you can carve this shape from stacked cake layers if you don't have one)~
-8 inch cake layer
-Bubble Tea Straws or Dowels/Support of your choice
-Sharpened wooden center dowel (optional)
-Cardboard Cake Circles (We used three 14″ circles to form cake base, 1 8″ circle beneath bear's body, 1 approx 5″ circle within body, and 1 approx 4″ circle beneath head)
Covering for your cake base–Your choice. We used a blue plastic tablecloth.
Buttercream–We used our "Fluffy" recipe.
Tips Used: Wilton 233 (grass tip) & Tip 12 (for cutting polka dots & misc piping)
Fondant–We used Blue- (A combination of Sky blue & a little Royal Blue) for decorative patches & party hat accents), White (for polka dots & party hat) & Black (for eyes and nose & mouth), & we used green & yellow also to make our birthday candle.
Rice Krispies Treats- We used approx. 13 of the small sized (22g.) pre-made bars. (Legs–3 ½ bars each, arms- 1 bar for each, ears- ½ bar for each, nose- ¾ bar, & party hat- approx 1 ½ bars) -***You could also make your own RKTS if you would rather, or substitute cake for the legs & hat and use gum paste or fondant to form nose & ears.
Lollipop Stick–for anchoring nose
Candy melts (optional) -I dipped my lollipop stick into melted candy melts to help secure into the Rice Cereal Treat nose.
Wilton Jumbo Confetti Sprinkles (optional)-These were the polka dots on the party hat.
Piping Gel or Tylose Glue (aka sugar glue)- Used to glue accents onto hat.
Cupcake (optional) to sit in front of bear
22 gauge (or any fairly sturdy gauge) floral wire –optional– We used this for our candle "wick".