This sweet pull toy themed cake would be perfect for baby showers and young birthdays!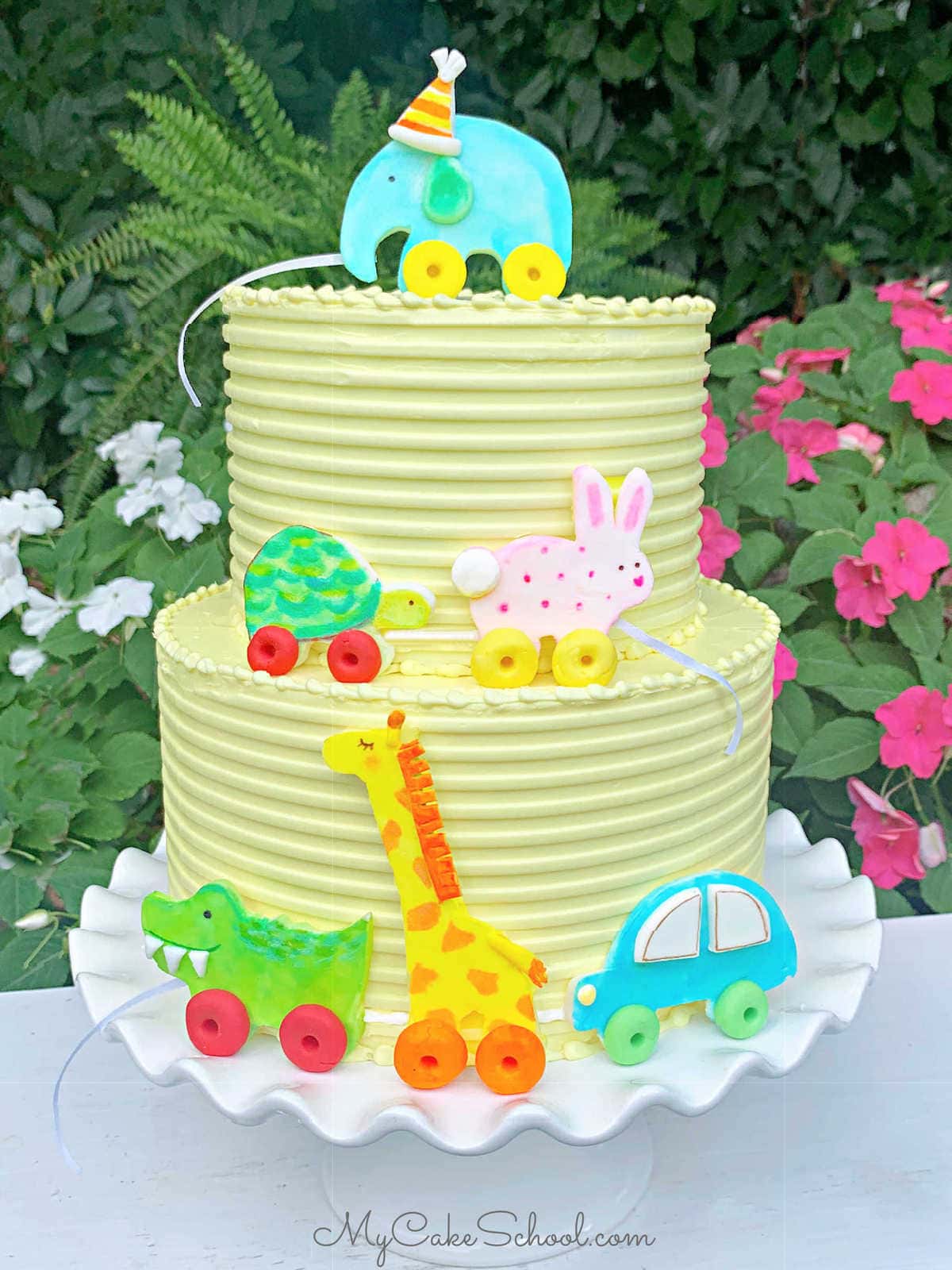 For this cake design, we used an 8 inch tier and 6 inch tier and decorated with painted fondant decorations. This is such a sweet design for all sorts of skill levels of cake decorating, and the design can be easily transferred to single tier cakes or sheet cakes as well!
We hope that you enjoy the video!
Materials:
This cake consists of two 8 inch and 6 inch tiers. As usual, our stacked tiers are each on their own cake cardboards cut down to the size of the cake. The 6 inch top tier is resting on 4 bubble tea straw supports (cut to the height of the bottom tier).
Fondant & Tylose Powder (or gum paste) – We used Wilton pre-made fondant with tylose powder kneaded into it to strengthen and speed up dry time. The tylose powder is optional. You could also use gum paste- although gum paste will dry firmer and isn't generally meant to be consumed.
Coloring Gels of choice: We used Americolor Lemon Yellow, Orange, Super Red, Sky Blue, Deep Pink, Green, White
Everclear, vodka, or lemon extract to mix with the coloring gels for "paint". We used everclear. (The alcohol speeds up the dry time of the paint.)
Edible Glue of Choice; We used Tylose Powder with a bit of warm water mixed in. You could also use piping gel, etc.
Buttercream: We used our Classic Vanilla Buttercream recipe to frost the tiers.
Cake comb: optional.
Piping Tips: We used a small round piping tip 4 for the bead border, and to "connect" the animals to each other.
Lollipop Sticks: Two sticks for anchoring the elephant cake topper. (Sticks are secured to the back of the dried elephant with strips of gum paste and a bit of tylose glue).
Small ribbon "pull" for toys. You could also use a thin strip of dried fondant.
**Allow animals to dry for at least several hours or overnight. The cake topper may take longer to dry since it needs to be dry through and through to safely stand upright. Allow at least 24 hours to dry.