Hello everyone! In this tutorial, I am going to demonstrate how to create a stained glass look on a fondant covered cake.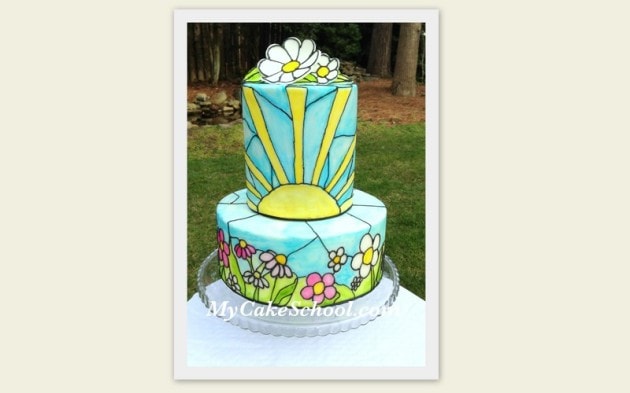 I love this stained glass cake design because artistic and unique feel (and it looks more difficult than it actually is!).
Stained glass cakes are elegant and impressive, even when the designs are quite simple as with today's daisy and sunshine tiers.
I went with a cheerful look but you will find that the technique from this tutorial can be applied to an endless array of designs and color schemes, from kids' birthday cakes to weddings (using more muted colors).
Materials
10 inch and tall 6 inch cake tiers (White Almond Sour Cream) frosted with fluffy vanilla buttercream and covered with fondant.
Gum paste (or fondant with tylose powder kneaded into it) for daisy cake toppers and leaves.
Coloring Gels: We used Americolor Sky Blue, Deep Pink, Electric Green, Bright White, Lemon Yellow, & Super Black
Piping Tips: Wilton tip 1 (for black outlines) although any small round tip is fine.
Paint Brushes-- Mine are from the cake decorating rows at Michaels and Hobby Lobby. Any small brushes that you use for cakes only are fine.
Artists Palette or Plate for mixing colors
Vodka or Lemon Extract (The alcohol in these dramatically speeds up the dry times of your "paint"). We use vodka.
Royal Icing (from our Recipes)- I like to use royal icing, thickened to piping consistency, on fondant for my outlines. However, a crusting buttercream tinted black should work fine also.
Americolor Food Coloring Pen-- I like it for mapping out the design and then tracing over with royal. Use any color you'd like, or simply paint your design & outline later with royal. Creating impressions with cookie cutters which are later painted and traced with royal is another good alternative.
Misc: Cardboard cake circles (I used three--one cut down to size for each tier, and one halfway up inside of the tall 6 inch tier). Then you'll need your cake base or pedestal. Bubble Tea Straws or supports of choice (I used for supports both within my tall tier as I normally do with double barrel cakes, and also beneath my top tier.)
Notes
While this is my take on stained glass, there are several alternative techniques out there that you may like to try. As I mentioned in the tutorial, you do not have to map out your design with coloring pen if you'd rather not.
You can paint your design freehand and then later go back with your outlines, or you can create impressions with cutters or gum paste tools which you can later color in and outline.
Some people use petal dust paint, (mixing petal dust with vodka or even brushing on the dust with a dry brush for very subtle color). Others use tinted piping gel to fill in their patterns for a very shiny look. All are good options!
You can also create a beautiful stained glass cake in buttercream. This method I think is less time consuming because hand painting isn't involved. Just piping, smoothing, and outlining. I will link to the tutorial once it is posted!
If you are not a fan of piping on fondant, I would imagine that you could get a nice stained glass look just by outlining everything with black coloring pen alone. It wouldn't have the raised look that our black piping does, but I think that it would still look great!
I hope that you all enjoy this method! Remember to charge more for these types of cakes if you have a cake business, because all of the hand painting is time consuming.
However, the amount of time varies greatly depending on your design. If I had created one or two large daisies, rather than lots of smaller ones, it would have gone more quickly ;0) -- Also, you can cut out fondant circles and decorate as stained glass for some classy cupcake toppers to match!
Have fun with this technique!