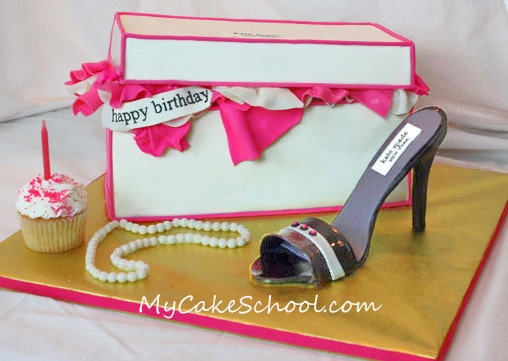 Here is my requested cake shoebox with gum paste shoe tutorial! I hope that you enjoy it. We created our own template for the sole of the shoe based on a shoe that we bought. We cut off the straps and used this as a form to dry our gum paste. Here is a link to the template that we made for our gum paste shoe. ** Update: At the time of this video, there were not many options available for creating gum paste shoes. Now, there are many gum paste shoe forms and kits that can be bought to create shoes. This is something worth looking into if you plan to do a lot of shoes as it simplifies the process.
I added shine to my shoe by brushing on a 50/50 mix of light corn syrup (I use Karo) and vodka. I prep my gum paste first by wiping over the shoe with a small amound of vodka on a Viva paper towel. I've found that this prevents the weird bubble reaction that happens occasionally (still, do a test patch) —
I used a one layer 11×15 cake which I cut into three parts— two 4″ wide rectangles for the cake, and the leftover for scrap. You can make your shoebox wider if you'd like to have less scrap! I do like the length that you get with the 11×15, but of course you can change it to whatever size you'd like!
Also, in this video I do the fondant in panels that are frozen to prevent stretching, making them easier to place. You could also dry your panels for a few days if you'd rather use this method (as I did in my wine bottle in a box tutorial). Or you could cover the entire box with one piece of fondant–whatever method appeals to you most!
An extruder is helpful for the borders around the shoebox! We used a Makin's Ultimate Clay Extruder. (aff.)
Enjoy!