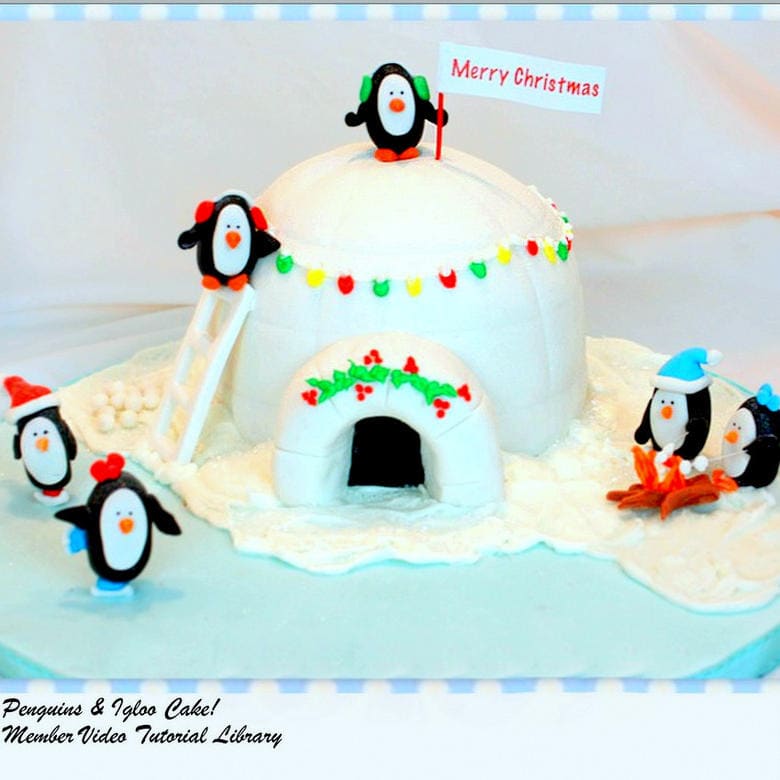 This cake is so much fun for winter parties! In this video, my igloo is made from using one half of Wilton's ball pan —
http://www.amazon.com/Wilton-Sports-Ball-Pan-Set/dp/B0000VZ3YM. To make it a little higher, I placed my finished cake dome on top of one 6″ round cake layer. If you don't have a ball pan, you can improvise with a pyrex bowl or even by carving the rounded shape that you would like.
I covered my cake with fondant and then made impressions ("ice blocks") while the fondant was still soft. You could easily do the same thing with buttercream. Just frost with buttercream, allow icing to crust, and make your impressions with a lollipop stick, toothpick, etc.
I used pre-colored black Satin Ice fondant mixed with a little CMC (or tylose) powder for my penguins. You will also notice that I used a lot of pixie dust and PME brand pearl luster spray for more sparkle.
I use the Royal Icing recipe from the Recipes section to make the snow around the igloo as well as the string of lights around the igloo.
I hope that you enjoy the video!