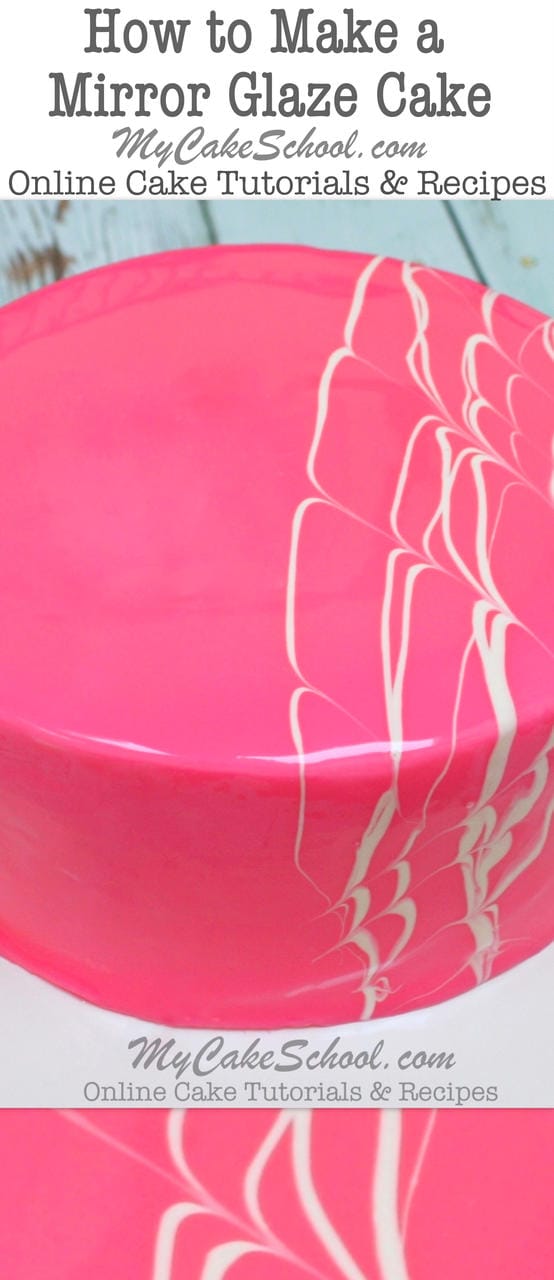 Mirror Glaze Cakes are a big trend in the cake world lately, with their glossy shine and often bright colors and whimsical designs. We are excited to demonstrate our version of this popular look, which came together surprisingly quickly! (Hooray for cakes that look much more difficult than they actually are!)
I love the unique look and am excited to make more mirror glaze cakes in the future. The design options are endless! Make sure to check out our Mirror Glaze Recipe below, as well as a few helpful hints and notes. Enjoy the video!
Update: Although we love the wow factor of this cake, we discovered after filming that it slices much more easily when the cake is well chilled. At room temperature, it becomes difficult to cut, as the glaze is not easily sliced through and tends to drag along with the knife. You may wish to pick a soft cream or mousse filling for this reason. (We've tried several recipes to compare, but all had this in common.)
*We have found that is it much easier to neatly slice the glazed cake when it is chilled.
Materials:
In the video, we glazed an 8" round cake, which was filled, settled, & then frosted with our Classic Vanilla Buttercream recipe.
Mirror Glaze: Click Here for our Mirror Glaze Recipe
Miscellaneous: Cake board (cut to size of cake), small bowl or object to elevate the cake within a larger lined bowl or cake pan, knife, spatula, turntable for frosting cake, pedestal or covered cake board/base, candy thermometer is very helpful in checking glaze temperature, toothpicks for creating the swirls.
Coloring Gels: We used Wilton Pink Candy Color and Americolor Bright White. As we discussed in the video, regular gel coloring seems to work just fine...no seizing issues. So, if you'd rather used pink coloring gel rather than candy color, that should work well. (Do a small test first to be sure!)
Notes:
We find that the cake cuts most easily when chilled and will give the cleanest slices.
We froze our smoothly frosted cake for approximately 20-25 minutes before pouring the glaze.
The glaze was heated to approximately 90-95 degrees F.
We divided our glaze into two bowls for tinting. One bowl had 2 cups of glaze (which is enough to cover the 8" round cake.) The remaining cup of glaze was for the white accent color. As it turns out, we didn't need this much for the white glaze. I only used a small amount.
After glazing, we chilled the (still elevated) cake in the refrigerator until it had begun to set. Then I cleaned off the drippy edges with a knife. Next, you can return to the refrigerator or leave at room temp to set up more. (We refrigerated.) Once the glaze has set up enough that it can be touched without causing issues, you can lift onto a pedestal or cake base as usual.
We found it much easier to neatly slice through the glazed cake when the cake was chilled. The flavor is sweet but not overpowering. After 2 days in the refrigerator, the cake was still very glossy.
Mirror Glaze
2 packages gelatin (14g) - I used Knox unflavored gelatine
¼ cup (59g) water for softening gelatin
½ cup (118g) water
1 ¼ (225g) white chocolate
⅔ cup (200g) sweetened condensed milk
⅔ cup (215g) light corn syrup
1 cup (200g) granulated sugar
Soften gelatin in ¼ cup water, stir with a spoon, it will be very thick. Set aside
In a saucepan, heat water and granulated sugar over medium heat until the sugar dissolves. When sugar has dissolved add light corn syrup and condensed milk.
Increase the heat and bring the mixture to a boil. Once it begins to boil, remove from the heat and add the white chocolate chips and gelatin, use a whisk and stir until the chocolate chips and gelatin are fully incorporated into the mixture. At this time you can add color to the mixture.
While the glaze cools to approximately 90-95 degrees, line a cake pan or or large bowl with aluminum foil to catch the drips while pouring the glaze. Elevate the cake (with cake board) over a small bowl so the glaze can freely drip down the sides of the cake.
If the glaze cools down too much and begins to thicken, you can microwave a few seconds at a time until it is pouring consistency.
* Your frosted cake needs to be well chilled before pouring the glaze. * You can make the glaze 4 days in advance and store in the refrigerator in a bowl with plastic wrap pressed onto the top of glaze to prevent a skin from forming and another layer of plastic wrap over the top of the bowl. When you are ready to use just reheat in the microwave to bring back to the correct temperature for pouring. The cake covered in the mirror glaze does not need to be refrigerated unless the cake filling is perishable. The glaze will stay shiny for 2 to 3 days.