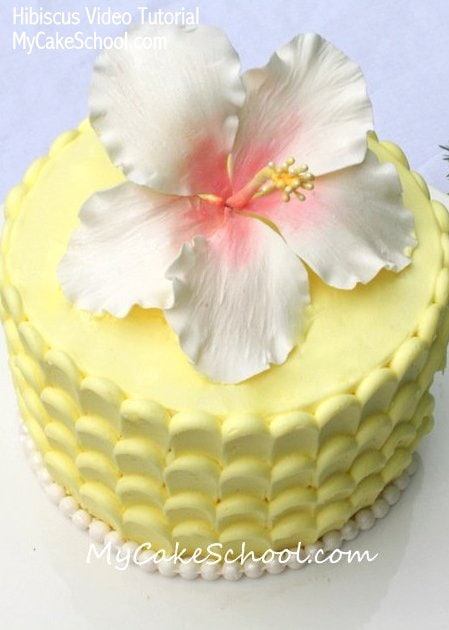 I love hibiscus flowers! They are such a great addition to a cake, especially when you are working with summer or tropical themes.
In this video, you'll see me make a gum paste hibiscus using a leaf cookie cutter, which I posted in the Templates section. You can buy a hibiscus cutter, but since the petal shape of these flowers is so basic, I wanted to use something that many of you may already have on hand.
You'll see that I roll out my gum paste very thin onto my cel board (which has grooves that create a "vein" on the back of each petal for my wires to be pushed through. I thread my 26 gauge wire through the petal after first dipping a bit of the wire into a little light corn syrup. (We used this CelBoard- aff. link)
Then, I cut out my leaf shape, round off the pointed edges to create a rounded edge, and move the petal to my cel pad where I add details with my veining tool (JEM Flower Veiner #12), and then flip over the petal and frill/thin the edges with my ball tool.
26 gauge wire is the wire used for both the petals and the stamen. I use watermelon and buttercup petal dust to add coloring.
You'll want to make the stamen and the petals 2-3 days in advance to be on the safe side, although you may find that they become firm after 1-2 days (especially if you are working with gum paste).
Most varities of hibiscus have 5 petals, which is what we did in our video. To get ideas on coloring, etc., check out some hibiscus flowers online--there are so many beautiful varieties that will give you inspiration. I went to flickr.com before creating my flower.
Finally, in the last shot, you will notice that the buttercream-frosted cake that I place the flower on was made using the "Petal Effect"---this is a technique that I demonstrate in another video tutorial. You can find it in the "Piping Techniques and Borders" section.
Enjoy the video!