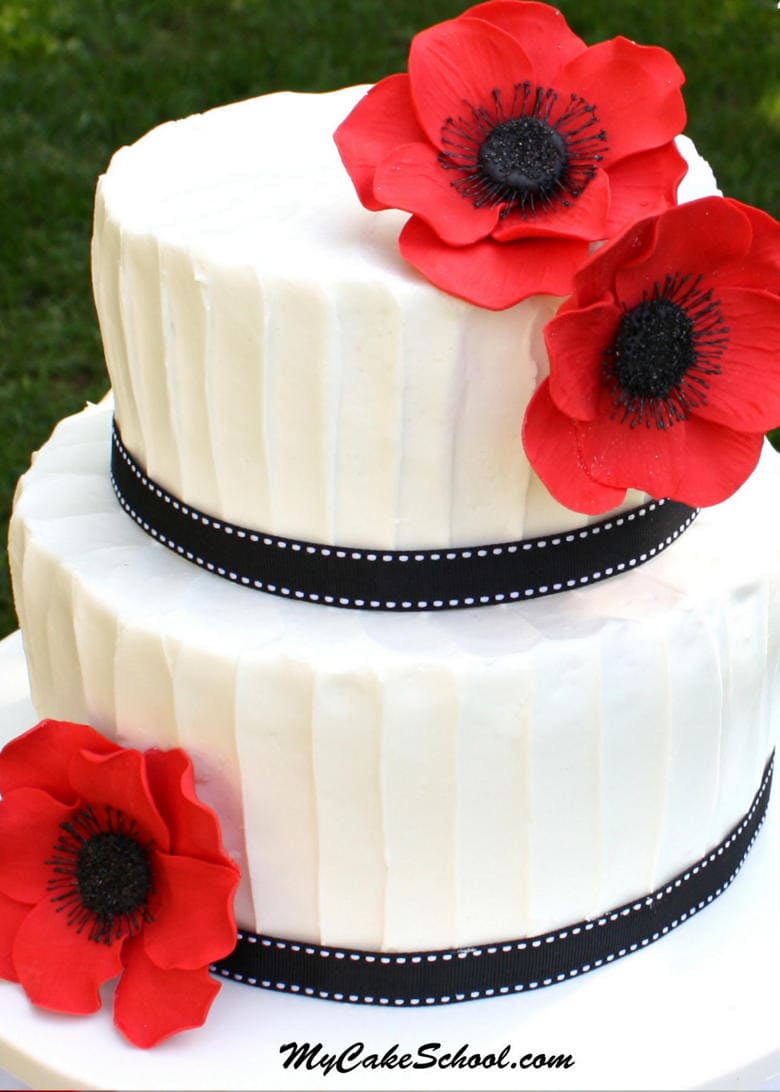 Hello! Well, we finally have it–a tutorial on anemones! We have received so many requests for this tutorial– and adorning cakes with these sugar flowers continues to be popular trend in cake decorating. I absolutely love anemones, and if you are new to the world of creating gum paste/sugar flowers, this is a perfect place to start.
In this tutorial, you will also learn another simple (yet elegant) textured buttercream technique. This time, I'm creating a pattern of vertical lines with my spatula. I love textured buttercream in any form, as well as piped designs. It's a fun departure from completely smooth cakes, and I'm going through a phase of textured, more rustic designs lately. ;0)
I hope that you enjoy the video–make sure to check out my list of materials & helpful tips/notes below. Let me know if you have any questions!
Materials:
Gum Paste (***I used Satin Ice Pre-Colored Red fondant with tylose powder kneaded into it, to create a more gum paste like consistency.)
Tylose powder (optional, although you'll need it if you are working with fondant to create your flowers.)
Black fondant (pre-colored or tinted)- This is what I used for my center. Your centers may vary in color.
Petal Cutters- I used two sizes. 2 inch length & 1 ¾ inch length. Also, this flower could also be made by simply layering a couple of blossom cut-outs onto each other and adding the anemone center after thinning the petals with a ball tool. There is so much variation that you don't need to feel confined to a particular type of cutter.
Floral Wire–I used a 26 gauge wire (folded to create two wires) to insert into my anemone center. This served as an anchor when I pushed it into the front side of the cake. If you go this route, you must have created a small hole through the center of your overlapping petals (or layered blossoms) before drying them. Other similar gauges would work fine too. If you don't want flowers secured on the side of your cake, you can skip the wire.
Drinking Straw or cocktail/stir straw (optional) – I used this as a barrier for my the wire that would be inserted into the cake.
Floral Tape: (optional) Necessary only if you are anchoring any of your anemones with floral wire.
Cel Pad/Foam
Ball Tool (I prefer metal)
Veining tool- I use JEM Tool #12 for adding veins to petals. You may also choose to use a silicone veiner, mold, or nothing at all!
Rolling Pin for rolling out gum paste
Vinyl (or "The Mat")-Helpful for keeping the petals from drying out as you work.
Stamen- I chose to use black stamen.
Tylose Glue (aka sugar glue)– This is simply a mixture of ¼ tsp. tylose & 2 Tablespoons warm water.
Aluminum Foil- Used to help create our flower formers
Flower formers, glasses, cupcake pan, or anything you'd like to use. I used a carrier/carton for apples with nice wells.
Black Sanding Sugar–optional. I sprinkled our centers with it.
Ribbon (optional) I used black ribbon in place of my borders. **If you are using a lighter shade of ribbon, it is a good idea to test it on a patch of buttercream to see if it changes color. If so, you'll want to back it with waxed paper. Do this by using double sided tape to attach the ribbon to the waxed paper. Then, use an x-acto knife or scissors to cut away the excess paper.
Textured Frosting Technique:
Frosting: I used our Hi Ratio Frosting, but any of our buttercreams would work well with this technique.
Spatula–This is a very forgiving method. I used two sizes, both are offset spatulas with rounded ends. The larger size for the larger tier, and the smaller size for the smaller tier.
-Hot Water- I like to use the "hot knife method" for creating the lines of texture in the frosting.
Notes:
Just wanted to add a few things. First, you do not have to insert floral wire in your centers unless you plan to attach the flowers to the front of your cake. I chose not to wire any of my petals but of course that is an option if you would like more movement.
As for the basic appearance of the flower, there is huge variation when it comes to anemones. I recommend going to flickr.com or google images to look at photos of anemones. You can choose for yourself the look you'd like to go for. There is variation in the number of petals, number of stamen, size, and color. However, you can use this tutorial as a foundation to start from (or simply do as I do!).
I also mentioned above that if you have any blossom cutters, you could simply layer those (after veining and thinning petals with the ball tool) and come out with a very similar look. This may even be an easier route to take if you plan to make a hole in the center to make way for a wired center/anchor.
Finally, allow plenty of time for drying. I usually am pretty lucky with dry times…but I would say to be on the safe side, allow at least 3 days. Make extra just in case you drop one ;0) — This rule of thumb has saved me a number of times! ;0) — Have fun!!