***Hi everyone! This is our second "Gravity Defying" cake tutorial. Of the two, this has a more involved structure (to handle the heavier suspended teapot decoration). If you will be suspending something lightweight (like candy boxes/containers, plastic bottles or cans, gift bags, etc.), then you'll want to check out our quick & easy tutorial HERE!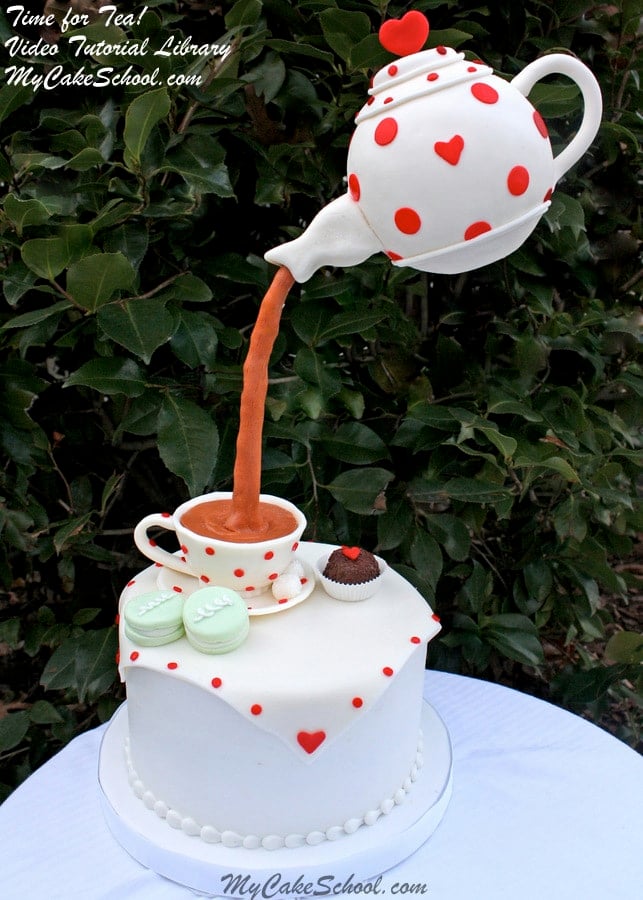 In this two part cake video, you will learn how to create teapot and teacup decorations (Part One) and a support structure to give a gravity defying effect (Part Two).
Materials for Teacup & Teapot (Video Part 1):
5 inch styrofoam ball (or smaller) -- *Our teapot weighed just under one pound. I wouldn't recommend anything heavier for this type of support structure.
Fondant (we used Liz Marek)
Tylose Powder, for firming up the fondant
Red Fondant
Rice cereal treats (we used 3 22g. Rice Krispies Treat Bars)
Piping Tip 10 (or similar) for creating large & small dots
Bubble Tea Straw
Americolor Coloring Gels - We used Chocolate Brown & Ivory for the tea color
Piping Gel -(for attaching decorations)
Form for teacup shape. We used a teacup, but any tapered glass or cup would work.
Something to use as a form for saucer (like a saucer or small plate)
Circle Cutters: These do not need to be exact, but I used a 2 inch circle cutter for the foot of the teacup, & a 2 ½ cutter & 3 ½ cutter for the lid of the teapot.
Extruder: Optional. We used our Makins Clay Extruder (aff) to extrude strands of fondant for accents.
Small and medium sized heart shape cutters for teapot
Miscellaneous- Toothpicks, small paint brushes, vegetable shortening, plastic wrap
Notes
You will want to prepare the teacup and teapot first, before assembling your cake. They need a chance to firm up so that handling them will not cause unwanted impressions.
Make sure to make the handles for teapot and teacup in advance, preferably 2 days (and more if you are in a humid area) just to make sure that they will dry in time. In case of breakage emergency, thread a piece of strong floral wire through a snake of soft fondant or gum paste and bend into position, leaving the ends of the wire exposed so that you can anchor into your teapot or teacup.
**Helpful Tip: For the handle of the teapot, draw a circle that is the same diameter of your teapot onto a piece of paper. (In our case, we traced around a 5 inch cookie cutter onto a piece of paper since our styrofoam ball teapot form was 5 inches.) Lay your soft fondant handle next to the drawn circle and arrange it to fit the curve. This is optional, but will ensure a better fit whenever it's time to apply handle to the teapot.
Materials for Cake Structure (Video Part 2)
Five 10" cardboard cake circles for the base, + an 8" cardboard for our 8" tier.
34 inches of solid 6 gauge copper wire (found in electrical dept. of home improvement store) -These are sold by the foot in most places. (For us, it was 89 cents a foot at Lowe's).
Sharpened Wooden Dowel (just sharpen with small clean pencil sharpener)-¼ inch thick, 17 inches long
Lineman (heavy duty) Pliers--Optional, but necessary if you do not have your wire pre-cut in the store.
Hot Glue Gun
Frosted or fondant covered Cake Tier- Mine was an 8" tier (4.5 inch height)
Cake base cover of choice (We wrapped ours with a plastic table cloth & stapled into position.)
"Tea Colored" fondant to cover wire- (We used a combination of Americolor Chocolate Brown & Ivory tinted fondant)
Piping Gel
Tape (for joining dowel to wire)
Fondant/tylose or Gum Paste to form spout
Bubble tea straw for barrier/and to join the dowel to the copper wire.
Fondant for "tablecloth" (we used an 8 ½" x 8 ½" square)
Red Polka Dots & hearts for tablecloth
Waxed Paper
Teapot & Teacup from the Part One tutorial