Hi everyone! In today's two-part video I will demonstrate how to make a cake that looks like a basket! In this case, we're making an Easter basket cake with a buttercream basketweave, but this is a design that you could put your own twist on and use for all sorts of occasions.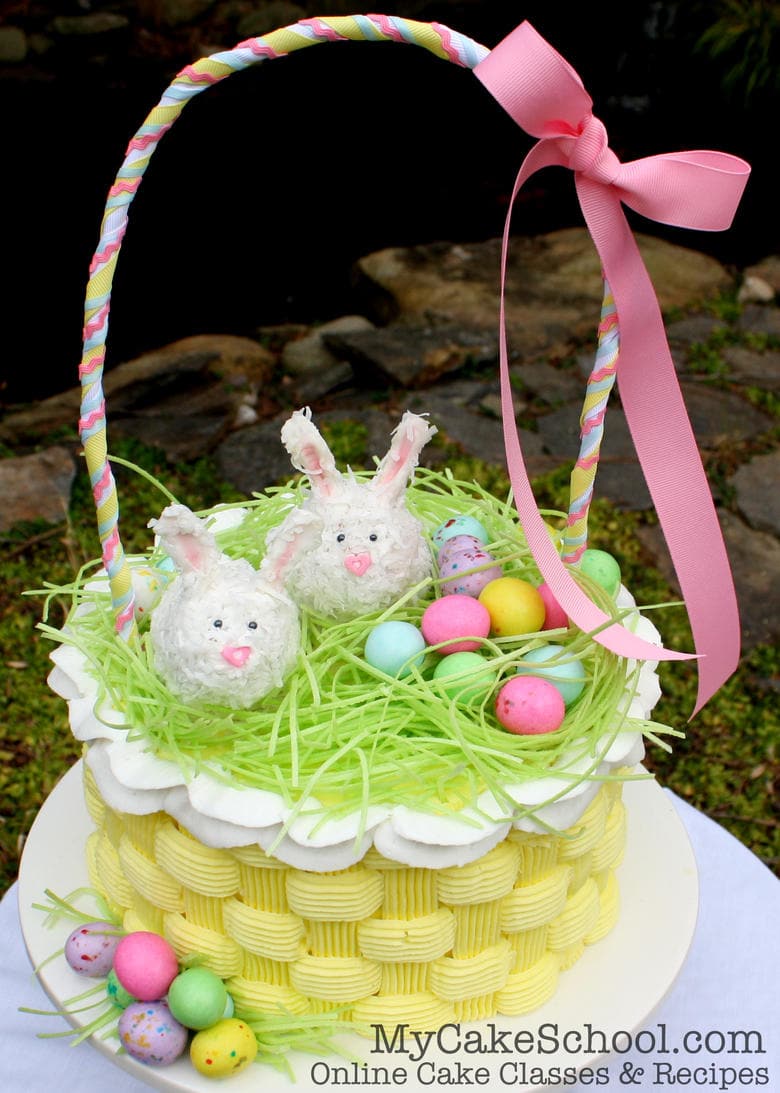 In Part One of this video, and we are focusing entirely on how to make a buttercream basketweave. Our former buttercream basketweave tutorial needed an update and so this is the new and improved version. I demonstrate the technique in this tutorial, and also demonstrate how to vary the look of your basketweave based on the use of a few different piping tips.
If you are already comfortable with piping a basketweave, you'll want to skip ahead to Part Two of this video tutorial, in which I show how to make the basket handle, and a couple of sweet bunnies to place inside of the basket.
I hope that you enjoy it!–Don't forget to scroll beneath the video for a listing of materials & notes~
Part One: How to Pipe a Buttercream Basketweave
nbsp;

Part Two: Creating the Basket & Bunnies
Materials
I am working with a three layer, 8 inch round cake (white almond sour cream recipe). It is frosted with our "Fluffy Vanilla Buttercream" frosting but any frosting recipe that holds it's shape nicely will do.
Piping Tips: The very large basketweave tip that I use in this tutorial is a Bakery Crafts 1D, however any large basketweave tip is fine. Early in the tutorial, I demonstrate with a medium sized Wilton basketweave tip (tip 48) and a medium star tip, Wilton 21.
*The rest of the materials are not used until Part Two of the video–
Wilton 125- for the white ruffle around the top edge. Small round piping tip (I used Ateco 6) for piping the bunnies' fur before adding coconut.
Rice Cereal Treats- I used 3 (22g.) squares per bunny
Coconut for the bunnies (I used unsweetened which has a drier texture)
Floral Wire- I used 20 gauge wire to support the bunny ears (any gauge that can hold the weight of the fondant ears is fine). you can also just anchor with toothpicks.
*Floral wire or cardstock for basket handle, which will be wrapped with ribbon.
Ribbon- Whatever shades you like.
Tape- To attach ribbon for the handle
Bubble Tea Straws or large straws- to run the ends of the handle through. These will act as a barrier. Also, if your toppers seem a little heavy, you can place one straw beneath each topper (cut to the height of the cake) to prevent sinking.
Sprinkles (optional) I used open heart Wilton sprinkles for the bunny noses, and Wilton black pearls for the eyes.
Edible Grass–Mine is from Target (they only sell it around Easter)–you could also use a star or grass piping tip.
Lollipop sticks- I used to anchor the bunny heads to their bodies, and also as anchors with our cardstock handle.
Misc: Cake cardboard– I used one beneath the tier, cut to the size of the cake.
Notes
If you aren't comfortable with piping a basketweave or simply want to try other styles, keep in mind that you can get the effect of a basketweave with other techniques. For instance, you can get a nice ridged effect to your buttercream simply by holding a small spatula against the buttercream as you spin your cake on the turntable. You can also pipe vertical wavy lines with your basketweave tip all the way around, you can pipe open rosettes around the sides of your cake (as in our 3-D baby carriage tutorial), or give your cake a woven look by making impressions in crusted buttercream with make impressions with a cake comb, spatula or even a fork! ;0) –
*The cardstock handle was made with two strips of cardstock taped together. The strips were 1 ½ inches wide, and taped together, the strip was 24″ long. While we used our other handle (made from floral wire) for the final cake, the cardstock one looked great too and is a good option to keep in mind!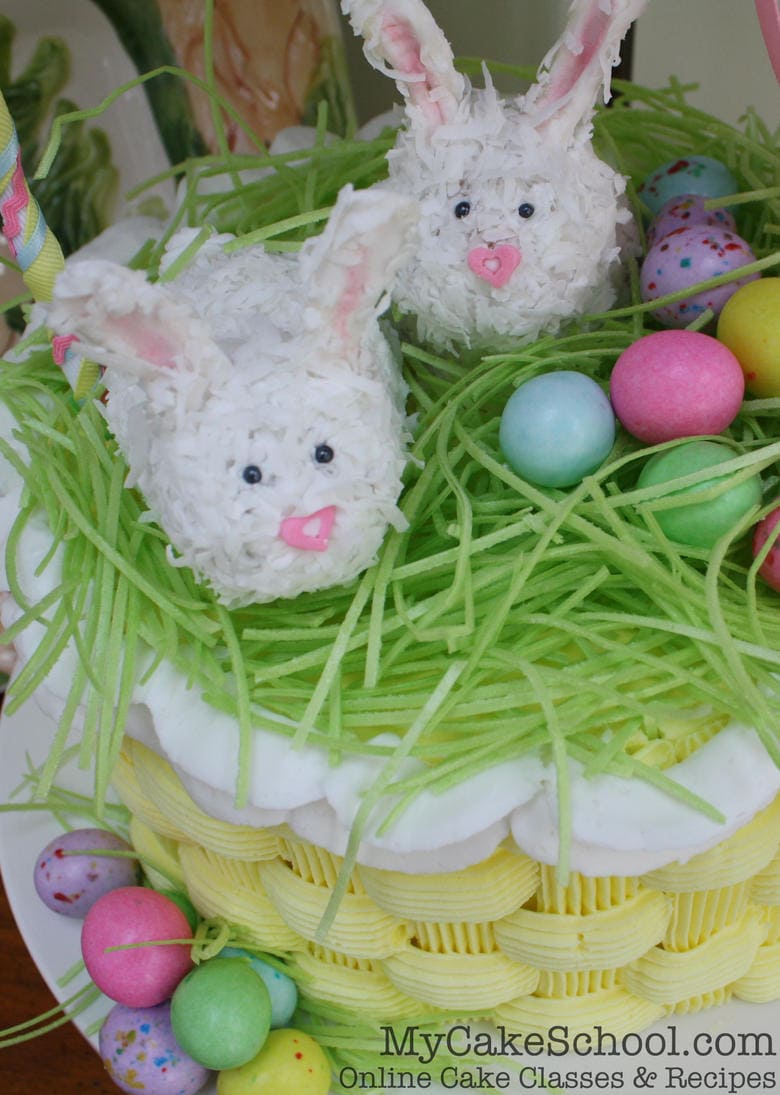 Having trouble viewing the videos above? Here are they are in an alternate format: