We love the versatility of buttercream so much that we try to demonstrate as many techniques as possible on our site. Today's carved buttercream video involves using a clay tool to create a lovely, unique pattern in buttercream.
In the tutorial, we're demonstrating one (of many) design possibilities for this carved buttercream method, as well as one clay tool. However, a quick online search for "carved buttercream" will show you all of the many options for carved buttercream designs, as well as the various clay tools that can be used for this technique.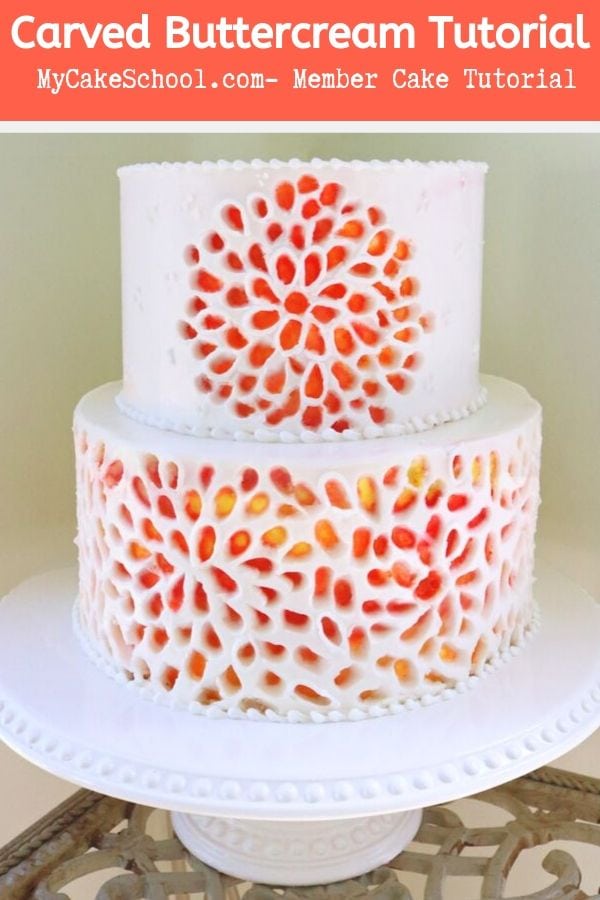 In creating this cake, I found that there is a bit of a learning curve as it takes a little practice to get used to this type of cake decorating. I would allow a little time for practice, whether on a dummy or pan, etc. before taking an order! ;0)
I first tried this technique with our classic vanilla buttercream but I found it more difficult to achieve a clean look when creating the various petal shapes. For the video, I used our fluffy vanilla buttercream recipe as I found it easier to work with. You may like to do a little experimenting of your own! I've also seen carved buttercream done with swiss meringue frosting but haven't tried it yet.
I hope that you enjoy the video! If you give this method a try, we would love to see your cakes in the comments below (or in the gallery)! ;0)
Enjoy!
Materials:
For this video, we frosted 8 inch and 6 inch tiers with our fluffy vanilla buttercream frosting.
Fluffy Vanilla Buttercream
Loop/Ribbon Tool (for clay/pottery/sculpting): We used a tool with a metal loop on the end, which is referred to as a ribbon tool. These come in various sizes & can be easily found on Amazon, etc. (Mine was part of a sculpting set that I've had for years but I will look online for something comparable if you're interested!)
Americolor Colors: Lemon Yellow, Red Red
Piping Tip: 3 (for borders)
Miscellaneous: Disposable piping bags, two cake cardboards (more if you need them for the cake base), bubble tea straws or your supports of choice,
Notes:
You will want to chill the cake for about 15-20 minutes after frosting it with the colorful frosting so that it is firm for the next layer of white frosting.
Once you finish fine tuning the white buttercream-frosted tier, you will chill it again (about 20 min) before starting the carving process. (I like to heat my loop tool in hot water for a cleaner cut).
If your buttercream becomes too soft, place in the freezer for a bit longer.
As always, each of my tiers is on it's own cardboard cake circle cut down to size. Before stacking, add bubble tea straws (or your supports of choice) cut to the height of the bottom tier. Then add the top tier (adding a smear of buttercream for "glue" before placing).
Have fun experimenting with this technique! I think that there are so many options for working with buttercream using various sculpting tools-- check out pottery instagram/pinterest posts for even more design inspiration!
Having Trouble Viewing the Video above? Here is an alternate video format:


nbsp;