You will LOVE the silky smooth, light consistency and buttery flavor of this Swiss Meringue Buttercream frosting recipe.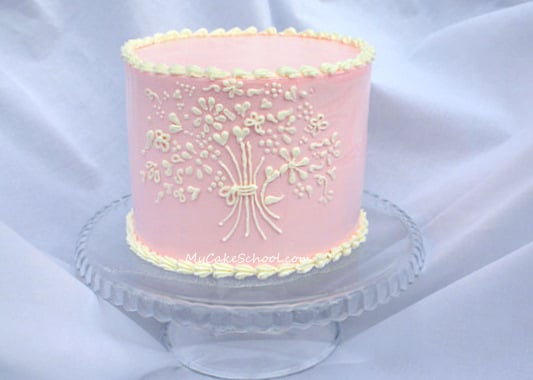 American Buttercream vs. Swiss Meringue Buttercream Frosting
For most of the cake decorating tutorials and recipes on my site, I use American Buttercream frosting (for example, Classic Vanilla Buttercream).
American Buttercream recipes are very easy to make, using simple combination of butter, confectioner's sugar, milk, and flavorings. These are often crusting buttercream recipes that are slightly denser, sweet, and are perfect for piping.
The first time I tried Swiss Meringue Buttercream frosting, I fell in love with the ultra smooth, melt-in-your-mouth quality of this frosting. It is less sweet than American Buttercream, and has a fantastic flavor.
Does Swiss Meringue Buttercream Develop a Crust?
No, Swiss Meringue Frosting is not a crusting recipe, and so the Viva Paper Towel Method of smoothing will not work for this frosting, but it does pipe nicely and can be used beneath fondant (when chilled).
If you've never tried Swiss Meringue Frosting, you MUST give it a try at least once! The process takes a bit longer but the resulting frosting is heavenly! It may just become your new favorite!
Swiss Meringue Buttercream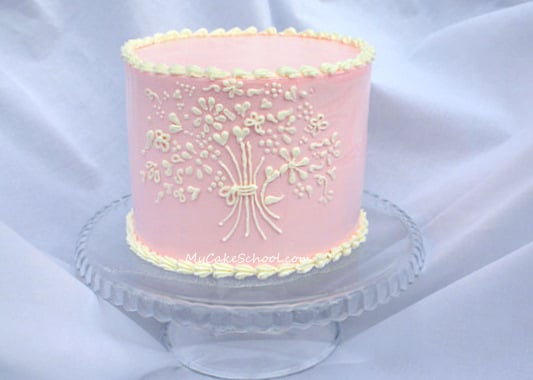 Delicious Swiss Meringue Buttercream! This recipe makes a great filling or frosting and pipes perfectly!
Ingredients
3 sticks unsalted butter (12oz. 339g) *At Room Temperature
5 egg whites ( ¾ cup, 168g)
½ teaspoon (2g, ⅛oz) cream of tartar
1 cup ( 205 g) granulated sugar
2 tablespoon (21g) vanilla extract
Instructions
Place the egg whites, cream of tartar, and sugar in a heat proof bowl (I use my kitchen aid mixing bowl). Put this over a pot of simmering water, whisking by hand until a candy thermometer attached to the side of the bowl registers 140 degrees.

Transfer this to your mixer and put in the whisk attachment. Whip on medium high speed until it reaches stiff peak stage This could take about 10 min. The bottom of the bowl will cool off . The mixture will become fluffy and glossy.

While the meringue is beating, cut the butter into tablespoon sized pieces.
When the meringue is ready, put the paddle attachment on the mixer and add the butter a few pieces at a time while beating on low speed.

Add vanilla

The mixture may look like it is separating after you add the butter. Don't worry, just continue beating on medium-high speed and it will become smooth again.

You can use immediately ….refrigerate in an airtight container for 5 days or freeze for 1 month. If frozen, bring to room temp and beat with paddle attachment on low speed until it is smooth again…..3 to 5 minutes
*Make sure to check out our full listing of tried and true recipes for our favorite Cakes, Cupcakes, Fillings, and Frostings in our Recipes Section!