'Tis the season for Pumpkin Spice Lattes, and today I'm going to share the most AMAZING way to enjoy all of the warm and cozy flavors of your favorite drink in the form of a homemade, knock-your-socks-off, Pumpkin Spice Latte Cake!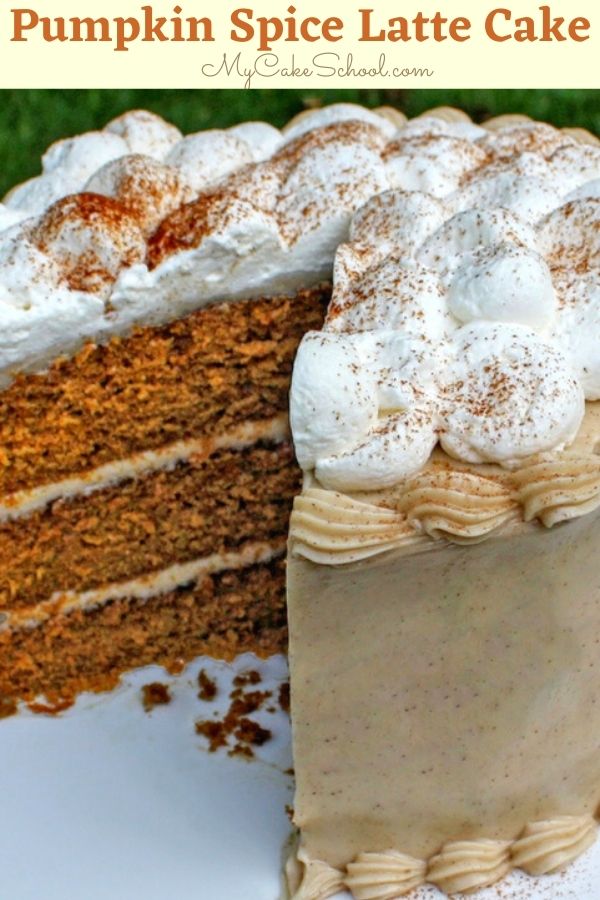 This flavorful Pumpkin Spice Cake is adapted from our popular scratch Pumpkin Cake recipe, with a few modifications. The result is a fantastic flavor combination of pumpkin, spices, and espresso.
For an additional flavor boost, we brushed our pumpkin cake layers with an espresso simple syrup, and filled and frosted our cake with a creamy, heavenly cinnamon espresso cream cheese frosting.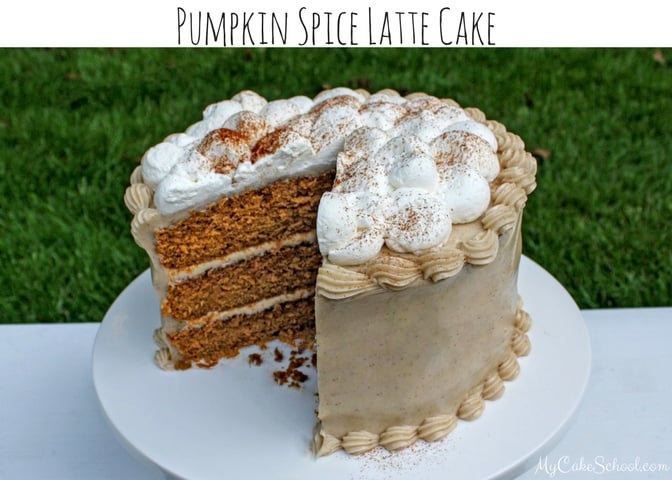 How noticeable is the Espresso in the Pumpkin Spice Latte Cake?
*The espresso in the Pumpkin Spice Latte Cake is noticeable without being overpowering. However, if you would like even more coffee or espresso flavor, try incorporating 1-2 teaspoons of coffee extract in the cake batter, and then additional extract to the frosting (to your liking).
Pumpkin Spice Latte Cake from Scratch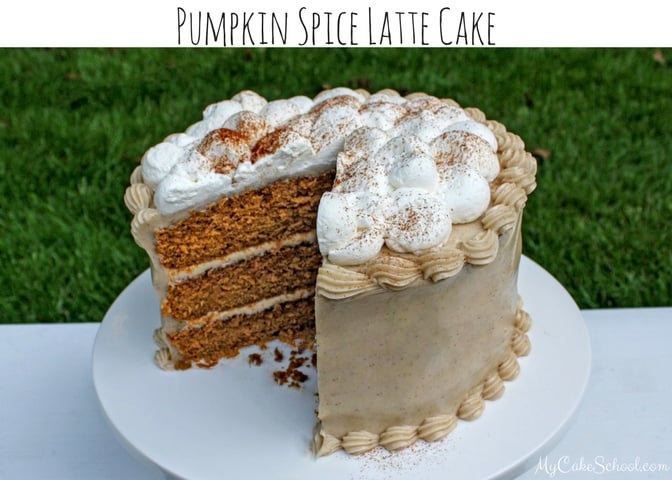 This delicious Pumpkin Spice Latte Cake recipe has the perfect blend of pumpkin, spices, and espresso! It's always a favorite recipe for fall!
Ingredients
For the Cake
1 1/2 sticks (170g) unsalted butter, slightly softened
1 cup (200g) white sugar
1 cup (217g) light brown sugar
4 large eggs - room temperature ( can be brought to room temperature in a bowl of very warm water)
3 cups (342g) cake flour —** if you do not have cake flour, see substitution below
1 Tablespoon (5g) pumpkin pie spice —** if you do not have, see substitution below
1/2 teaspoon (3g) salt
1 Tablespoon (14g) baking powder
1 teaspoon (5g) baking soda
1/2 cup (121g) milk
1 can (15oz/425g) pumpkin ( not pumpkin pie filling)
1/4 cup (54g) vegetable oil (I used canola oil)
1 teaspoon (6g) vanilla extract
2 Tablespoons (8g) instant espresso granules (or instant coffee) dissolved in 1 Tablespoon (13g) water
For the Coffee Syrup
1/4 cup ( 50g) sugar
1/4 cup (114g) water
1 Tablespoon (4g) espresso granules or instant coffee granules
For the Cinnamon Espresso Cream Cheese Frosting
2 Sticks (226g) unsalted butter, slightly softened
2 (8oz) (226g) packages cream cheese (full fat), soften only slightly - Do not use reduced fat or the spreadable cream cheese. It will be too soft.
1 Tablespoon (6g) espresso granules dissolved in 2 teaspoons (8g) vanilla extract
1 teaspoon (2g) cinnamon
6 to 6 1/2 cups (690g to 747g) more if needed, powdered sugar
For the Sweetened Whipped Cream (for the top of the cake)
1 cup (240 g) Heavy Cream
1/4 cup (29 g) Confectioners sugar
1 teaspoon (4 grams) Vanilla
Instructions
For the Pumpkin Spice Cake Layers
Preheat the oven to 350 degrees
Grease and flour three 8 x 2 inch pans
In a medium size bowl, add the flour, pumpkin pie spice, baking powder, baking soda and salt. Whisk at least 30 seconds to blend. Set aside.
In another bowl, add the milk, pumpkin, vegetable oil, vanilla and espresso dissolved in water. Set aside.
In the bowl of your mixer, beat the softened butter until smooth. Add the white and brown sugar and mix on medium speed 5 minutes.
Add the eggs one at a time, mixing until the yellow of the yolk disappears.
Add the flour mixture and the milk mixture alternately. Begin and end with the dry ingredients (3 additions of dry and 2 of wet)
Mix until just combined, do not mix above medium speed or over mix.
Pour into prepared pans, smoothing tops with the back of a spoon. Bake at 350 degrees for 20 to 25 minutes or until a toothpick inserted in the center comes out clean or with just a few crumbs attached. Let cool 10 minutes, then turn out.
For the Coffee Syrup
In a small saucepan, add the sugar and water and bring to a boil. Once it begins to boil, remove from the heat and stir in the espresso/coffee granules.
Allow to cool. You can refrigerate this until you are ready to use. Do not spread on the tops of the cakes until you are ready to decorate. Using a pastry brush, spread lightly on the top of the cake layers. Do not make them too wet. You will have some coffee syrup left over.
For the Cinnamon Espresso Cream Cheese Frosting
Cut the butter into slices and add to the bowl of your mixer. Beat on low to medium speed until the butter is softened.
Cut the cream cheese into pieces and add to the butter, beating at low to medium speed until blended. If using a hand mixer, you may need to soften the cream cheese a bit more.
Add the cinnamon
Add the espresso that has been mixed with the vanilla
Gradually add the powdered sugar beating on low to medium speed until blended. Do not over mix or it will become too soft. If it does become too soft, just refrigerate for a few minutes, then continue.
This frosting will pipe best if used while somewhat chilled. You can make this in advance, refrigerate and when ready to use, let soften to spreading consistency (do not microwave) and stir or remix with mixer.
Will fill and frost a 3 layer 8 or 9 inch cake
For the Whipped Cream Topping
Chill the mixing bowl and beaters or whisk attachment in the freezer for 10 minutes. Pour the whipping cream, powdered sugar and vanilla into the chilled mixing bowl, begin beating on low speed gradually increasing to medium high speed.
The cream begins to thicken (approx. 1 1/2 minutes) and soft peaks form….peaks that slightly bend over. Watch closely as this happens quickly. Do not over beat or it will turn into butter.
Assembling the Cake
To assemble the cake, place the first cake layer onto the pedestal or cake base. Using a pastry brush, apply a light coating of the espresso syrup. Follow with a layer of Espresso Cream Cheese Frosting. Repeat this process for the other cake layers.
Frost cake with Cinnamon Espresso Cream Cheese Frosting, and using a piping bag with a very large round tip (or with the tip of the piping bag snipped away), pipe cloud-like puffs of whipped cream over the top of the cake. Follow with a light dusting of cinnamon.
Notes
Substitution for Cake Flour
** If you do not have cake flour, you can use all purpose flour (plain in the UK) and the following substitution: for each cup of flour in the recipe, remove 2 Tablespoons and replace with 2 Tablespoons cornstarch. For this recipe, measure our 3 cups of all purpose flour, remove 6 Tablespoons of the flour and replace with 6 Tablespoons cornstarch. Whisk to blend.
Substitution for Pumpkin Spice
** If you do not have pumpkin pie spice, you can substitute with : 1 1/2 teaspoon cinnamon, 3/4 teaspoon ginger, 1/2 teaspoon nutmeg, 1/8 teaspoon allspice 1/8 teaspoon cloves
A few additional notes…
Can I Cover the Cake with Fondant?
* This is an extremely moist cake. If you need to cover this cake with fondant, I would recommend first ganaching it for an extra layer of insurance.
Does the Cake Need to be Refrigerated?
Due to the Cinnamon Espresso Cream Cheese Frosting and whipped cream, you will want to refrigerate this cake. If you are thinking ahead, you can remove the cake from the refrigerator approximately 30-45 minutes before the cake is to be served. (It will still be chilled but not quite so cold at the time of serving.)
That's not to say that a big 'ol slice of Pumpkin Spice Latte Cake isn't amazing in the middle of the night, fresh from the refrigerator. Haha. This was well tested by me and my family! I never have the patience to wait for it to warm up on the counter ;0)

Love Pumpkin Cakes? We Have More Recipes to Share!
We hope that you enjoy this Pumpkin Spice Latte Cake recipe. If you love pumpkin, make sure to check out more of our favorite pumpkin cake recipes!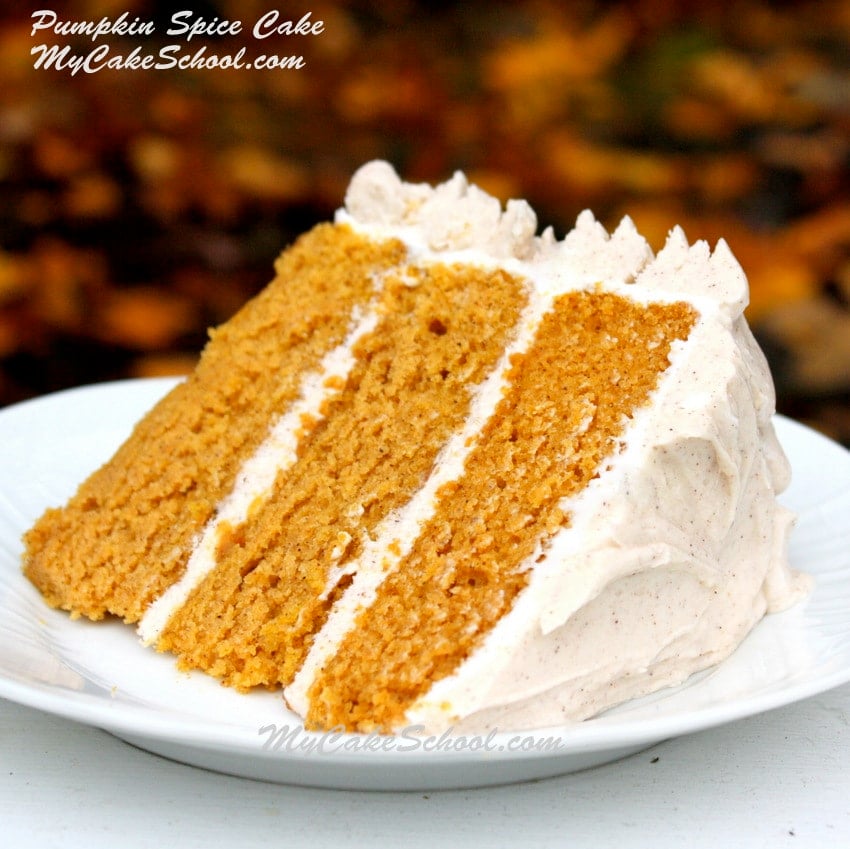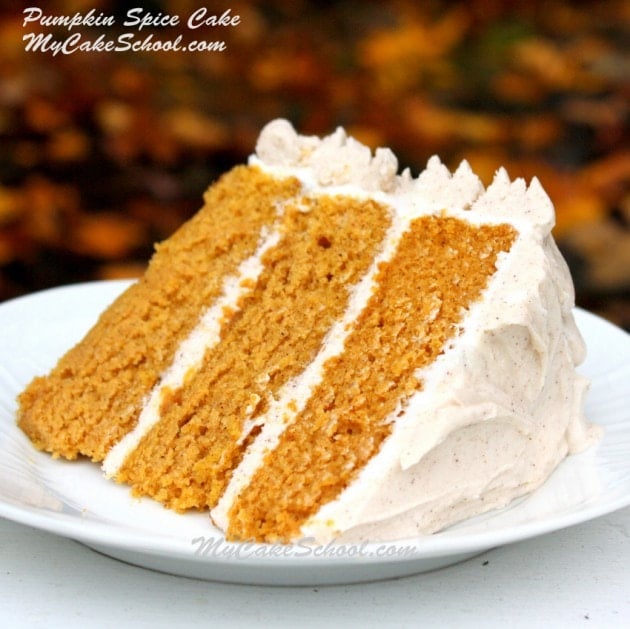 Don't miss our Favorite Fall Cake Recipes and Design Ideas!
For more fall favorites, be sure to hop over to our Fall & Thanksgiving Roundup of Ideas, Recipes, and Tutorials! You'll find all sorts of deliciousness there, along with creative fall cake design ideas!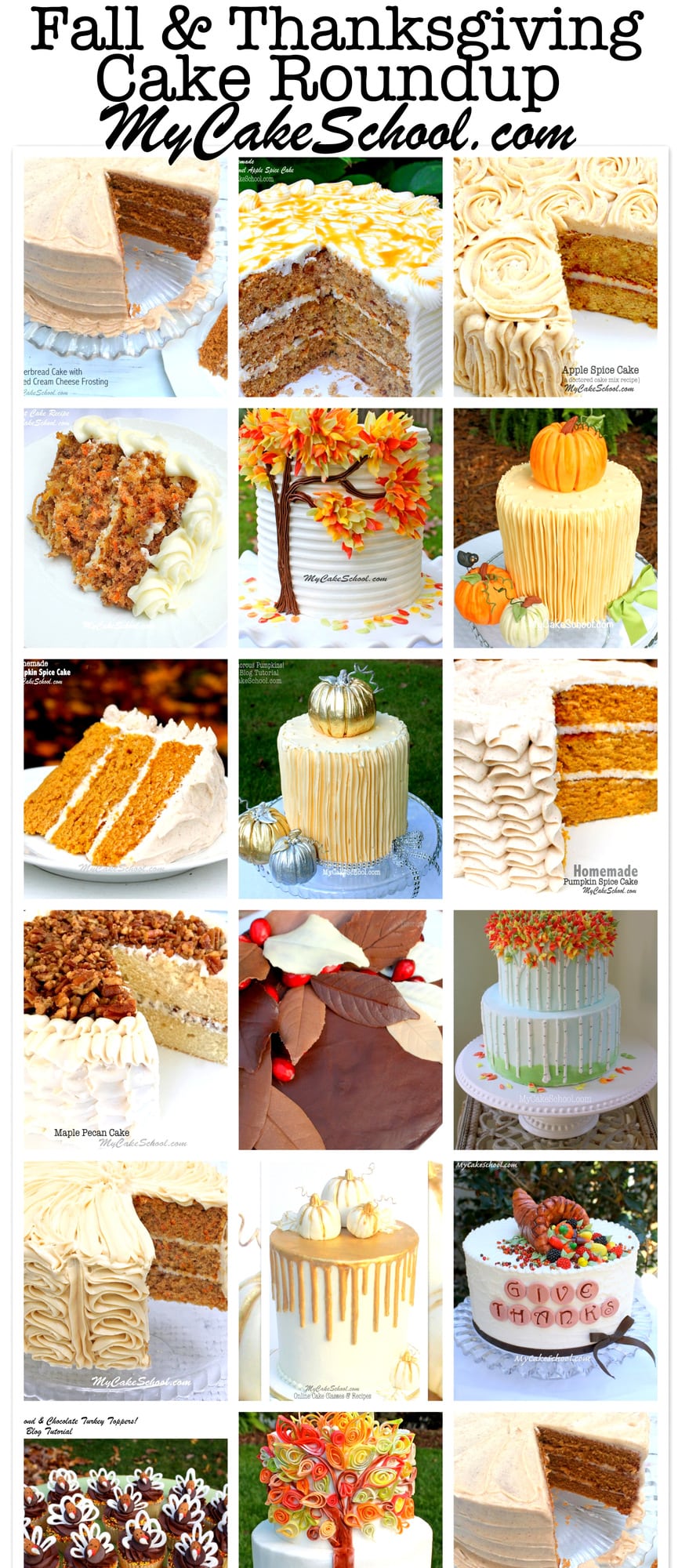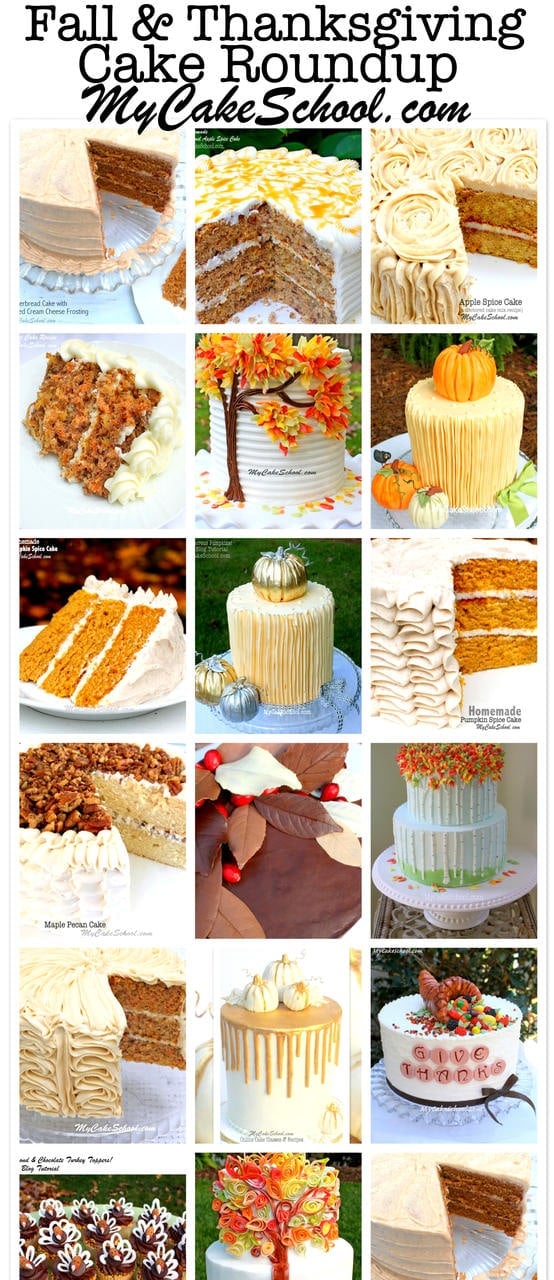 My Cake School- the BEST Online Cake Videos, Cake Recipes, and More! Join Us!
Thanks for stopping by! Make sure to check out our Recipes Section for our full collection of favorite tried & true Cake and Frosting Recipes! You can also find our growing collection of Free Cake Tutorials in our Free Tutorials Section!
Membership Information
Finally, if you are interested in having access to our full collection of cake decorating video tutorials, forums, and more, you can find Joining Information here. We'd love to have you!