This mocha buttercream frosting recipe is so easy to make and tastes amazing! Chocolate and espresso are a delicious combination, and this versatile buttercream works great as a filling, frosting, and pipes beautifully.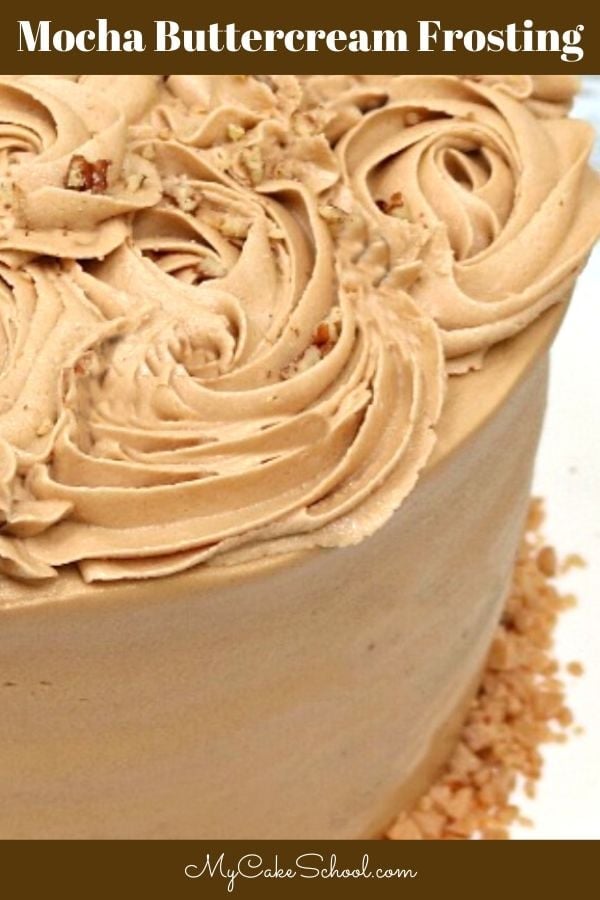 We used this Mocha Frosting in our Mocha Toffee Crunch Cake , but keep it in mind for any cake or cupcake recipe that could use a little chocolatey goodness with a hint of espresso!
More Frostings and Fillings with Espresso
If you love coffee or espresso flavored desserts, make sure to add these flavorful frostings to your recipe file of favorites!
Espresso Cream Cheese Frosting
Cinnamon Espresso Cream Cheese Frosting
How to Make Easy, Delicious Mocha Buttercream
Like most American buttercream recipes, this frosting consists primarily of butter, powdered sugar, and flavorings- we added cocoa and espresso to create the mocha flavor.
To make this mocha frosting, wee first dissolved the espresso coffee into hot water and set aside.
Next, we mixed the butter on medium speed until smooth and blended in the vanilla, cocoa powder, and salt.
I then added half of the powdered sugar and half of the coffee, mixing until incorporated. Then, I added the remaining powdered sugar and coffee and mixed for several minutes. The buttercream will take on a smooth consistency. Enjoy!
Make sure to visit our Recipes Section for the complete listing of our FAVORITE cake and frosting recipes!
Mocha Buttercream Frosting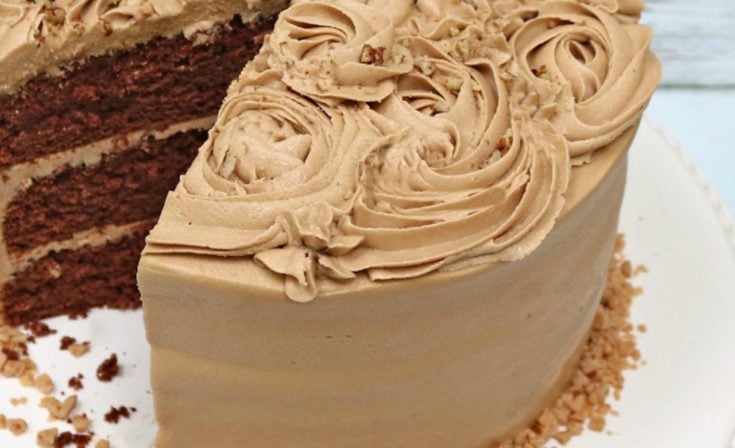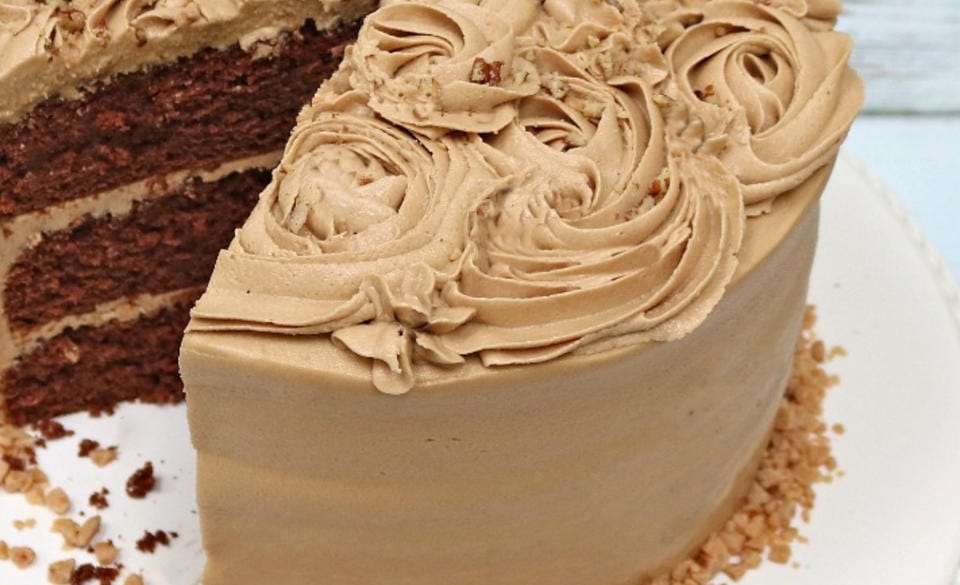 This Mocha Buttercream Frosting is delicious, easy to make, and is a great consistency for piping!
Ingredients
3 sticks (339g) unsalted butter, slightly softened
9 cups (1035g) powdered sugar (icing sugar in UK)
1 Tablespoon (7g) unsweetened cocoa (sifted)
1 teaspoon (3g) salt
½ teaspoon (2g) vanilla extract
1 Tablespoon + 1 teaspoon (5g) instant espresso coffee powder
¼ cup (60g) hot water
Instructions
Mix the instant espresso coffee powder into the ¼ cup of hot water, set aside to cool slightly
Beat the butter on medium speed until smooth. Blend in the vanilla and cocoa powder and salt.
Add half of the powdered sugar and half of the coffee. Beat at medium speed until the powdered sugar is incorporated.
Add the remaining powdered sugar and coffee and mix at medium speed another 3 to 6 minutes scraping the sides of the bowl occasionally.
This recipe makes 6 cups of frosting. This is enough to fill, frost and add a moderate amount of decorative piping on a 3 layer 8 inch cake.
If your consistency is too thin, add more powdered sugar. If too thick, add a bit more water or milk, a teaspoon at a time.
Learn Cake Decorating with My Cake School!
If you are interested in learning more about cake decorating, don't miss our Free Cake Tutorials section! In addition to cake recipes, you will find hundreds of step by step cake decorating tutorials as well as Free Cake Decorating Videos!
Finally, if you'd like to be able to access our entire library of cake decorating video tutorials (we've made hundreds over the years)- you should consider joining us as a member! You can find out all of the details here- we would love to have you! Joining Information for MyCakeSchool.com!