We're happy to report that our quest for the PERFECT scratch Lemon Blueberry Cake is over!
The flavor combination of tangy lemon balanced with sweet blueberries has always been a popular choice for desserts, especially in the spring and summer months.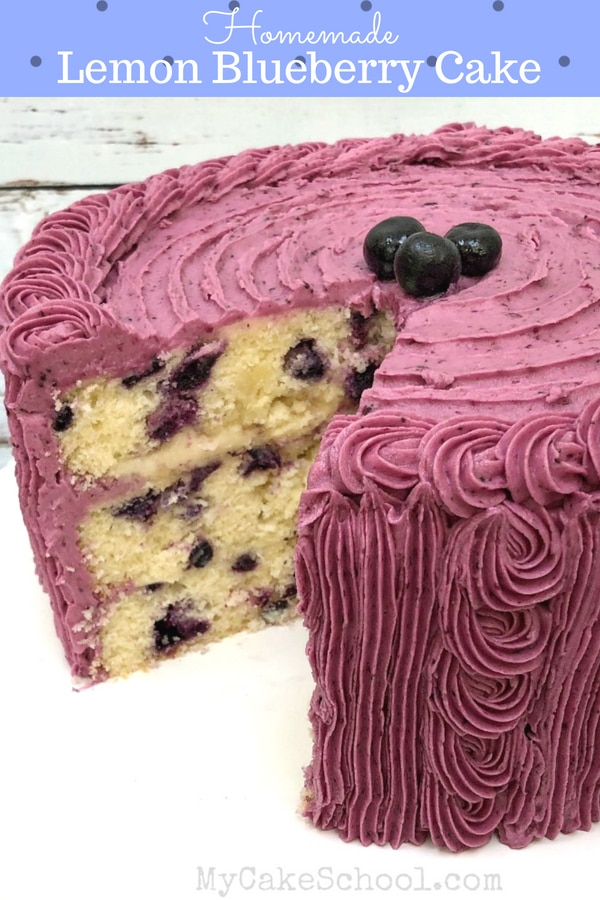 We've wanted to add a lemon blueberry layer cake to our site for a while now, and are so happy to have a recipe that we think you are going to absolutely LOVE!
Tips and Tricks for the Best Lemon Blueberry Cake
How to Keep the Blueberries from Sinking to the bottom of the cake..
For this cake recipe, we knew that we wanted the blueberries to be baked into the lemon cake layers, and more importantly, that we wanted the blueberries to stay suspended and evenly distributed. Little did we know what a challenge this would be!
We experimented with SO MANY lemon blueberry cake recipes before finding "the one". We played around with our favorite lemon cake recipe from our site, but the batter wasn't thick enough to keep the berries evenly distributed.
Whether we tossed the blueberries in flour, used tiny wild blueberries, sliced the blueberries into tiny pieces, or sprinkled them on top of the batter before popping into the oven, it made no difference. The blueberries always fell to the bottom. Agggh!
We were beginning to think that cake layers with perfectly suspended blueberries were just a myth and all of the blueberry cake photos that we saw online were photoshopped, haha.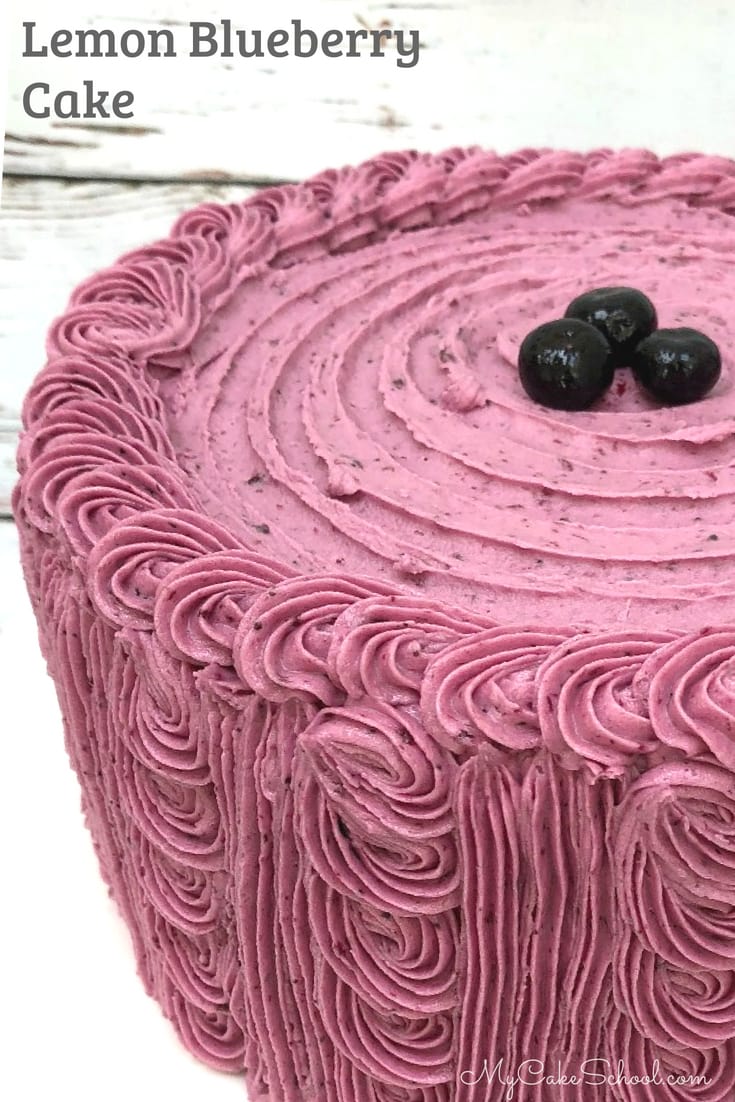 Finally, we tried a twist on our favorite White Almond Sour Cream Cake because the batter is nice and thick. The result was perfectly suspended berries– Woohoo! Such a proud moment! We could hardly believe it ourselves.
This cake tastes amazing, and the sour cream in the recipe lends a lovely texture and moistness.
You'll notice in our recipe that we call for frozen wild blueberries (because of their small size) and we still toss them in a bit of flour.
This is all done as a precaution to make sinking blueberries less likely, however the thickness of the batter should keep your blueberries suspended no matter what their size.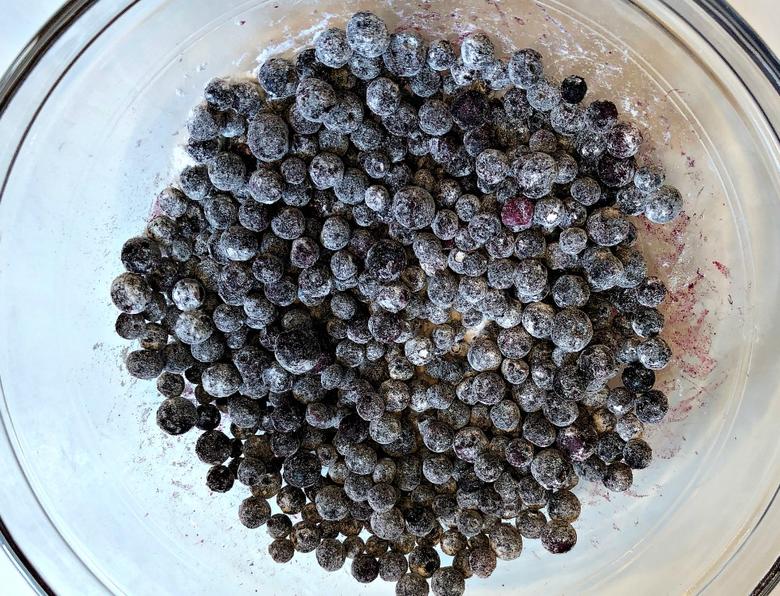 Assembly
We decided to boost the lemon and blueberry flavors in this lemon blueberry cake recipe with our luscious lemon cream cheese frosting in between the cake layers as well as a delicious blueberry buttercream!
You may have noticed that we have a thing for cream cheese frosting- we absolutely love it and many of our cake recipes call for a cream cheese frosting or filling– feel free to change things up as you like! A lemon curd or lemon buttercream would taste great too!
Since our lemon cream cheese filling is a little soft, I piped a blueberry buttercream dam about 1/4 inch inside of the edge of the cake before filling. This helps to keep the filling right where it belongs as the layers are assembled.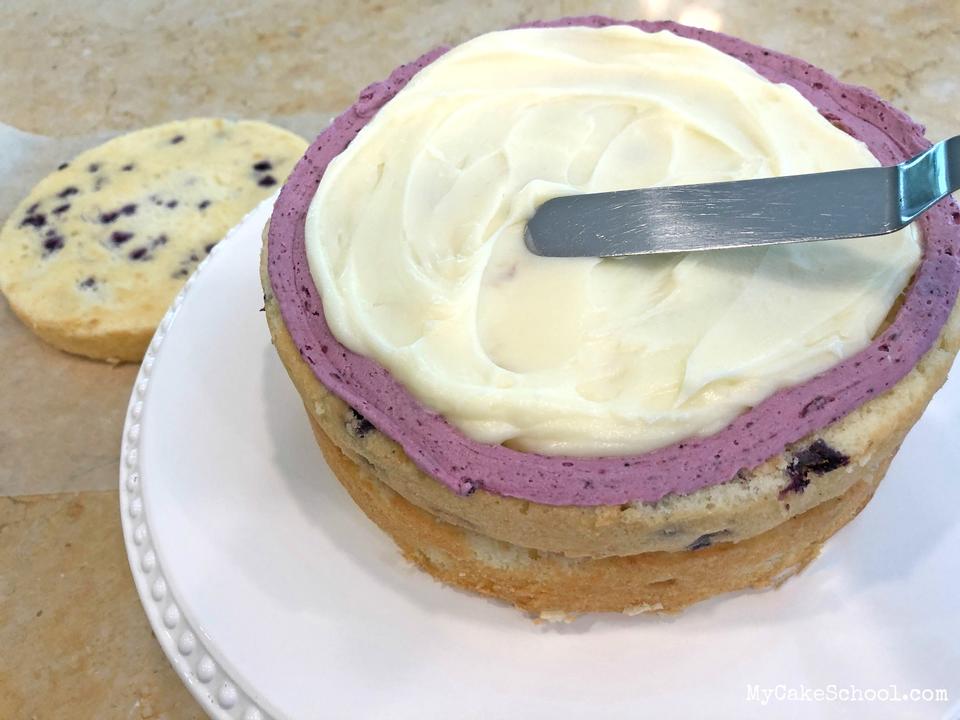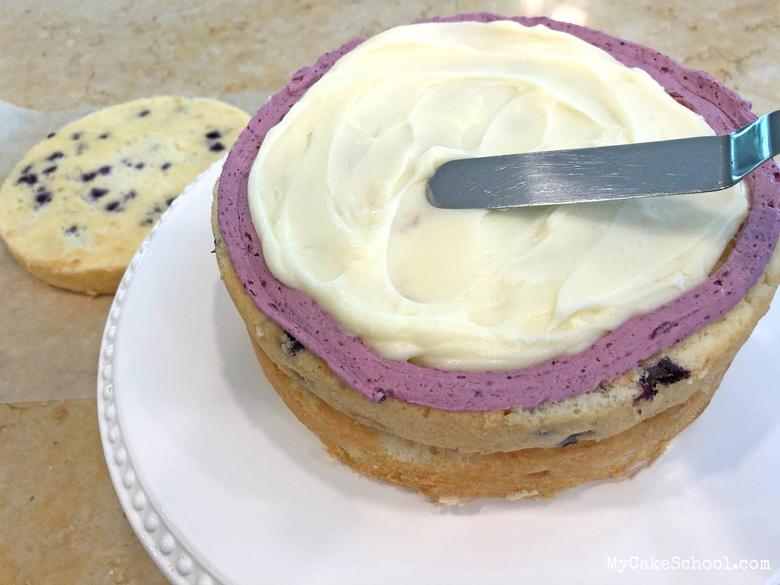 We love this Blueberry Buttercream Frosting Recipe!
I love the speckled look of the blueberry buttercream, and the blueberry flavor really comes through! In this frosting recipe, you'll see that the blueberry buttercream's key ingredient is a flavorful blueberry syrup, which is a simple reduction.
We made enough blueberry buttercream for generously frosting and decorating this three layer cake- it pipes perfectly! After giving the cake some time to settle, I crumb coated our lemon blueberry cake and used a star tip 21 to make patterns of overlapping rosettes and vertical lines. I could pipe buttercream designs all day!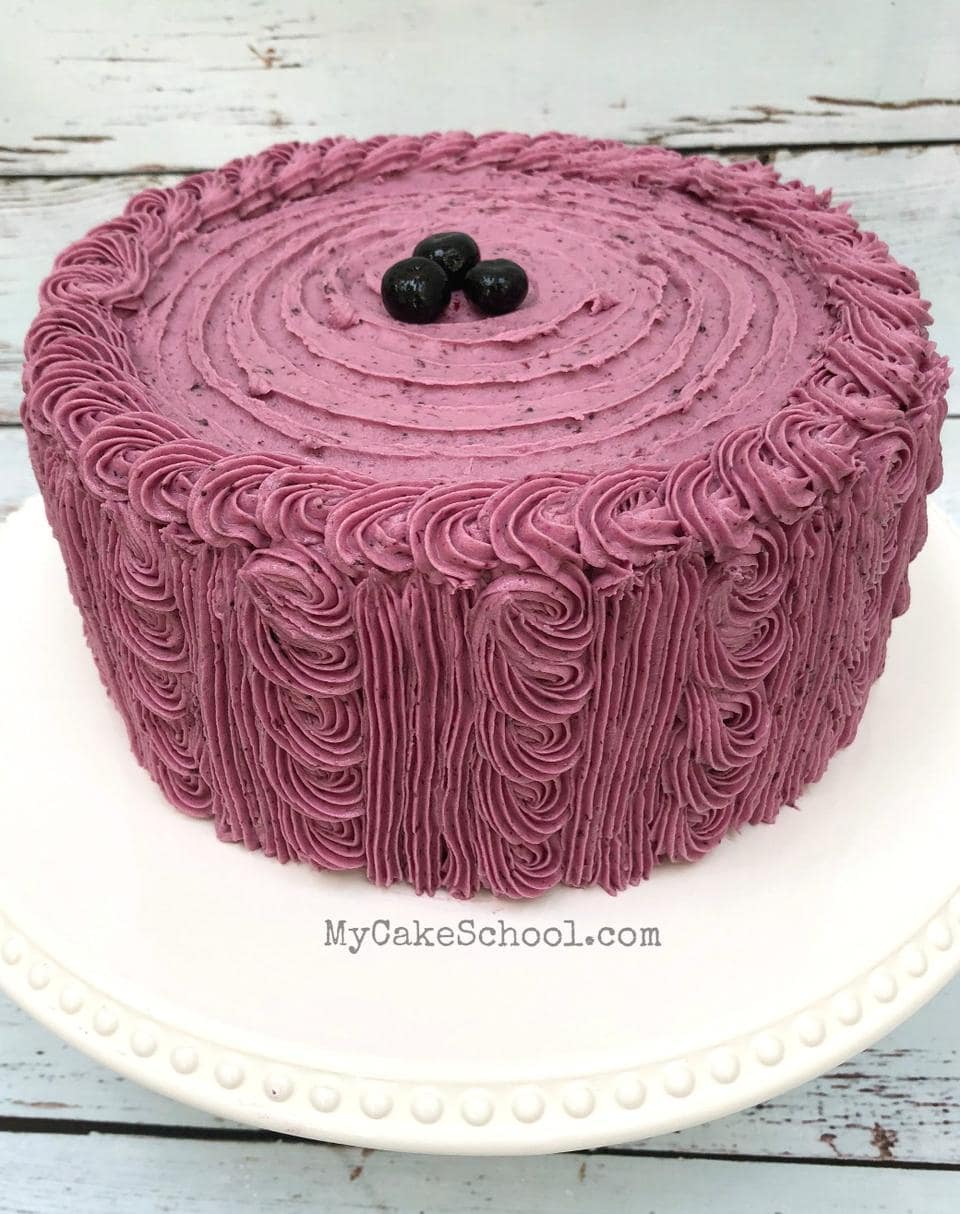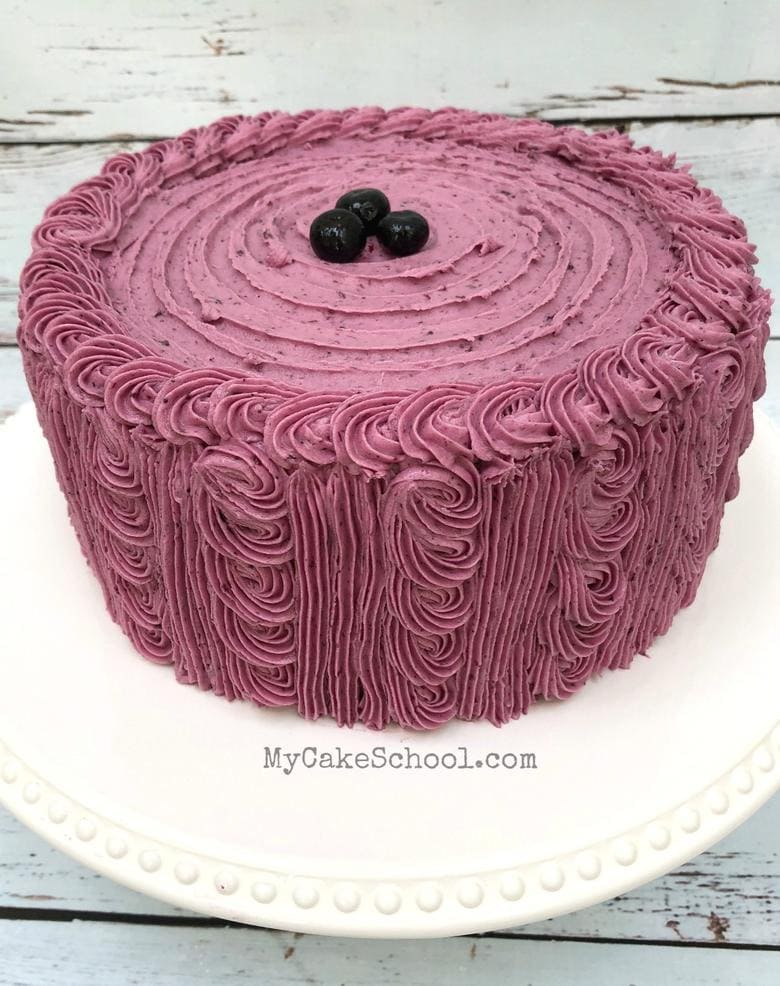 We served this cake for a family get together that we recently had for the Fourth of July and everyone loved it! If you're a fan of lemon or blueberry, or both- you must put this recipe on your "must make" list! It's a keeper!
We Have More Favorite Cake Recipes & Cake Tutorials to Share!
Don't miss our full collection of tried and true cake and frosting recipes in our Recipes Section!
If you're interested in learning more about cake decorating, be sure to scroll through our Free Cake Tutorials Section.
If you'd like to have full access to hundreds of cake video tutorials, we'd love to have you as a member of My Cake School! You can find all of the details here!: Joining Information for My Cake School
Thanks for stopping by! We hope that you enjoy the recipe!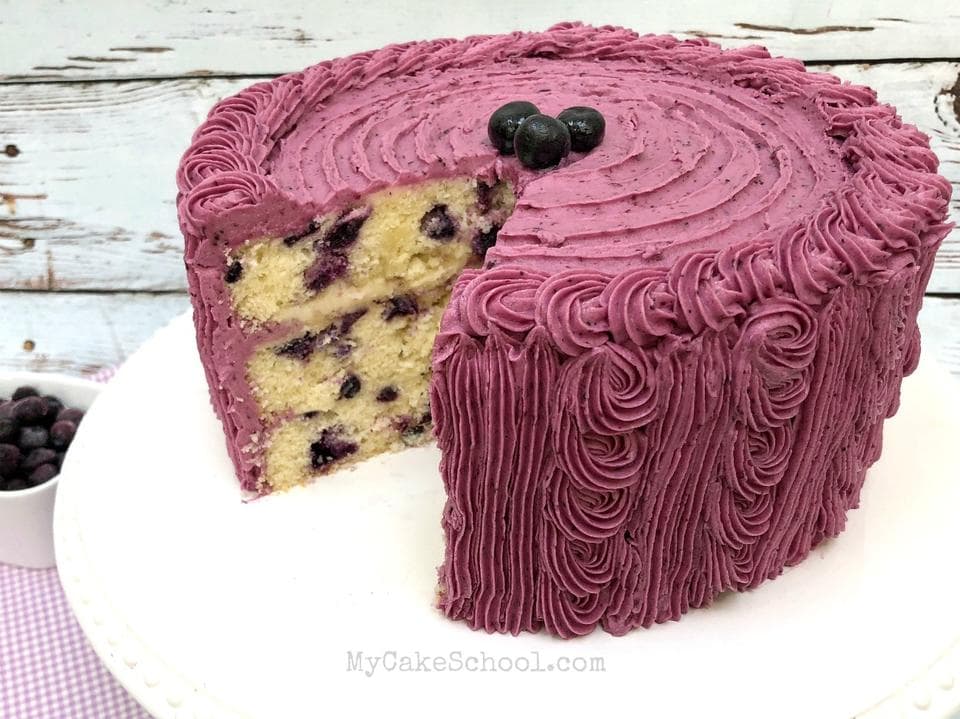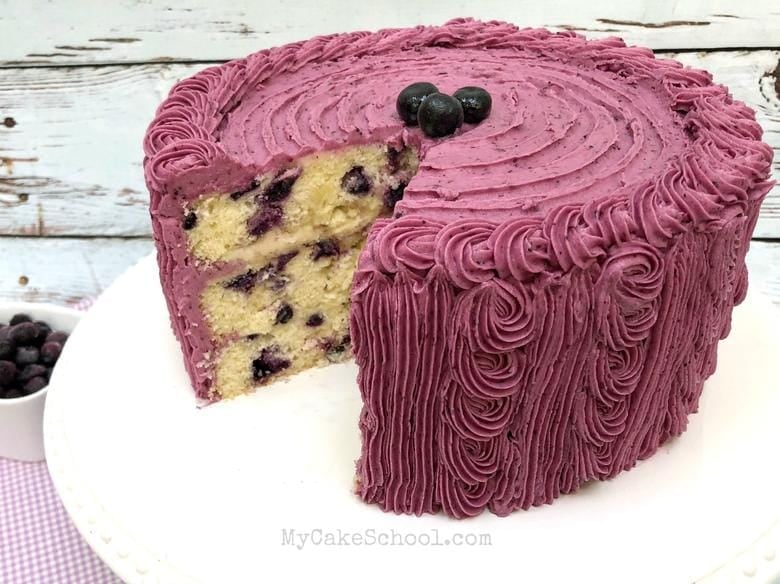 Lemon Blueberry Cake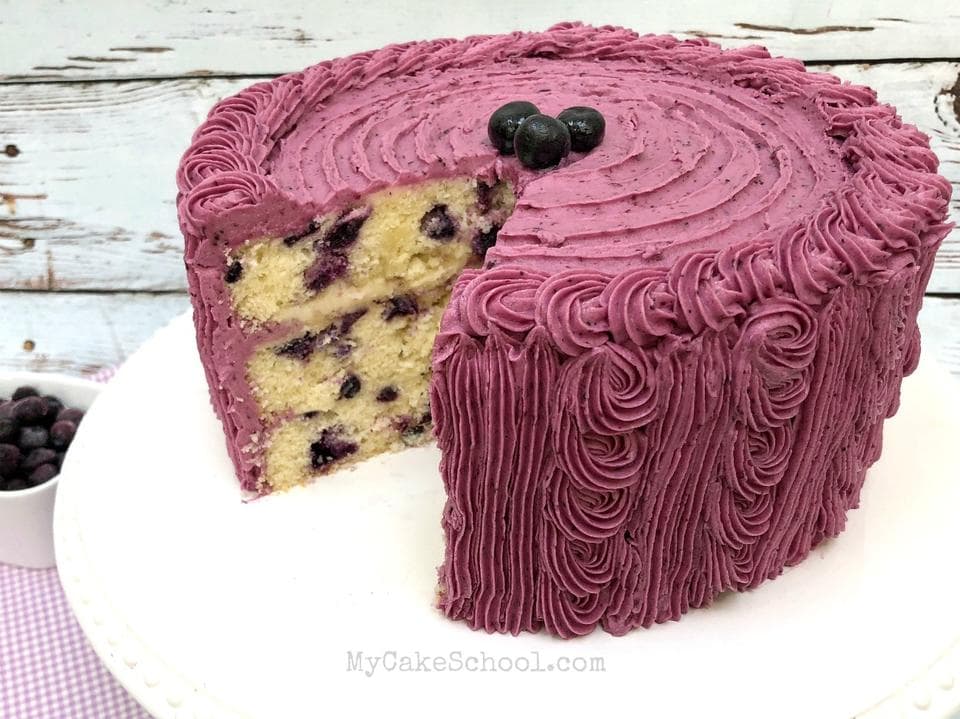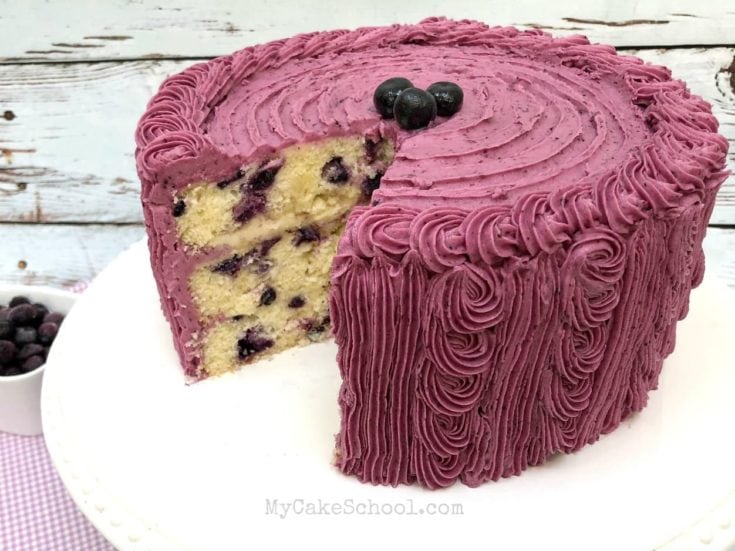 This homemade Lemon Blueberry Cake is the perfect balance of lemon and blueberry flavor! So moist and perfect for spring and summer gatherings!
Ingredients
For the Cake
2 sticks (226g) unsalted butter, slightly softened
2 cups (400g) sugar
3 large eggs
1 cup (242g) sour cream
1/3 cup — juice and zest of 2 lemons
1 teaspoon (4g) vanilla extract
1 Tablespoon (10g) lemon extract
3 cups (342g) cake flour (plain in the UK) — if you do not have cake flour see substitution below
1 1/2 teaspoons (7g) baking powder
1/2 teaspoon (3g) baking soda
1/2 teaspoon (3g) salt
1 1/2 cups wild blueberries (tossed in 1 Tablespoon flour) — Keep the berries frozen until just before stirring in. Wild blueberries are smaller and are less likely to sink in the cake batter. You can use fresh or frozen I usually use frozen. This cake batter is very thick, this also helps to keep the blueberries from sinking.
For the Blueberry Syrup
1 cup blueberries (125g)
2 Tablespoons sugar (27g)
1/4 cup water (57g)
For the Blueberry Buttercream Frosting
3 sticks (354g) unsalted butter
9 cups (1035g) powdered sugar
2 teaspoons (8g) vanilla
1/2 to 1 teaspoon salt (optional to cut sweetness)
1/4 cup plus 2 tablespoons blueberry syrup- more if needed to reach your desired consistency
For the Lemon Cream Cheese Filling
1 sticks (113g) unsalted butter, slightly softened but still cool to the touch
1 8oz package Cream Cheese (226 total gram weight) Use full fat cream cheese. Do not use reduced fat or cream cheese in the tub containers. Soften very slightly
1 teaspoon (4g) lemon juice
1/2 teaspoon (2g) lemon extract, optional
Zest of One Lemon approximately 1.5 teaspoons (3g)
3 to 3 1/2 cups (345g - 374g) powdered sugar, adding more if necessary
Instructions
INSTRUCTIONS FOR THE CAKE
Preheat the oven to 350 degrees, grease and flour three 8x2 inch round cake pans. Three layers will give you slightly shorter layers but more filling per slice.
In a medium sized bowl add the flour, baking powder, baking soda and salt. Whisk to blend, set aside.
In another bowl or measuring cup add the sour cream, lemon juice and zest, vanilla and lemon extract. Blend with a fork and set aside
In the bowl of your mixer, beat the softened butter until smooth. Gradually ad the sugar and beat on medium speed for 3 to 5 minutes until it is lightened in color and fluffy.
Add the eggs one at a time, mixing until the yellow of the yolk disappears.
Add the flour mixture and the sour cream mixture alternately, beginning and ending with flour mixture (3 additions of dry ingredients and 2 of wet). Mix until combined and smooth, do not mix above medium speed or over mix.
Toss the blueberries in 1 Tablespoon flour and gently fold into the cake batter. The cake batter is very thick. Divide the batter between the 3 pans smoothing the tops with the back of a spoon.
Bake at 350 degrees for 25 to 28 minutes or until a toothpick inserted into the center comes out clean or with just a few crumbs attached. Let the cakes cool 5 to 10 minutes then turn out.
Makes 7 cups cake batter
(This recipe works well for cupcakes too)
INSTRUCTIONS FOR THE BLUEBERRY SYRUP (FOR USE IN BUTTERCREAM)
To a saucepan add the above ingredients and cook over low heat until sugar dissolves. Increase to medium heat and cook until the mixture is reduced a bit. Cool the syrup before using in the buttercream. It can be refrigerated 3 to 5 days in the refrigerator.
INSTRUCTIONS FOR BLUEBERRY BUTTERCREAM
Cream the softened butter until smooth. Blend in the vanilla.
Gradually add the powdered sugar and blueberry syrup until the powdered sugar is incorporated . Mix on medium speed 4 to 6 minutes or until smooth. Slowing the mixer down to a low speed setting during the last minute of mixing helps to eliminate air pockets.
Makes 6 cups frosting
INSTRUCTIONS FOR THE LEMON CREAM CHEESE FROSTING
Cut butter into 1/2 inch slices and add to the bowl of your mixer, beat until smooth.
Cut the cream cheese into pieces and add to the butter, beating until blended.
Add the lemon juice and lemon zest. 1/2 teaspoon lemon extract, (optional) for a stronger lemon flavor.
Gradually add powdered sugar and beat until well blended.
This frosting will pipe best if used while still chilled. You can make it in advance, refrigerate and when ready to use let it soften slightly and remix. Do not microwave to soften.
ASSEMBLY
Place the first layer on your pedestal or cake base. Pipe a dam of blueberry buttercream about 1/4 inch within the edge of your cake layer and fill with lemon cream cheese frosting.
Add next layer and repeat.
Frost the cake with blueberry buttercream. I like to apply a thin crumb coat layer first, and then follow either with a second layer of frosting, or with piping as I did in today's cake. I used a star tip 21 to create the piped designs. Due to the cream cheese frosting, this cake should be refrigerated until within a few hours of serving.
SUBSTITUTION FOR CAKE FLOUR
For each cup of flour in the recipe, remove 2 Tablespoons of flour and replace with 2 Tablespoons cornstarch. This recipe has 3 cups of flour, measure out 3 cups of all purpose flour, remove 6 Tablespoons and replace with 6 Tablespoons cornstarch, whisk to blend.
Recommended Products
As an Amazon Associate and member of other affiliate programs, I earn from qualifying purchases.
Love Lemon? Here are a few more lemony options from our Recipes section that belong on your must-make list!
Lemon Orange Layer Cake– This wonderful cake consists of homemade lemon cake layers, orange curd filling, and orange cream cheese frosting. Heaven!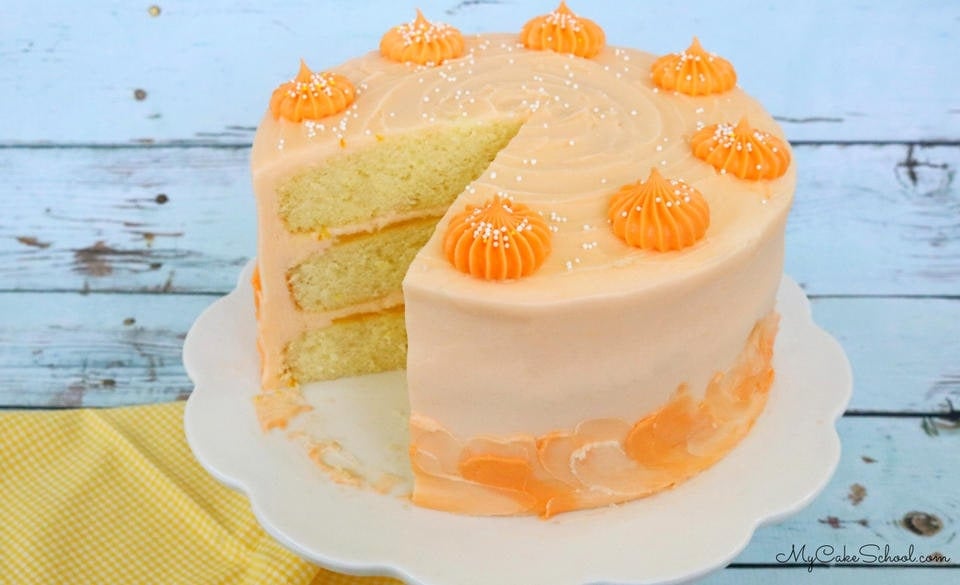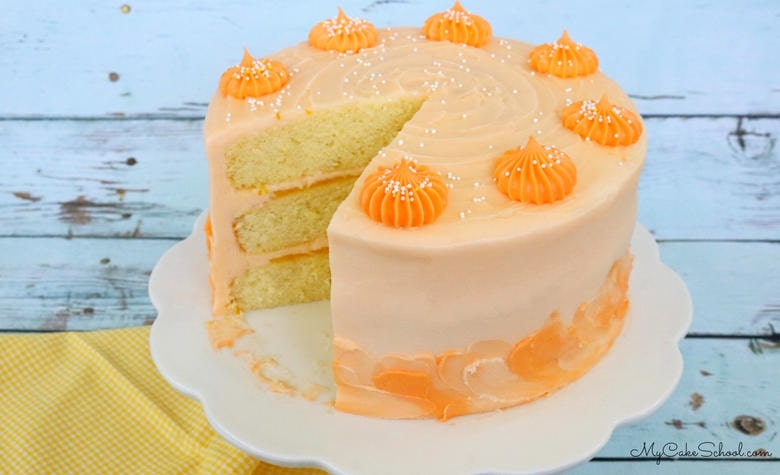 Lemon Pound Cake– Pure Heaven! If I could get away with it, I would have a slice of this lemony deliciousness every day! This recipe is SO easy and delicious!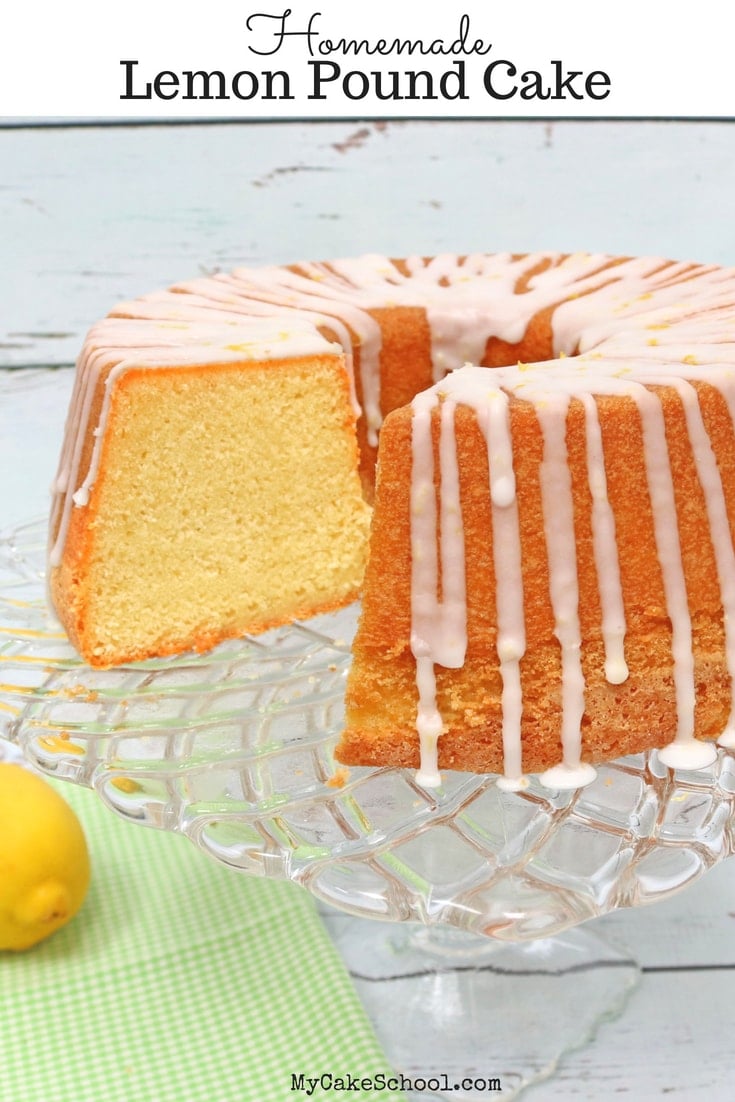 Homemade Lemon Layer Cake from Scratch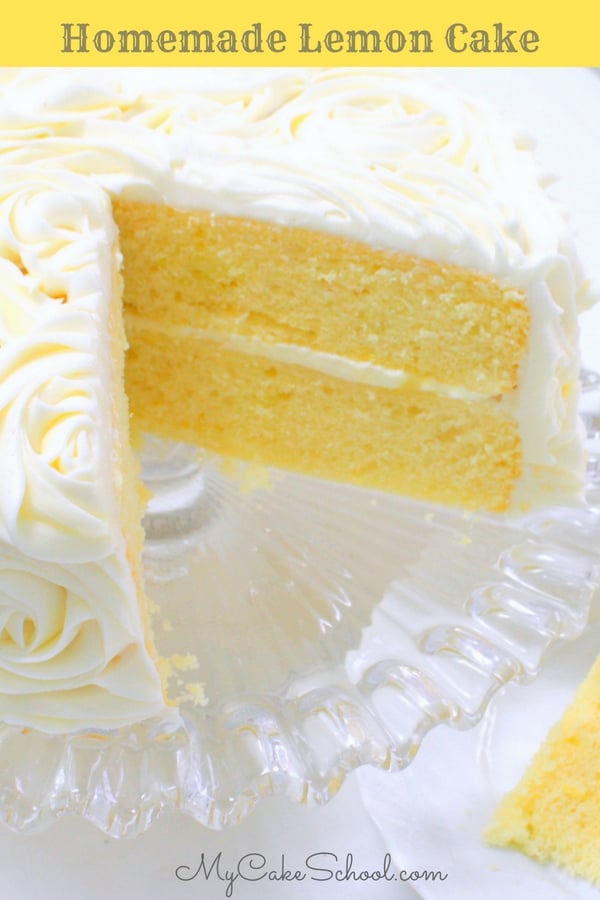 This Easy & Delicious Homemade Lemon Curd makes the PERFECT cake and cupcake filling! So luscious!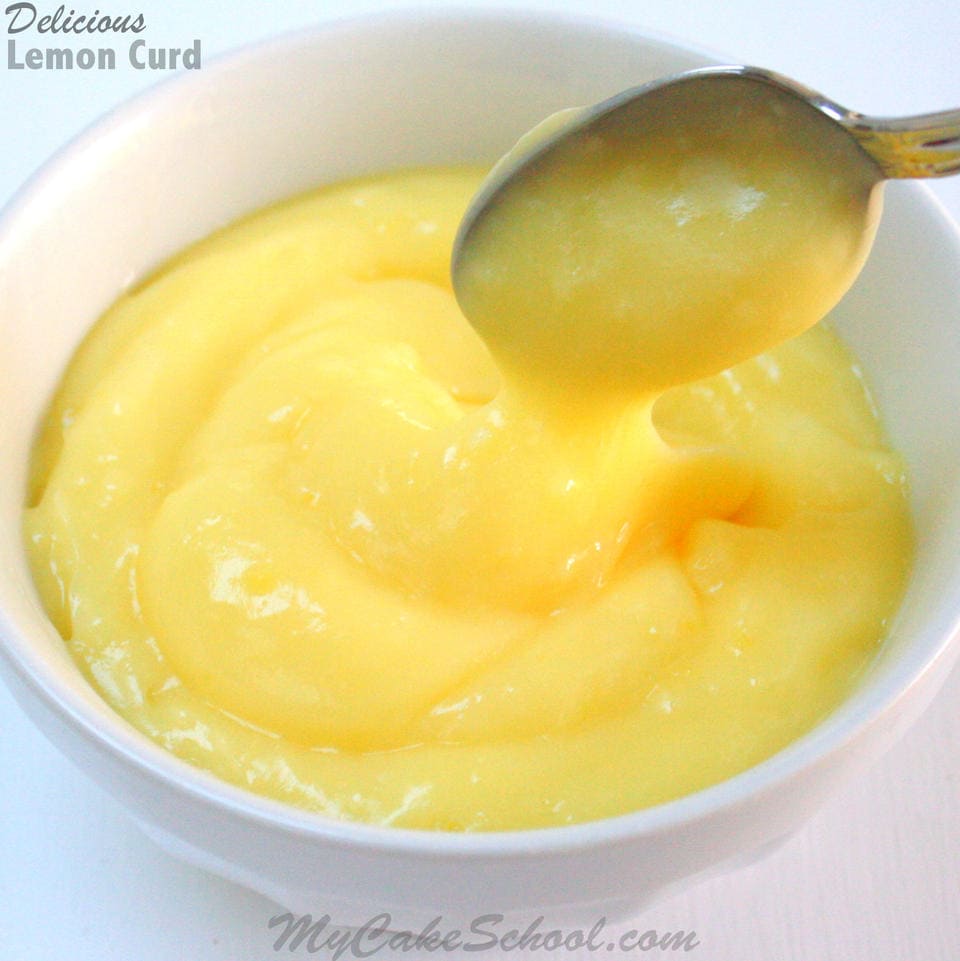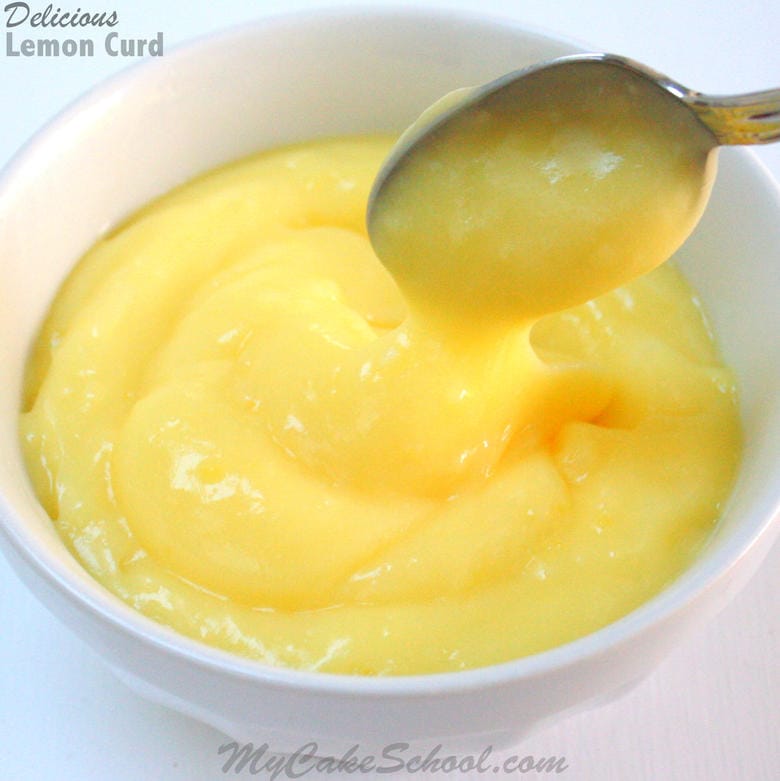 …and last but not least, this Pink Lemonade Cake Recipe from scratch is ultra moist and tastes like summertime! This recipe has a bit more lemony tartness which is perfectly balanced with lemon cream cheese frosting. SO good!