This classic scratch Hummingbird Cake recipe has it all-  banana, crushed pineapple, pecans, and a hint of cinnamon for a dessert that is sure to earn a place in your file of favorite recipes.
I LOVE cake recipes that incorporate fruit for an added boost of flavor, texture, and moistness.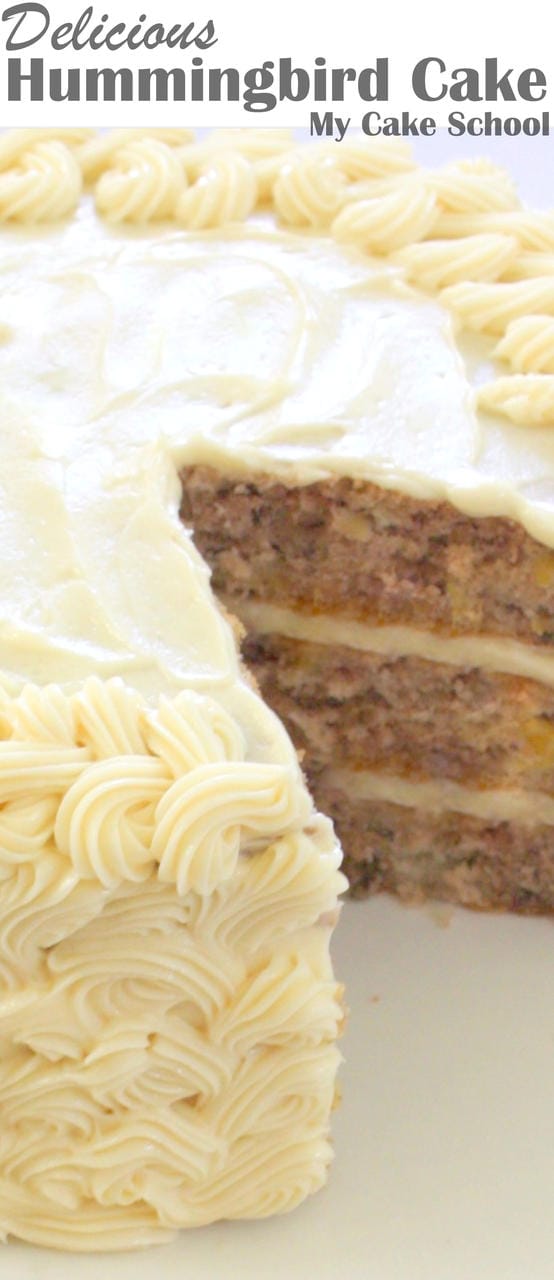 Oh, and of course, every good Hummingbird Cake should be dressed in the most delicious Cream Cheese Frosting! You can find the Cream Cheese Frosting used in this recipe here: Cream Cheese Frosting- Pipeable Recipe.
We find this Cream Cheese Frosting to be every bit as delicious as our other popular Cream Cheese Buttercream frosting, but it holds up to piping even better, and we love the creamier consistency.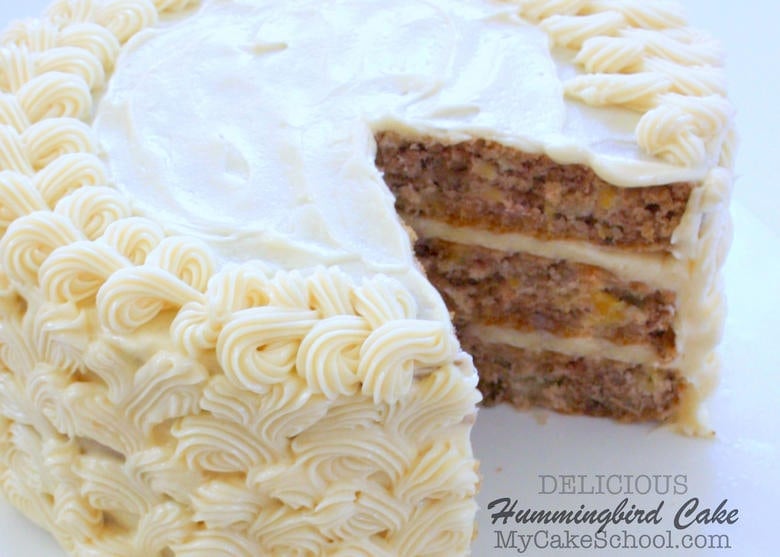 This has been our go-to Hummingbird Cake recipe for years, and it is based on a Hummingbird Cake recipe that first appeared in the Southern Living Magazine in the 70's.
There are many, many similar recipes for this southern favorite floating around but they all share the same wonderful flavors of banana, pineapple, and cinnamon.
Hummingbird Cakes are thought to have first emerged in Jamaica in the '60s, (note the pineapple & banana in the recipe)! Although unconfirmed, a popular theory for how this delicious cake got it's unusual name is that it's sweetness attracts the hummingbirds! Sounds like a pretty good explanation to me! I say that we go with it.
Unlike most of our cake recipes, there's no need to drag out the cake mixer for this one!  You'll be doing a little stirring for a change.
I think that stirring a hefty bowl of cake batter counts as a mini-workout, don't you? Reward yourself with a big ol' slice of this deliciousness.
We hope that you love this Hummingbird cake recipe as much as we do! It has become a trusted southern classic, right up there with Italian Cream Cake and homemade Red Velvet Cake!
Enjoy!
Hummingbird Cake Recipe from Scratch
Ingredients
3 cups (363g)

all purpose flour

2 cups (400g)

granulated sugar

1 teaspoon (5g)

baking soda

1/2 teaspoon (3g)

salt

1 teaspoon (3g)

ground cinnamon

3 large eggs,

lightly beaten

1 cup (215g)

vegetable oil

1 1/2 teaspoons (6g)

vanilla extract

1 can (8 ounce) (227g)

crushed pineapple, undrained

1 cup (100g)

chopped pecans

1 3/4 cup (392g)

mashed ripe bananas (4 large)
Directions
Preheat the oven to 350 degrees, Grease and flour three 8 inch pans.
Combine the first 5 ingredients in a large mixing bowl. Whisk to blend. Add eggs and oil, stirring with a spoon until the dry ingredients are moistened. Do not beat the mixture. Add the vanilla, pineapple, pecans, bananas and stir until combined.
Spoon batter into three 8 inch greased and floured cake pans. Bake at 350 degrees for 25 to 30 minutes or until a toothpick comes out clean or with just a few crumbs attached.
Cool in pans 10 minutes and remove from pans.
Makes 6 cups of batter.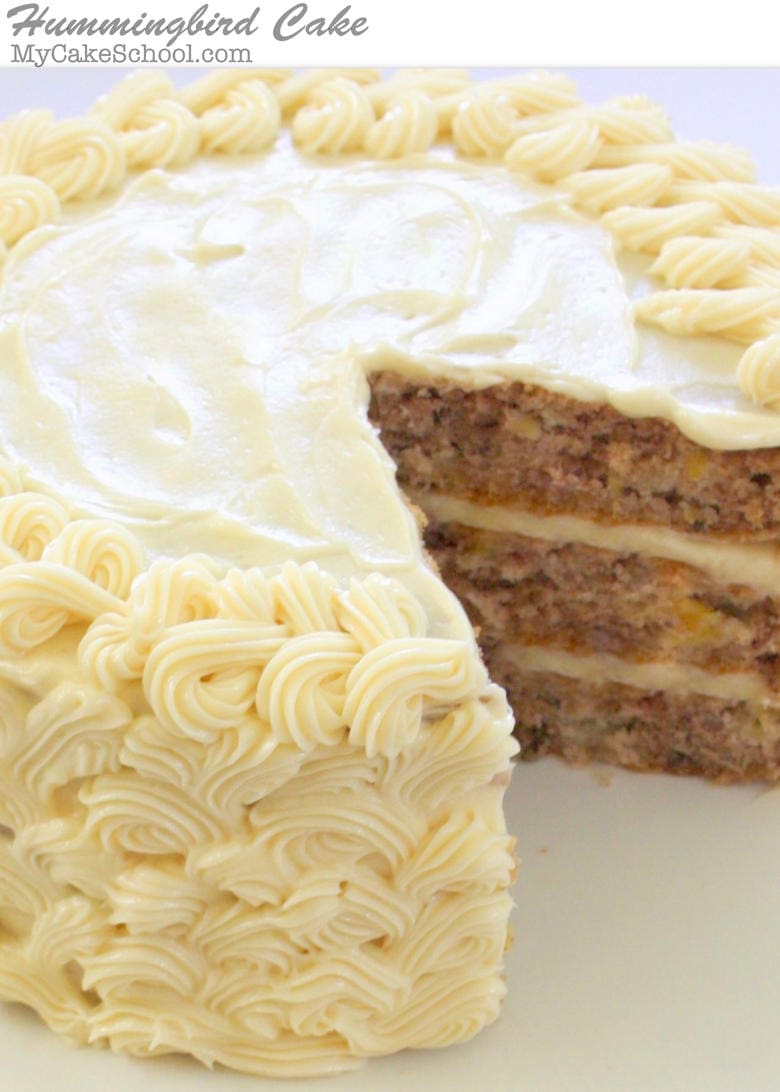 Thanks for stopping by! Don't forget to check out our full collection of FAVORITE cake and cupcake recipes! You can find them in our
Recipes Section
!