This classic scratch Hummingbird Cake recipe has it all- banana, crushed pineapple, pecans, and a hint of cinnamon for a dessert that is sure to earn a place in your file of favorite recipes.
I LOVE cake recipes that incorporate fruit for an added boost of flavor, texture, and moistness.This the perfect cake for celebrating special occasions from birthdays to summer gatherings or just because. It has a moist crumb with a hint of banana flavor, cinnamon, and crushed pineapple.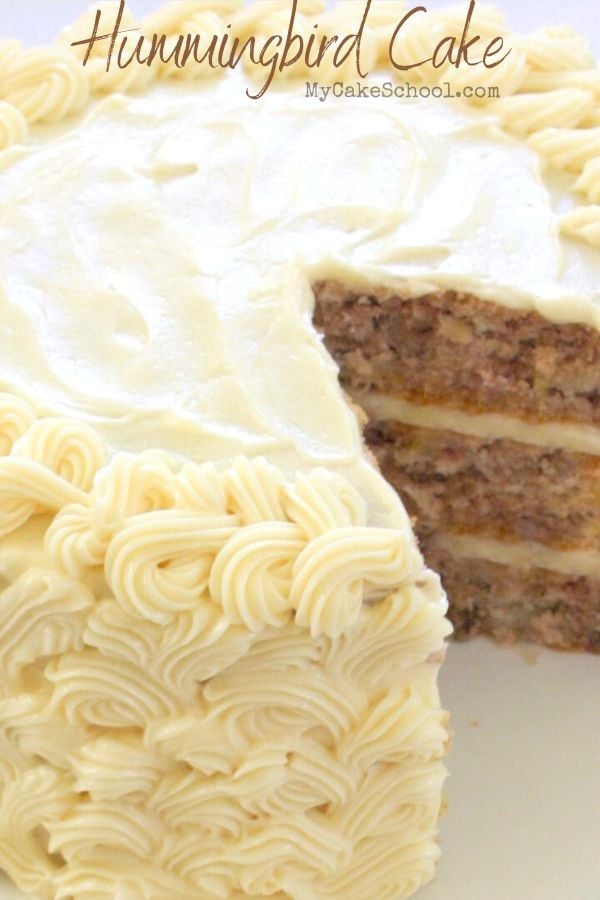 Every good Hummingbird Cake should be dressed in the most delicious Cream Cheese Frosting- Pipeable Recipe and as far as I'm concerned, you can never have too much!
We find this Cream Cheese Frosting recipe to be every bit as smooth and creamy as our other popular Cream Cheese Buttercream frosting, but it holds up to piping even better, and we love the consistency. –Be warned. Cream Cheese Frosting is SO addictive! I would eat the whole batch if I could get away with it! ;0)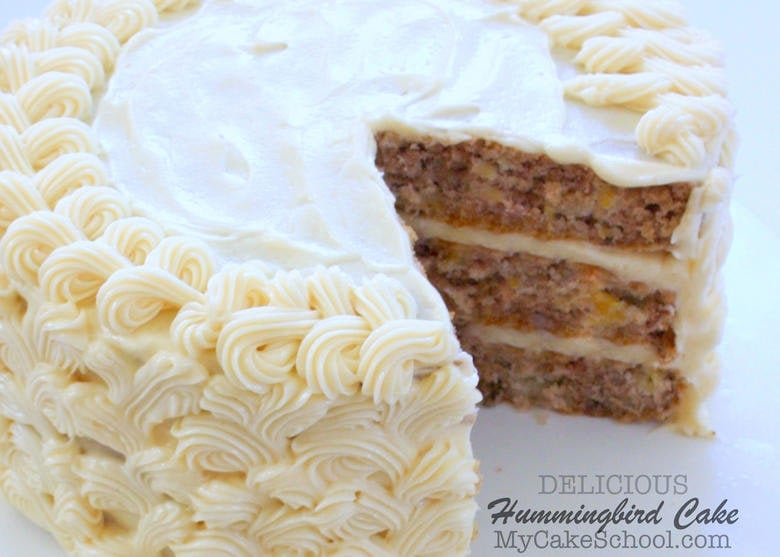 Today's cake has been our go-to Hummingbird Cake recipe for years, and it is based on a classic Hummingbird Cake recipe that first appeared in the Southern Living Magazine in the 70's.
There are many similar versions for this favorite southern layer cake floating around but they all share the same wonderful flavors of banana, pineapple, and cinnamon.
Where Did The Name "Hummingbird Cake" Come From?
Hummingbird Cake is thought to have first emerged in Jamaica in the '60s, (note the tropical flavor of pineapple & banana in the recipe)!
Although unconfirmed, a popular theory for how this flavorful cake got it's unusual name is that it's sweetness attracts the hummingbirds! Sounds like a pretty good explanation to me! I say that we go with it.
How to Make Hummingbird Cake
Unlike most of our cake recipes, there's no need to drag out the stand mixer for this one! You'll be doing a little stirring for a change.
First, combine the flour, sugar, baking soda, salt, and cinnamon and whisk to blend.
Next, add the eggs and oil, stirring with a spoon until the dry ingredients are moistened. Add the vanilla, pineapple, pecans, and mashed bananas and stir until incorporated. That's all there is to it!
Scrape down the sides of the bowl and divide batter between three 8 inch prepared pans. Bake at 350 degrees f for 25-30 minutes or until a wooden pick inserted into the center of the cake comes out clean or with just a few crumbs attached . After baking, we like to cool the cake layers on a cooling rack for about 5-10 minutes while still in their pans. You can then flip them out. Allow the layers to cool completely before frosting, or, you can freeze the layers while still warm as we explain below.
Assembling the Hummingbird Cake
Place the first layer on your cake plate or pedestal. Spread with cream cheese frosting. Follow with the second layer and repeat.
Top with the final cake layer and crumb coat (apply thin coat of frosting). I decorated my hummingbird cake with lots of piping using a star tip 21 but decorate however you like! If at any time your cream cheese frosting seems too soft, chill it for several minutes to thicken up the consistency.
Also, if your cake layers are shifting or sliding as you frost the cake, pop it in the freezer for about 15 minutes or so to firm things up and then continue.
Tip for Extra Moist Cakes
Whenever time allows, we like to double wrap the individual layers in plastic wrap and place them in the freezer while still warm. This adds another level of moisture to the cake!
You can freeze for just a few hours if you are in a hurry, overnight, or up to 3 months. **However, if freezing for longer than one week, you'll want to also wrap the layers with aluminum foil in addition to the plastic wrap.
Before assembling the cake layers, thaw while still wrapped so that the condensation will form on the plastic wrap rather than the cake layers.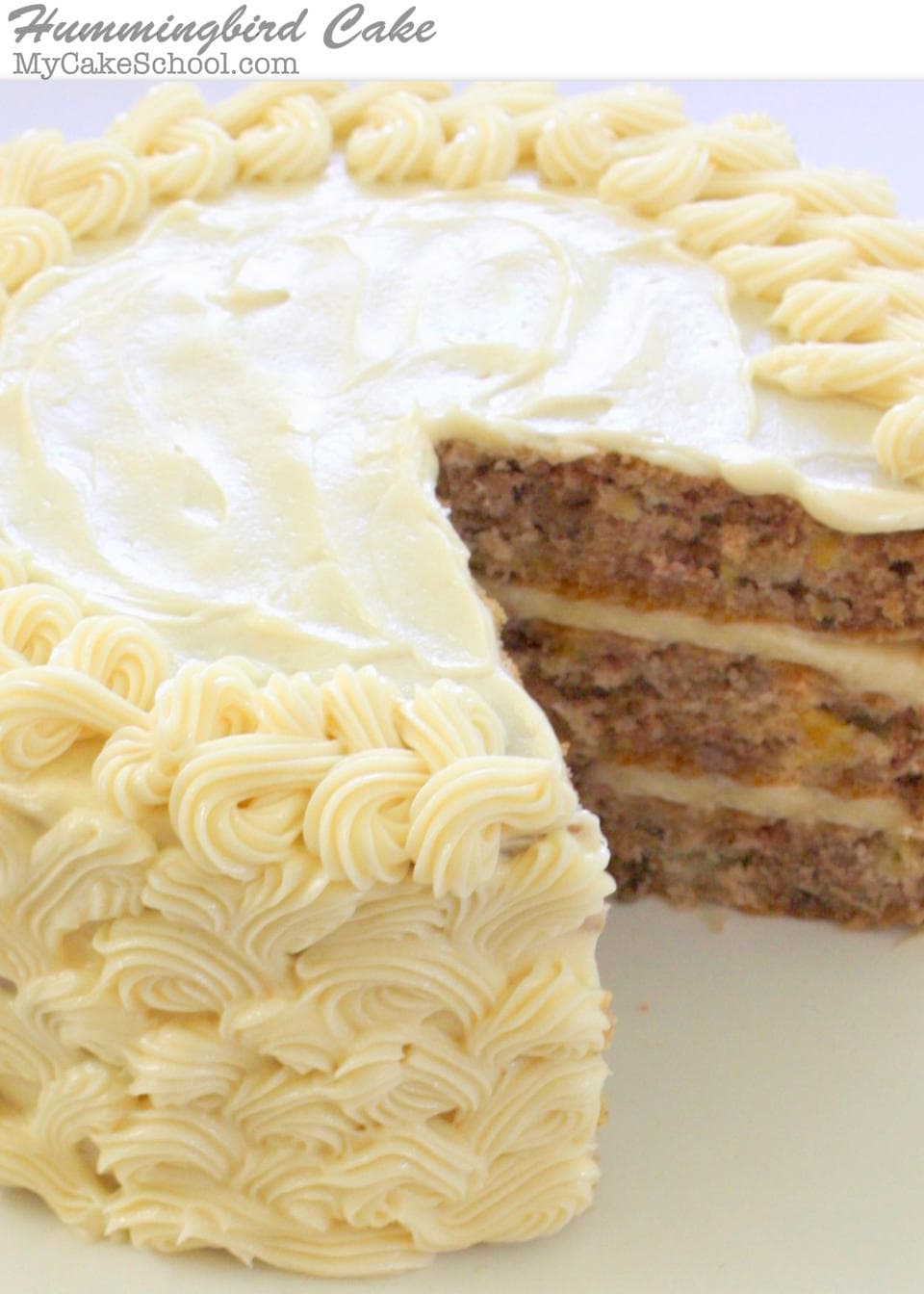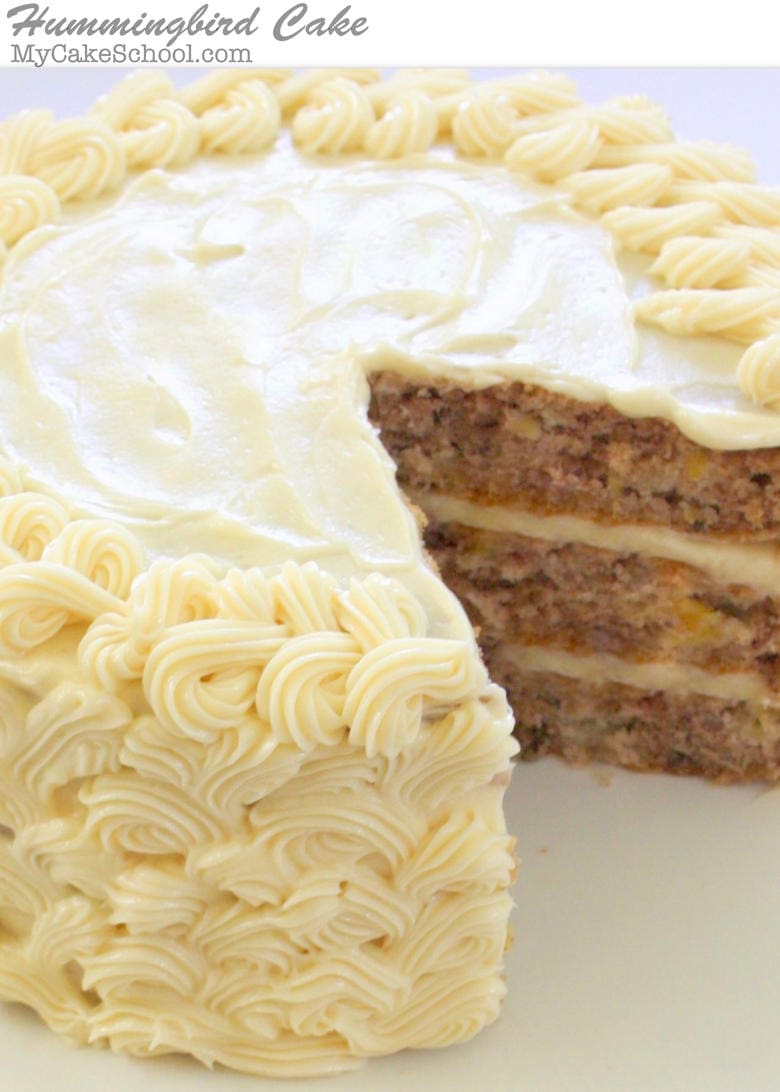 I think that stirring a hefty bowl of cake batter counts as a mini-workout, don't you? Reward yourself with a big ol' slice of this deliciousness.
We hope that you love this Hummingbird cake recipe as much as we do! It has become a trusted southern classic, right up there with Italian Cream Cake , Carrot Cake, homemade Red Velvet Cake!
Enjoy!
Hummingbird Cake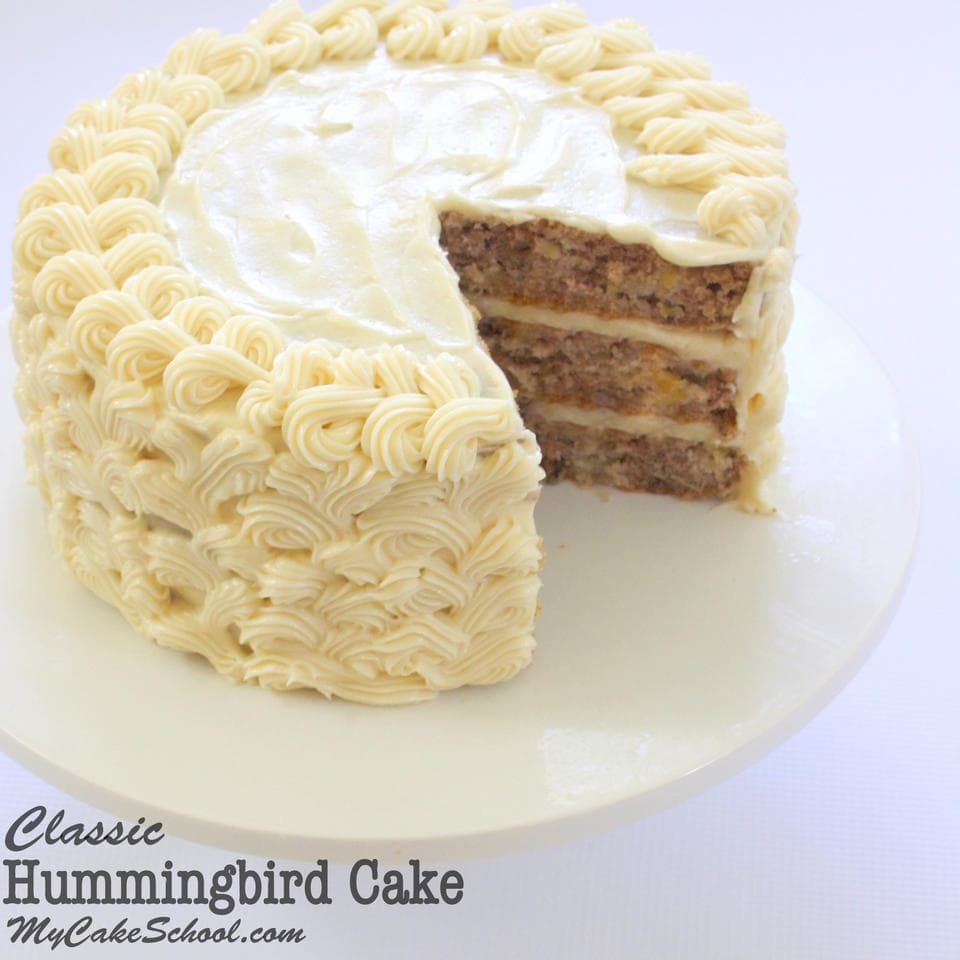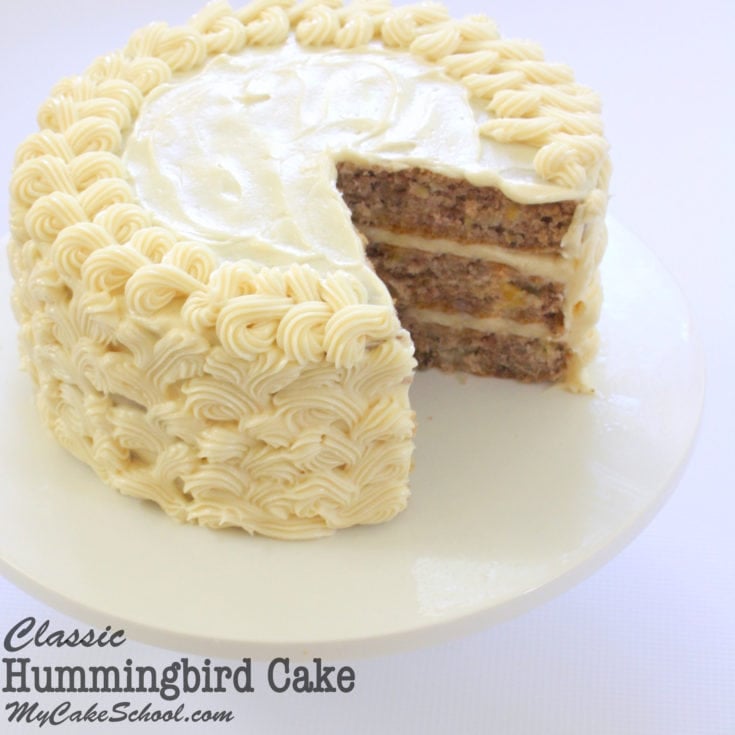 With flavors of banana, pineapple, pecans, and cinnamon, this amazing Hummingbird Cake recipe is sure to become an instant favorite!
Ingredients
For the Hummingbird Cake
3 cups (363g) all purpose flour
2 cups (400g) granulated sugar
1 teaspoon (5g) baking soda
1/2 teaspoon (3g) salt
1 teaspoon (3g) ground cinnamon
3 large eggs, lightly beaten
1 cup (215g) vegetable oil
1 1/2 teaspoons (6g) vanilla extract
1 can (8 ounce) (227g) crushed pineapple, undrained
1 cup (100g) chopped pecans
1 3/4 cup (392g) mashed ripe bananas (4 large)
For the PIpeable Cream Cheese Frosting
1 cup (2 sticks) (226g) unsalted butter, softened (do not soften in microwave)
3 (8 ounces) (226g) packages full fat cream cheese, (total 678g) cut into 1 inch pieces and softened.....do not use reduced fat cream cheese or cream in tub containers (do not soften in microwave)
3 cups (343g) powdered sugar
2 teaspoons (8g) vanilla extract
Instructions
For the Hummingbird Cake
Preheat the oven to 350 degrees, Grease and flour three 8 inch pans. (We like to line with parchment paper also.)
Combine the first 5 ingredients in a large mixing bowl. Whisk to blend. Add eggs and oil, stirring with a spoon until the dry ingredients are moistened. Do not beat the mixture. Add the vanilla, pineapple, pecans, bananas and stir until combined.
Spoon batter into three 8 inch greased and floured cake pans. Bake at 350 degrees for 25 to 30 minutes or until a toothpick comes out clean or with just a few crumbs attached.
Cool in pans 10 minutes on cooling rack and remove from pans.
Makes 6 cups of batter.
For the Pipeable Cream Cheese Frosting
Put the softened butter in the bowl of your mixer and mix until smooth.
Add the pieces of softened cream cheese to the mixing bowl. The cream cheese should be soft enough that it combines easily into the butter/powdered sugar mixture. Beat on low/medium speed about 1 minute or until the cream cheese is blended in.
Add the powdered sugar and vanilla. Beat on Medium speed for 2 to 3 minutes (a bit longer if using a hand mixer). Scrape the bowl mid way through. Do not over beat.
Makes 6 cups
Use immediately or refrigerate. If beaten too long it my become too soft. If this happens, just refrigerate a short time and let it firm up.
If you love Banana Cake Recipes, we have more to share!
Make sure to check out these favorites!:
favorite cake recipes and online cake decorating tutorials!
Thanks so much for stopping by today! If you give this homemade Hummingbird Cake a try, we would love for you leave a photo or comment below! Don't forget to check out our full collection of the BEST Recipes for cakes, frostings, and fillings! You can find them in our
Recipes Section.