Today I'm sharing our FAVORITE classic chocolate cake recipe of all time. This amazing Chocolate Cake from scratch is our go-to recipe, and always gets rave reviews! It is rich, moist, and absolutely delicious!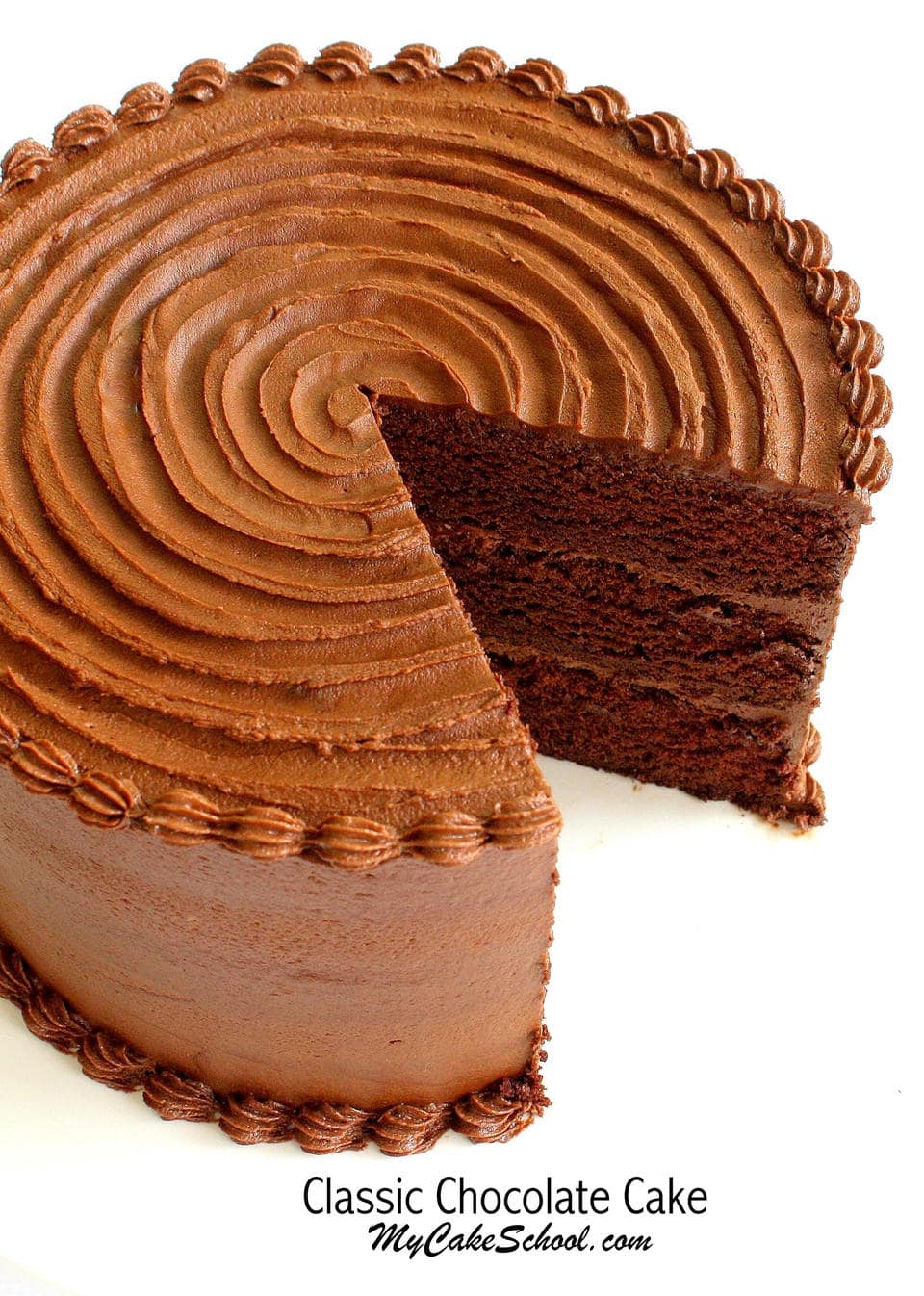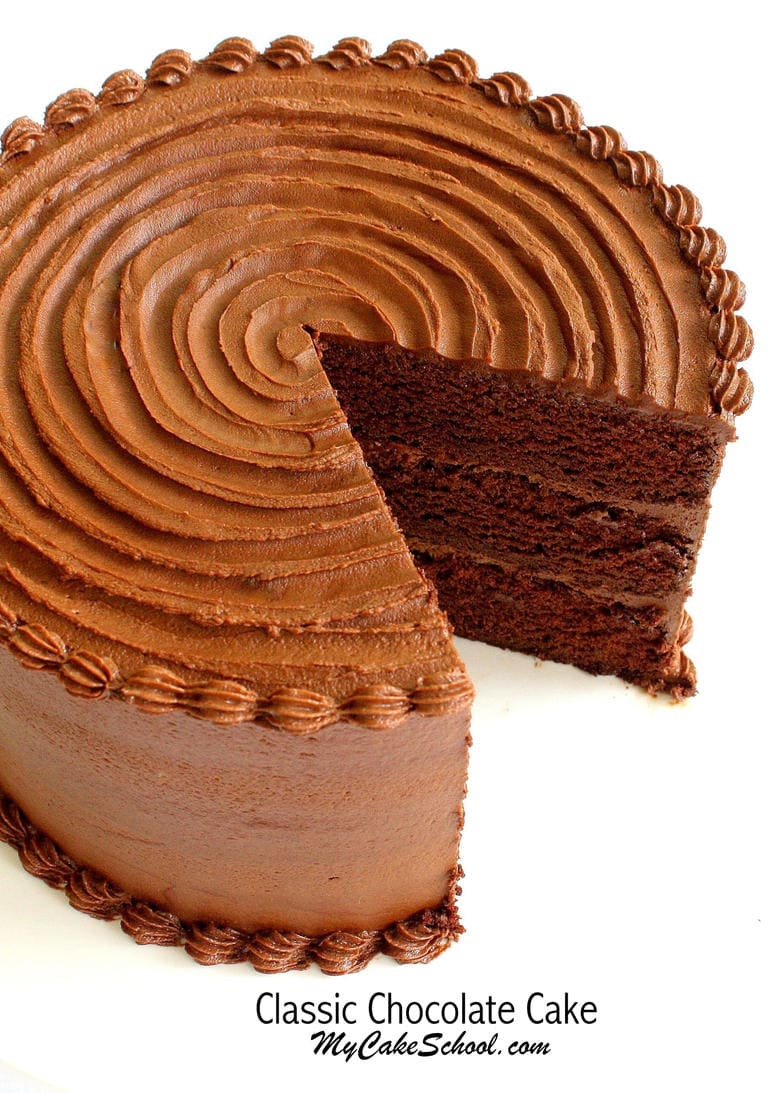 For years, we searched for the perfect chocolate cake recipe, but were never satisfied. They were either too dry, too crumbly, too soft, not chocolatey enough, and so on.
When we finally tried this cake, we knew that our search was over! It's super moist, has the perfect amount of chocolate, and is sturdy enough to hold up to fondant if your design calls for it.
This is the first homemade chocolate cake that we included in our Recipes Section, and it is still our go-to!
As a side note, this chocolate cake recipe (along with several of our other popular recipes) uses the Reverse Creaming Method of Mixing.
What is the Reverse Creaming Method of Mixing?
This is a popular method for creating a slightly denser, more melt-in-your-mouth texture. Cakes using the Reverse Creaming Method have a tighter crumb.
If you are new to this method, you may be interested in watching our free video here: The Reverse Creaming Method of Mixing.
If you would rather not go the Reverse Creaming Method route, don't worry! We've also put this Classic Chocolate Cake scratch recipe into the standard Conventional Method of Mixing as well.
This also makes for a perfect chocolate cake! It's the same decadent chocolate taste but with a fluffier texture. When making chocolate cupcakes, this conventional version is the recipe that we use! Here is the link:Classic Chocolate Cupcakes Recipe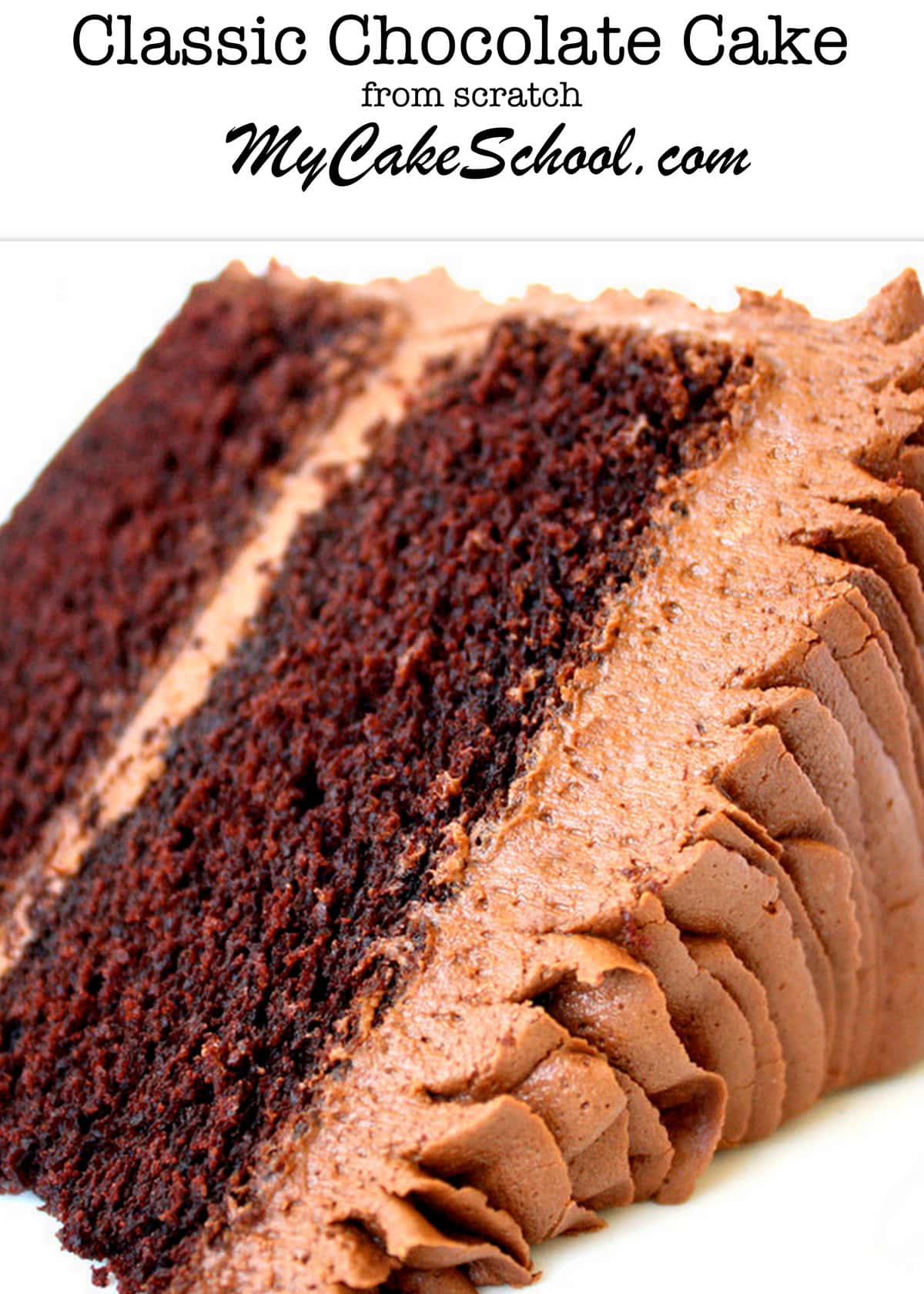 A Doctored Chocolate Cake Mix Option for you!
Looking for a FABULOUS Chocolate Doctored Cake Mix Recipe? We have an amazing recipe just for you!: Chocolate Sour Cream Cake (Doctored Cake Mix Recipe)
This doctored cake mix recipe is out of this world, and nobody would ever guess that it started with a mix. Sometimes you just need a quick and easy doctored cake mix recipe and this is one of our favorites.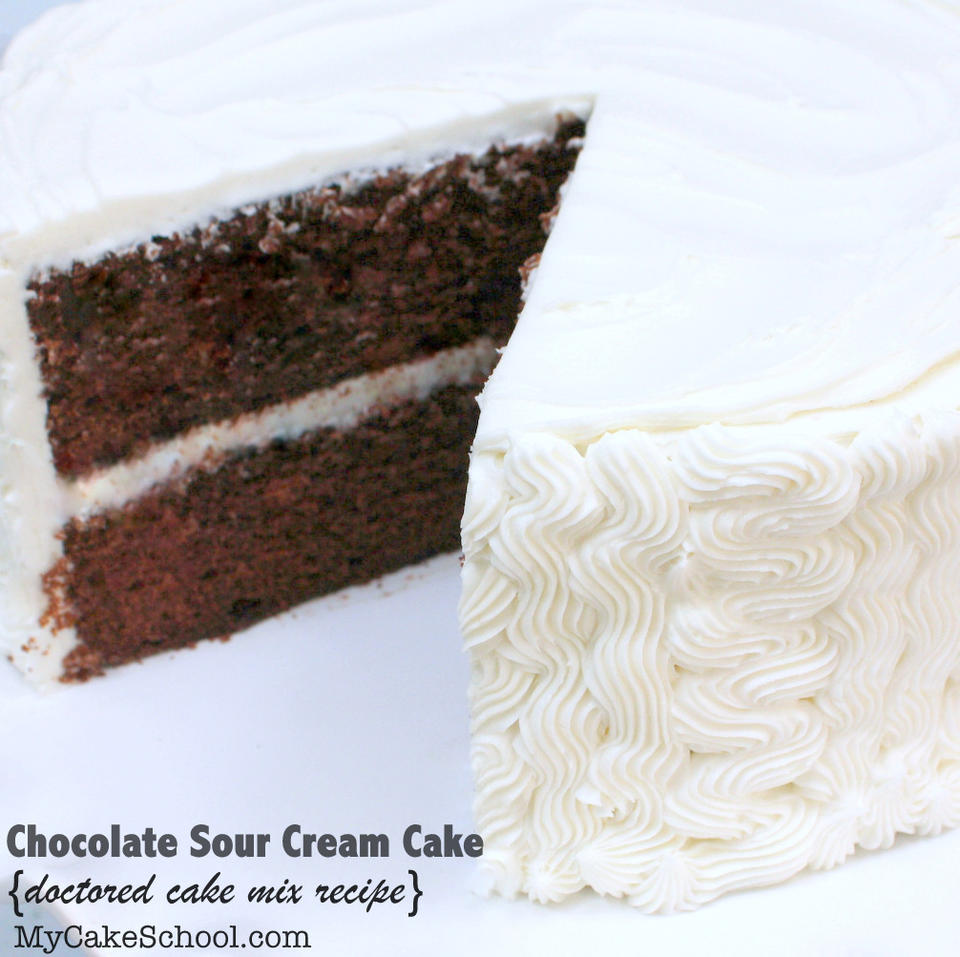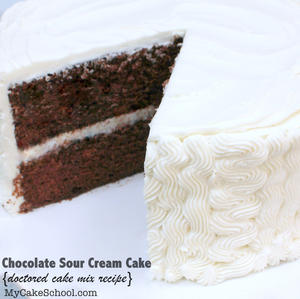 Traditional Mixing Method Option
As we mentioned earlier in our post, you can make this same scratch Classic Chocolate Cake recipe but using the conventional method of mixing instead of the reverse creaming method.
This is the mixing method that I use when making chocolate cupcakes also as it is a bit fluffier. You can find the traditional mixing version of this recipe here: Classic Chocolate Cupcakes (Although it is listed as a chocolate cupcake recipe, it works great for fluffy chocolate cake layers as well!)
More Favorite Homemade Chocolate Cakes to Try!
While this Classic Chocolate Cake is DIVINE, options are good! Over the years, we have created several more homemade chocolate cake recipes that we absolutely love. Make sure to scroll through these other popular favorites–try them all!
Devil's Food Cake from Scratch
Chocolate Buttermilk Cake from Scratch
Homemade Chocolate Sour Cream Cake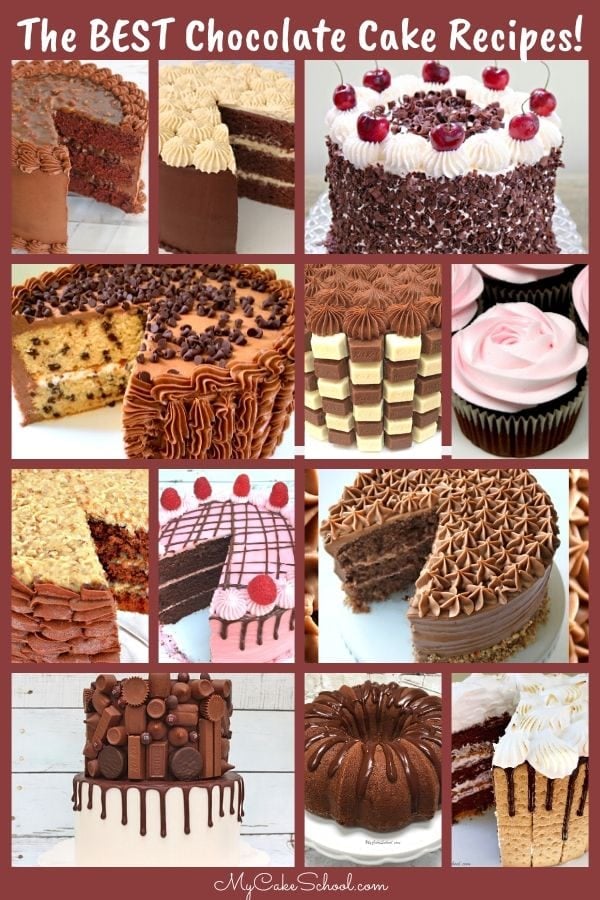 The Best Online Cake Tutorials, Recipes, and More!
Thanks so much for stopping by! We hope that you enjoy the recipe, if you give it a try, we would love for you to leave a comment below.
Don't miss our full collection of the BEST Cake and Frosting Recipes in our Recipes Section! If you're interested in cake decorating as well, make sure to check out our Free Cake Tutorials Section where you can select tutorials by category.
Finally, if you'd like to access our full library of hundreds of cake decorating video tutorials, you should consider becoming a member of My Cake School! We have tutorials for all skill levels of cake decorating and memberships are only $30/year. You can find all of the details here!: Membership Details for MyCakeSchool.com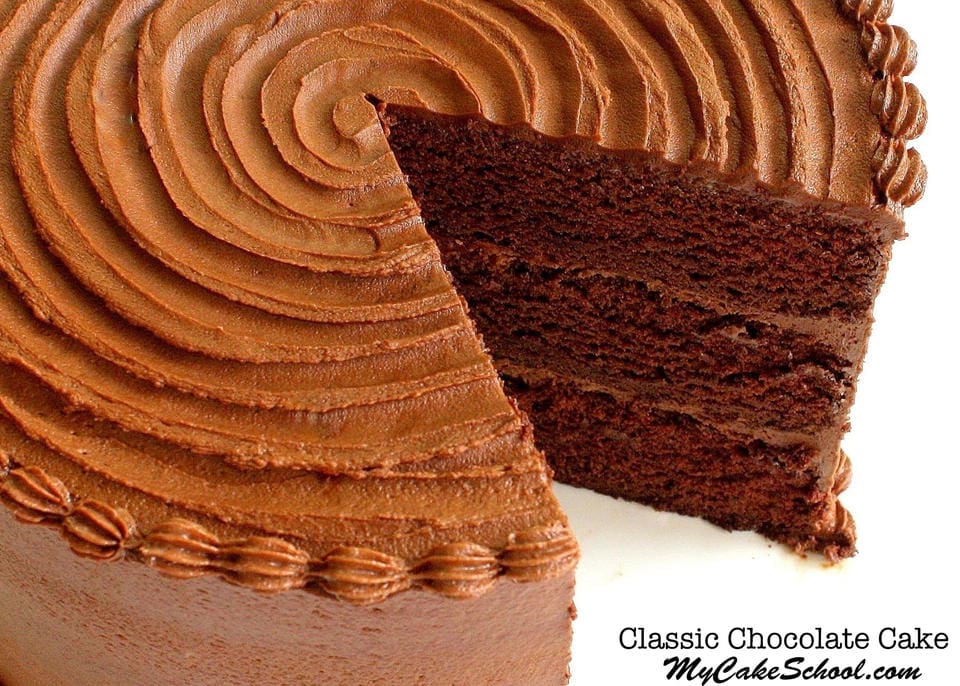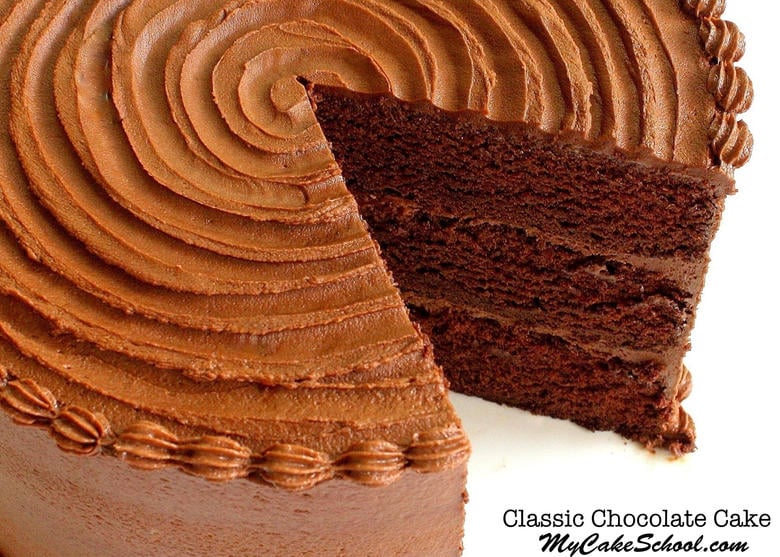 Classic Chocolate Cake~Scratch Recipe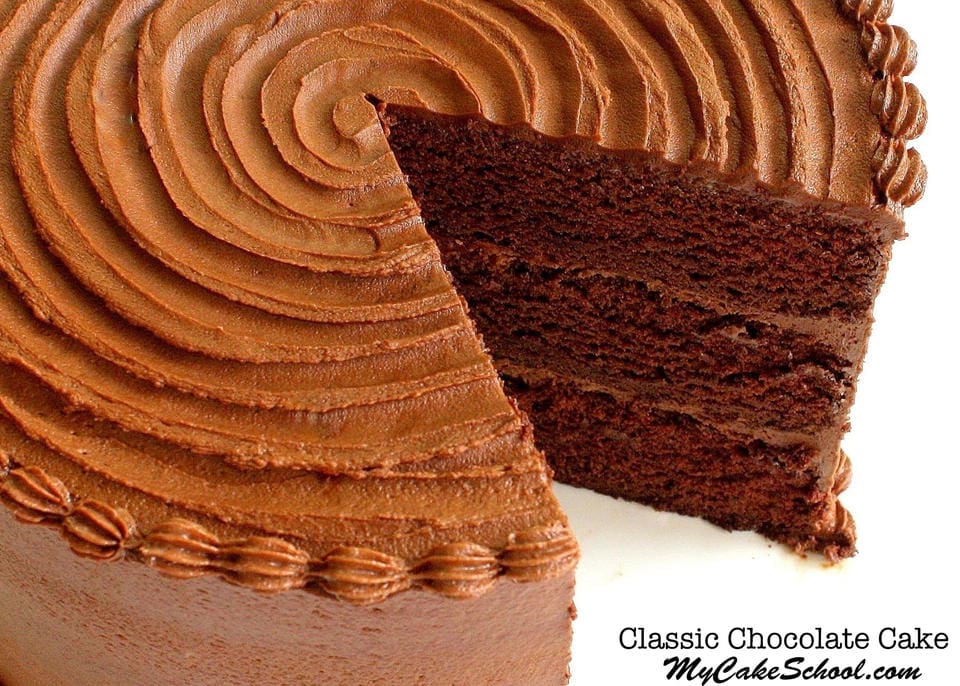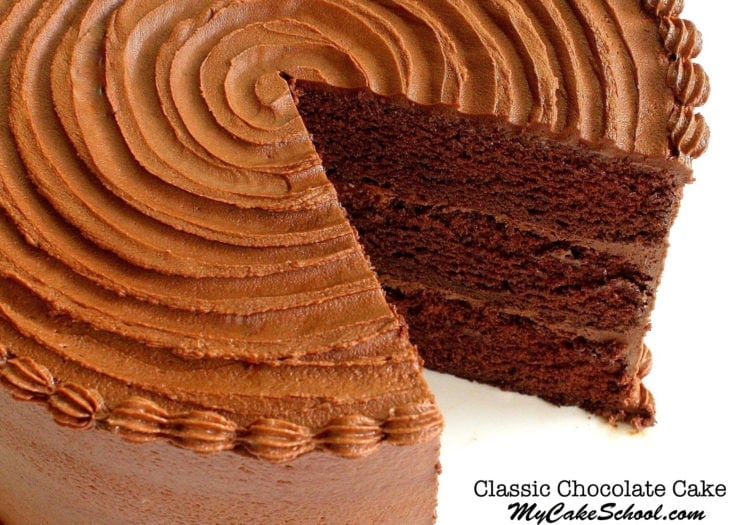 This moist, decadent classic chocolate cake from scratch is the BEST! This cake recipe uses the Reverse Creaming Method of mixing, creating an extra moist cake with a tight crumb and velvety texture.
Ingredients
I use the reverse creaming method with this recipe
2 cups (400g) granulated sugar
2 3/4 cup (322g) all-purpose flour
1 cup (82g) unsweetened cocoa (lightly spoon into cup then sift)
2 teaspoons ((10g) baking soda
1/2 teaspoon (2g) baking powder
1/2 teaspoon (2g) salt
1 cup (2 sticks) (226g) unsalted butter, softened (do not soften in microwave) I cut the butter into 1 inch pieces onto waxed paper leaving on the countertop for 8 to 10 minutes it will still be quite cool when adding to the dry ingredients. If it becomes too soft, just refrigerate a few minutes
1/4 cup (54g) vegetable oil
4 large eggs at room temperature
1cup (220g) milk
1 teaspoon (4g) vanilla extract
1 cup (220) hot coffee, it can be instant or brewed
Instructions
Preheat oven to 350 degrees
Grease and flour THREE 8 inch cake pans
In a mixing bowl, add the dry ingredients: sugar, flour, cocoa, baking soda, baking powder, and salt. Whisk for 1 minute to blend.
Add softened butter a few pieces at a time while the mixer is on low speed. Mix until the dry ingredients look like coarse sand and the dry ingredients are moistened. Scrape the bottom and sides of the bowl.
In a separate bowl whisk the eggs, milk , oil and vanilla until blended.
Method is important when using the Reverse Creaming Method. With the mixer on low speed, SLOWLY add approximately 1/2 of the egg mixture to the dry ingredients. Increase the speed to medium and mix for 1 1/2 minutes at medium speed. Don't mix above medium speed. Scrape the bottom and sides of bowl. Add the remaining egg mixture in 2 pourings, beating for 20 seconds after each pour. Scrape the sides and bottom of bowl.
Slowly add the cup of hot coffee and mix another 30 seconds until blended. The batter will be very runny. Don't worry!
Pour into 3 prepared 8" pans and bake at 350 degrees for 25 to 30 minutes or until the center of the cake springs back to the touch and a toothpick comes out clean.
Cool the cakes 10 minutes on a rack and then turn out of the pans.
*Yields approx 9 cups of batter.
Making cupcakes? Check out our Classic Chocolate Cupcake Recipe (conventional method of mixing for fluffier cupcakes) Holds up well to fondant
Notes
CAKE TIP: To increase moistness of layers, cool another 10 minutes and while still very warm double wrap the individual layers in plastic wrap and freeze for up to a week. To freeze longer, use plastic wrap then put into a freezer bag or aluminum foil and freeze for up to 2 months. If you need the cake right away, even freezing for a couple of hours will increase the moistness.
What Frostings Pair Well with Chocolate Layer Cake?
It's probably easier to list the frostings that don't go with homemade Chocolate Cake! There are just so many fantastic flavor combinations that work with chocolate!
Here are some of my favorites that go great with chocolate layer cake, but make sure to check out our Recipes Section to see all of the delicious options for fillings and frostings!
Chocolate Cream Cheese Frosting
Peanut Butter Buttercream Frosting